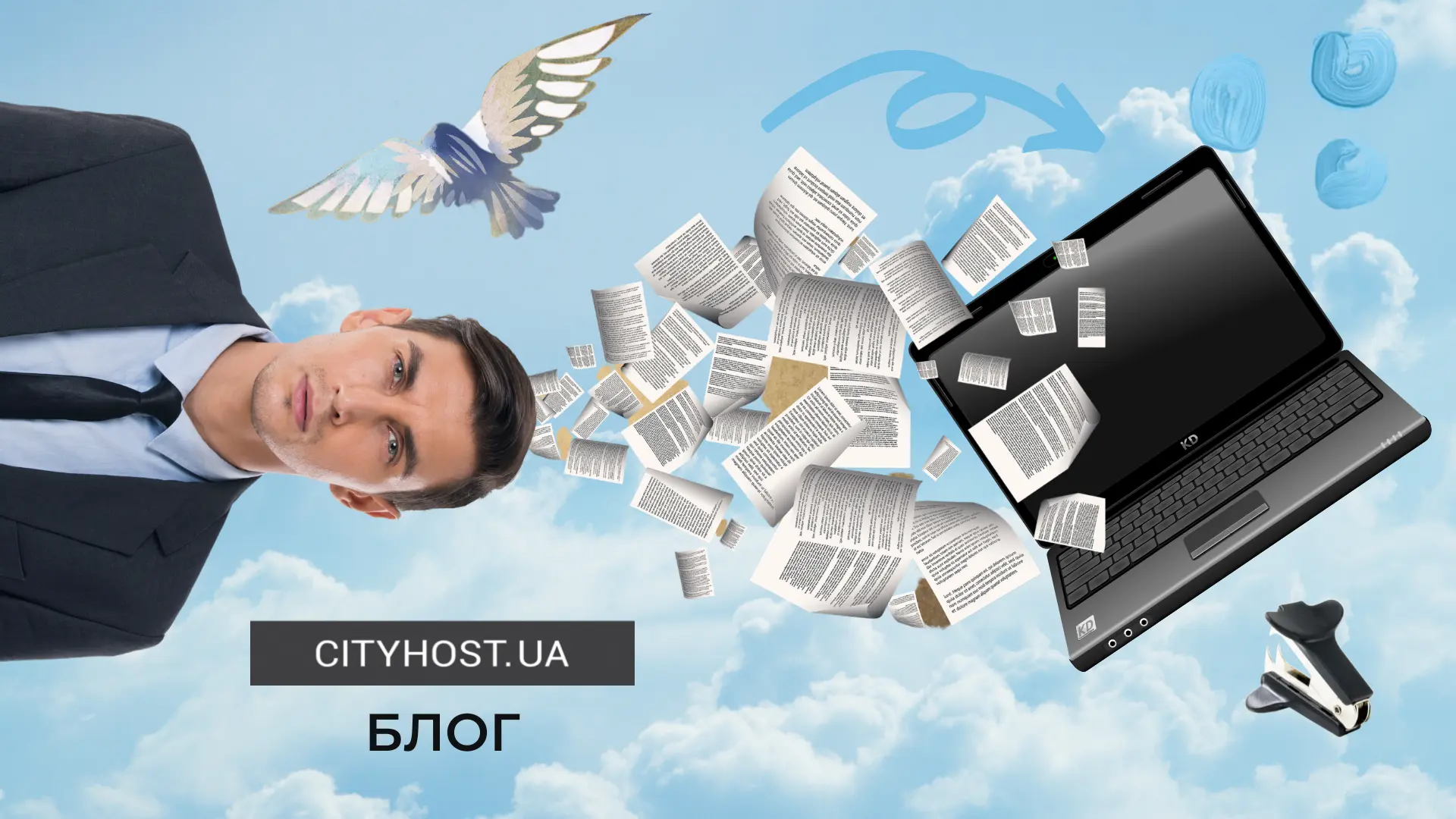 Electronic document management in Ukraine has existed for a long time — the first law on electronic document management appeared back in 2003. It is a convenient and fast way to transfer, edit, approve, sign and store internal and external documents using special software. Such documents include contracts, invoices, acts, invoices, internal orders, official letters, etc. Not all papers are subject to digitization, some require a personal meeting of representatives of the parties to be signed. But most routine matters can now be solved digitally.
The emergence of cloud technologies further optimized the processes and allows you to work with documents in the account on the service from any gadget connected to the network.
Electronic document management has many advantages:
There is no need to clutter up the office with a whole bunch of cabinets with folders, which you then have to search for for a long time.

All procedures are performed in a matter of minutes.

The company saves on paper, printer ink, stationery, and courier costs.

All electronic documents are equal to the originals, they do not need to be printed.

Approvals take place with the help of an electronic signature, which is easy to obtain for both a legal entity and an individual.
Nevertheless, many entrepreneurs were still afraid to make the transition to electronic document management. Paper, a live signature and a seal in the hand seem more reliable than a ghostly electronic document. But don't worry — all data in EDO systems is transmitted through secure channels and stored on a cloud drive. This method is actually more secure, because paper documents can be lost, and copies on the work computer can be damaged due to a malfunction in the software.
The current situation in Ukraine is pushing many entrepreneurs and heads of institutions to switch to electronic document management — primarily because of logistical complications caused by the war. Now many Ukrainians have experienced the taste of innovation and increasingly prefer the electronic format.
Cityhost.ua also implemented digital document management — and we liked it. You can learn about this and other transformations from the news at the link .
We share with you several services that will help you save time and paper.

Timely is a cloud service for electronic document management, which can not only work in web format, but also integrates with ERP, CRM and electronic cabinet on the company's website. In addition to basic capabilities, it provides options for checking documents with an antivirus, two-factor authentication for employees, commenting on documents, and more.
Part of the Timely product series:
On time.EDI (transfer of digital data between counterparties);

Vchasno.Kasa ( software PRO );

Vchasno.KEP (keys for a qualified electronic signature);
This is convenient, because you can use a number of software services from the same company and easily integrate them with each other. Moreover, they are often already integrated. For example, VchasnoKEP keys are immediately provided on some EDO tariffs.
On the website of the service, you can find out that more than 400,000 companies already use it, it received the "Accountant's Choice" award and stores documents in the cloud on European servers .
The service has quite democratic tariffs, starting with free, which allows you to sign an infinite number of incoming documents and 25 days off per year.

MEDoc is also a multifunctional platform for business, which provides the opportunity to exchange documents in electronic format, use software PPO and conduct reporting. Actually, MEDoc is the developer of such well-known products as Cashalot and SOTA Kasa — the latter also has EDO functions along with its main option, registration of settlement operations.
MEDoc provides separate solutions for reporting to state regulatory bodies and for document exchange between private counterparties, as well as a number of additional modules — for accounting for excise goods, for calculating salaries, for reporting by non-banking institutions.
The company has more than 650 physical representative offices throughout the country.
Tariffs for the service are formed using the constructor method — it all depends on which functions and modules you choose.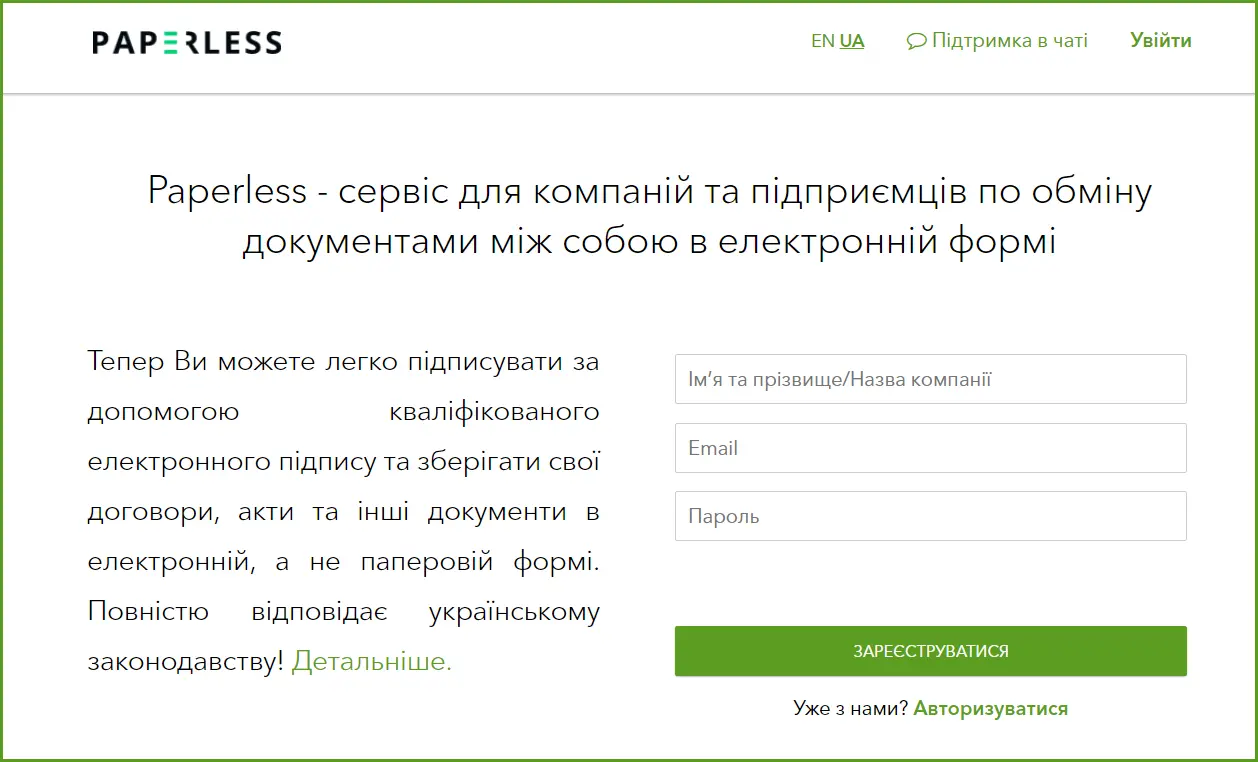 Paperless is a popular highly specialized service from PrivatBank aimed only at document exchange. With its help, you can easily send and sign a contract or other working document, which will then be stored in the cloud. The site can be used by everyone — both legal entities, sole proprietorships , and just natural persons. The service is completely free.
The developers emphasize that the system was created specifically for document exchange between partners and the ability to sign documents with electronic keys. It does not have full EDO functionality. If you need functions such as invoicing or registration of tax invoices, PrivatBank recommends trying a separate service for electronic document management . It's also free.
Since PrivatBank issues electronic keys, the KEP can be issued directly on the service. However, the system works with any digital signatures issued by other institutions.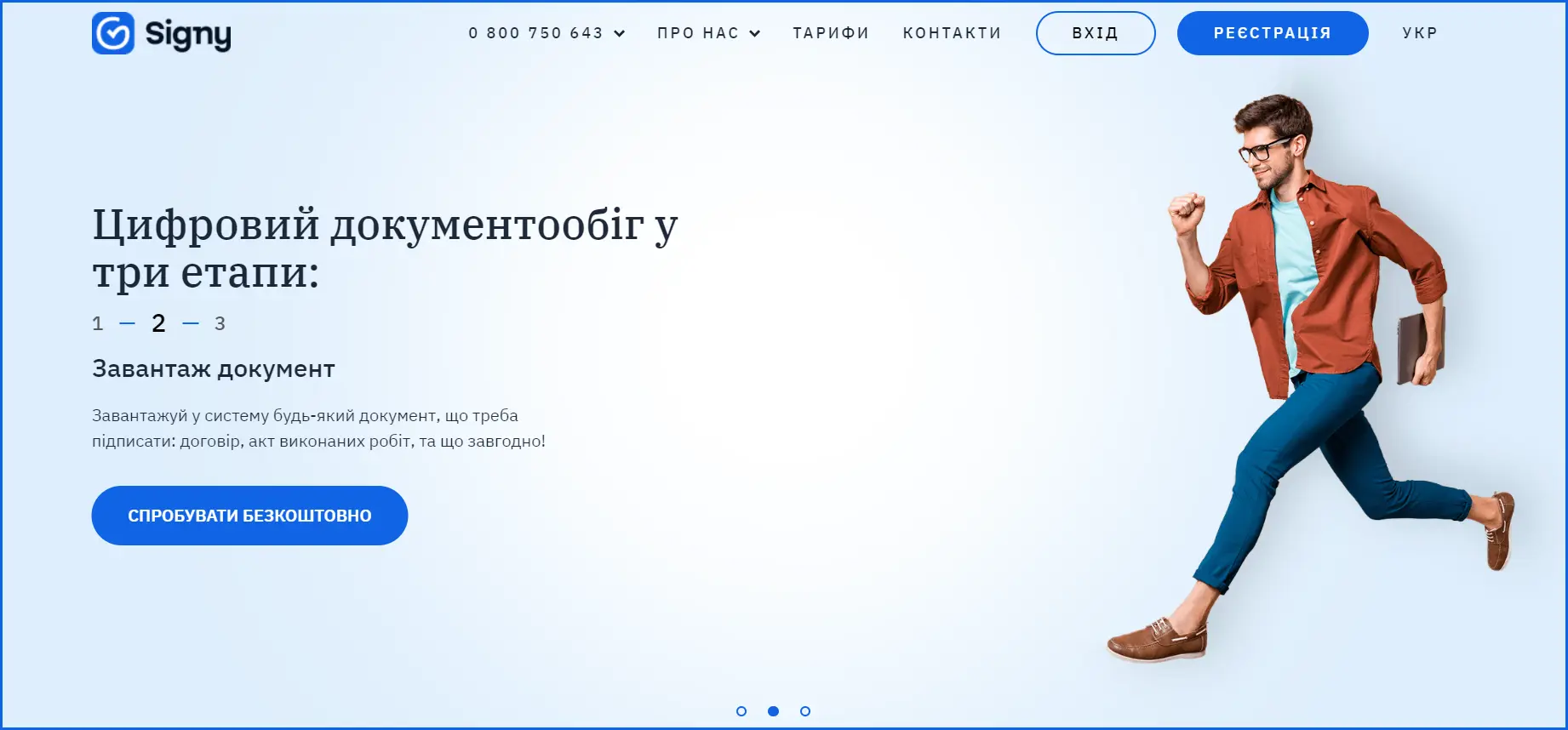 Signy is a service developed by SmartTender (a platform for public and commercial tenders, one of the largest in Ukraine).
The team tried to develop the most simple and understandable interface for registration and starting work, which consists of only four steps:
Register;

Download the document;

Sign;

Send.
The service works with electronic digital and qualified signatures (ESP and ECP), provides templates for basic documents, allows you to edit them online and comment.
The platform's interface resembles a postal service, which makes it easier to understand the process of sending and receiving documents. The developers emphasize that the basis of the service is artificial intelligence, capable of developing using the method of machine self-learning.
The service has a free Demo tariff that allows you to sign 50 documents per month.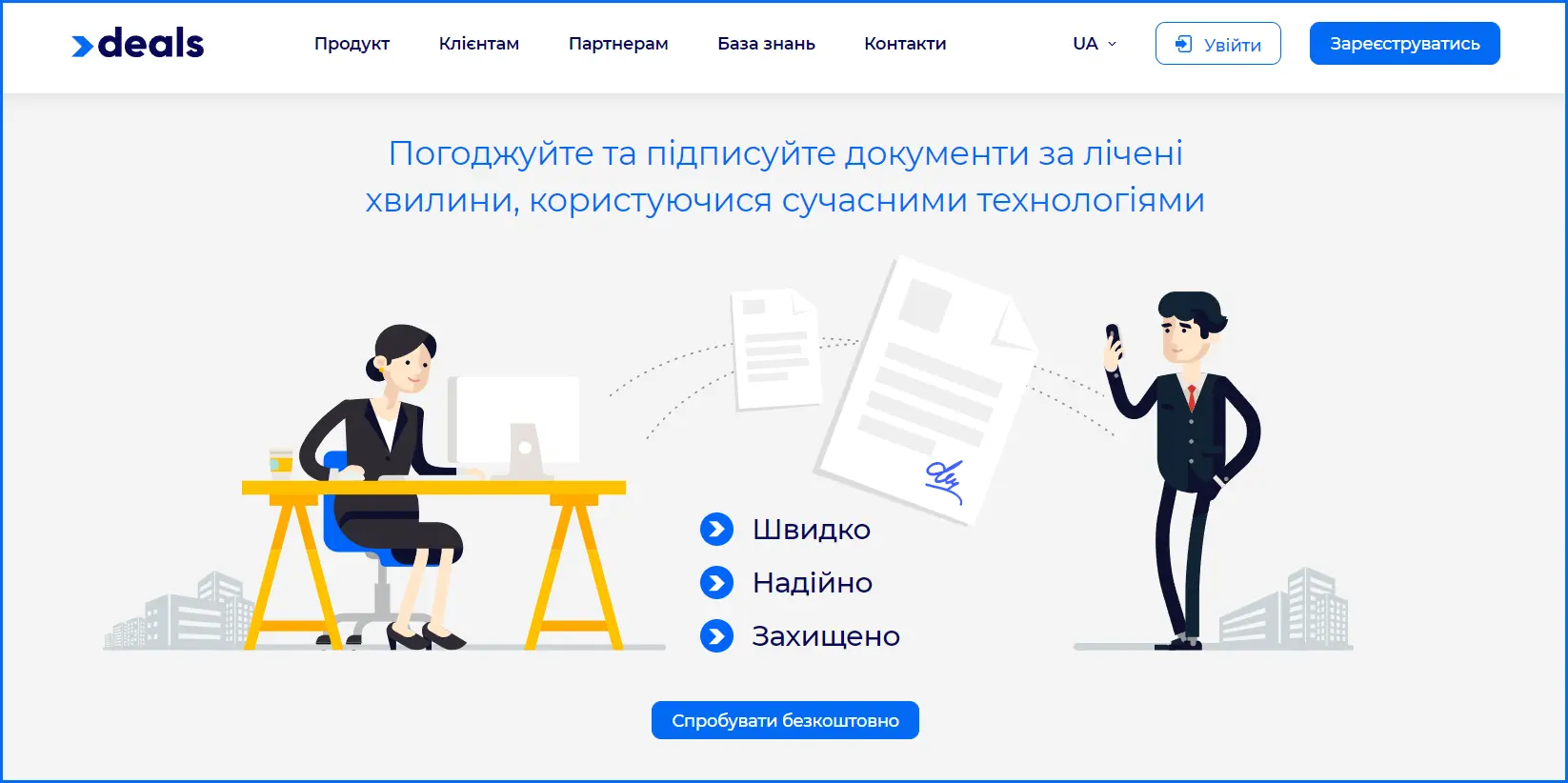 Deals is a platform for electronic document circulation that offers two solutions.
Deals.Online is a cloud service that allows you to sign and save documents in your account on the platform. Deals has a mobile application that allows you to sign documents from your smartphone. It works on the principle of an annual subscription.

Deals.Onsite is a boxed version that is purchased once and installed on a company's physical or virtual server . Deals offers technical support services that will install the system, help you configure it, and help you fix technical problems if they occur.
The service also has branch solutions — for banks, for telecommunications and IT companies, for insurance and retail.
In general, the service is paid, but during the war, the company made all tariff plans free to help Ukrainian businesses work.
Read also: "Saving Ukrainian business: programs to support entrepreneurs in wartime" .

Having chosen one or more services through which you will carry out electronic document management, you need to issue a corresponding internal order on the transition of the enterprise to EDO. Be sure to warn your counterparties about the changes by means of a newsletter , so that it does not become a surprise for them.
At Cityhost, we use three systems at once - Vchasno, Paperless and MEDoc, so our clients can receive service contracts and other documents by choosing one of the options.