Dear users of the CityHost .ua domain name registrar!
We offer all clients who have registered domains in our company to order an electronic certificate for a domain name.
A certificate is a document that contains information about the owner of a domain name and data on the terms of domain registration.
The real owner of the domain is indicated in the certificate - the one indicated in the WHOIS database in the REGISTRANT field. It can be both a natural person and a legal entity.
The certificate is issued in PDF format and sent to the client's registration email. You can also see the document in the control panel under Support .
How to order a certificate for a domain, read at the link .
You can order a certificate in the service management panel in the "My Domains" menu.
When ordering a certificate, you should specify the real owner of the domain - the data must be identical to the data in the WHOIS database. If the data does not match, the certificate application will be canceled and the money will be returned to your balance.
Enter the full name of the domain owner in the certificate registration field. After checking the data, an electronic PDF document will be sent to the registered mail, which you can download and print yourself.
A domain certificate can be ordered only under a domain name registered in our company. Certificates for domains registered with other registrars cannot be issued by our company.
The certificate automatically becomes invalid in case of transfer of rights to the domain (change of WHOIS data) and transfer of the domain to another registrar.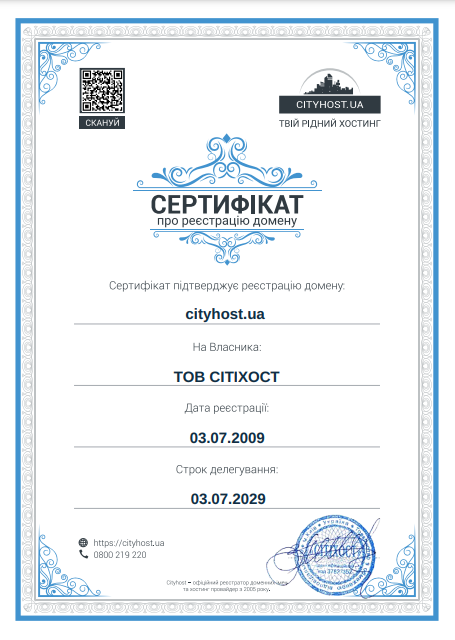 Certificate cost is 100 UAH. This amount is debited from your balance during the ordering process, and a request is sent to employees for the preparation of the document.