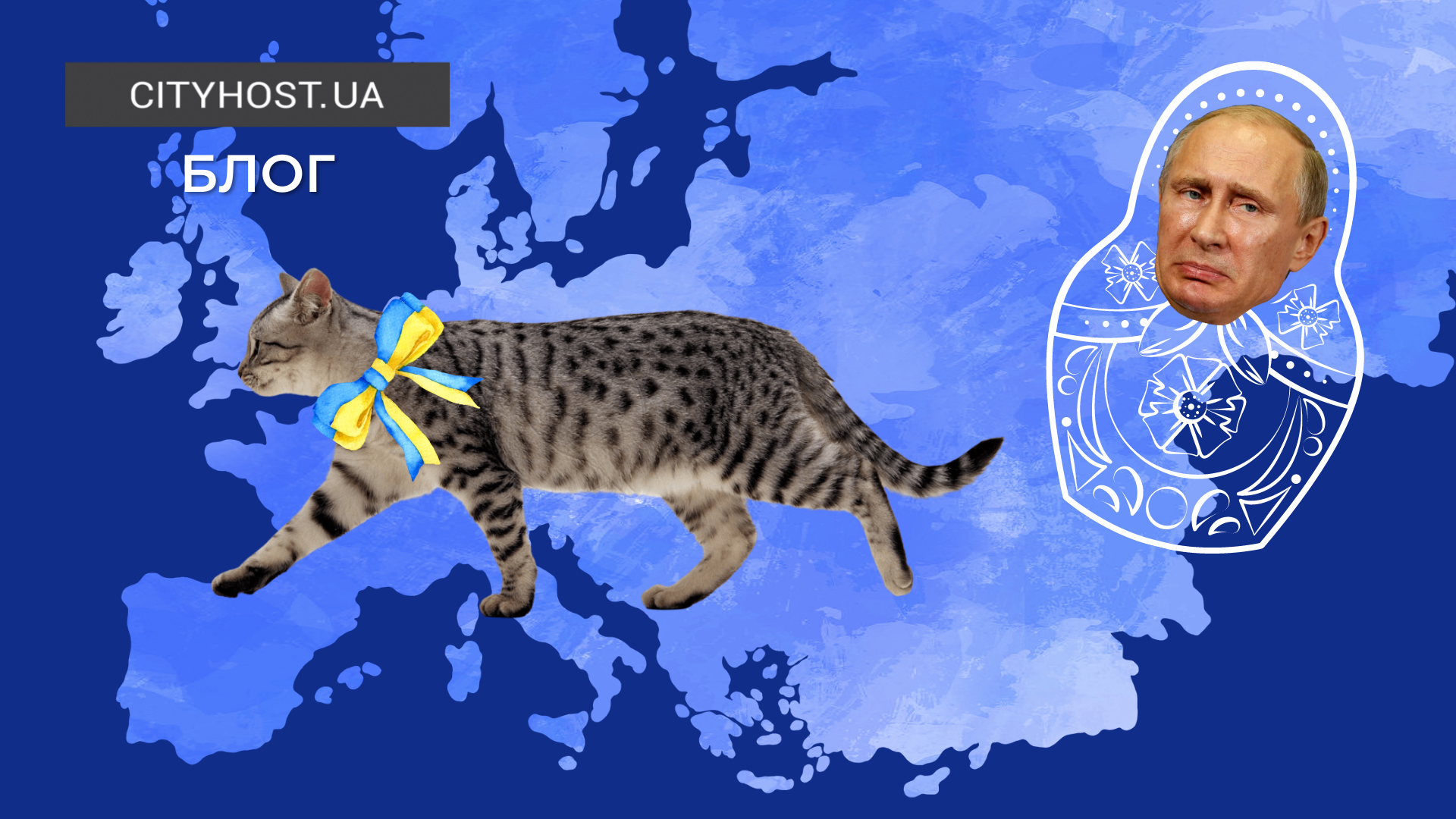 Russia's full-scale war with Ukraine leads to a complete reformation of Ukrainian entrepreneurship in all sectors. This means only one thing - no more business on Russian territory, because we support the aggressor's economy with every penny.
We already wrote about this in the article " How much longer will we feed the Russian IT industry?" ", but the problem concerns not only IT, but also the entire business in general.
And therefore, you need to think about business orientation in other countries, primarily in the West, where there are paying target audiences and many potential partners — manufacturers and distributors.
What steps can you take to bring your business closer to a foreign audience?
Let's see what language versions were on the websites of Ukrainian companies until February 24. The Russian version prevailed, the Ukrainian version was at least secondary, often it was not there at all. English-language versions were found in isolated cases. Looking at the company's website, it was not always possible to understand where its main office is in Ukraine or in Russia.
After the start of the offensive, the situation changed dramatically — information appeared on the sites that it was a Ukrainian business, developers began to urgently add a Ukrainian version. And this cannot help but please.
The next step is to create an English version for users from Western countries. If you create a product that is easy to implement in other countries (for example, as in Cityhost - providing hosting and registering domains ), then translating the interface and control panel is enough.
For other directions, you will have to think about adapting products for foreign customers or creating new lines that will exist alongside the Ukrainian versions.
All of this will require investment and the hiring of translators, perhaps even on a permanent basis, but the investment is worth it.
In order to work abroad legally, it may be necessary to formalize your activity in the legal field. Opening a branch or representative office can be useful for the company in terms of taxation, because in some countries taxes are lower than in ours. This step is also necessary if you are looking for suppliers and partners in the country where you do business.
A legal entity has the right to open branches and representative offices in Ukraine and abroad. Such units are not separate legal entities and differ in functions:
The branch performs all the functions of the parent company (that is, if it is a trading enterprise, then the branch will also sell goods in the corresponding branded premises);

The representative office only represents and protects the interests of the company, conducts document processing.
Therefore, if you do not plan to open a physical store in another country, a representative office is enough to certify your legal presence.
Does an online store that ships goods to other countries or provides digital services need to register a branch abroad? Technically, you can trade just from your Ukrainian office.
But if we are talking about a physical product, this form of work has a significant disadvantage - the duration of delivery. Your products will be looking for a buyer for weeks, as happens with Chinese goods from AliExpress. Therefore, a branch cannot be dispensed with — at a minimum, it will be necessary to organize a warehouse so that consumers receive their orders as quickly as possible without all the vicissitudes of crossing borders.
If you provide digital services (programming, design, etc.), then you can work without representation, providing services to foreign clients as a third group FOP (for freelancers) or LLC.
One is not a warrior in the field, therefore, having serious intentions in the foreign market, it will be necessary to look for partners. These are suppliers of materials and equipment, logistics companies, shopping areas, marketing agencies, distributors, etc.
You can search for partners on your own if you already have some contacts, or you can contact special institutions designed to unite entrepreneurs from different countries.
For example, Enterprise europe network (European network of enterprises) is an organization that helps in finding partners and organizes various events aimed at establishing contacts. Also, with the help of EEN, you can find technologies and products for the development of your business, as well as platforms for promotion.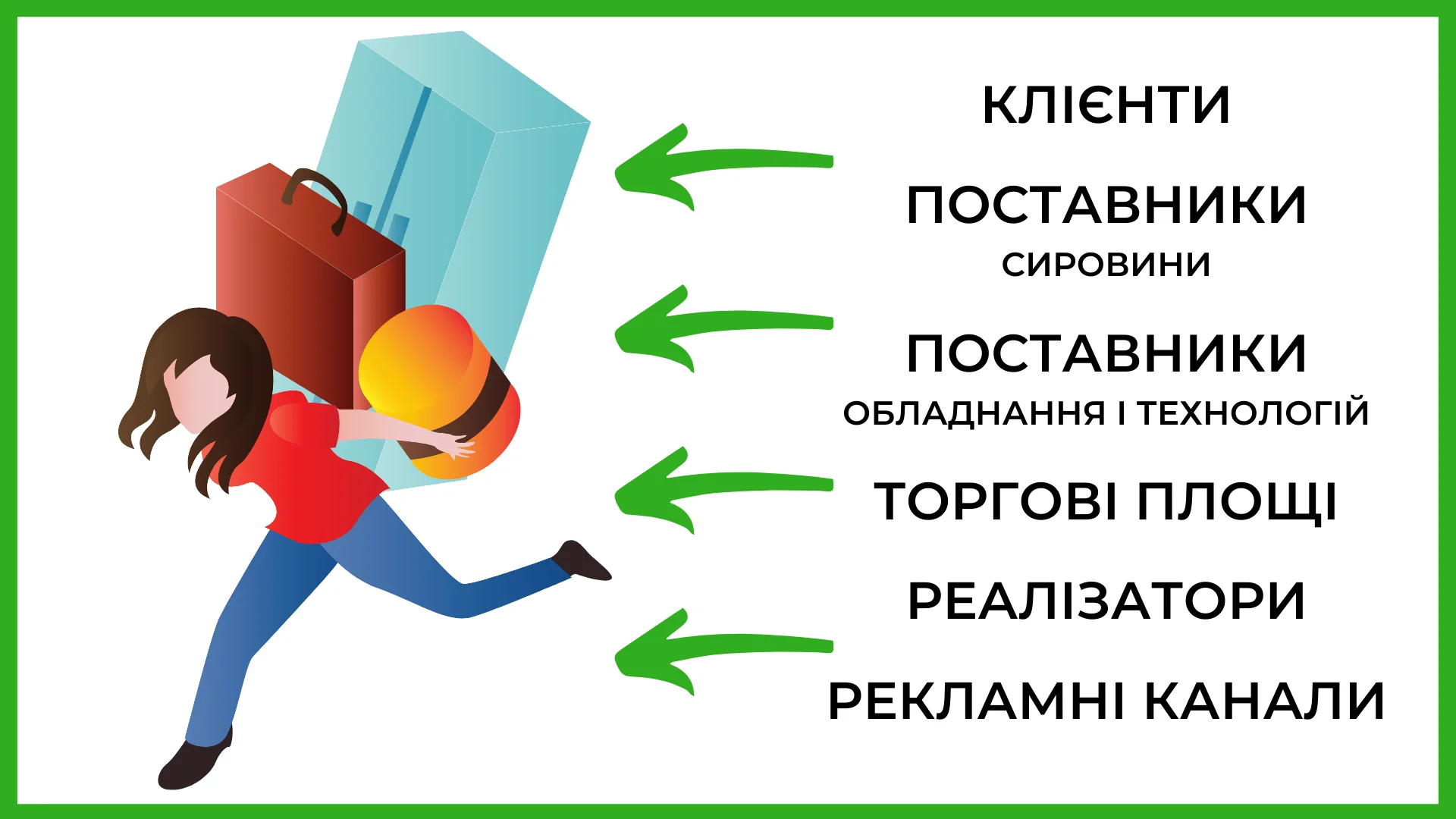 In order to work with foreign buyers, you need to carry out currency acquiring — a non-cash settlement for customers in foreign currency.
Consider how new customers will make payments from their country in the national currency. For this, you need to use international payment systems.
These are already well-known Visa, Mastercard, American Express, Swift interbank payment system, etc. They allow you to receive money in foreign currency both to a bank card and to a current account.
Platforms that allow businesses to make international payments are already operating in Ukraine — all you have to do is connect them and set them up according to the instructions.
These are the following services:
One of the issues that must be resolved when connecting international payments is the commission for the transfer and for the conversion of currency into hryvnia. Since it can significantly reduce the received payment, you need to look for options with a low commission. And here there is good news for Ukrainian business, as many foreign payment systems lower the rate for our citizens to support Ukraine in difficult times.
You can use the following international services to receive transfers.
Until recently , PayPal worked only in one direction and allowed payments to be made only from Ukraine. Two-way traffic for funds is now open, so you can use this payment tool for business. What's more, the company has simplified the terms of use for Ukrainians, in particular, removed the commission for transfers, which should significantly help those who plan to enter the international market.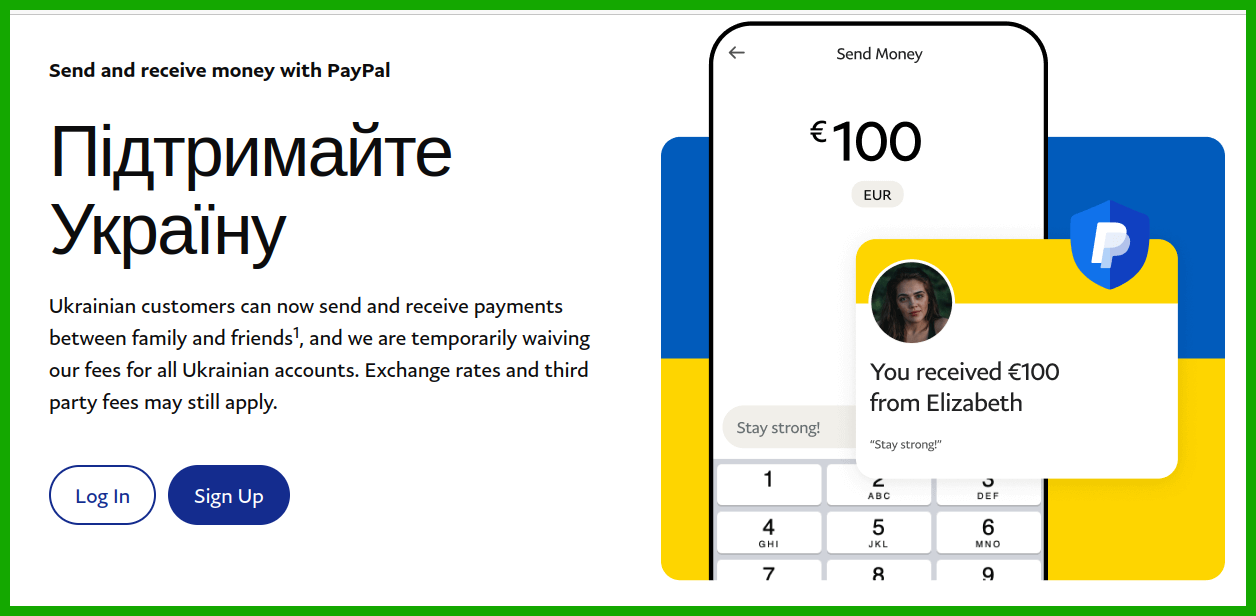 Wise is a British financial service for sending funds to 80 countries around the world. It allows you not only to make transfers, but also to receive a salary abroad, pay for purchases, and have your own card for payments.
This company also improved conditions for Ukrainians by lowering the commission for transfers in hryvnias and increasing the limit for transfers to Ukraine. In this way, the platform encourages sending charitable funds to support people affected by war.
Payoneer is a payment system with an office in New York, which is designed for both freelancers and entrepreneurs and online stores.
Funds from the Payoneer account can be withdrawn to a card of any Ukrainian bank or you can issue a card from the service and use it for payments in stores, money transfers or withdrawing cash from an ATM.
Since this system has been working for a long time (since 2005), it already has established cooperation with many different platforms. Yes, the service is integrated with major freelance exchanges, photo stocks, and marketplaces. Account registration is available free of charge for sole traders and individuals.
We should also note that all three mentioned payment services stopped their work in Russia with the beginning of the full-scale invasion.
Read also: "Overview of payment systems: Interkassa, LiqPay, EasyPay, Portmone, Fondy, WayForPay."
In order to find new customers abroad, you need to work on advertising.
You can use already existing accounts in postal services and social networks, changing only the targeting settings.
For example, in Google Ads it is possible to create advertisements for any geolocation where your potential customers may be - read the instructions (nofollow). It is also possible to set up geotargeting for other countries in Meta products — Facebook and Instagram.
Of course, announcements for a foreign audience will be different than for Ukrainians - not only in the national language, but also taking into account messages that will be positively received by readers. The mentality and requests for products differ in different countries and regions, so before launching a campaign, it is worth consulting with a marketer who understands the specifics of local CAs well.
If your business is freelance, then you know that there are not too many platforms for finding orders in Ukraine. They are good and worthy of attention (for example, Freelancehunt , Freelance.ua ), but they cannot fully cover the demand for work from all our specialists — copywriters, designers, programmers, SEO specialists.
Western freelance exchanges not only expand the field for finding clients - they also have higher rates. The only difficulty in working with these platforms is the need for knowledge of the English language. However, for many Ukrainian freelancers, this is not a problem at all.
Upwork is the best-known and most popular freelance marketplace where you can find jobs in various fields: development, design, copywriting, translation, marketing, law, administration, and more.
Freelancer is a global exchange aimed mostly at developers, but there are many offers for design, writing and translation, marketing, and more.
Fiverr is an exchange with a wide list of specializations. In addition to the already mentioned development or copywriting, there will be orders for music, voice recordings, services of stylists, fashion designers, tutors, astrologers and much, much more.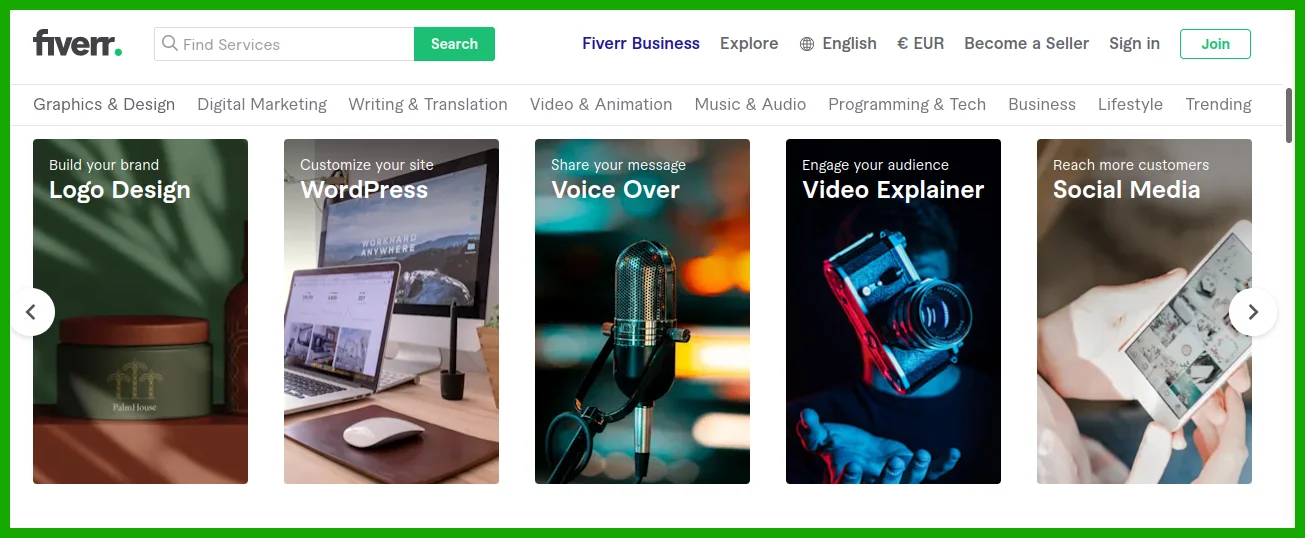 Behance is more like a social network where designers and illustrators share their work. Works like a portfolio that can be shown to an employer. Customers often look for performers here.
Constant Content is an exchange for copywriters, where you can sell texts. This site cares about its reputation, so getting there is not very easy. You need to know English.
In fact, there are many such exchanges, and a freelancer of any direction can choose from a dozen convenient platforms and work on several at once. Search and you will find.
There are goods for which customers are ready to wait even a month or two from another country. This applies to handmade, exclusive custom-made products, paintings, as well as industrial goods of appropriate quality, with a small production run or a unique design.
If you sell such goods, you need to organize the process of delivery abroad. There are a number of companies operating in Ukraine that you can turn to for transportation services.
Ukrposhta is a member of the International Postal Union and delivers to almost all countries of the world.
Nova Poshta has the "Nova Poshta Global" service for private individuals and business customers. There is air, road and rail delivery.
DHL also has an extensive network of international connections. Founded in the USA back in the late 1960s, the company has many divisions around the world. Offers delivery of documents and parcels, as well as oversized cargo by air, sea and land transport.
Fedex is an American company that delivers both small parcels and larger cargoes to 220 countries around the world. Offers a range of tariffs, among which there is even an opportunity to send an urgent cargo by plane to any country, and it will be received within 2-4 days.
UPS (United Parcel Service) is also an American service specializing in express delivery of documents and cargo. It has a logistics division and its own airline. Quickly delivers international express shipments to any country.
You can read about delivery services in Ukraine in the article " Overview of delivery services: Nova Poshta, Ukrposhta, Meest, Justin ".
Western marketplaces have the same effect as Western freelance exchanges — they not only open up wider opportunities, but also allow access to paying buyers from developed countries. Knowledge of the English language is also required here, and the shops themselves have quite strict rules. But if it is possible to develop a store on such a site, it is possible not only to increase the turnover, but also to introduce into the line new products that are interesting to the Western audience.
Amazon is the world's largest marketplace, founded in the USA. At the time of its creation (1994) it was an online book store, but now it sells anything. It appeared in Ukraine only in 2021, so you can start mastering its capabilities.
Ebay is also an American company, a platform for online trading of various goods. The basic difference from ordinary online stores is the auction system.
Etsy is the world's most famous shop for selling handmade goods. Western users love unique things created by their own hands and are ready to pay the appropriate price for them. Therefore, it is here that our masters and craftsmen find customers.
Mastering these platforms will take some time and effort, but there are plenty of articles, video courses, and even paid courses to help you figure it all out.
***
Entering the foreign market is a matter that requires time, effort and additional investments. But right now is the time to do it, when the whole world is open to cooperation with Ukrainians, wants to support us and treats us with much more respect and even admiration than before the invasion. So, despite all the difficulties in the country, right now is the best time to permanently abandon cooperation with Russia and find new vectors for development.