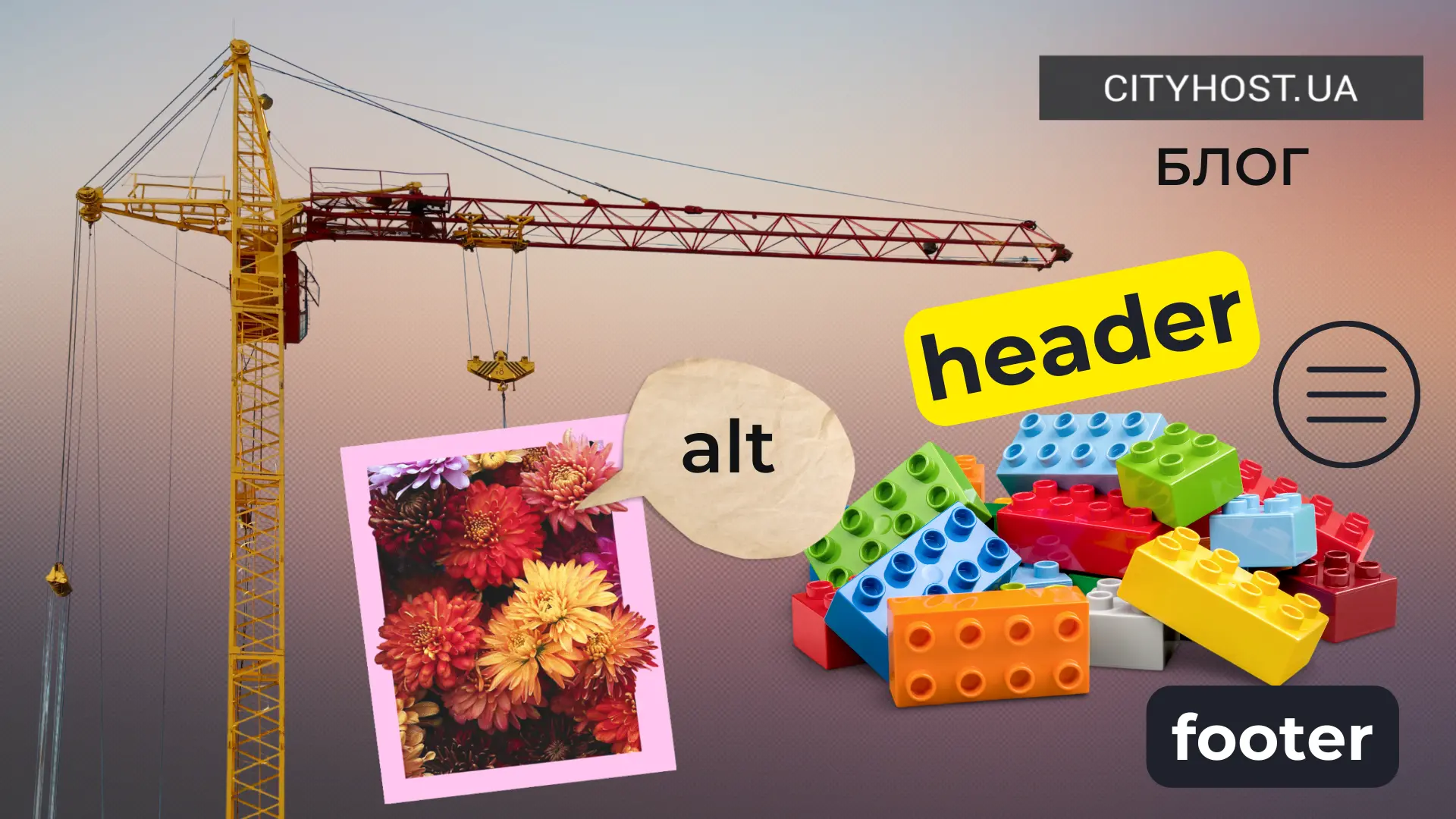 How to create a site? Previously, for this, it was necessary to hire a professional web designer and developer to create the concept and write the software code. This is not only an expensive process, but also a complex and lengthy one.
Fortunately, with the advent of constructors, even an ordinary Internet user can independently create a website without knowledge of programming languages. Over the past decade, the website development industry has grown at an unprecedented rate. Although this means more options than before, newcomers can be confused by the variety of offers. There are different platforms for building websites, each with its own unique features and benefits.
To help you navigate this wealth of variations, we've put together an article on the best website builders in 2022.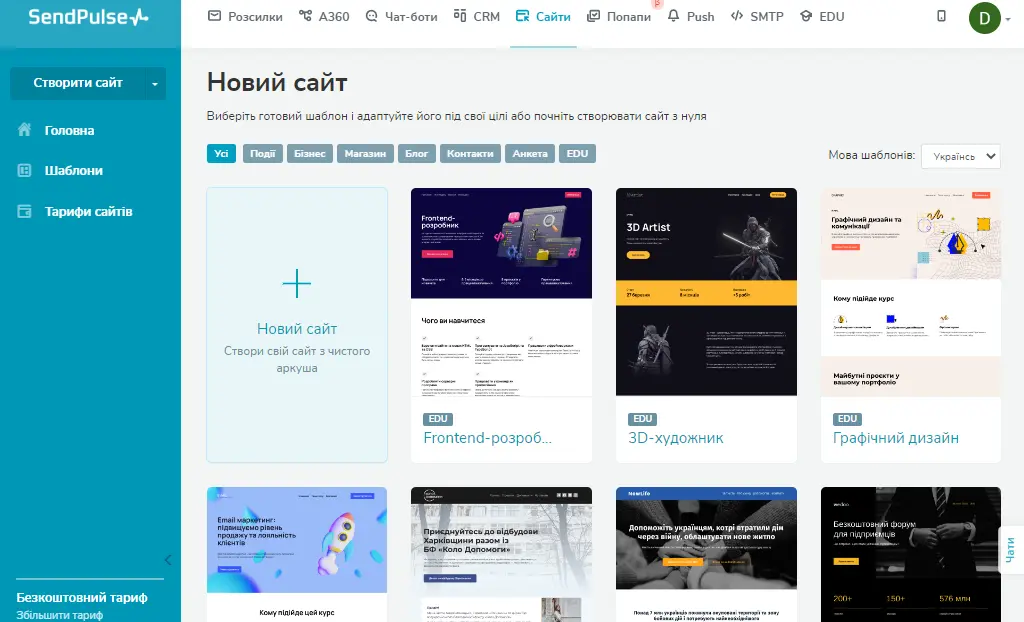 A multilingual marketing platform that provides a number of useful tools for business, including a free site builder , a chatbot builder for Instagram, WhatsApp, Telegram, Viber, Facebook, an email service, and a platform for creating online courses (EDU). SendPulse allows you to develop landing pages and multilinks for Instagram, send mass emails, SMS and web push messages, as well as automate sales using a free internal CRM system.
Thanks to this functionality, you can build sales funnels, track conversions on the site, convert subscribers into buyers, and increase loyalty. The service provides free tutorials, training articles and webinars on how to use SendPulse's tools and how to improve the effectiveness of your overall marketing strategy.
Pluses
Free unlimited tariff.

Simplicity and convenience of the interface.

Ability to work in a team.

Modern ready templates of sites and landing pages.

Round-the-clock multilingual support service.

The service works in Ukrainian, English, Russian, French and other languages.

A large number of integrations.

Ability to connect a payment system, such as PayPal, Stripo, Fondy, and others.
Cons
The possibilities of the free tariff are limited, for example, to connect the payment system, you need to purchase one of the paid packages.

The number of site templates is still small.

Minimal possibilities of working with the code.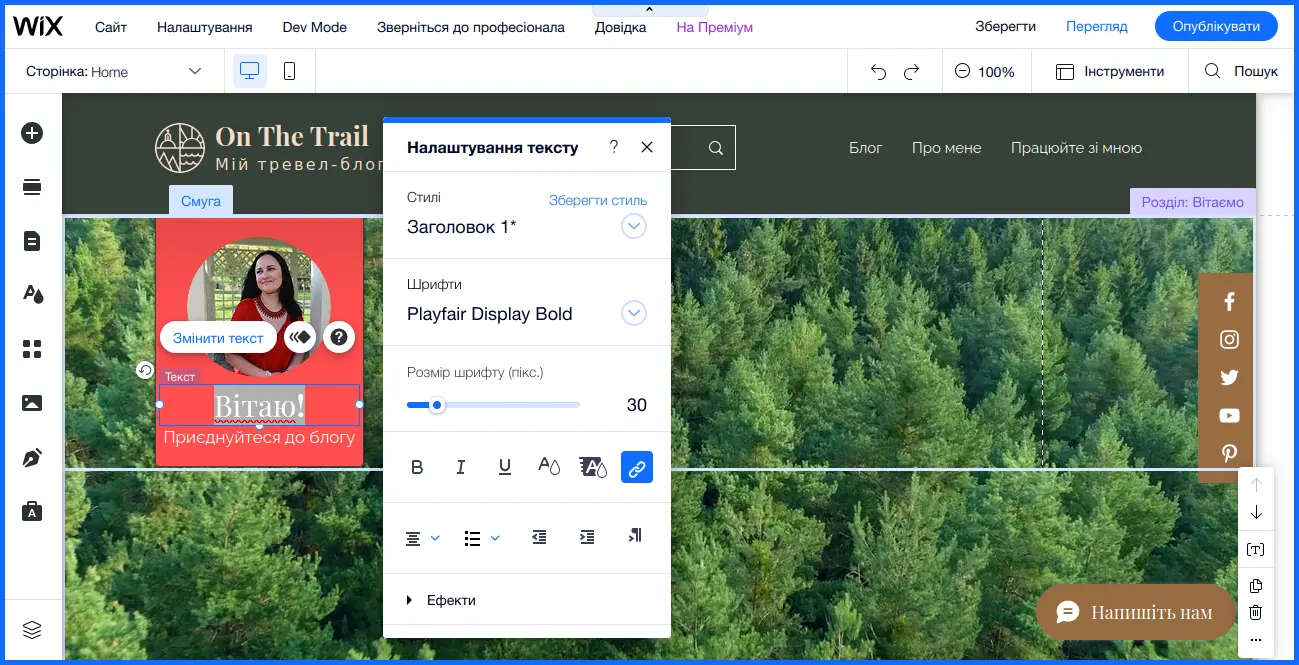 Wix is not a new player in the website building industry, it has been around since 2006, which is more than fifteen years. One of the reasons for the popularity of Wix is the fact that it became one of the pioneers of introducing a visual designer based on the principle of no-code. You can make your web resource by simply editing the blocks.
With Wix, you can create a turnkey website. Everything is here — from templates to website hosting . The main feature of Wix is ease of use.
Pros of Wix
Wix is a full-fledged cloud-based software platform (SaaS). It can be used from any device with an Internet connection, and there is no need to install software on your computer.

Very simple one-click registration via Google or Facebook account.

More than 500 templates for any type of site — online store, landing page, portfolio.

The site is immediately placed on the Internet, so you do not have to pay for separate hosting.

A very easy-to-use visual website builder with the ability to drag and drop blocks.

There is a library of applications to improve your site.

Interestingly, Wix has a mobile app that allows you to not only view, but also edit the site.

A free plan is available that provides a small amount of cloud storage and a simple domain.

An SSL security certificate is available.

It is possible to accept payments for goods / services using the Fondy module .
Cons of Wix
There is no possibility to insert sections of HTML and CSS code, so there is less freedom in creating a site.

Site files cannot be removed from Wix if you want to change hosting platform.

Most of the interesting and useful options are paid.

A long and ugly third-level domain. To connect your own domain , you need to switch to a paid tariff. You can also purchase an address directly from Wix.
One of the important disadvantages is the not entirely honest positioning of the service as an opportunity to make a full-fledged free site. In fact, you should not develop a professional web resource or online store on the free plan. The site hosts Wix ads, lacks essential tools, tech support favors paid customers, and the site itself ranks low on Google.
No matter how much advertising says about creating free sites, in reality Wix is a good, multifunctional, but far from free service.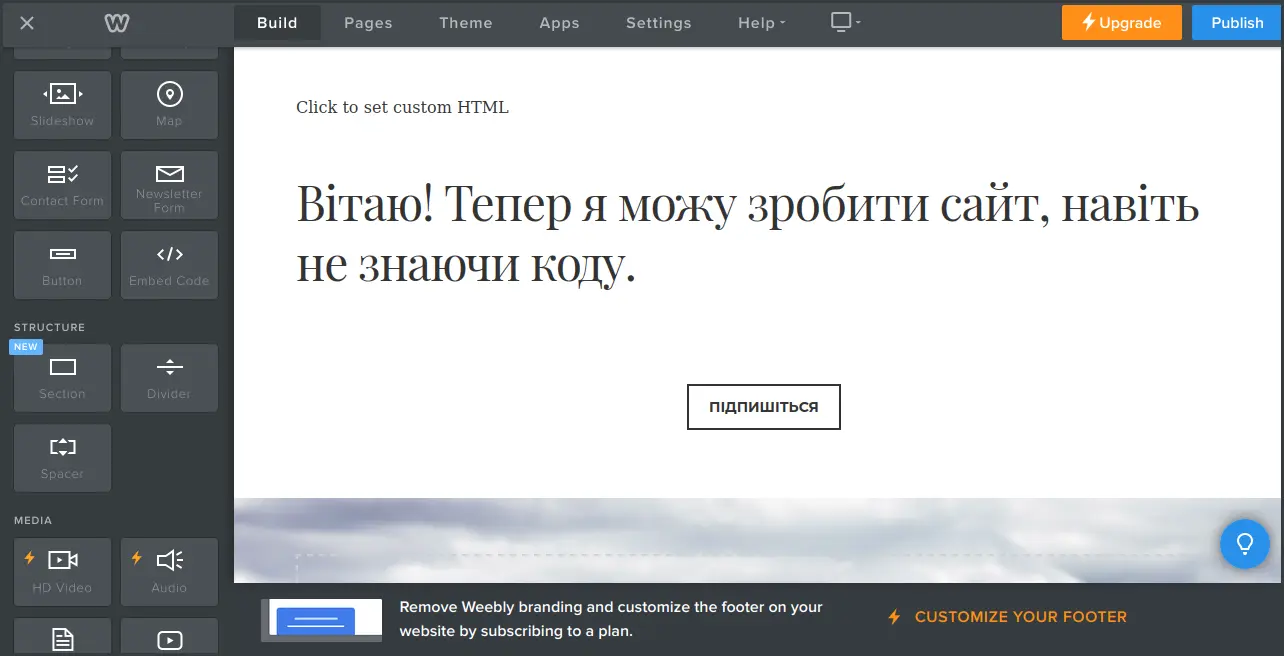 Weebly is similar to Wix, and they are the same age. Both offer visual builders that allow you to build a site by dragging and dropping blocks. Weebly has slightly more expensive plans for all packages, but still provides unlimited bandwidth. The main functions of SEO and lead generation are present even in the cheapest plan.
Weebly's visual builder is simpler than Wix's, making the platform easier to use overall. It has fewer templates — about 70 in total — but there is an option to insert HTML sections.
Last but not least when comparing these two options, Weebly offers slightly more advanced features and ecommerce tools, but Wix's ecommerce-focused plans are slightly cheaper.
Pros of Weebly
A cloud platform that already provides hosting and a free domain.

Excellent e-commerce tools and the Business Plus plan offers e-marketing features.

Unlimited bandwidth for all plans (including free).

Very easy to use, even easier than Wix. Ability to customize the site using HTML code inserts.
Cons of Weebly
A 3% transaction fee on every purchase from your eCommerce store unless you're on a Business or Business Plus plan.

The same problem with domains - either a long and ugly address, or pay to connect your own.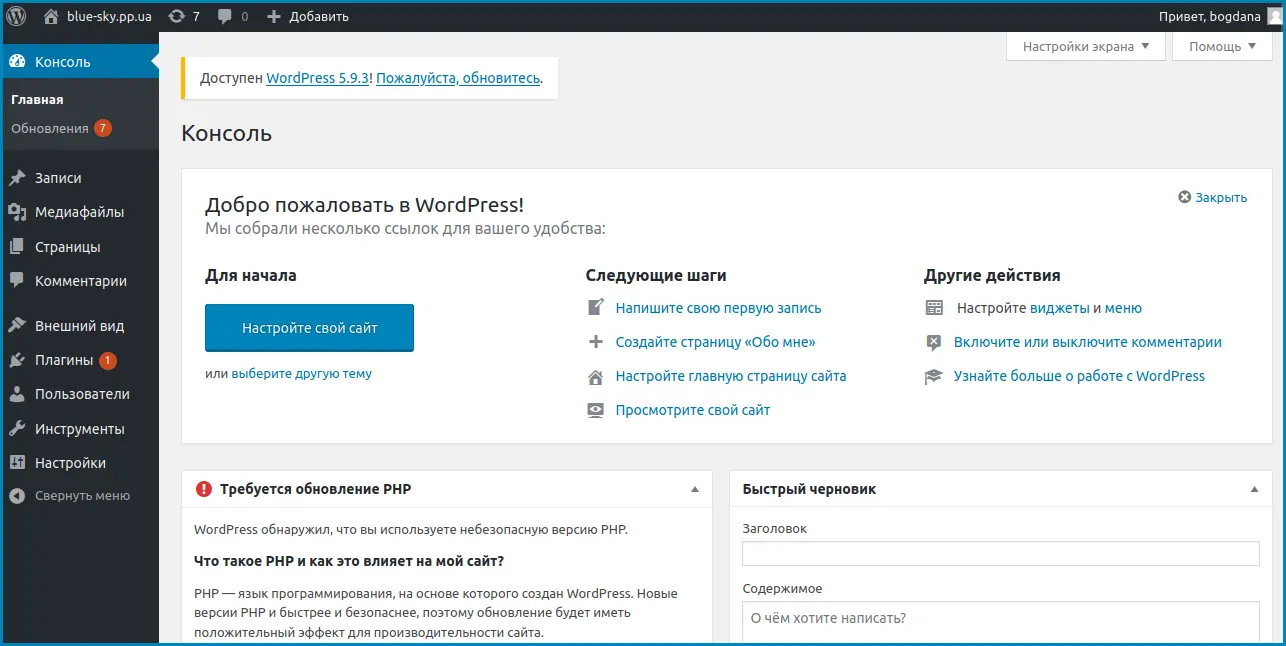 Today, it is impossible to discuss builders without mentioning WordPress. It is the most widely used platform for creating websites, with more than a third of the entire Internet running on WordPress.
But it's important to understand that WordPress is quite different from Wix and Weebly because it's an open source platform.
This is not a SaaS platform, like all the ones mentioned here, but a CMS, that is, a content management system. There are other CMS , but today we will talk only about this one, as it is the most popular. The framework is available for download at wordpress.org , and once you get the template, you can do whatever you want with it.
On the one hand, creating a site on WordPress is absolutely free. On the other hand, its use will require a certain set of knowledge. It is much more complex than all other constructors, although it has a much wider arsenal of possibilities.
However, due to the popularity of WordPress, there are many resources to help you learn it, including community forums and numerous video courses.
With WordPress, if you are willing to put in the time and have the necessary skills (in terms of design and programming), you have absolute freedom to create a website to suit your needs. Although WordPress is not as easy to use as Wix or Weebly, it is rich with thousands of themes and plugins available. And lately, it has had such plugins as Elementor, which allow you to assemble pages using the same simple drag-and-drop principle.
Pros of WordPress
Free forever. You can invest in hosting, domain and plugins, but the designer itself is completely free.

Complete control to customize every aspect of your site. You can go inside the code and edit it however you want.

Lots of resources available to learn about the platform.

Thousands of templates (paid and free), some offering advanced features such as analytics and automation.

The ability to create any type of site — landing pages, blogs, online stores.

Ability to accept payments for goods or services using payment plugins .
Cons of WordPress
You need to study it, it will be difficult to make a site without understanding the platform.

You need to purchase WordPress hosting , a domain, and some plugins separately.

There is no customer service, you will have to deal with all the problems yourself.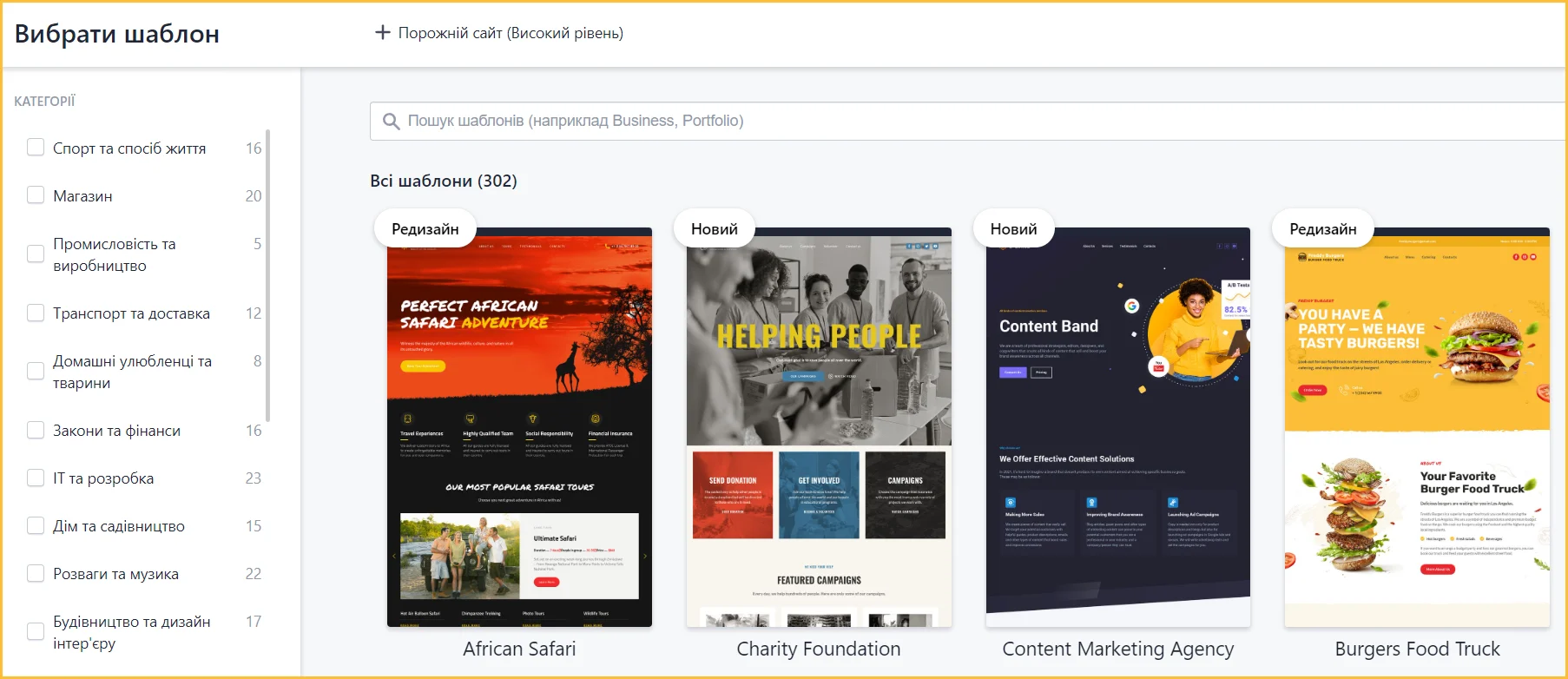 Weblium is a Ukrainian site builder that has been around since 2019. It is a modern cloud platform with more than 300 templates for sites of any direction.
It is easy to register on the platform in one click, you can do it using a Google account. To begin with, the system will conduct a small survey - find out what industry you represent (marketing, business, web design, etc.), ask about your position, whether you have developed websites before. This is done to personalize the admin account. Also, at the first login, newcomers are offered a tour of the editor.
The designer has two tariffs — free and PRO, which allows you to get a free domain for a year, SEO tools, the ability to add code and the absence of advertising on the site.
Advantages of Weblium
The editor allows you to save different versions of the page and restore the backup if something goes wrong.

In the system (on the paid version), you can work as a team and comment on the development process.

Free SSL certificate on all versions.

Wide SEO arsenal.

Convenient e-commerce tools with built-in payment systems.

Ability to add code in the paid version.

A large built-in library of pictures.
Cons of Weblium
Very simple template design for the free version.

Advertising the platform on your web resource, if the PRO tariff is not purchased.

No indexing for free sites.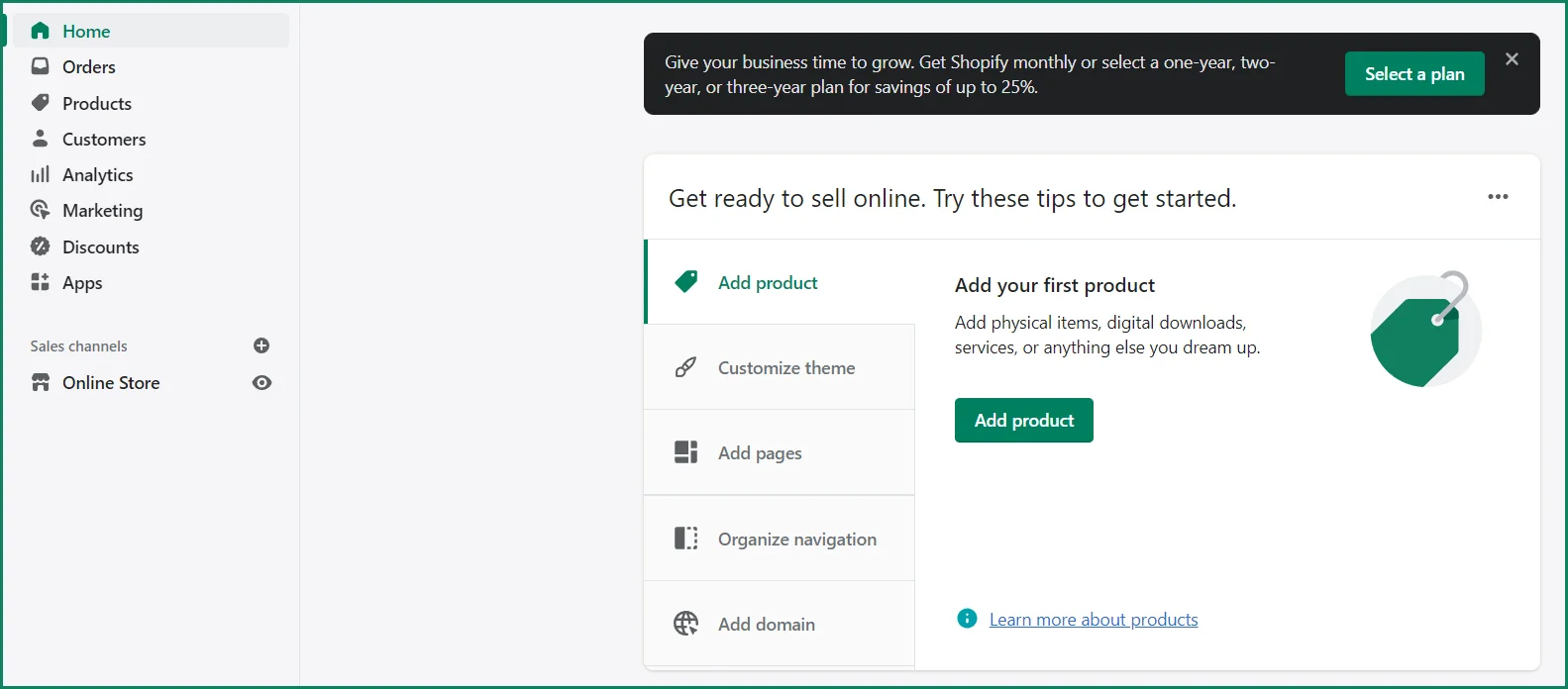 Shopify is a popular site builder designed primarily for e-commerce services and online stores. Today, Shopify supports more than half a million online stores worldwide. The platform also includes hosting services similar to the previously mentioned services, but is especially focused on e-commerce tools and functions, such as an integrated payment gateway (Shopify Payments), payment processing functions, warehouse management, etc.
Shopify is quite expensive compared to other competitors and pricing models are based on e-commerce features (transaction fees, number of employee accounts, etc.)
Pros of Shopify
Advanced tools and features related to e-commerce ( Shopify checkout , inventory management, marketing solutions, etc.).

Easy-to-use site builder with an intuitive interface.

POS system for physical stores.

The ability to sell not only physical, but also digital goods.

Excellent tools for reporting and analytics.
Disadvantages of Shopify
Expensive and limited plan options (note: Shopify Lite is not an actual website builder, but simply integrates Shopify's e-commerce tools with existing platforms like Facebook, Instagram , or an existing website).

It's hard to migrate your site from Shopify to other platforms.

There are many additional tools, but they are all paid.

The lack of an available language version in the admin — neither Ukrainian, nor at least Russian.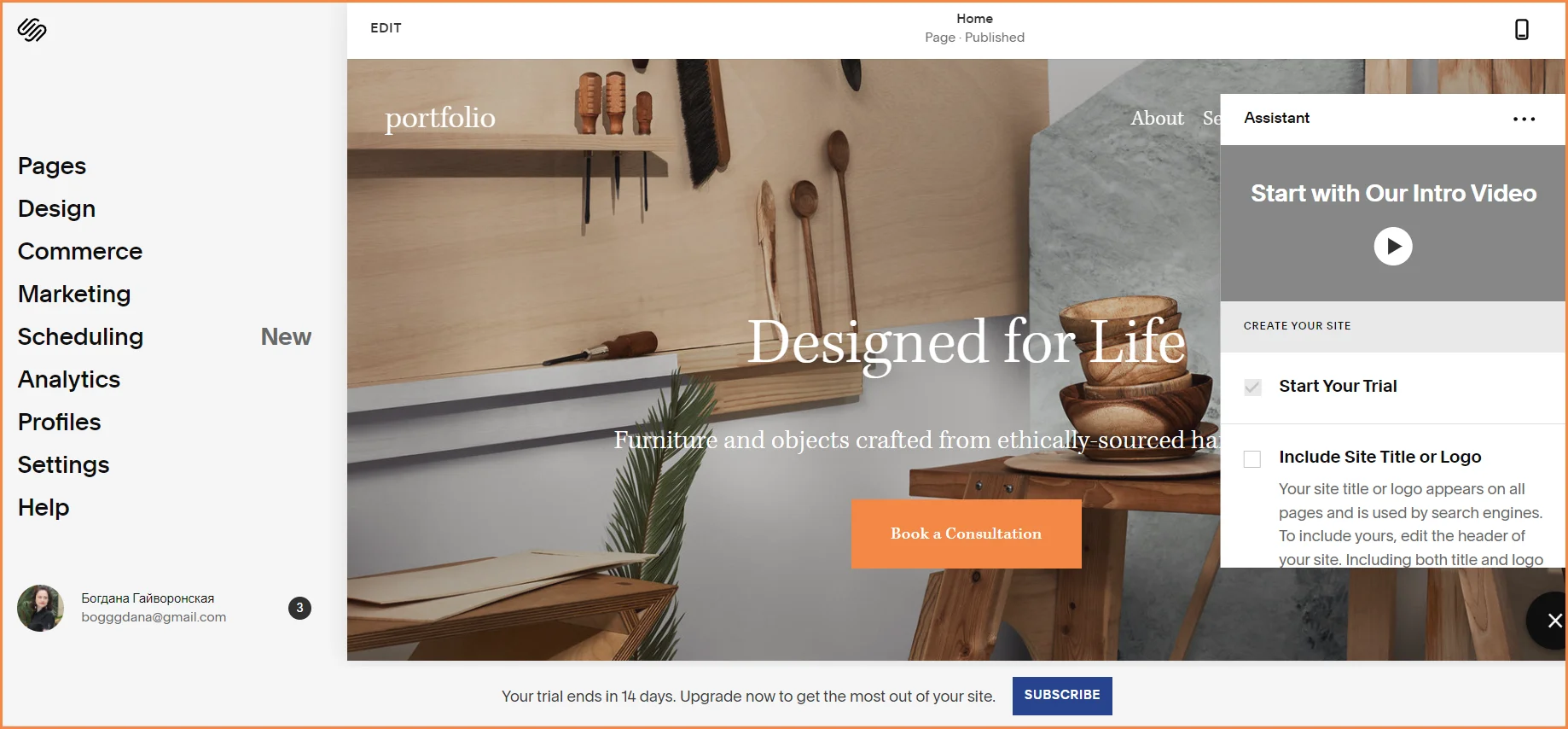 SquareSpace pays special attention to design, as seen in its website and brand philosophy. It offers more than 80 beautifully designed templates, the designer has unique functions aimed at simplifying the work of the designer (for example, a powerful photo editing function). SquareSpace, like many other platforms, offers a visual website builder.
The editor has responsive templates, so your site will look decent on mobile devices. However, you don't have the ability to edit the mobile site separately, so flexibility is limited in this regard.
SquareSpace is most focused on e-commerce, so it is best suited for starting an online store. It offers simple e-commerce tools and features, its interface is really nice, clean and easy to use.
Pros of SquareSpace
Clean, elegant and intuitive interface.

There are enough well-designed templates that you probably won't have to do a lot of customization. It is very easy to add content to the site.

You can easily create your own layout using the drag and drop method.

There are built-in SEO functions and web analytics.
Cons of SquareSpace
No free tariff.

The cost of the plans is quite high.

Limited payment gateway capabilities with e-commerce plans.

In general, less flexibility to customize the site.

Lack of available language version for admin (the closest for us is English).
So, we looked at six different constructors. Each of them is interesting in its own way, and you can choose the one that is most impressive for your site and its tasks.