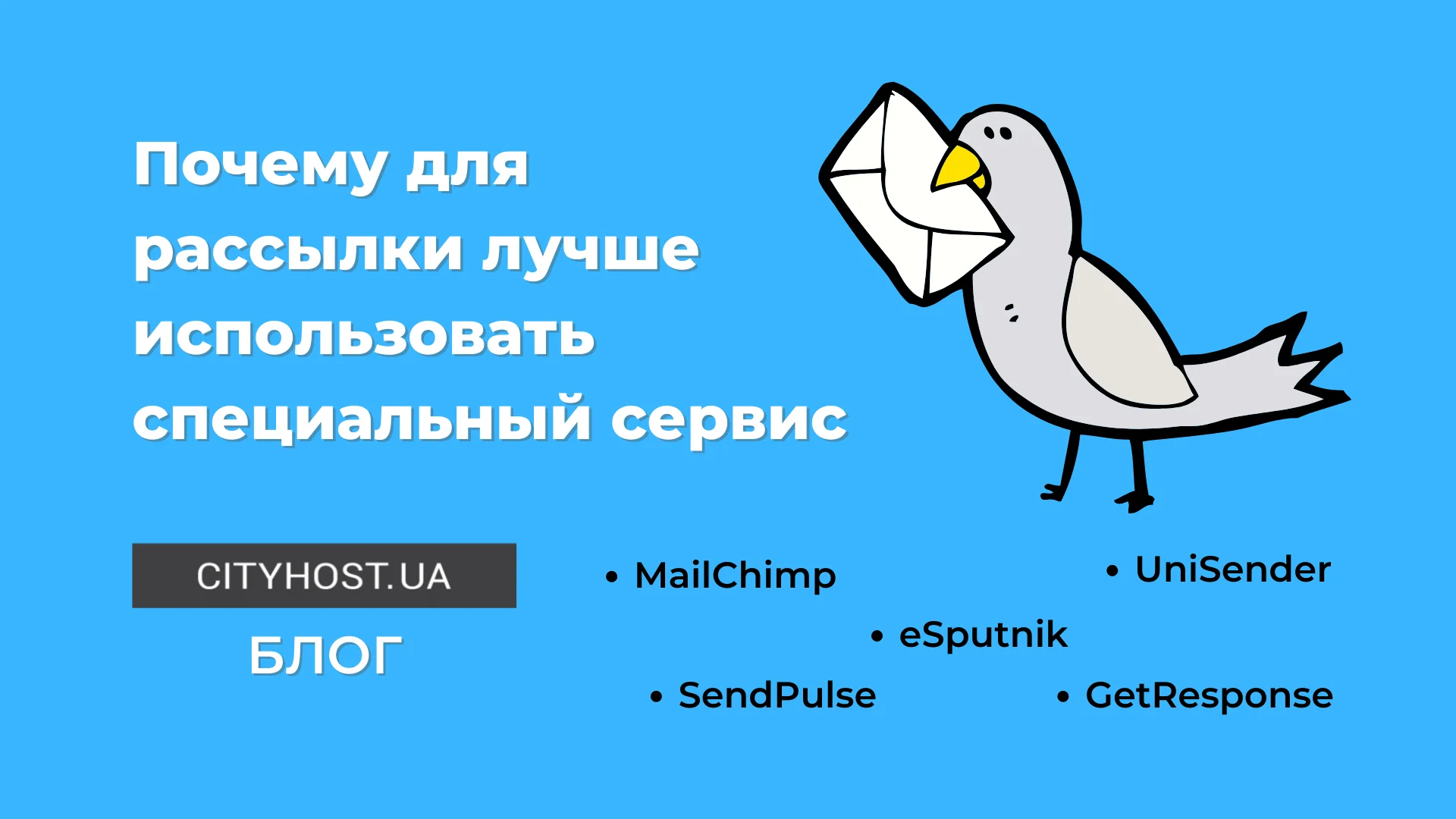 Email distribution is sending letters to potential and existing customers of the company. These can be notifications about promotional offers, holiday greetings, news about the company's work.
Newsletters help the business to stay in touch with the client and contact him directly, and special services track his actions (opening the letter, following links).
There is an opinion that email newsletters are outdated, their place has been taken by social networks and contextual advertising. But it is not so. Advertising in social networks and search engines is designed for all possible users, and letters from newsletters fall directly into the hands of the client. Marketers monitor the interests of target audiences and try to compose letters so that the information is useful and interesting.
Email distribution is a personalized marketing tool, a separate channel that does not compete with others, but works together with them.
Most often, email newsletters are used in business to interact with customers, but sometimes this service is also used in other areas. For example, news sites can send a digest of the most popular stories.
Why is mailing most often used in business:
Company news. They do not necessarily relate to goods - from the news, the client can learn about the expansion of the technical base, the participation of management in an international conference, social aspects of business (charity, participation in the life of the region). Such information raises the rating of the business and forms a positive image among customers. Most often, the letter does not contain the material itself, but an offer to go to the blog and read the article.

Promotions and special offers. Bright illustrated messages offer to buy goods at a discount, to participate in a prize draw. Such mailings help customers to save and get additional benefits, and businesses to increase the number of loyal customers.
Here is a classic example of a promotional letter from a cosmetics company.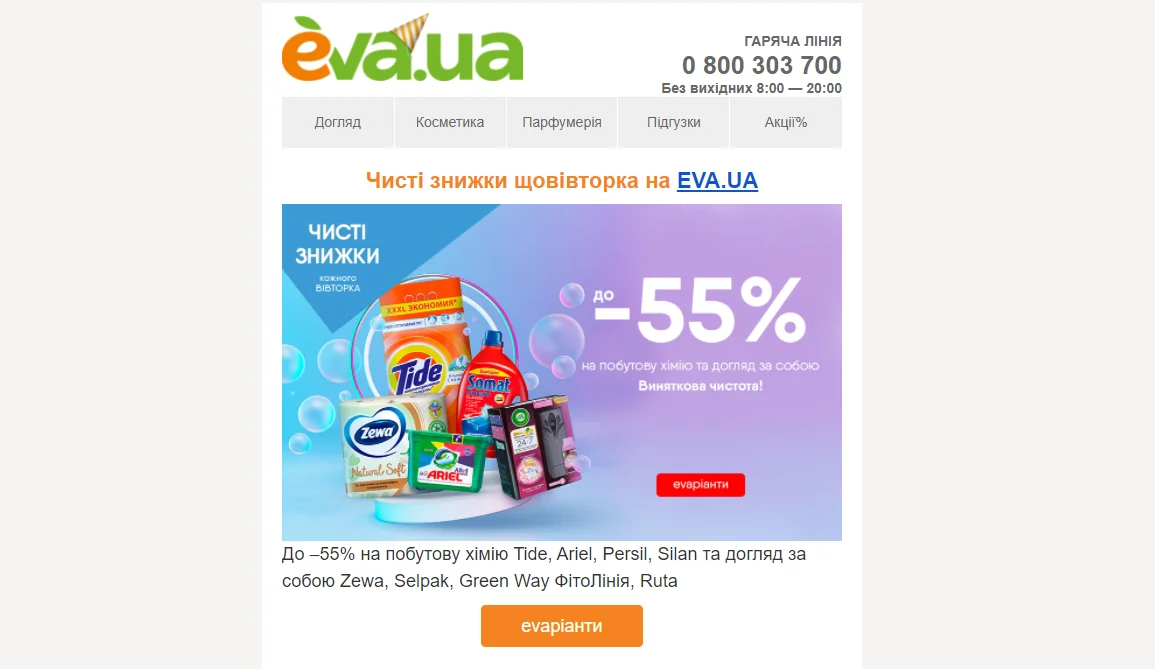 Notification. This includes messages of a non-advertising nature, rather, they are notifications about important events for the client - opening or closing of a point, changes in the schedule, changes in tariffs. Regular customers and current service users receive notifications. Such mailings can be general or personal. For example, every Cityhost client receives letters about the need to extend the validity period of domain registration , hosting or server lease - this is an automatic mailing.
Mailings are often confused with SPAM, as the latter is synonymous with the sender's intrusive behavior. It is especially annoying when the company does not know the measure and sends letters every day, or even several a day. "Well, again, SPAM!" - you think, pressing the corresponding button in the mail.
But in fact, these are completely different phenomena, and each of them has its own characteristic features.
Email mailing is a legitimate way to inform target audiences and existing customers about business offers. Users themselves leave their addresses and give their consent to receive letters. Often, companies gather a base with the help of promotions "Subscribe to the newsletter and get a discount!" or simply offer to sign up for news in a pop-up window. Either way, the client leaves his address voluntarily. In the source data, the company's contacts and its name are indicated, the reader knows who he is dealing with. There is always an "Unsubscribe" button at the bottom of the email.
Email mailing is designed to build a long-term relationship of trust with the client, its mechanism is open and transparent.
SPAM is a scam. Recipients do not give consent to receive letters, the database is collected by illegal methods, for example:
SPAM bots collect addresses on sites, extracting them from the page code;

Hackers hack databases of online stores and social networks, steal contact lists from postal services;

Address databases are repeatedly resold, spammers exchange them among themselves;

Letters are sent based on a database compiled at random - any words that can be in the addresses are simply substituted for the domain extension such as @gmail.com or @ukr.net. The letter contains pictures and links - by clicking on anything, the user confirms the reality of the address. Therefore, it is not recommended to open suspicious emails at all, and even more so to click on the elements. By the way, they may even have an "Unsubscribe" button, but it's fake — clicking on it will get you even more SPAM emails.
There are many such methods. After collecting a database, spammers send fraudulent letters with an offer to buy something, invest money, receive an inheritance. The so-called "Nigerian letters" are a classic example of spam. The letter does not contain real data from the sender. This is usually a one-time mass mailing aimed at illegally taking money from people. Such actions are punishable by law and involve fines.
So, if you are tired of advertising letters from a familiar online store, it is not at all necessary to punish it by sending it to SPAM - it is enough to unsubscribe from the mailing list, and your address will be automatically deleted from the database. But it is better to send a suspicious letter from an unknown addressee to the trash without opening it.
You can send letters using regular hosting , but it is better to give preference to special services. Hosting is more for personal or corporate use of mailboxes. If you need to exchange letters with colleagues or correspond with customers, hosting is an excellent option. If we are talking about mass mailings, you should choose a profile service. It will allow you to more flexibly manage mailings, create templates, track effectiveness and measure the effectiveness of mailings. Here are some reasons to choose a mailing service:
Restrictions on mailing. A strictly regulated number of letters can be sent from a personal or corporate mailbox. For example, in Gmail it is no more than 500 letters per day, in ukr.net - a maximum of 250. By creating personal mail on hosting from Cityhost, the client gets the opportunity to send 300 letters per day from one address. Special services for mailings have no restrictions on the number of letters, they can be sent by thousands.

There is a high probability of getting into the inbox, not SPAM. Since personal mailboxes are not intended for mailing, any excessive activity is perceived by the postman as a possibility of hacking or fraud. Such letters have a serious chance of getting into the SPAM folder, while the services guarantee that the correspondence reaches its destination.

Ability to create templates. The services offer the opportunity to compose a beautiful letter with the help of a designer — it has banners, pictures, dies, frames, buttons, fonts for headings. They can be composed by simply dragging with the mouse — the result is a professionally composed letter.

Analysis of mailing efficiency. Good mailing services have additional marketing tools. They analyze the reaction of recipients - how many letters were deleted unopened, how many were opened, how many readers followed the links, how many unsubscribed.
Below we will consider the 5 most popular services that have proven themselves well on the market.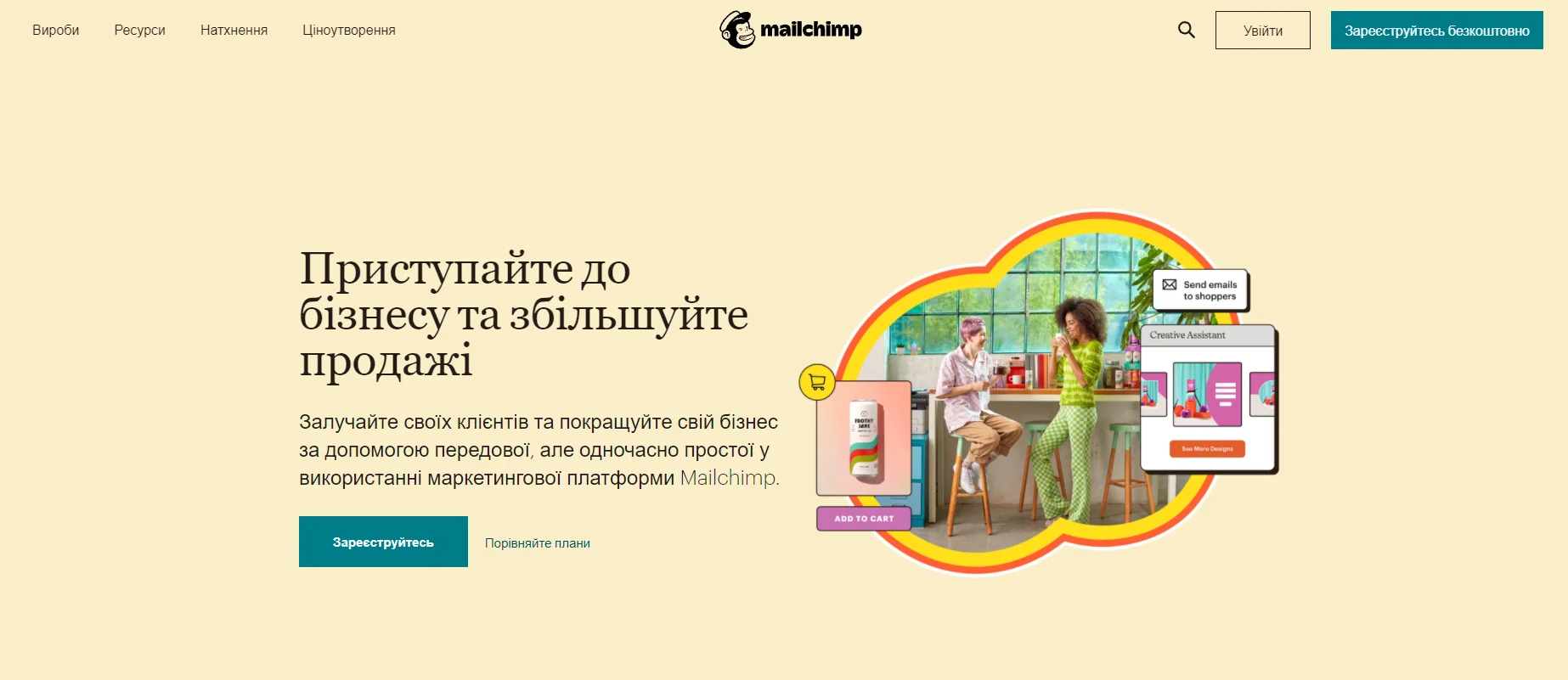 MailChimp is an American all-in-one marketing platform that offers templated website development, targeting, CRM and more. Email mailings are one of the directions.
Among the possibilities, you will find the creation of letters in the designer, analysis of the effectiveness of headings, automatic determination of CA for certain mailings, monitoring of the behavior of recipients, testing of mailings, segmentation of the base, etc.
The service offers 4 tariff packages — from free with 10,000 shipments per month to Premium with a subscription fee of $300 per month and the ability to send up to 15 million letters.
One of the disadvantages that can scare is the lack of a Ukrainian-language version. But this problem is easily solved with the help of a browser translator from Google, which translates the entire interface quite readably. On our screenshot, you see just such an option.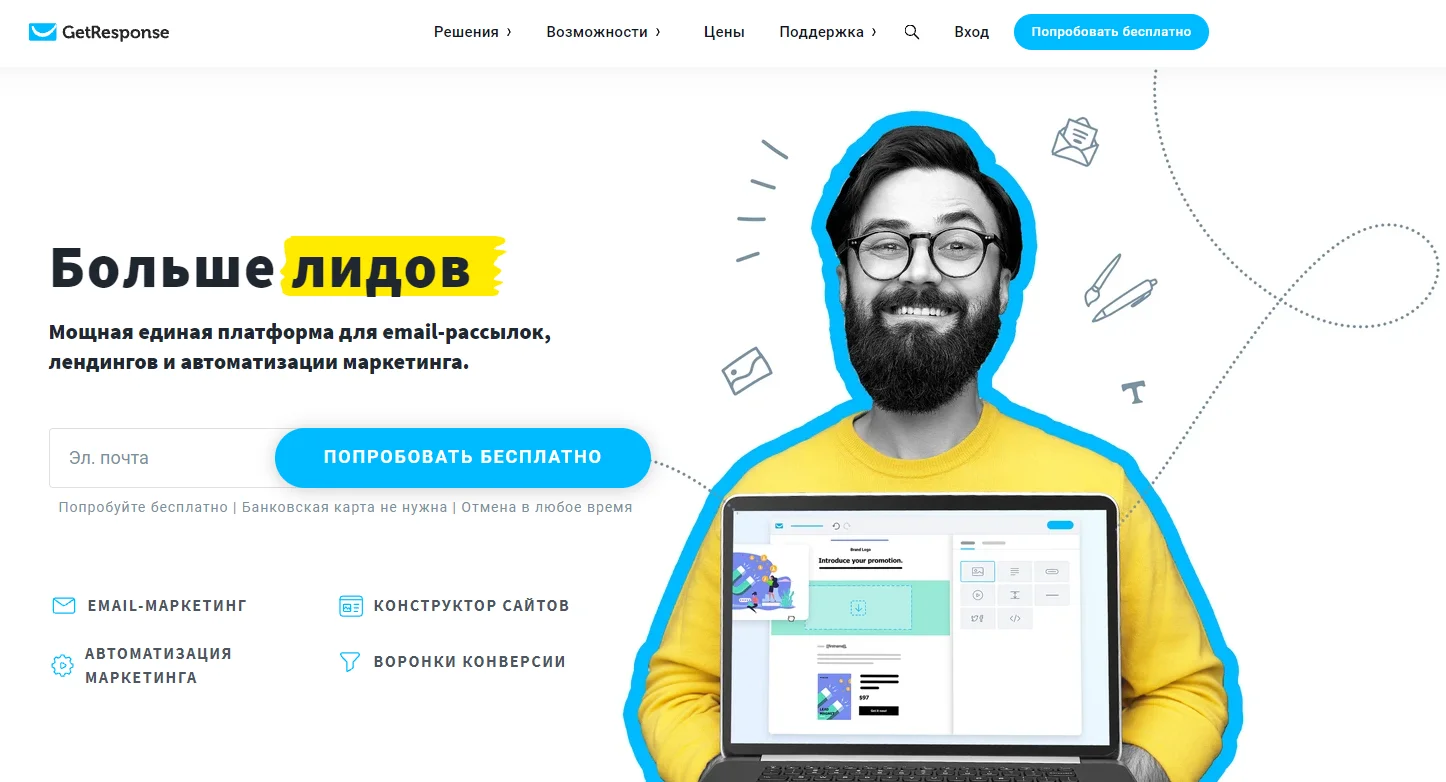 GetResponse is another marketing automation service. In addition to newsletters, it offers the creation of sites, builds sales funnels, allows you to track visitor actions (clicks, abandoned carts), and provides targeting services.
In addition to the classic set (letter templates, recipient reactions), it has autoresponders — automated mailings based on customer actions (a welcome letter in response to registration, a reminder about an unfinished purchase, sending receipts). Allows you to choose the best time for mailings using the "Perfect Time" option.
The site offers 4 paid tariffs that can be tested for 30 days. After that, you can either switch to one of them, or use GetResponse Free (with a base of up to 500 contacts). All other databases start from 1000 contacts (in MAX - from 5000), and the packages themselves differ not in the number of possible letters, but in the tools. The cost of the cheapest BASIC is $12.30, the maximum tariff is calculated individually.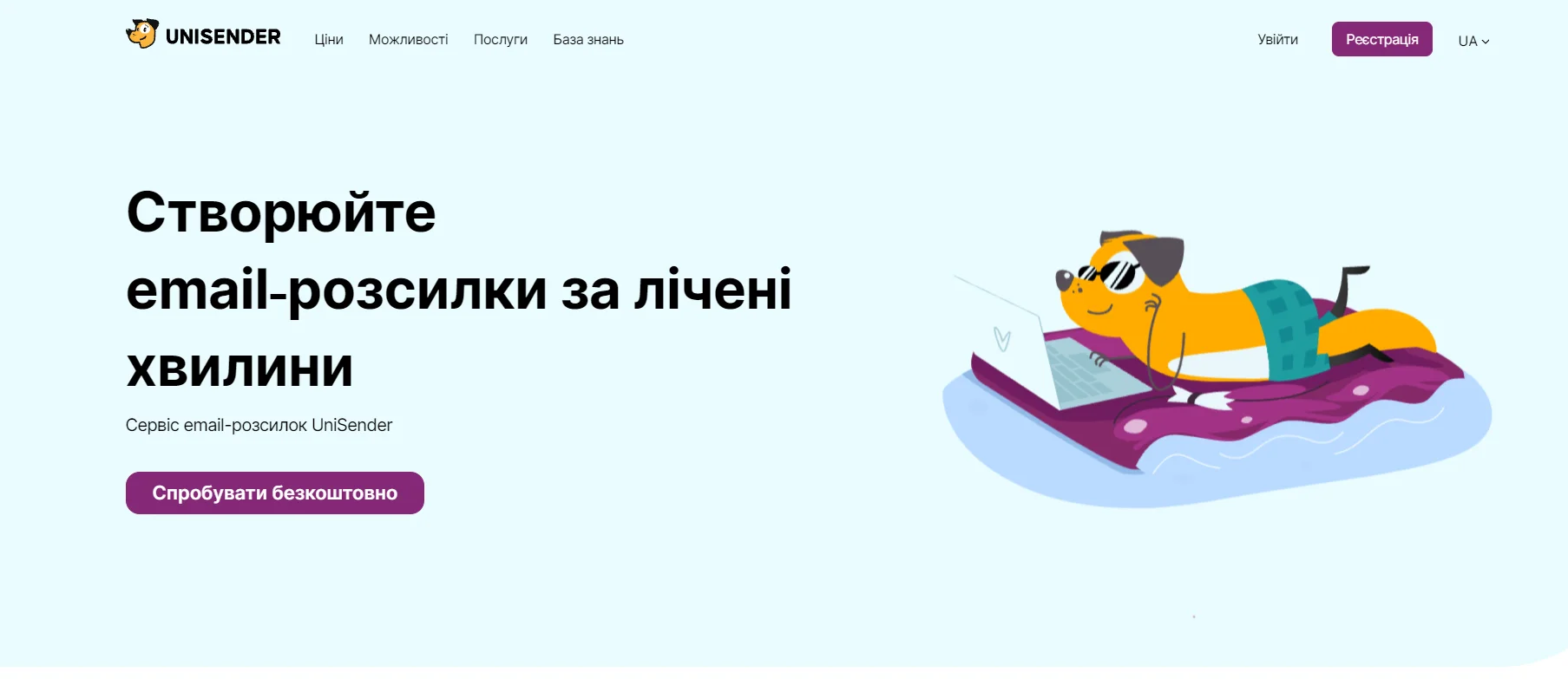 UniSender is focused specifically on mailings, mainly email. There are also SMS and Viber mailings, chatbots.
The service has a wide range of tools, which includes not only the already known letter builders and recipient action tracking, but also personalized mailings, segmentation of the database, and the function of cleaning the list from inactive addresses. You can create chains of letters, autoresponders, transactional newsletters, test parallel versions of newsletters, create subscription forms without knowledge of the code and insert them on your site.
UniSender also has a free plan with a base of up to 100 contacts and sending up to 1,500 letters per month. Three paid packages (Lite, Standard, Premium) are not limited by the number of letters, but have a different set of services. Yes, Light gives access to all automatic services for UAH 185/month, and full management of mailings by specialists is offered as a premium for UAH 5,597/month.
There is also an option not to take a subscription, but to send one-time mailings by paying for the number of letters.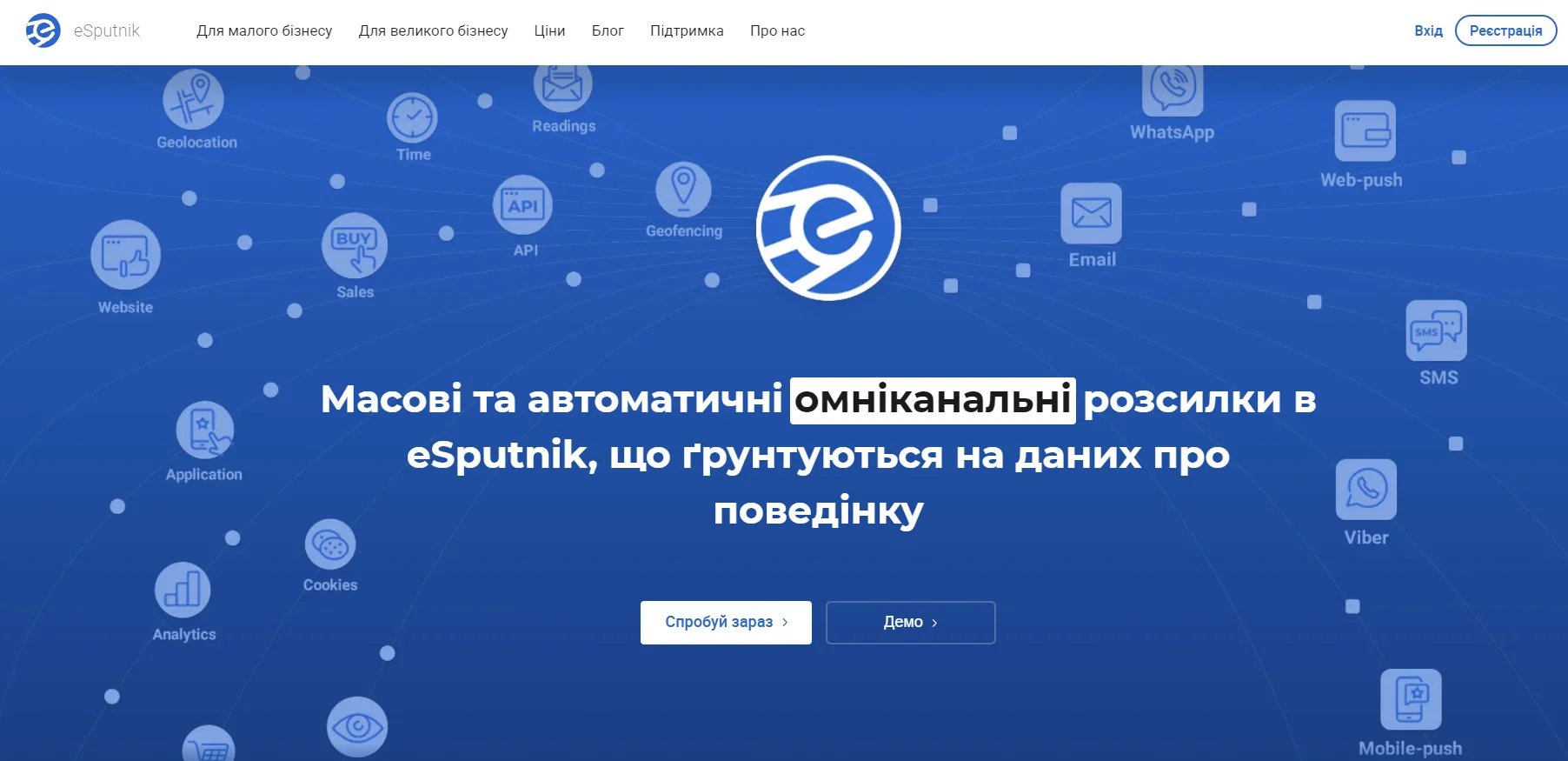 eSputnik is also focused on newsletters and works not only with mail, but also with SMS newsletters, chatbots in messengers and push notifications for desktop and mobile devices.
The service has offers for two client categories — small business and large business. Small businesses are offered a set of mailing tools and a "Marketing agency" section where you can order the services of professionals.
For large businesses, there are also interesting options, such as AMP4email, which allows you to embed sales tools directly in the email (the client can make purchases and other actions without going to the store), combining different messengers in one system, creating a client profile and saving data about its behavior, base segmentation and even artificial intelligence.
Upon registration, the user receives a newsletter for 2500 letters for testing, there is also a free rate for a base of up to 500 users. Three paid packages are offered: "Free" (5 copies per letter), "Optimal" (payment depends on the number of contacts in the database), "For large business" (calculated individually).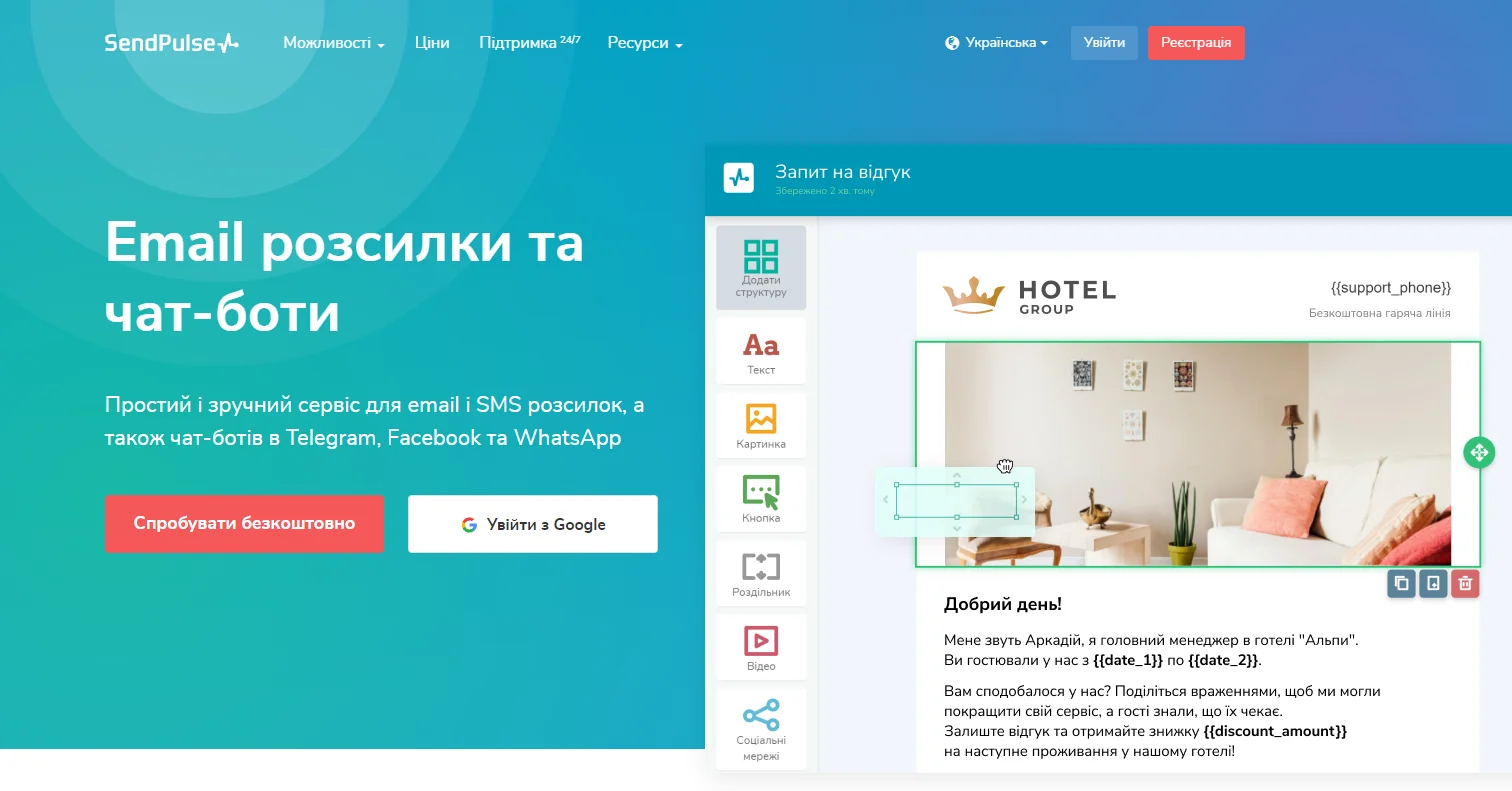 SendPulse is advertised as a tool with a wide range of newsletters and chatbots (email, SMS, Viber, Instagram, WhatsApp, Facebook, etc.), but it also has the ability to create landing pages and work with CRM.
Here you will see a familiar set of services: web-push messages, templates for letters, newsletter analytics, database segmentation, subscription forms, transactional newsletters, testing, personalization and much more.
Of interest: distribution of access rights on the account (several managers can be connected, and each will have access only to certain sections).
Since the company offers many services, its price list is quite voluminous. Email mailings are presented in four packages, one of which is free (up to 500 recipients), and the others are calculated either by the number of letters per month or by the size of the address database. Pricing is flexible for each tariff, you can adjust them for yourself.
The main points that you need to pay attention to are the capabilities of the service, the number of letters that need to be sent out each month, and the prices. What exactly would you like? Perhaps it is enough to create an email newsletter and analyze its results. Or you need an extended toolkit in the form of chain letters and autoresponders. Or maybe you will also need the advice of marketers.
Make a list of the necessary tools, study the offers from different services, correlate them with your contact database. If there are still few addresses, a free tariff with the possibility of embedding a subscription form into the site may be enough. By expanding the list of recipients, you can always change the tariff or buy additional services.
It is important to know that decent services do not offer their database of addresses — they work with your customers. If you don't have your contact list, you will need to create it first using a campaign or other open methods.
We briefly ran through the capabilities of the most popular mailing services. Each of them has its own functionality and many offers. If there is a need to use their help for business development, get to know these resources and choose the most suitable one for your tasks.