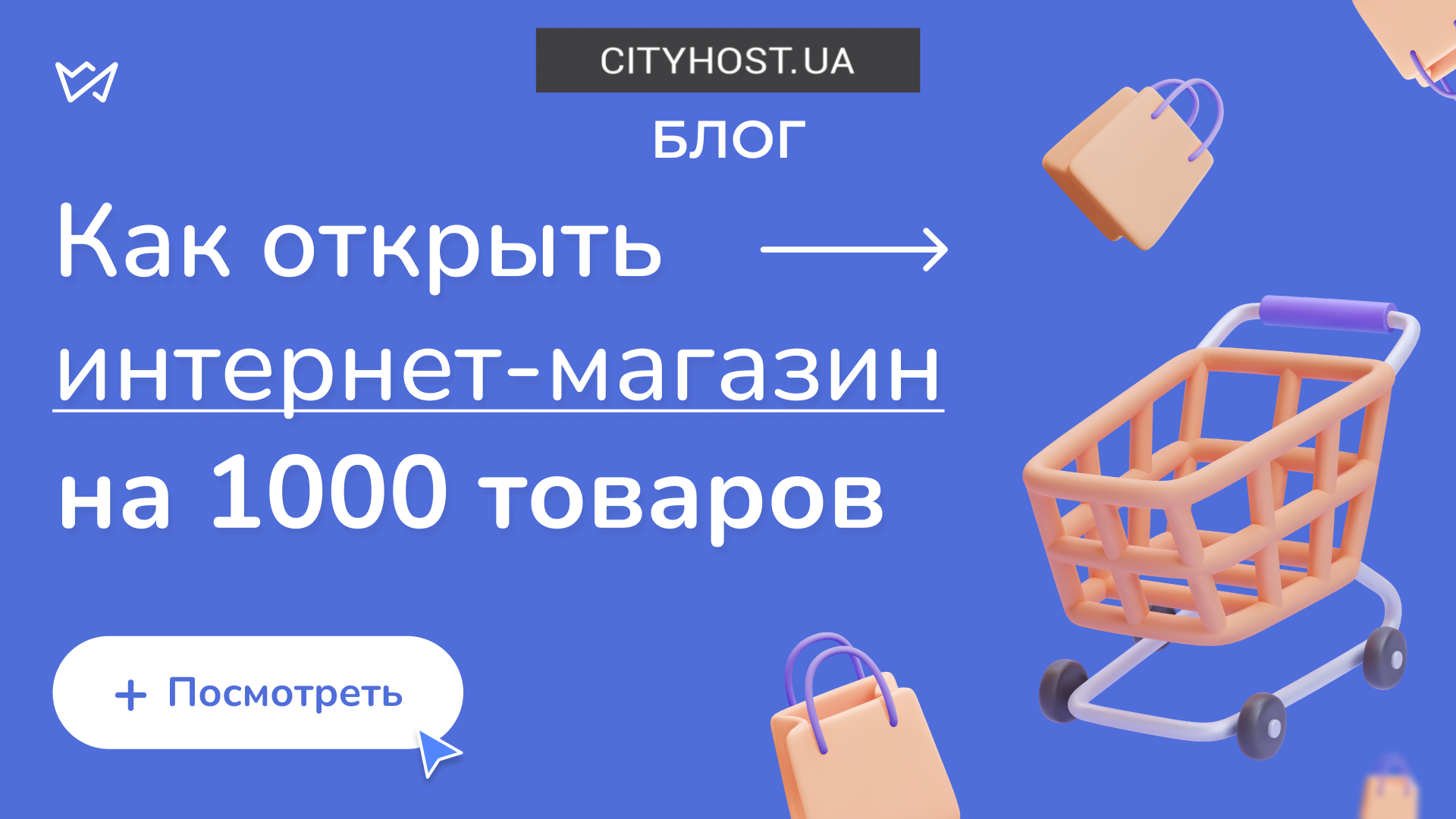 With an online store, you can do business regardless of real conditions — war, rent prices, staff renewal. You need a little business sense and meaningful calculations to organize your business. You will handle the technical part thanks to convenient online solutions. For example, to designers of sites with the capabilities of an online store.
Before opening an online store, you need to decide on several questions:
1. Who is your customer and what does he focus on when shopping. This will help to add a description to the products and fill the site with content. You can be decisive and post useful content, or conversely, write ironically and add stylish illustrations.
2. How many products are you going to sell per month. Not all platforms are convenient for working with a large number of positions. If you have more than a hundred products, find out if the platform supports the import of products and a clear environment for working with them.
3. How quickly your suppliers will be able to send you goods and where you will store the goods. Be sure to describe the terms of transportation in the terms of delivery and indicate where the pick-up locations are located.
4. How you will process applications. Some platforms for creating online stores allow you to work with orders through an internal CRM. On other platforms, it is necessary to additionally connect the client's CRM system .
5. How are you going to attract customers. Do not neglect Google - work on search engine optimization will provide hundreds of buyers without additional costs. The platform should include advanced SEO settings.
6. Legal registration of the store. Thanks to official registration and a bank account, you will be able to connect to the payment acceptance service for business, and then add secure payments to the site.
*This article was prepared by specialists of Weblium , a site builder from Ukraine, which does not require designers or programmers to create sites. From the article, you will learn what you need to do step by step in order to open your first online store.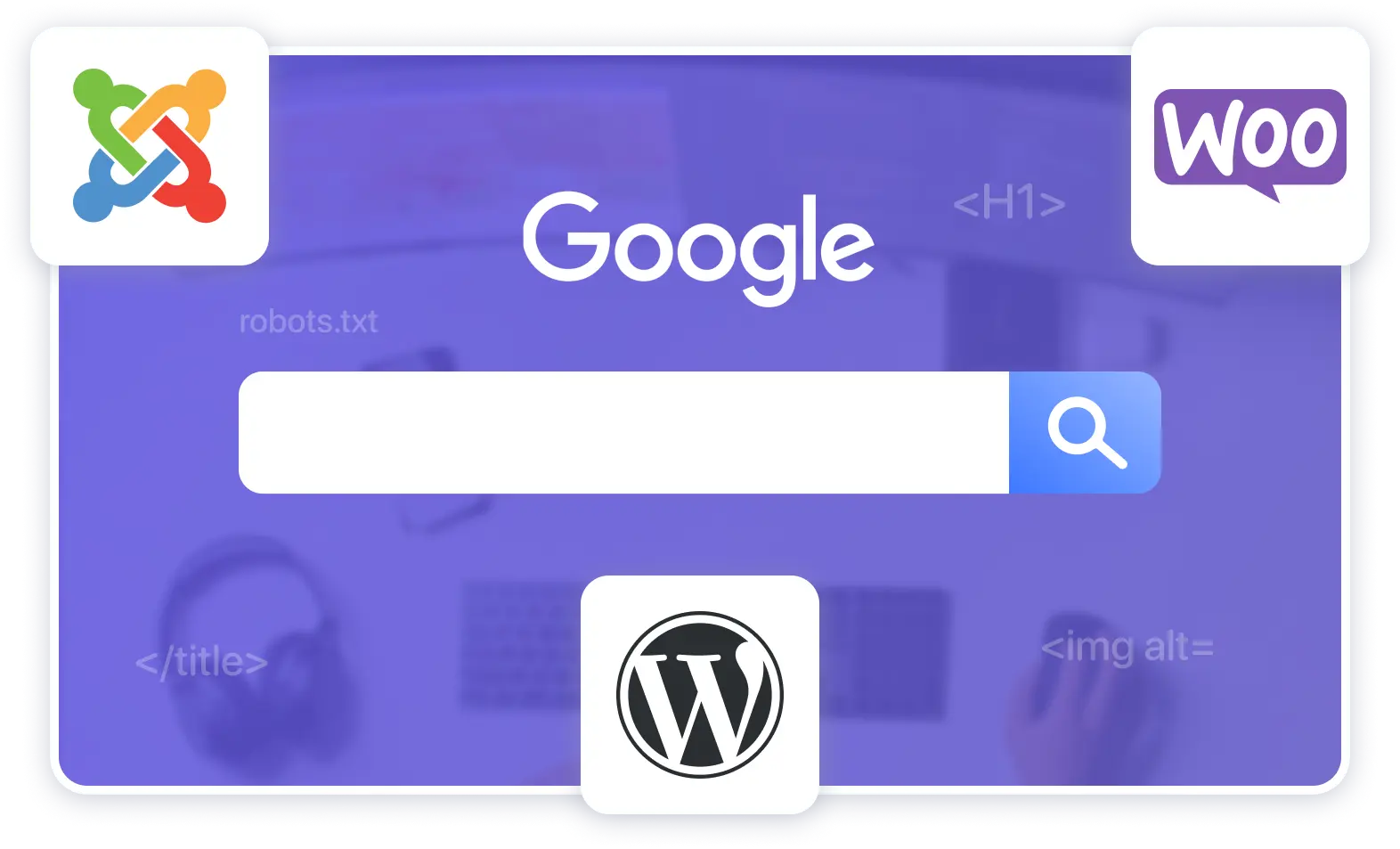 The chosen solution determines how you will manage the content on the site and how difficult it is to create the design of your store.
Internet store on SMS
CMS is a content management system. For small online stores, this is not always the best option. Such systems can be complex to operate, created only for the Western market, require developers or the use of a main CMS and a supporting one for commerce (such as WooCommerce and WordPress).
Choose CMS if you have a qualified specialist. Prices for SMS vary from several hundred to several thousand dollars per use.
Read also: " TOP-3 CMS for creating an online store ".
Site from a web studio
Most likely, the web studio will use either a site builder with business capabilities or a CMS system. In fact, she will help open a new online store by creating a design. Then you will manage and fill the site.
Be sure to find out how easy it is to do. If you cannot contact a studio specialist to change the design and manage goods, refuse this option. Website development prices start at $400, there is no upper limit.
Shop on the site builder
Site builders are suitable for both beginners and experts. The design is not as flexible as in self-written projects on CMS or sites from a web studio. But with a little effort, you will get a professional design thanks to the use of free templates and quick adjustment of colors, fonts, spacing between elements for the content of the entire site.
The cost of a subscription to the designer depends on your needs — the more business functions you want, the more expensive the subscription. Prices range from $15 to $200. The advantage of designers is that you do not need to deal with hosting and buy an SSL certificate .
Later in this article, we will talk about creating an online store in our designer from scratch. With Weblium, you get all the business capabilities in a single subscription for $8.25 per month with an annual payment.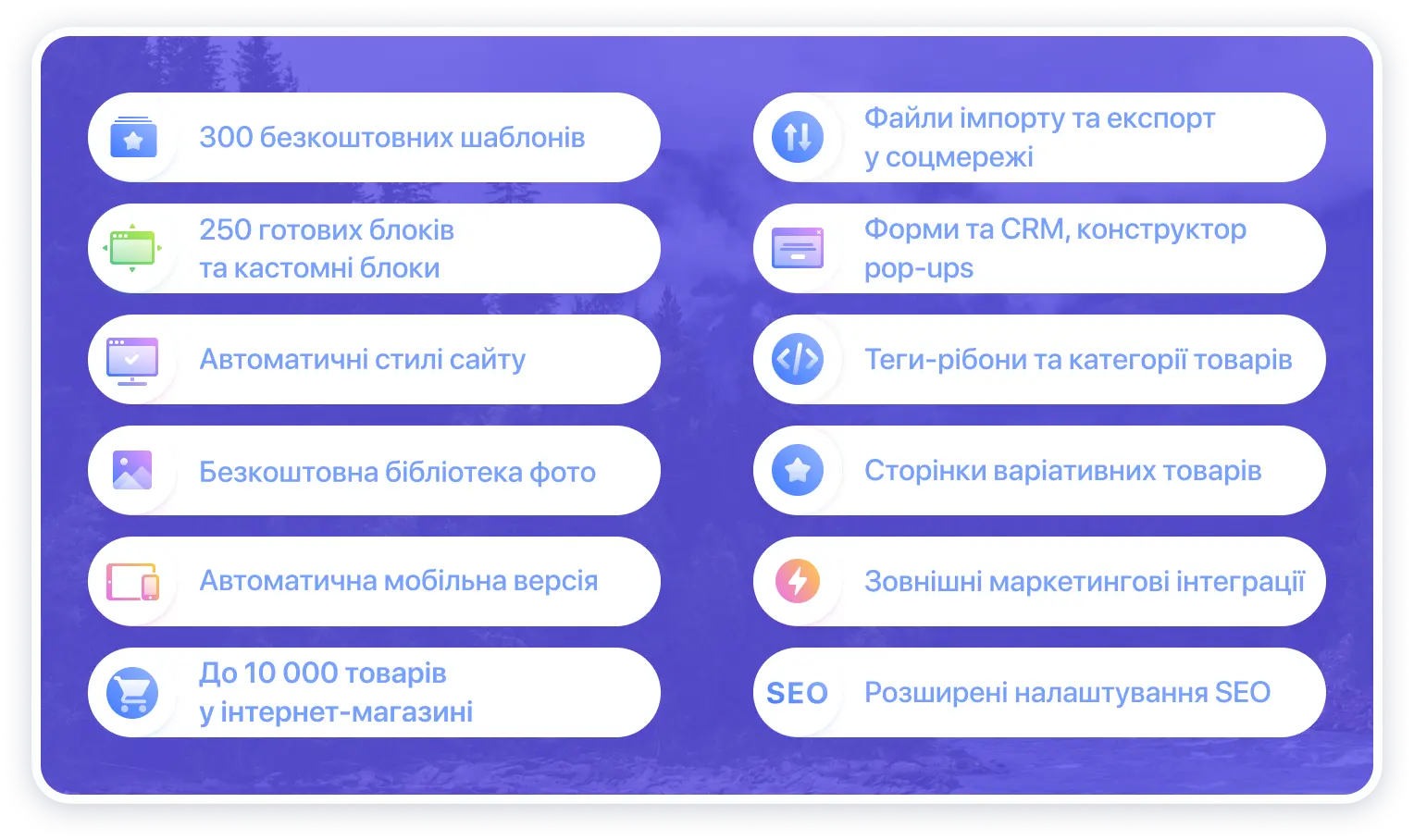 Weblium is a block builder. For example, you need to describe your benefits or talk about your company - search for the right block, add it, and then quickly fill it with content. You can also create completely unique blocks.
What does an online store website consist of?
All site builders have two separate modules. You will use them to create an online store.
One is responsible for the usual pages - the main site, questions and answers, payment terms and delivery procedures, the "about us" page. The client will be able to find these pages in the header and footer of the site. You work on this part in a regular editor. These pages are unique, but you can use previously created blocks to populate them.
You will edit the store pages based on the online store module. In its logic, it does not differ from the editor of ordinary pages, but all customized pages work as templates. For example, you customize the structure and design of a product page - and they apply to all product pages, although their content will be different.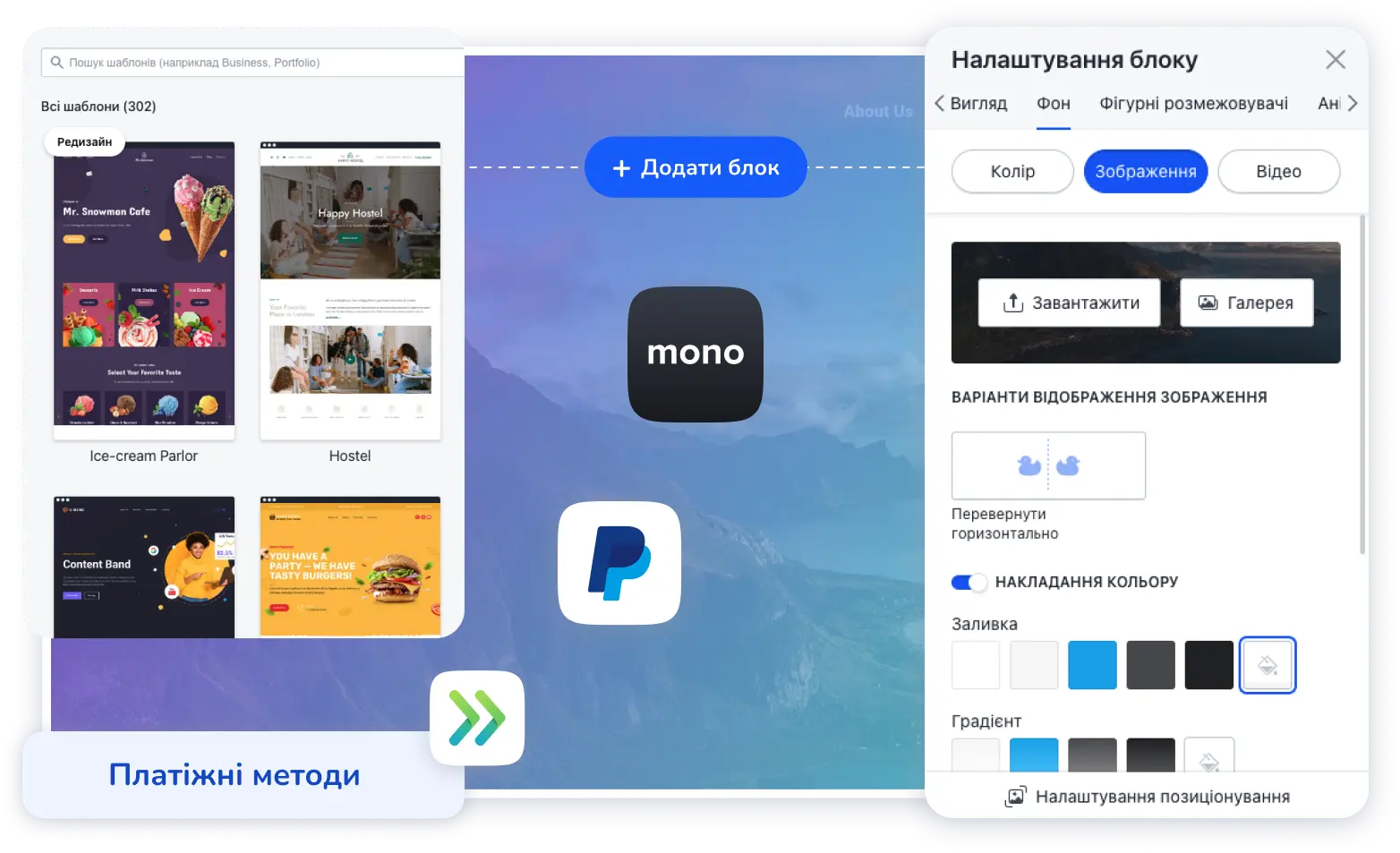 What you need to do to create an online store website
All actions for creating an online store are a simple chain that you can easily do yourself:
Upload products with a description and add their photos.

Decide on the design of the site and create the main one.

Add other pages useful to the customer.

Customize the look of your online store page templates.

Connect payment acceptance to your store.

Connect a domain, set up SEO and add integrations.
Depending on the number of products in your store, you can upload products individually or use import files. With the latter, you add all your products at once, and then edit individual ones if necessary.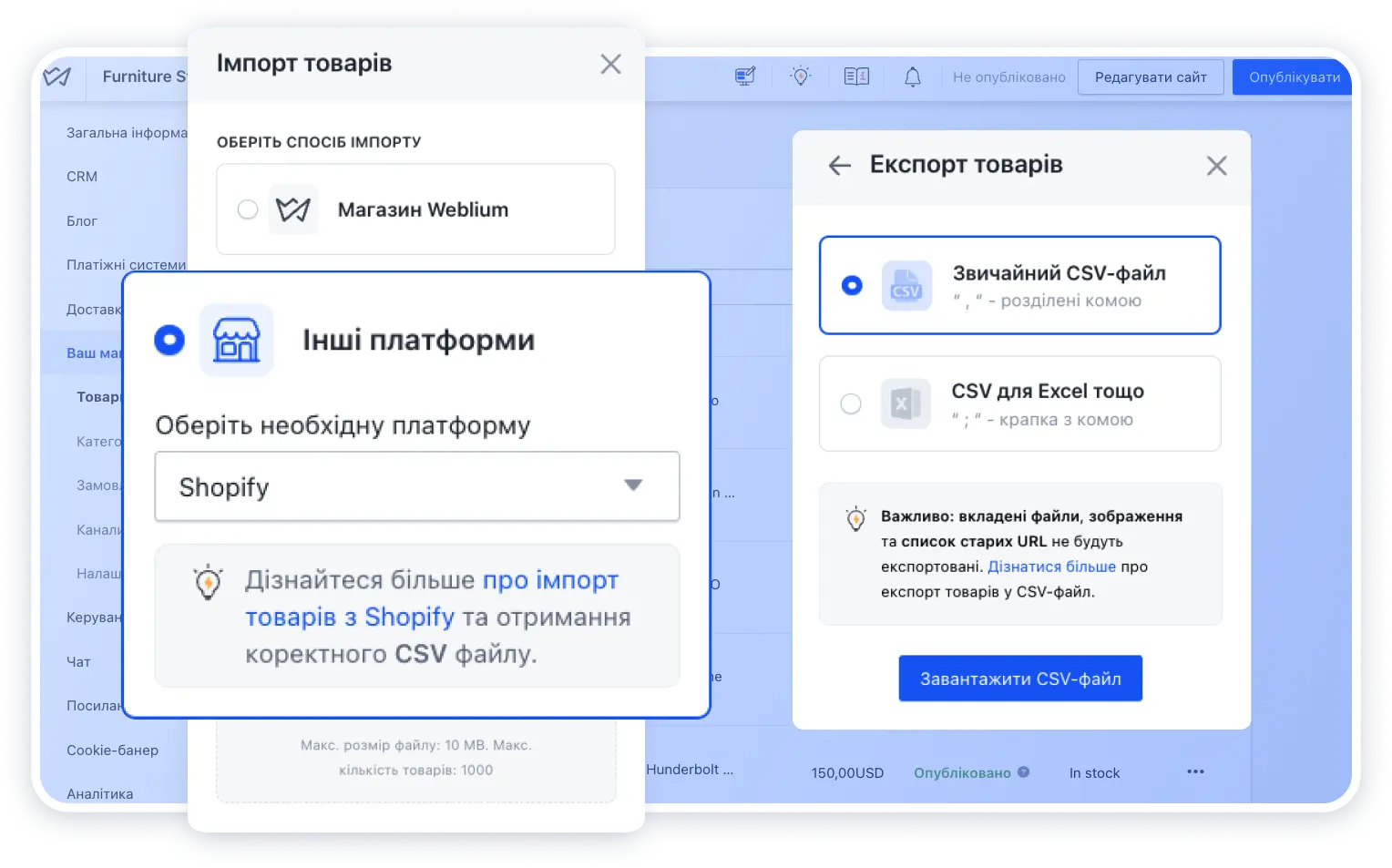 You download the CSV file template for import in the store settings, and then you can edit it in any table editor. For example, Google Sheets or Excel. The imported file template includes all product characteristics. At the end, upload a photo in the product gallery.
If you are creating a website for the first time, use free templates. To make the design unique, adjust the font and color settings of the site - the styles will be immediately applied to the content on all pages of the site.
To understand how the designer works and decide on a design idea, start working on the main page. You need to take into account that there is a main one for both your website and the online store.
Use the main page to talk about your business, work rules, promotions, offers. Be sure to place a transition to the store or its separate categories on the main page.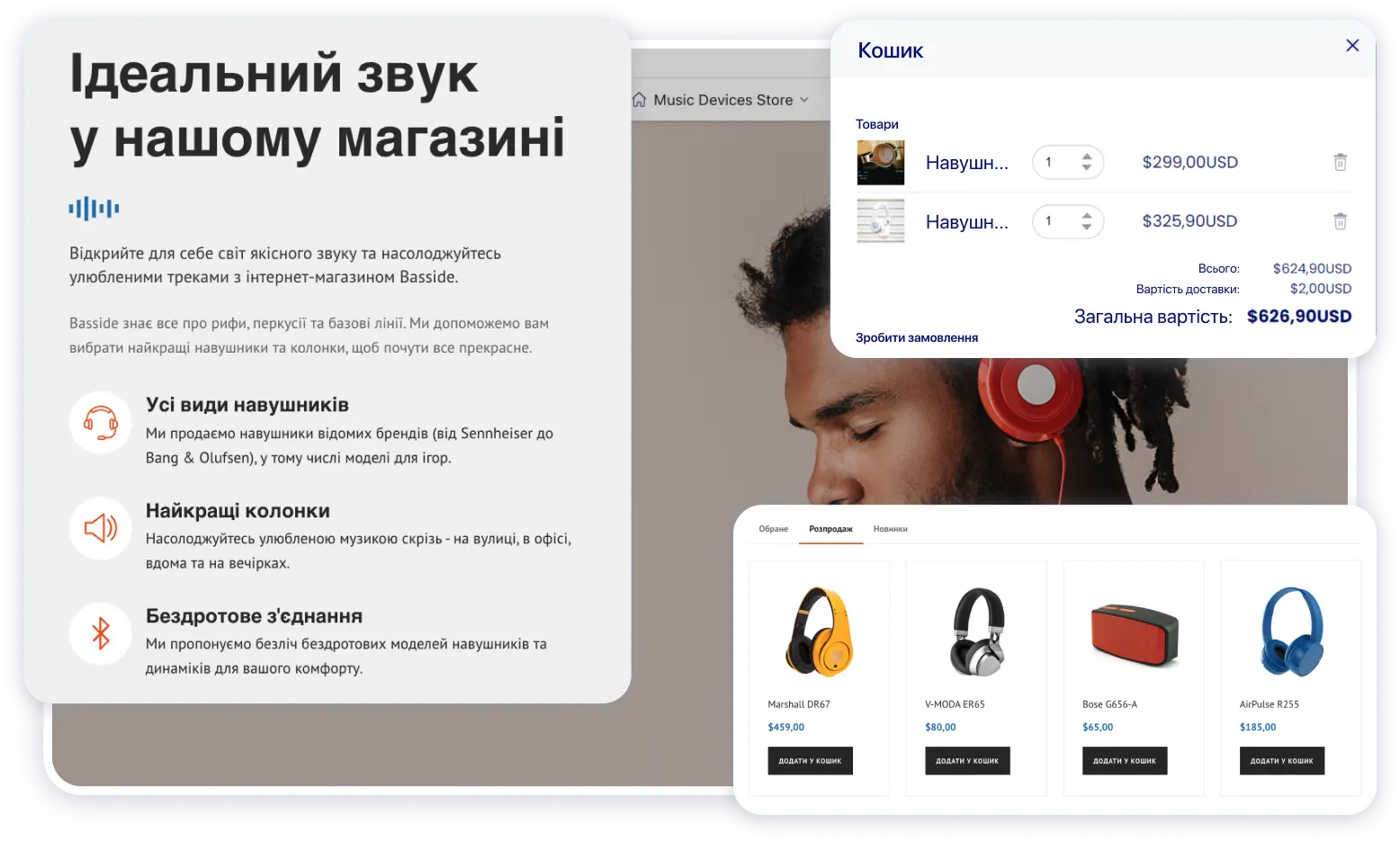 Advertising banners
At the beginning of the page or close to the beginning, place banners with links to special offers or popular products. To make banners, use the collection elements block and set it up as an infinite scrolling gallery.
Showcase of goods
Weblium supports the display of special blocks with selections of products. Their content changes quickly due to the selection of product categories or individual products for this block.
List of benefits
Make a separate block on your page in which you tell customers about the benefits of shopping in the store. Mention there, for example, fast delivery, sale of only original goods or actual collections.
Subscription to news
So that your customers are always aware of the latest arrivals or promotions, offer to join newsletters. To do this, use the forms to fill in the client's data. You can show the form simply on the page or in a pop-up window.
About us
It is important to tell at least two words about you and what you offer to the client. The user needs to know how to get in touch with you. Contacts can be placed in the header or footer of the site, in a block on the main or special page. You can also create a separate page in which you will tell about your store.
Next, to create a site for your online store, you need to add useful pages. The easier it is for your customer to understand the order of purchase, the faster he will make it. The user must understand how the payment will take place and how he will receive his purchase, what awaits him after the purchase. Place links to useful pages in the header and footer of the site.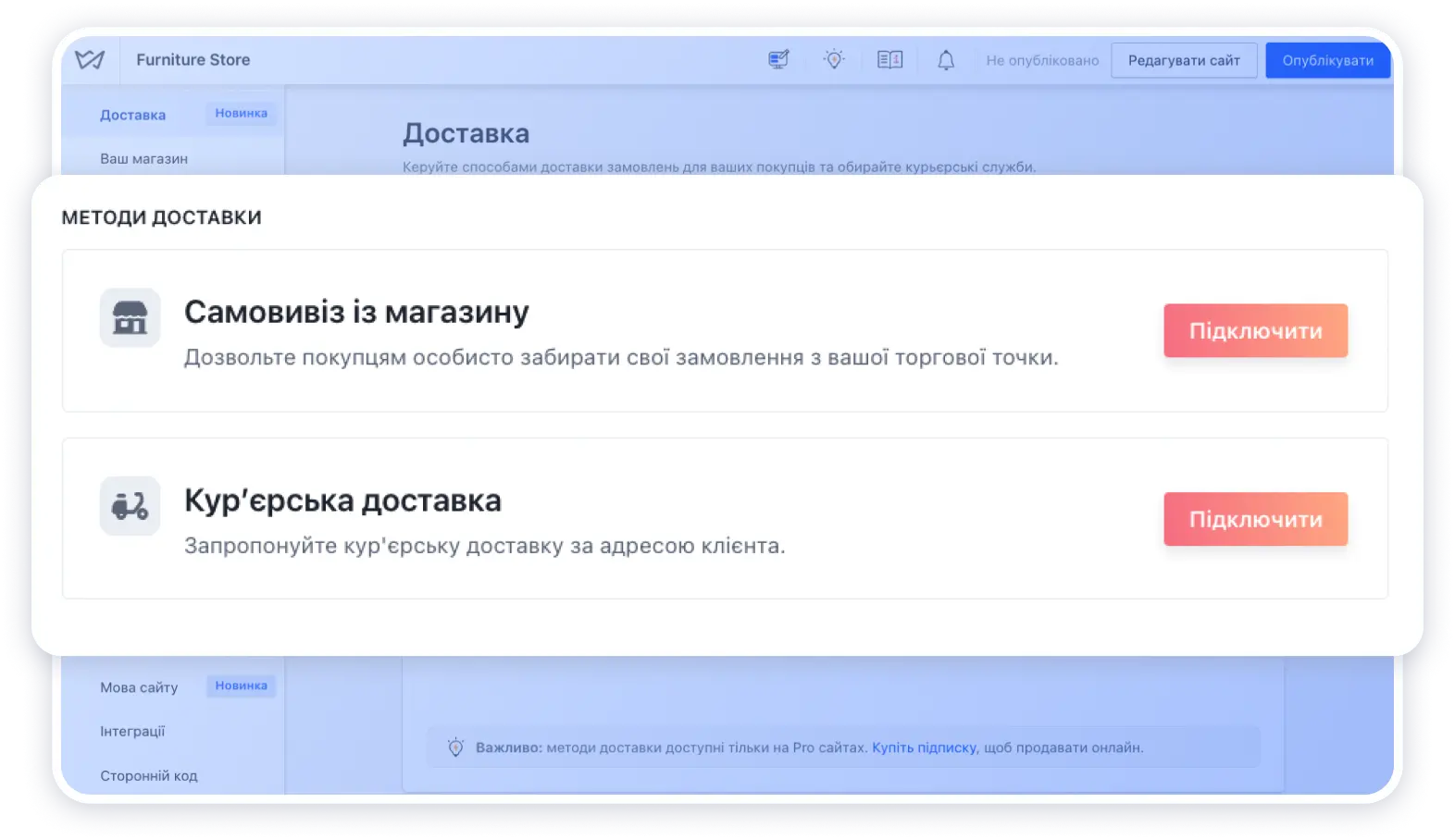 Delivery and payment
On the special delivery page, describe first of all how the customer will be able to receive the goods.
1. Self-delivery. If you already have an offline business or drop-off points, for example, from partners, add the addresses of these points and use the block with a Google map.
2. Courier delivery. List the services that can deliver the goods and add the shipping rates. Specify the cities with the possibility of courier delivery
3. Postal partners. Indicate postal services and approximate delivery rates in tables or add links to delivery service websites.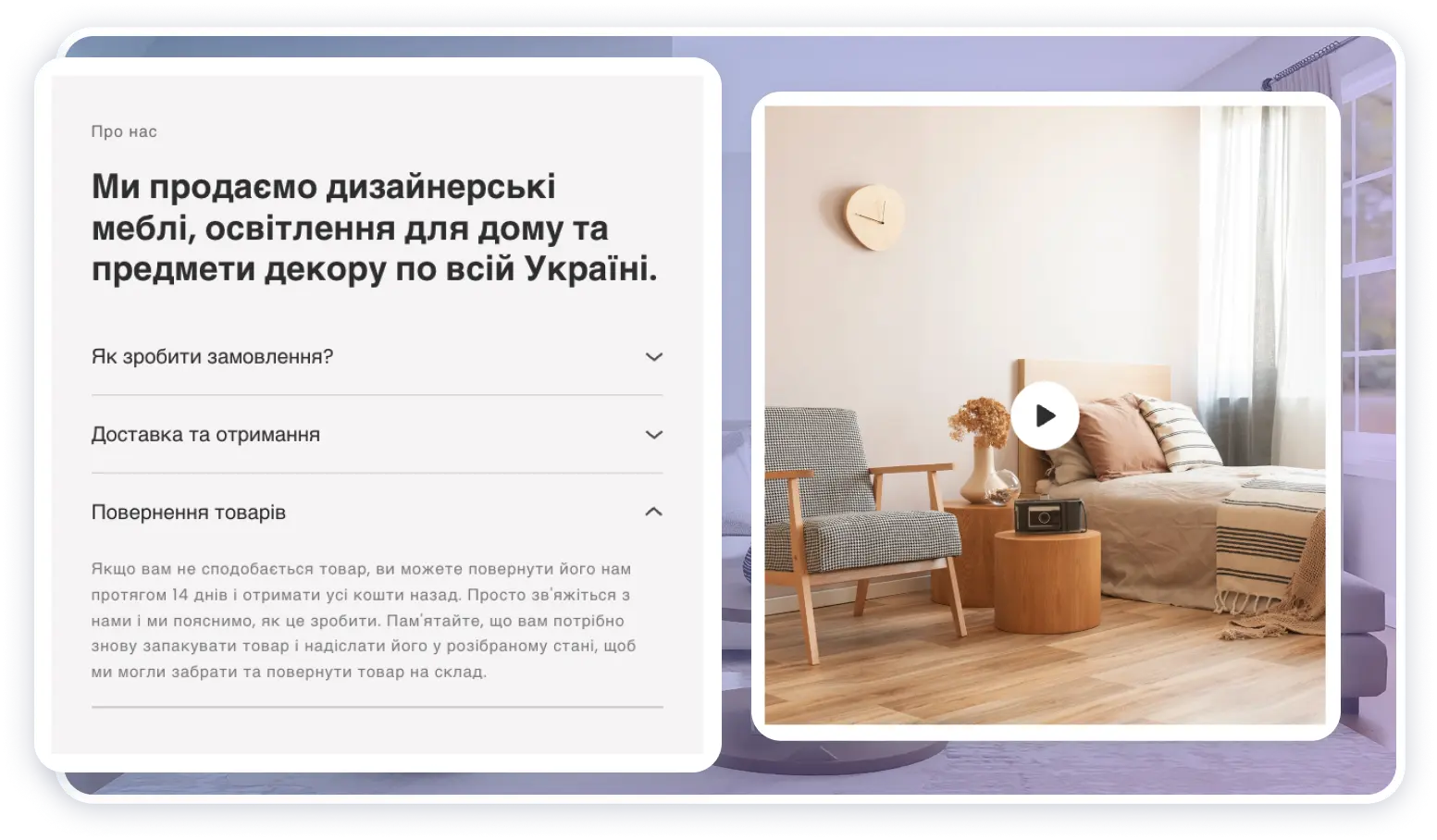 Return, warranty, exchange
Create a special page on which you will tell about the conditions for returning goods. Don't use legalese on this page - be clear.
1. Specify the period for which the possibility of applying for the return of the goods applies. Tell us how the final date of this period is calculated - from the moment of contacting you, sending or receiving the goods.
2. Add a list of products that are not subject to returns. If your store makes goods to order, tell us about the impossibility of returns.
3. Mention the return alternative. For example, an exchange for an item of the appropriate size or the possibility of a discount for some products.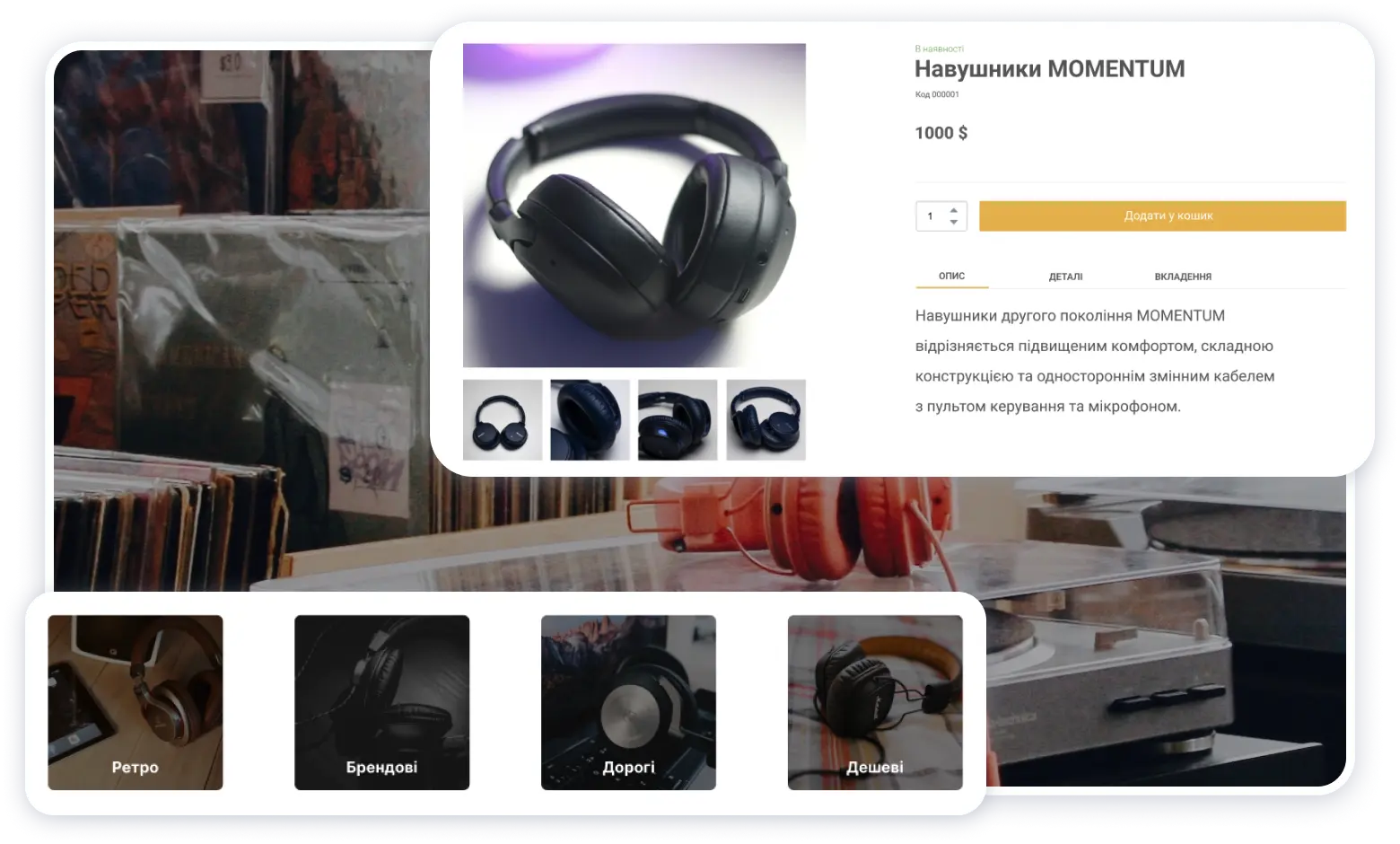 On Weblium, product pages work as templates. You can place elements on product pages without restrictions. You can also use variable goods. When importing or in the product environment, specify that there is one product, but it has a different product or size. Then each of the variations will have its own page.
You can add categories to each product. Thanks to these categories, products are sorted on special thematic pages, and in general, all your products will be placed on the main page. In addition to products, you can add small cards to the main one to go to the product category.
Weblium supports 15 payment methods. Among them are mono, LiqPay, Fondy. The connection takes place in two stages.
First, you need to register on the payment partner's platform — send documents in electronic format or enter details and fill out a questionnaire. Depending on the service, registration can last from 1 day to 3-4 weeks.
Next, you need to connect the payment method already in the settings of the Weblium site. Let's tell how it happens on the example of mono.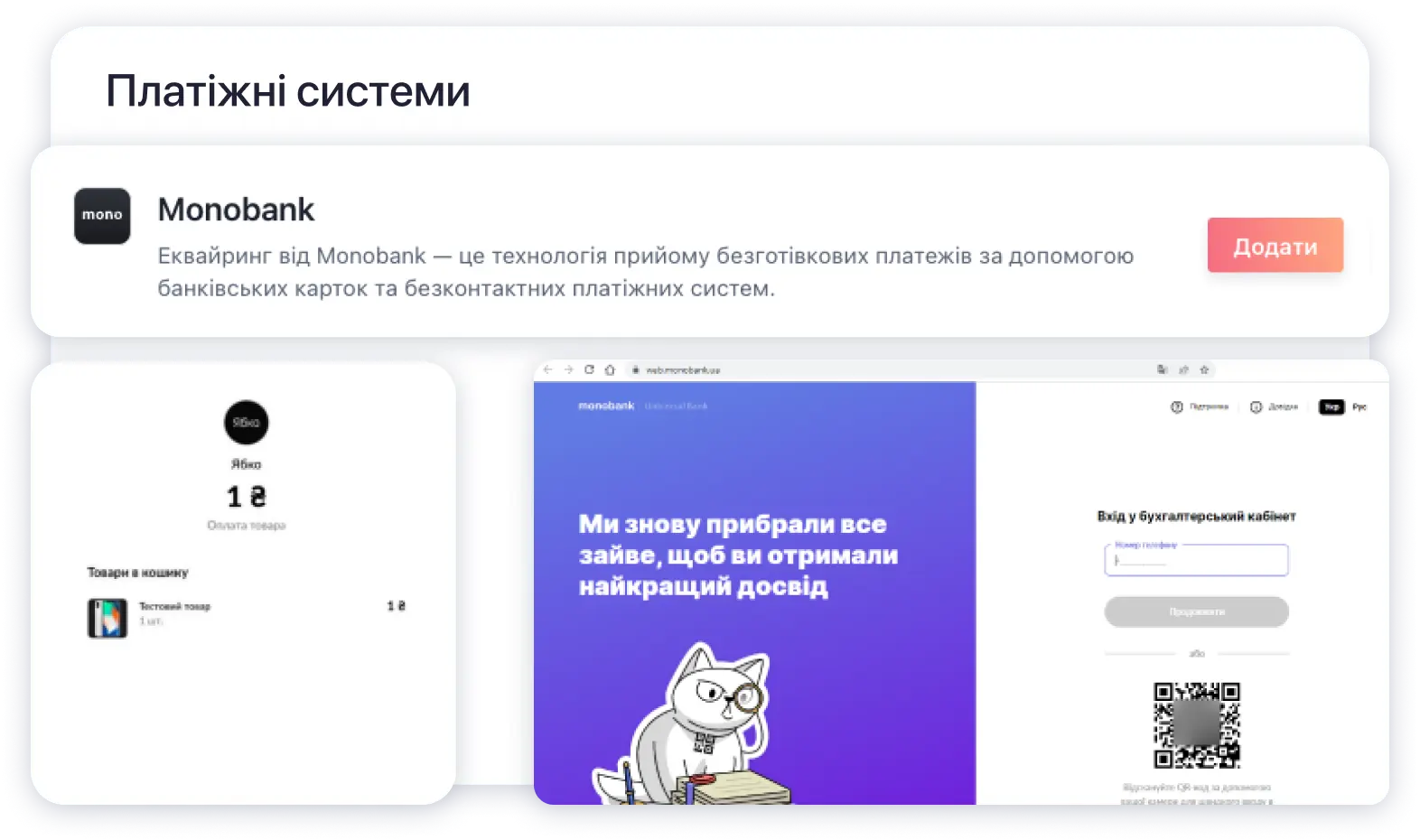 1. Create a secret key for connecting payments in the FOP web cabinet from mono.
2. In the settings of the website's online store on Weblium, select Monobank payments.
3. Enter the received secret key, indicate the successful payment page.
4. Save the changes and make the payment method active.
Now your business is practically online. Only connecting the domain name is a mandatory step. This is the site address that users enter to go to your site. Although you will get a free domain name with a unique part in front of weblium.com during registration, but with your domain name, your store will be remembered and you will be trusted.
You can buy a domain from Cityhost , and then add it in the site settings. Or do it directly in the site settings on Weblium. No special knowledge is required to connect the purchased domain. It is enough to add a few special entries in the settings.
If you need marketing opportunities, connect analytics from Google, mailing services , online chats or Zapier to your site. You can adjust SEO both for regular pages and for each page of the online store.
Your new site
It is not difficult to open an online store. Immediately after publishing the site, customers will be able to shop in the store. Google will study the pages in a few weeks. Congratulations, you are online.