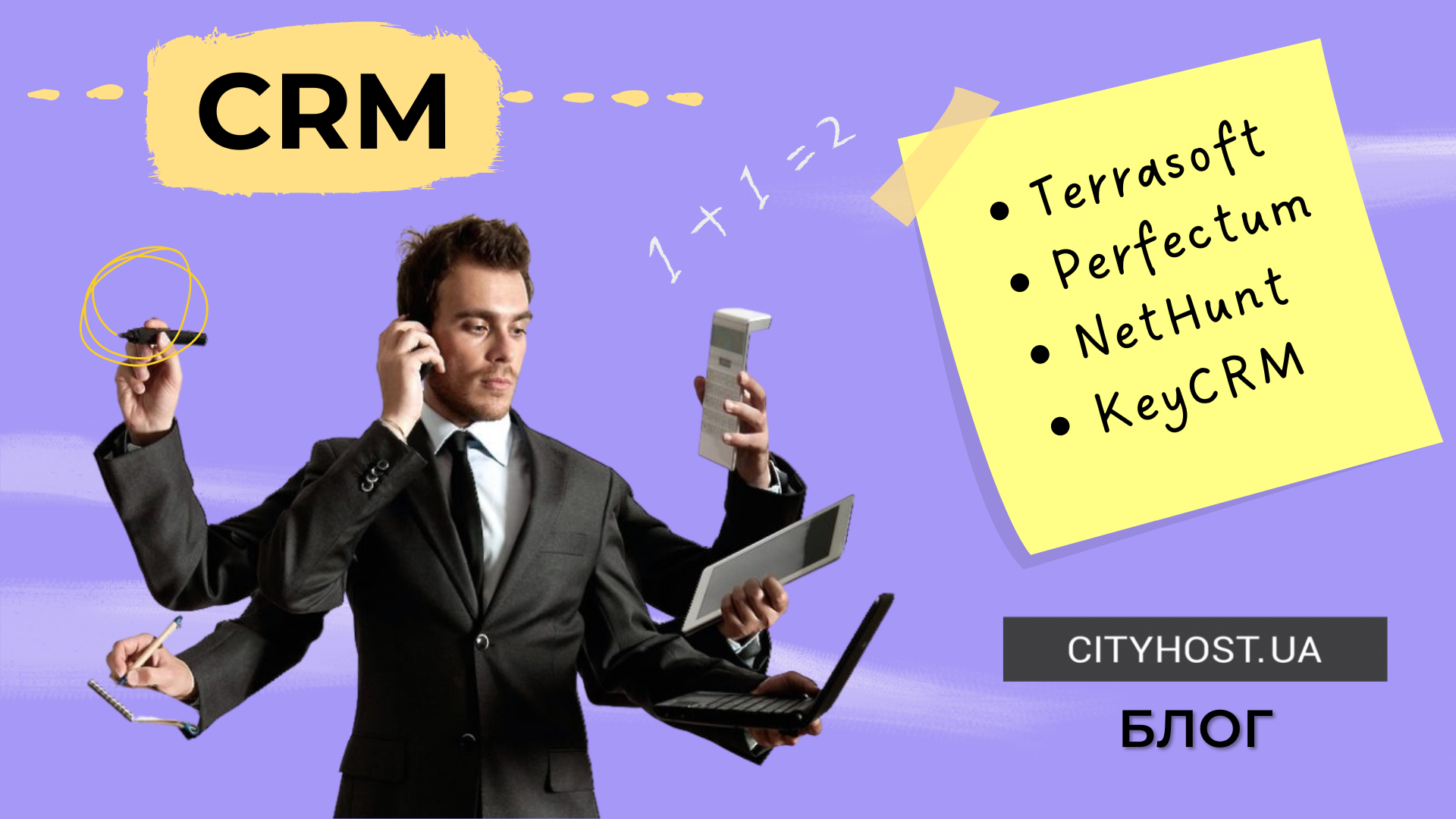 The CRM system is a service that allows you to automate that part of business processes that relates to cooperation with buyers and step-by-step control of transactions. It stands for Customer Relationship Management — management of relations with customers.
Let's take a closer look. Imagine how entrepreneurs work without CRM. Someone has notebooks for keeping records of transactions, someone has xl-tables or text files on the computer. If a customer calls, you need to quickly comb the database of several thousand people to understand who they are, what they have already bought, what their history of working with them is. Many questions have to be kept in mind. What was the last agreement about? Have any custom order requests?
The CRM system automatically collects all customer data in one card. The entire history of purchases and communication with the client is available here, the latest actions and the status of the current order are noted — the invoice has been sent, paid, the product is waiting in the mail.
As soon as a client calls the manager, the system opens a card that already contains all this information. You can immediately answer questions about the order and not call back anywhere to clarify. This frees up a lot of time for the manager and the buyer, because his question is solved in a couple of minutes.
The CRM system allows you to guide the client through the so-called sales funnel. This is a popular and effective method of work that turns people unfamiliar with the product into loyal customers and regular buyers. For each business and specific enterprise, its own funnel is built, but it always has the same scheme.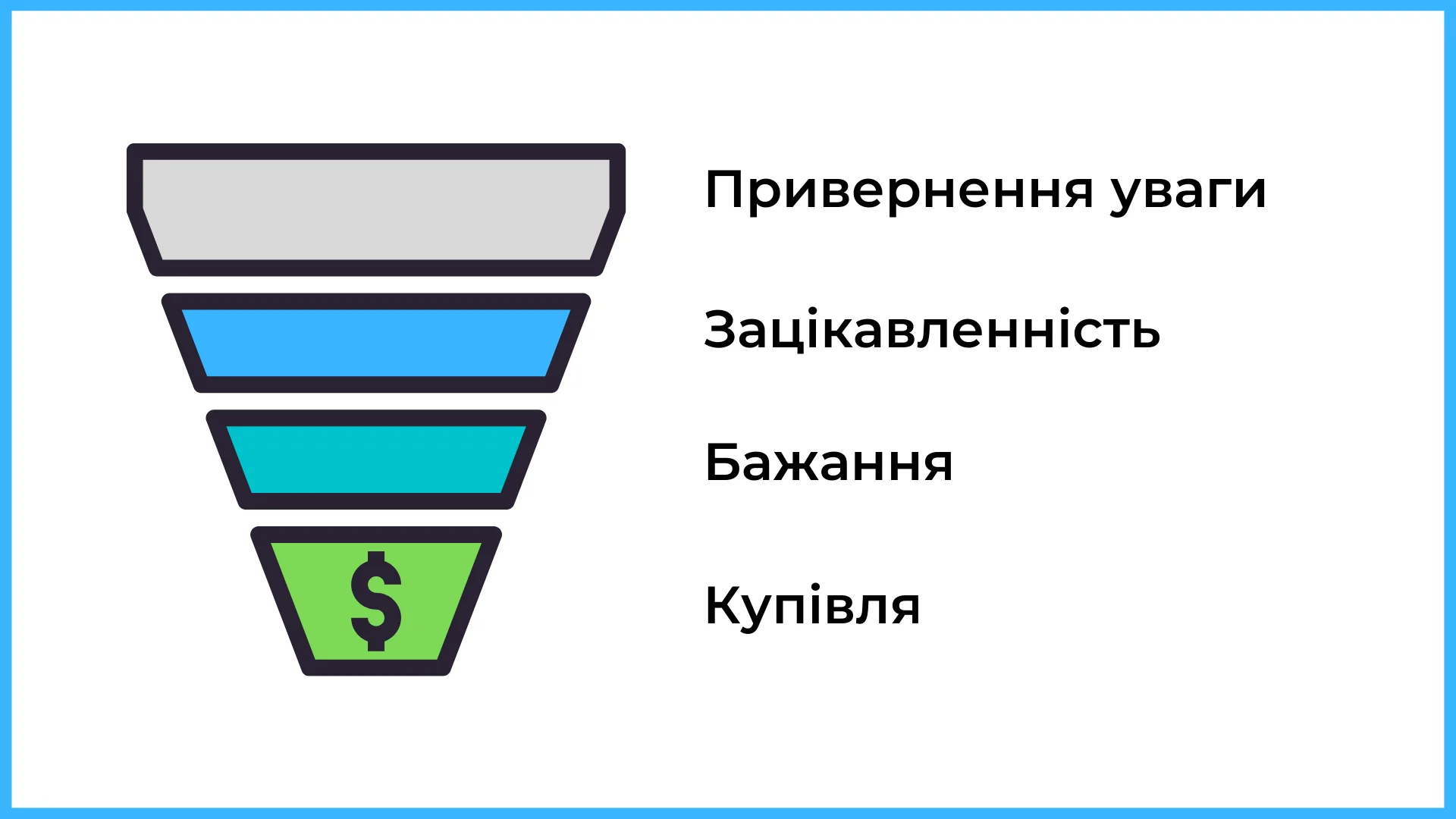 Step 1: familiarize the client with the brand and its products. This is a "cold contact", when a potential lead simply learns about the company's existence through the name, visuals, presentation of goods.
Oh, there's a new company that makes tracksuits. Of course.
Step 2: Create interest. At this stage, you need to formulate the offer in such a way that the person wants to learn more about it, take a closer look, and ask clarifying questions.
What a beautiful color - and the texture of the material is pleasant? Will it be worn for a long time, I wonder?
Step 3: desire to buy. The buyer examines the product or service, a desire arises in him, which gradually develops into a decision to make a purchase.
Step 4: Purchase. The customer pays money and receives his product or service.
Other steps are often added to the main stages of the funnel — recommending to friends, repeat purchase, dealing with rejections, etc.
The sales funnel simultaneously works as a report, thanks to which you can analyze the effectiveness of the marketing department.
Another indisputable plus of this technique is conversion calculation. Yes, for each stage you can count the number of involved users.
For example, 10,000 users looked at an advertising banner on the Internet, 2,000 of them clicked on the banner and went to the page, but 1,500 left, and 500 people began to study the products in the catalog. Of them, 200 threw the goods into the basket, but only half bought them, the rest left their baskets full. It turns out that 100 buyers reached the bottom of the funnel.
That's 1% of 10,000 people who viewed the banner — a pretty normal conversion for a sales funnel.
But it should be taken into account that the figures will differ for different areas of trade. Yes, for a realtor, one sale of an apartment is already a good profit, and a clothing store needs to sell dozens of products to turn a profit. Therefore, the percentage of conversion is individual for different niches.
CRMs are not limited by their concept — each service has an additional set of tools that allows you to conduct business even easier and more efficiently.
What other tools are there in CRM services?
IP-telephony connection is a system thanks to which customers call the same number, but get to different managers. This allows you not to miss calls.

Virtual office - you can add managers, create chats, monitor the KPI of each employee, see when he opened and closed the working day.

Designer for creating documents and invoices.

Automatic mailing of letters and invoices to clients.

Combining all communication channels (mail, messengers, phone) in one program.

A scheduler that allows you to set tasks and monitor their execution (that is, CRM can also work simultaneously asa task manager ).

Tracking the movement of funds.

Segmentation of customers by various indicators - average check, location, preferences, etc.
Due to the optimization of the work process, more time is freed up for managers, there are more loyal customers who are satisfied with the speed of processing orders, and therefore, sales increase. In terms of numbers, CRM allows you to increase sales by 50% and double the speed of management.
Medium and large businesses increasingly use such an assistant. All that remains is to choose which service to contact. We offer you an overview of the most popular CRMs in Ukraine.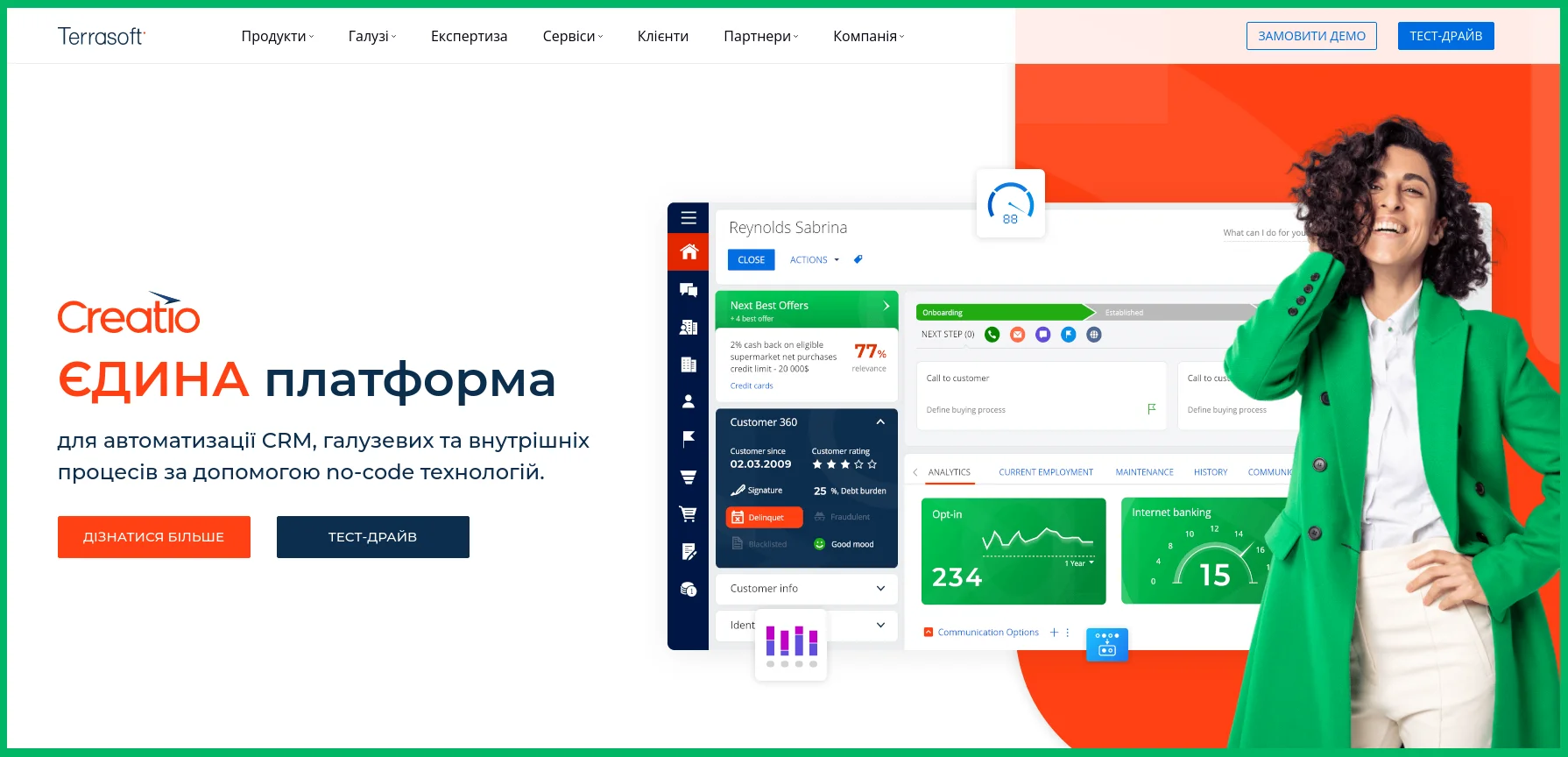 Terrasoft is a Ukrainian company that produces a whole line of business management products called Creatio. Works on the market since 2006.
The developers of the service emphasize that their products are based on Low-code/No-code technologies. They allow you to independently create and configure applications without knowledge of programming code. So, when connecting to products, you can choose one of the solutions — an intelligent platform that can be assembled independently without knowledge of code, or a complex package in which a standard toolkit is already formed.
If we talk about CRM, then they are represented by three branches:
Marketing CREATIO — for creating and managing marketing campaigns.

Sales CREATIO is a system for automating sales from the first steps of interaction with the client to closing the deal.

Service CREATIO is a service or technical support management product.

In the CRM system from Creatio, you will be able to:
Create a complete profile of the client, in which all data and all communication sessions with him will be recorded.

Segment customers according to various criteria and build a strategy for working with each group. What's more, the system itself knows how to define a customer segment depending on his preferences.

Collect leads, which the system automatically sorts, offering for "warm contact" only customers who are potentially ready for cooperation.

Get sales funnel analysis, compare funnels with each other.

Monitor the performance of managers and the CPI of each individual employee.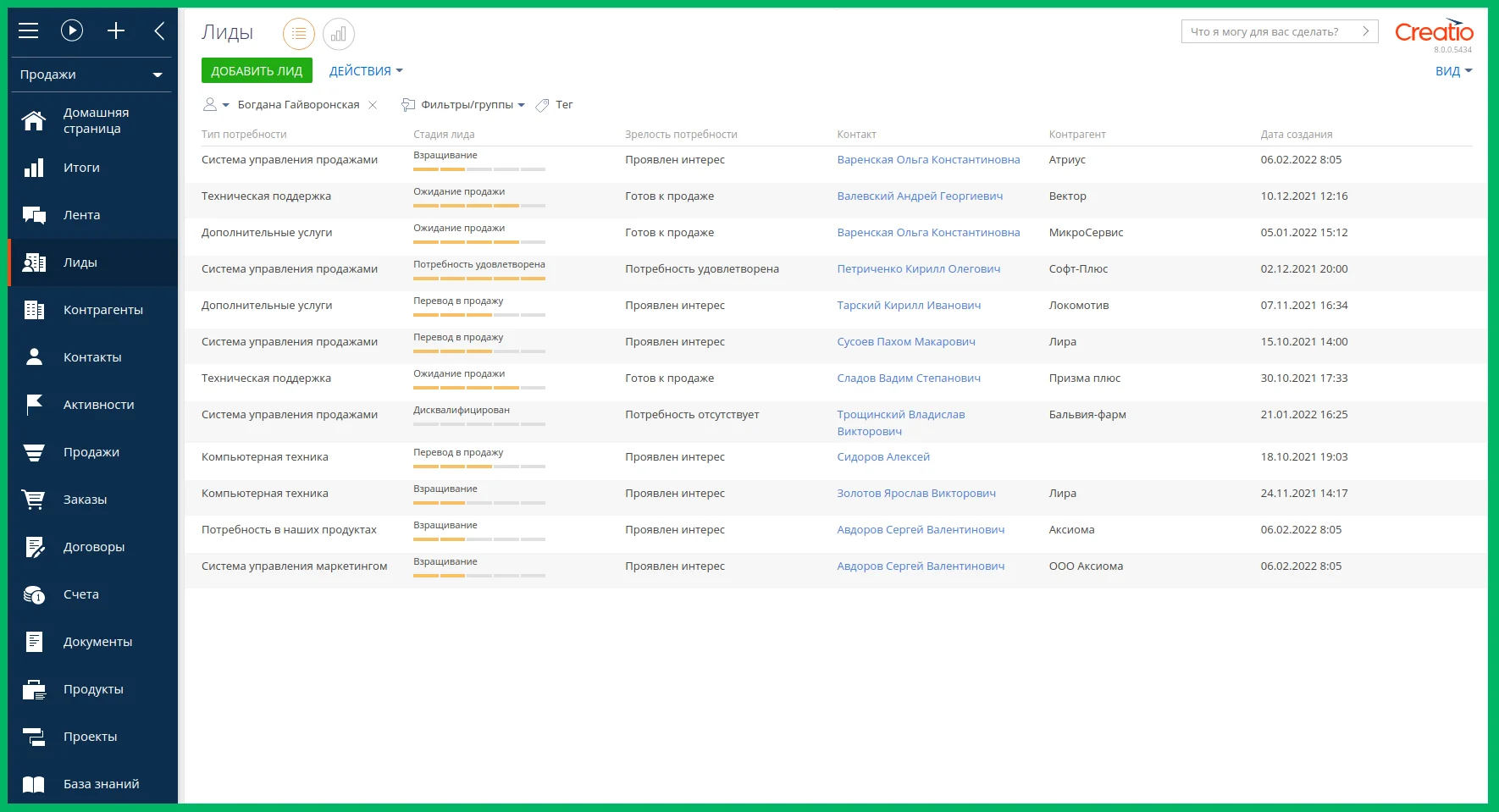 The products have a 14-day test drive, after which you will need to choose a paid tariff costing from 610 to 1,260 hryvnias per month.
Voiptime CRM is a CRM system for sales automation, inventory management, and customer journey management, which also has some unique that differ it from other CRM software solutions on the market. The main advantage of Voiptime CRM is its powerful communication capabilities, starting from bulk SMS messages for order confirmation to automated outbound calling provided though the native integration with the Voiptime Cloud Contact Center. Voiptime CRM doesn't only automate sales process and inventory management, but also provides you with detailed reports regarding team performance, sales insights, and so on.
Voiptime CRM, even though it has many features for sales automation, will be beneficial for any business, not only retail or e-commerce. This CRM system has some unique functions for e-commerce industry, but still it is enough capable to be useful in any industry, as it has also sales funnel management features. Moreover, Voiptime CRM receives regular updates that make it even more capable.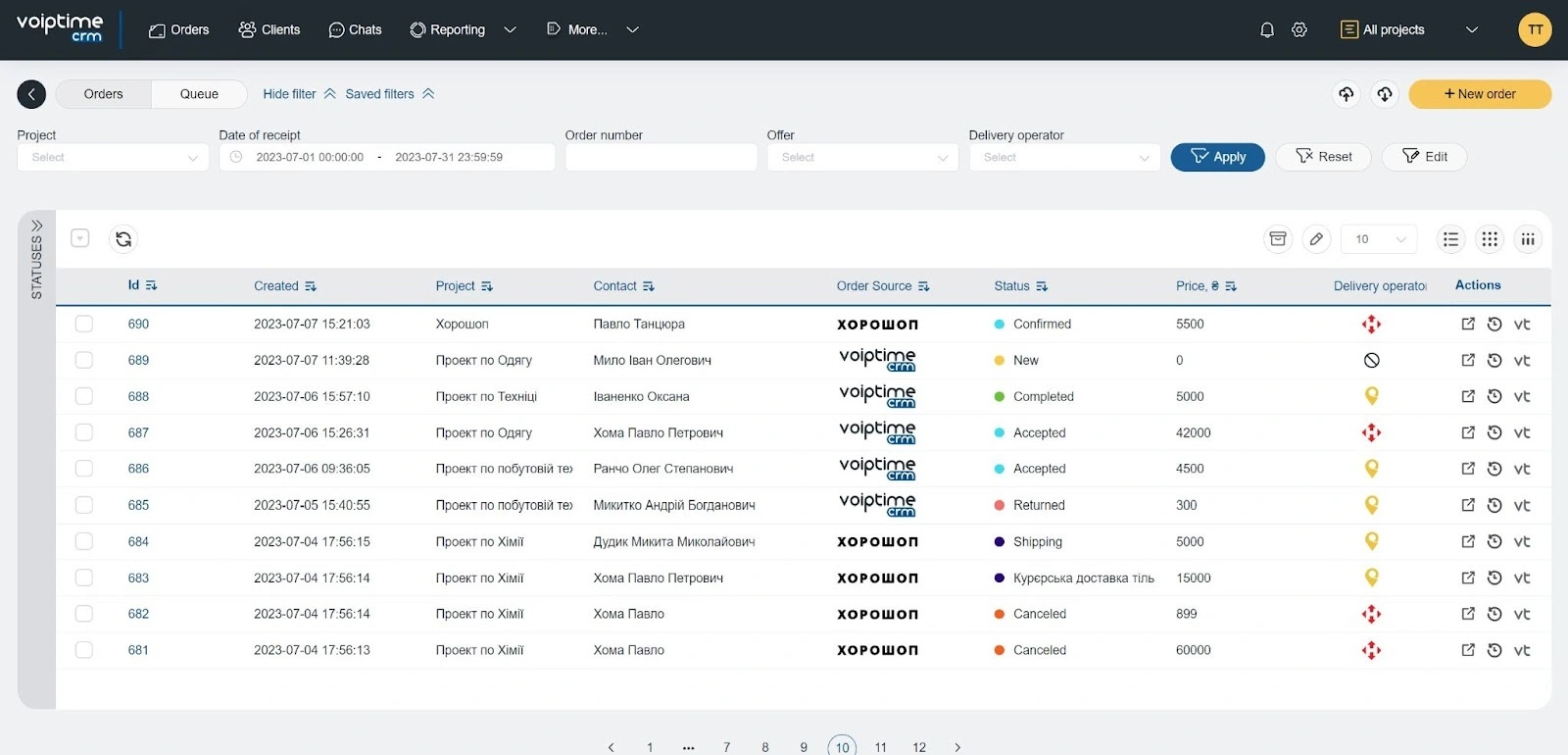 Voiptime CRM key benefits and features:
Easy customer relationship management — Voiptime CRM gathers all customers from all channels in one interface, provides sales funnel management for every customer and every order, collects all customer interactions and allows you to set unique customer statuses and segments.

Fast order management — you can import customer data from any source - your website, marketplaces, etc., check previous orders, create shipping invoice and track the delivery in a few clicks.

Integrations with main Ukrainian marketplaces — Voiptime CRM has native integrations with key Ukrainian marketplaces, such as Rozetka and Prom, which means you will not only receive orders from these marketplaces, but synchronize your inventory, so there is no need to manually change prices or inventory levels on marketplaces.

Integrations with CMS and social media platforms — CRM software is integrated with social media, such as Facebook and Instagram, and also with CMS systems, which means you can manage your inventory and offers directly from the CRM interface.

Integrations with delivery services — CRM platform is integrated with main Ukrainian delivery services, including Nova Post and Ukrposhta, so you can create delivery invoices in a few clicks and manage deliveries without a need to use any third-party tools.

Inventory management — you can manage a few inventories at a time, import goods or add them manually, manage prices, availability and other aspects of inventory management from the Voiptime CRM interface.

Detailed reporting — you can receive genuine reports regarding sales performance of every manager to help them reach their KPIs, and also analyze such deep aspects of team performance, as successfully used upsales opportunities, reports on customer behavior, conversion rates, percentage of successfully delivered orders, etc.

Different access levels and roles — you can set up different roles for your employees with different access levels to provide them only with information and functionalities they need to do their work properly.

Antispam system — Voiptime CRM can identify and block spam orders or messages by such parameters as phone number, region (geolocation), or IP address.

Automated calling integration — when integrated with Voiptime Contact Center, Voiptime CRM can work as outbound calling system, which means system will automatically call customers when they complete ordering, and automatically recall each unsuccessful call. You can set up custom calling rules to call only those customers you need to.
Voiptime CRM will be also provided with qualified customer support from developer's side, as well as with starting training and setup assistance to make your CRM system serve your business needs as accurately as possible. Integrations with marketplaces and delivery services is included in starting price. To finish the topic, let's say that Voiptime CRM is a reliable and capable alternative to well-known CRM systems, such as Leadvertex.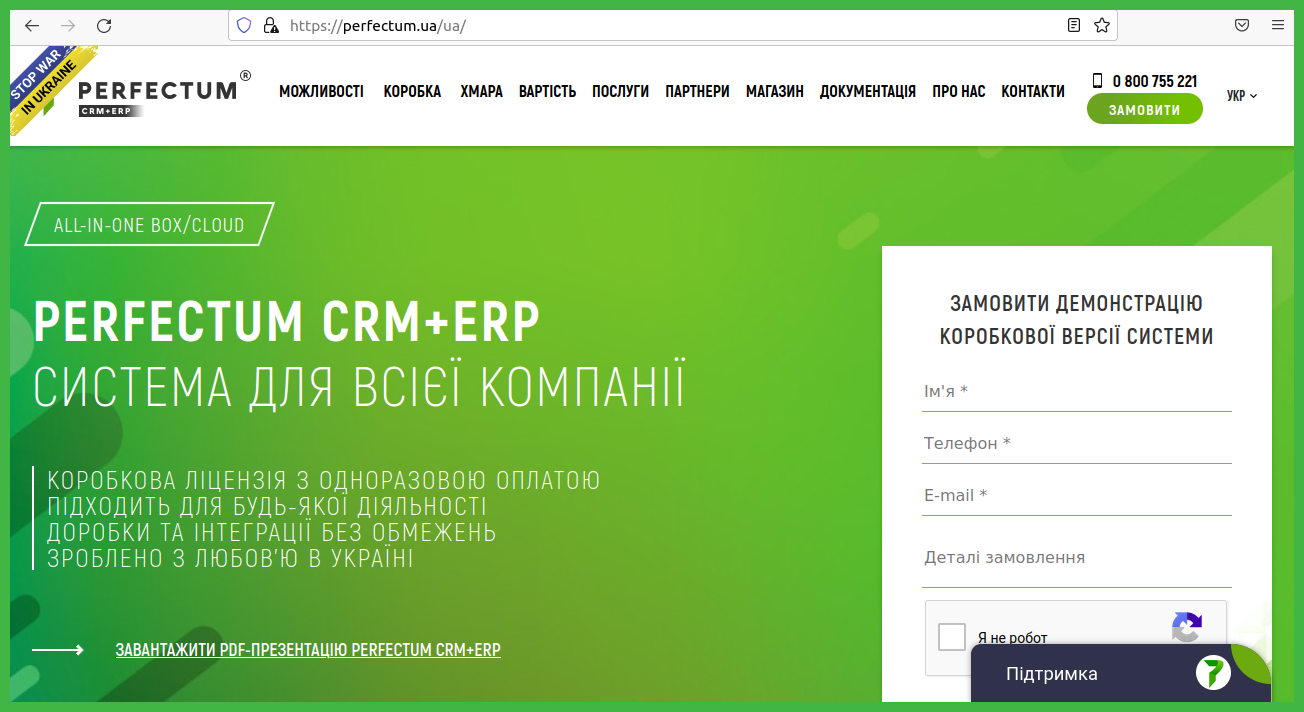 Perfectum is a Ukrainian development company that produces integrated CRM and ERP systems (company resource management).
The company offers box and cloud versions for businesses of various directions and covers a wide range of business automation needs.
The client can choose from a number of configurations:
CRM version for systematization of sales and communication with customers;

PROJECT version for project management;

RETAIL version for online trade;

ERP version, which includes the previous three;

Industry solutions (for advertising agencies, IT companies, legal, tourism and construction companies, educational and medical institutions and many other areas of business).
A separately available store of modules and applications for integration, which presents several dozen services for business — delivery, banking, mailings, telephony, marketplaces and others.
Among the advantages of the boxed version is the ability to store all data on your own server , create an individual interface design, and integrate service products with other popular tools.
The cloud version also has its advantages — speed and ease of start-up, a more affordable price, no need to have your own server and hire an administrator. Both options are good for their tasks, you just need to choose which one is right for you.

The payment system is flexible and depends on the choice of version and number of system users. In the cloud, payment is charged per month. The price range starts at 1,000 hryvnias and ends at 9,500 hryvnias at the maximum tariff. Boxed versions cost from 20,000 to 133,000 hryvnias for a lifetime license.
In addition to the systems themselves, the service also provides services for their installation, configuration, integration of third-party tools, updates, migration from the cloud to a license, etc. It is possible to integrate the system with an already existing corporate site and transfer data from the customer base and catalog to it, if you previously used another service. Another suggestion from the team is to write a personal CRM specifically for the client.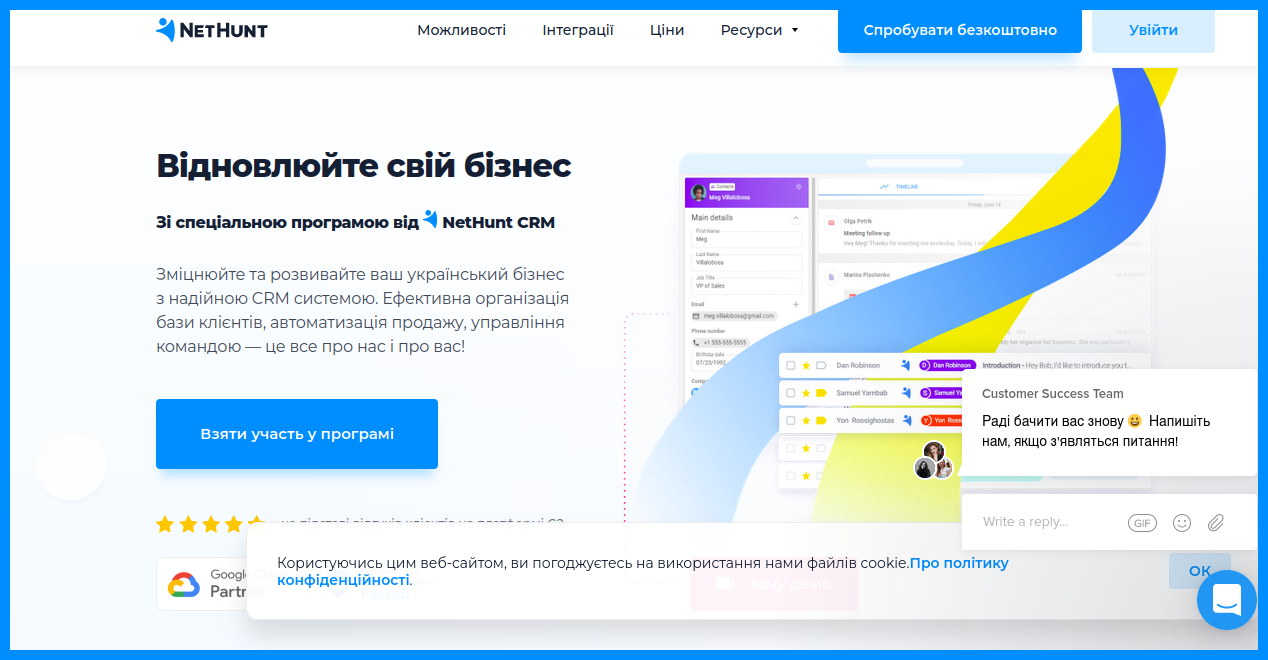 NetHunt is a Ukrainian product, a simple and effective CRM system that allows you to track leads through the sales funnel and automate trade processes.
The software is designed not only to structure data regarding communication with customers and transactions, but also to save staff from manually entering data into cards. CRM integrates with Google contacts, can select data about the client from incoming letters, correspondence in messengers, transfer the contact database from tables in one click.
It is worth stopping at the "Automation" tool. It allows you to transfer part of the processes to CRM, implementing chains of automated events in response to a specific trigger. For example, when the status of the agreement changes from "Negotiation" to "Agreement Won", you can automatically send a letter with an already attached contract template. You can also create a reaction to any changes in records about customers and companies - send a message, create or update a record, create a task, etc. This will reduce the burden on the team, freeing employees from monotonous repetitive actions.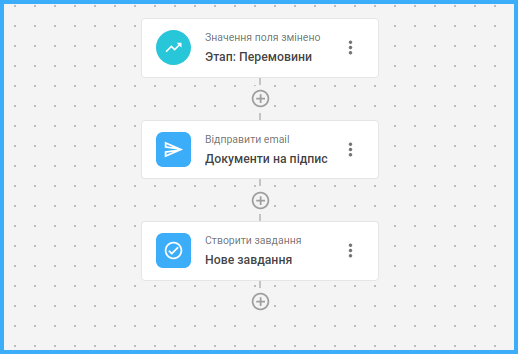 The service integrates with all Google Workspace products and some other services — Facebook messenger, Linkedin. Integration with Twitter, Trello, MailChimp, Slack, etc. in development.
The service works as a browser extension, desktop version or mobile application. Prices can seem high, starting at $250 per month for the most basic package. But this includes not only basic work tools, but also system settings, integrations (the wider the package, the more integrations), automation tools, various templates, analytics of mailings and much more. Usually, these options are either included in a separate paid service, or are implemented through other services that also need to be paid for.
For Ukrainian businesses, there is an opportunity to activate the program, thanks to which the use of CRM will be free for the first six months, and then for another six months with a 50% discount. You can participate in the program until the end of 2022.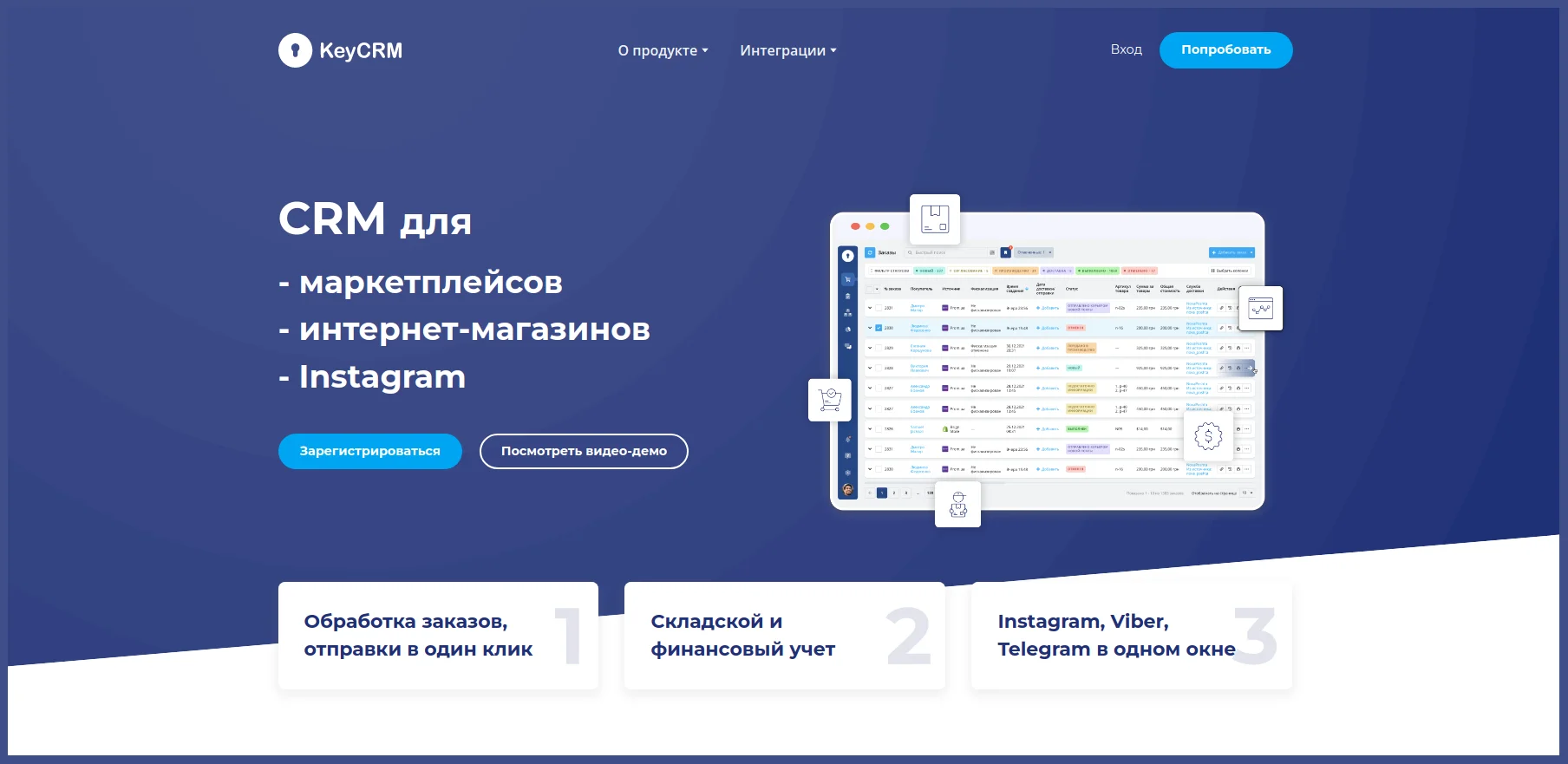 KeyCRM is a Ukrainian CRM system for online stores, a platform created specifically for the optimization of online trade. It is a narrowly focused tool that works effectively in its niche.
Upon logging in, the user is immediately met with step-by-step instructions and a video overview of all CRM capabilities, which is very convenient. After registration, the manager calls almost immediately to help understand the options and answer all questions.
The user can connect to the system an already existing online store or a site from which orders will be received. Marketplaces (Amazon, Ebay, Etsy, Rozetka, Prom), as well as stores on various CMS ( PrestaShop , OpenCart , Magento , WordPress ) are available for integration. After merging, all orders and all listings from the online store are automatically uploaded to the platform. The source of receipt of orders can be more than one, which allows you to group several stores at once in CRM.
It is possible to connect postal operators, payment systems, mailings, IP telephony to the system.
Read also: Why it is better to use a special service for mailing
Orders can be segmented and managers can be assigned to each group of products so that the employee sees only his scope of work.
Here, as in other systems, there is a dashboard that works according to the kanban method - order cards move from the status "New" through various stages to the final "Executed" or "Rejected". By clicking on an order, you can see all the information about it.

KeyCRM has a separate section for customers, where all cards with contacts and data of each customer are collected.
Other possibilities:
Automatically calculate marketplace commissions;

Automatically calculate delivery;

Find duplicate buyers in the contact book;

Distribute orders by performers;

Get analytics on all sources.
Free trial period - 30 days. Further, the system works at a single rate of $19 per month plus $9 for every 200 completed orders. Another $19 will need to be paid separately for integration with marketplaces.
***
There are many different CRMs, some companies even develop their own systems. Each of them has features, a careful study of which will allow you to make the right choice. We talked in detail about four services that we consider the most interesting and convenient. But, as always, the final decision depends on what tools your specific business needs.