Instagram has not been the same for a long time. Few people remember how it all started with an ordinary photo gallery, which is more suitable for teenagers than for adults.
The world has changed: "Instagram" has turned into a serious tool for business, an advertising platform, a platform for sales. Like Tik-Tok, FB and Youtube, it has long been not only entertainment, but a lot of serious work.
Recently, the desire to become a blogger caused at least a smile, and the profession of an SMM manager was completely unknown to anyone. Today, there are great opportunities for specialists in this direction. Many assistants have been developed -analytics services , verification mechanisms, platforms for analyzing accounts in social networks.
In the article, we will try to understand why we need services for working with bloggers. Using the example of popular tools - trendHERO, GetBlogger, LiveDune - we will understand how it works.

A small personal blog or a large commercial account - everyone needs development. It is at this stage that you should think about cooperation with a large account that has achieved success in your niche. Understanding who to work with requires blogger services.
This type of development gives excellent results. The main thing is to choose the right advertiser who has a close target audience ready to join you.
Did you find it? OK, it's time to write a proposal for cooperation to a blogger.
But if everything were so simple, good SMM-niks would not have such a huge demand.
Analyzing an Instagram page can take many hours. Specialists clearly understand what to pay attention to. Such work requires knowledge, skills in using analytics services, and drafting a competent proposal. Only everything together will bring the expected result for the blogger.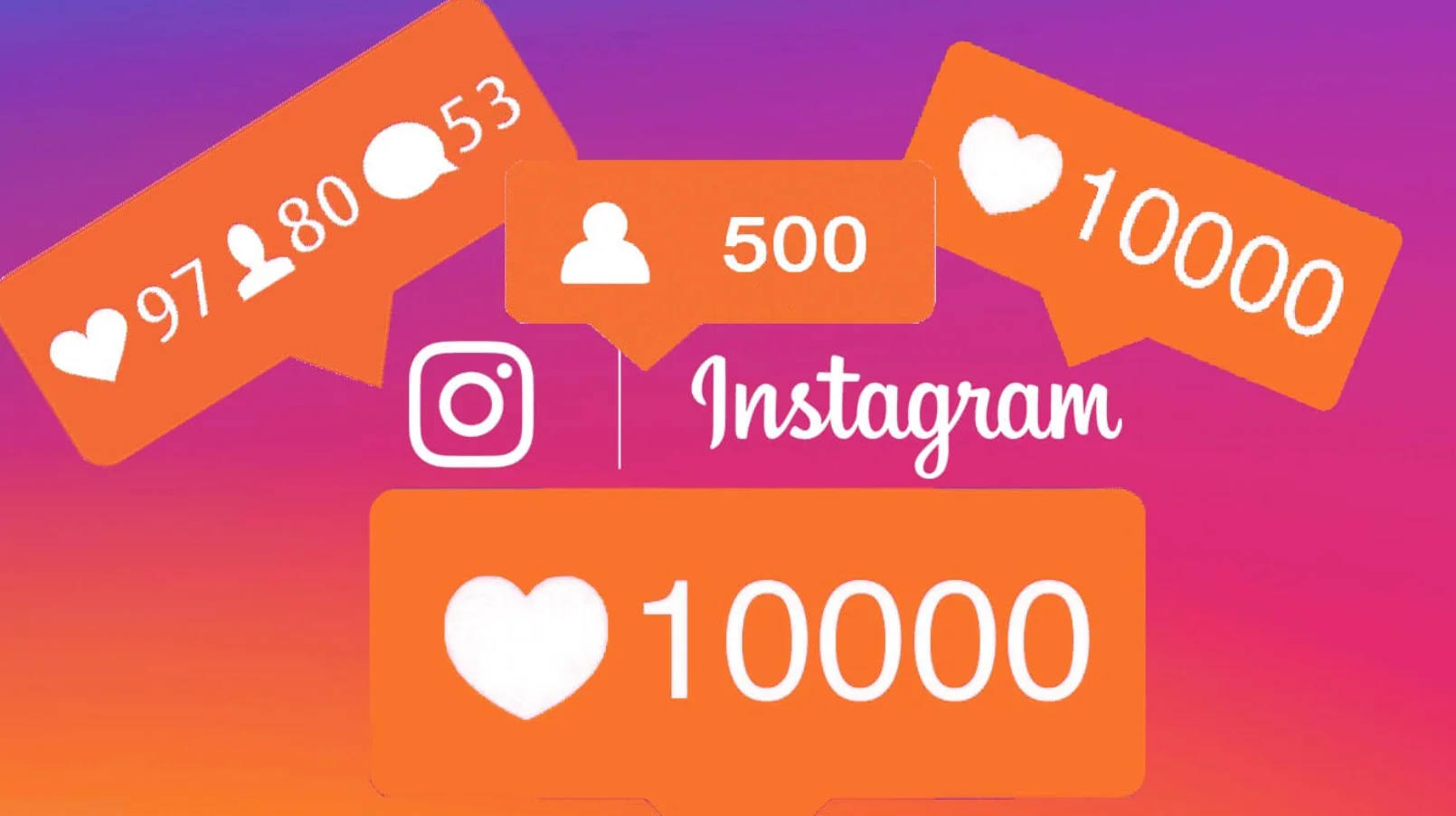 Instagram blogger exchanges often come to the rescue, where it is possible to find out certain information, choose one or more accounts for advertising. But there is no reason to write to potential advertisers without careful analysis. This is why blogger verification services are becoming indispensable.
You will define:
what are the preferences of the audience;
reactions of subscribers to publications;
the ratio of "live" followers and bots;
the number of mass followers leaving comments;
click statistics;
the most attractive content;
the best time to publish a post.
It makes sense to analyze not only competitors or influencer accounts: a personal page will also benefit from studying the audience.
trendHERO,
GetBlogger,
LiveDune,
popsters,
Picalytics,
FakeLikeInfo,
Feedspy.
The list of services for working with bloggers is easy to continue, but in the article we will tell you in more detail how to use LiveDune, trendHERO, GetBlogger. Let's consider their advantages, specificity, differences. We will conduct a full comparison of the most popular services.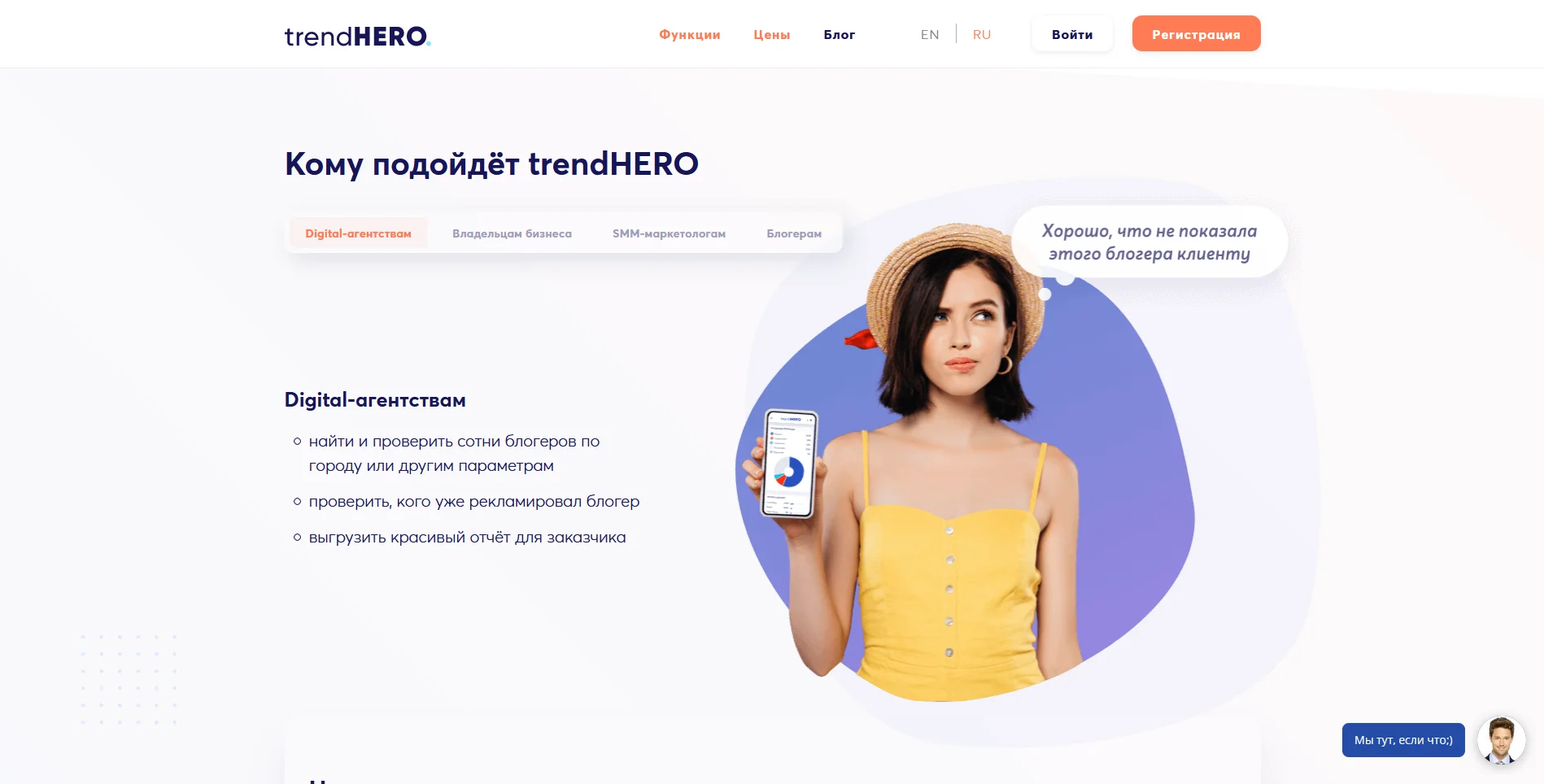 Let's start with the multifunctional, convenient trendHERO service. It will suit marketing specialists, SMM managers, business owners of various scales. Also to bloggers who independently promote personal accounts.
In terms of popularity, it is difficult to find competitors. The service offers a free tariff with limited functionality for review. To access a wider list of features and tools, you need to purchase the Pro or Advanced package.
The trendHERO service has 12 filters for finding opinion leaders:
topic;
location;
sex;
language;
number of subscriptions;
audience;
number of posts;
time of publication of the last post;
comments;
cursing;
general involvement;
growth during the last 30 days.
Such a wide range of filters allows you to find a blogger with your target audience.
It's great when you managed to find accounts for advertising with the right CA, but before you order advertising from bloggers, pay attention to a nice bonus: trendHERO will select 500 Instagram pages with similar characteristics. This significantly speeds up the search for influencers for cooperation.
The quality of an account is often more important than the number of followers. Pages with hundreds of mass followers and artificial statistics are unlikely to be suitable for advertising. Checking a blogger for cheating is an important stage of analytics.
The trendHERO service will collect information about how many bots and commercial subscriptions there are in the account, how the number of followers increases or decreases.
It is convenient that the information is displayed in the form of an infographic - it immediately gives a clear idea about the ratio and quality of subscribers.
Before writing a proposal for cooperation to several bloggers, do not forget: if the topic is general, it is quite possible that the target audience will overlap. Accordingly, part of the funds for advertising will be spent in vain. trendHERO gives you the opportunity to choose five accounts and check the CA intersection between similar bloggers.
Thanks to the detailed analytics of the blogger's account, it is possible to evaluate how effective the advertising was. This is clear from the response the publication received from subscribers.
Similarly, you can monitor the PR campaigns of competing profiles to develop an effective strategy.
With trendHERO, it's easy to monitor the success of your personal profile, as well as analyze your competitors. The service provides complete information about subscribers, including subscriptions, unsubscribes and engagement.
SMM-niks and ordinary users have already appreciated the feature of communication with a blogger, which has recently appeared. This provided a great opportunity to contact a large number of bloggers in ten minutes.
The scheme is simple: an offer is created, bloggers are selected, e-mails are sent, and responses are received. Next, all the interesting nuances are specified directly.
The service is simple and convenient to use: a clear interface with bright infographics. trendHERO has received a lot of good feedback not only from SMM users, but also from self-developing personal blog owners.
This toolkit will save you a lot of trouble. In particular, you don't have to think about where to look and who - GetBlogger will do everything for you.
The service allows you to advertise with tens or even hundreds of bloggers at the same time, and without unnecessary costs and intermediaries. How much does such a service cost and how does it work? Let's figure it out.
The main advantage of the platform is the automation of work with bloggers. Having Smart Targeting and Intersecting Audiences tools helps to improve the conversion that leads to sales.
All accounts applying to the platform undergo strict moderation. Only 20% cope with two-phase verification and are ready to cooperate.
In this way, you will save yourself bloggers with a hyped audience, the risk of wasted money, unsuccessful advertising deals.
Usually, a blogger evaluates a service by the number of followers. The GetBlogger service sets the price of advertising based on the reach of real subscribers.
No overpayments - you only get live views.
The platform only takes a few minutes to verify the blogger's audience and select an account with the appropriate target audience. Ads will be shown to people who are interested in your product. The location, hobby, age, gender of the audience are taken into account.
Paying with GetBlogger will save you from scammers, dishonest bloggers. An opinion leader gets paid only after placing an ad on their page.
This feature ensures that all advertisers have an exclusive target audience. Who would like to "spill" funds on the same subscribers? With the GetBlogger platform, this possibility is minimized.
The service has a pleasant interface, a simple control panel. It is worth trying once and it will be clear whether GetBlogger is suitable for you personally or if you need to study other platforms.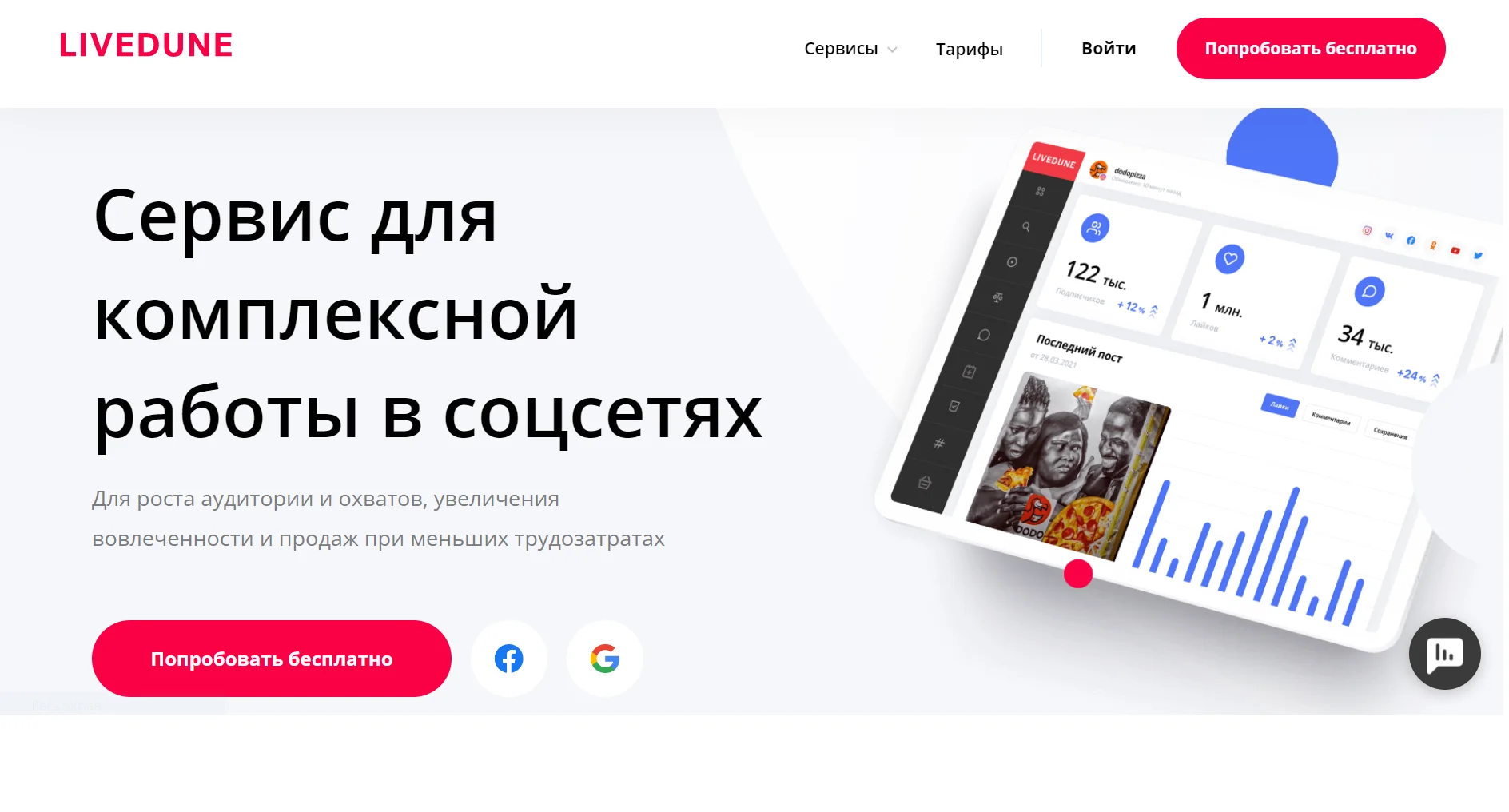 A comprehensive approach to social networks, detailed statistics of one's own and others' accounts, a full analysis of messages, comments, and verification of bloggers are only part of what the LiveDune service offers.
The site's database includes more than 150 million social network accounts. It is very important that the data is constantly updated.
The tools of the services for finding bloggers on Instagram are different, the creators try to equip them with unique functions and capabilities. LiveDune was no exception.
If the account has already gained momentum and its popularity is high, then it is easy not to keep track of everyone in the stream of comments. To prevent this from happening, the tracking function will be very appropriate.
All information from Instagram and FB is collected in one window. It is possible to turn on notifications about new comments in the Telegram messenger and immediately respond to them.
The comment upload tool is essential for those who regularly organize contests. The information will be collected together — it's convenient for summarizing.
Information about posts with a common hashtag is updated every 5 minutes. A blogger or SMM specialist is always aware of the activity and correctness of the selected tag.
This feature is one of the main tools that attract LiveDune users. It is possible to plan several posts at once for different accounts. If you work in SMM, you will definitely appreciate this opportunity.
Key performance indicators are studied for each account based on reach, engagement, likes, and subscriptions. Also, taking into account reposts, reactions in Stories, comments, saves, it is easy to track progress for a month, a quarter or an entire year.
With LiveDune, it is easy to receive messages, filter, send a reply, also limit access by employees, reply immediately in direct to certain comments. It is possible to add tags to messages and create notes to improve the commercial offer.
The rating of the program is quite high — 4.8 out of 5 possible. So it makes sense to try it: it is quite likely that it will become your reliable assistant in the promotion of a personal blog or work accounts.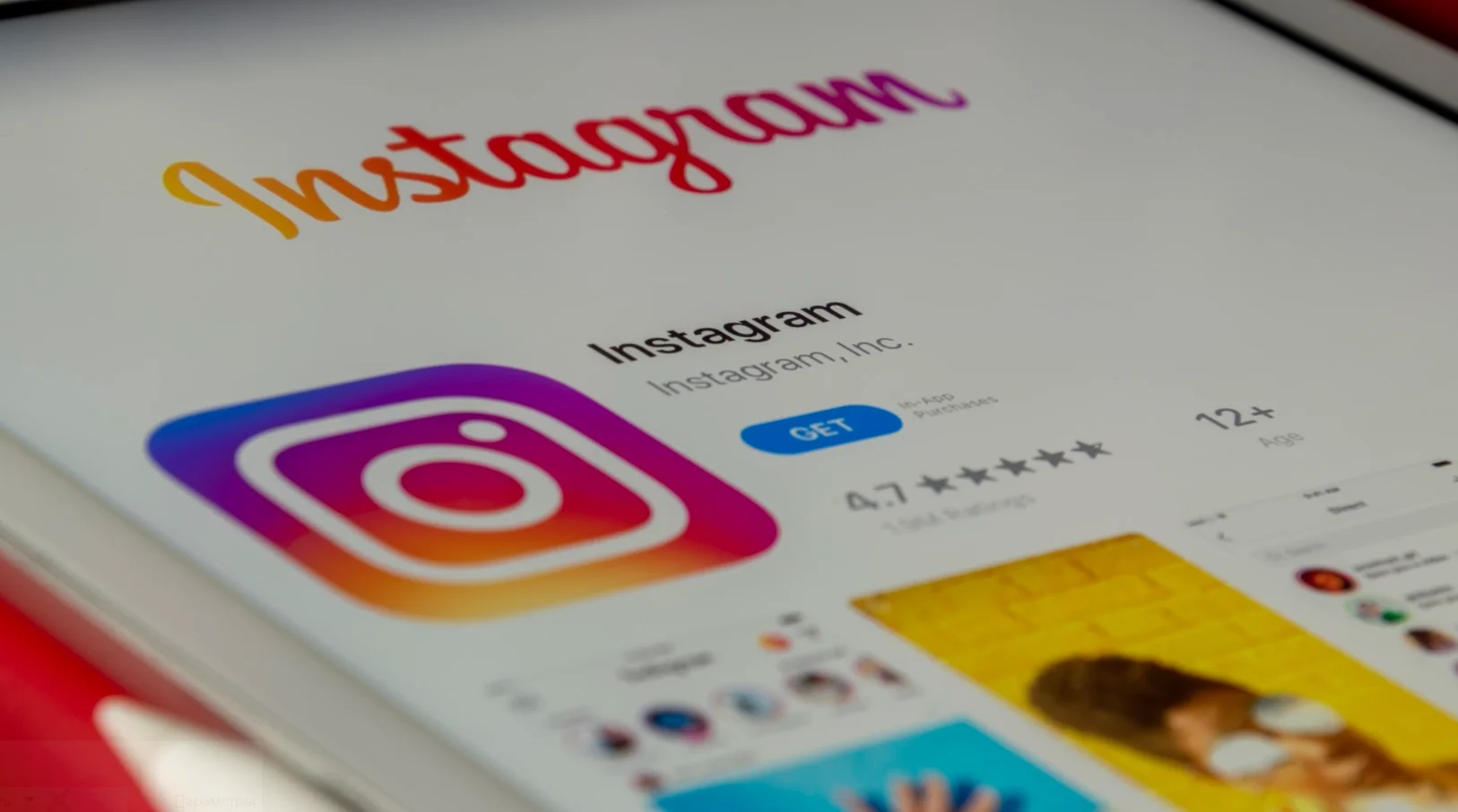 Instagram is an online platform that constantly needs new knowledge. Serious complex work of SMM-niks will bring a decent result only if all tools are used correctly.
We told how useful services for analyzing bloggers trendHERO, GetBlogger, LiveDune. Try and choose what suits your goals and objectives.