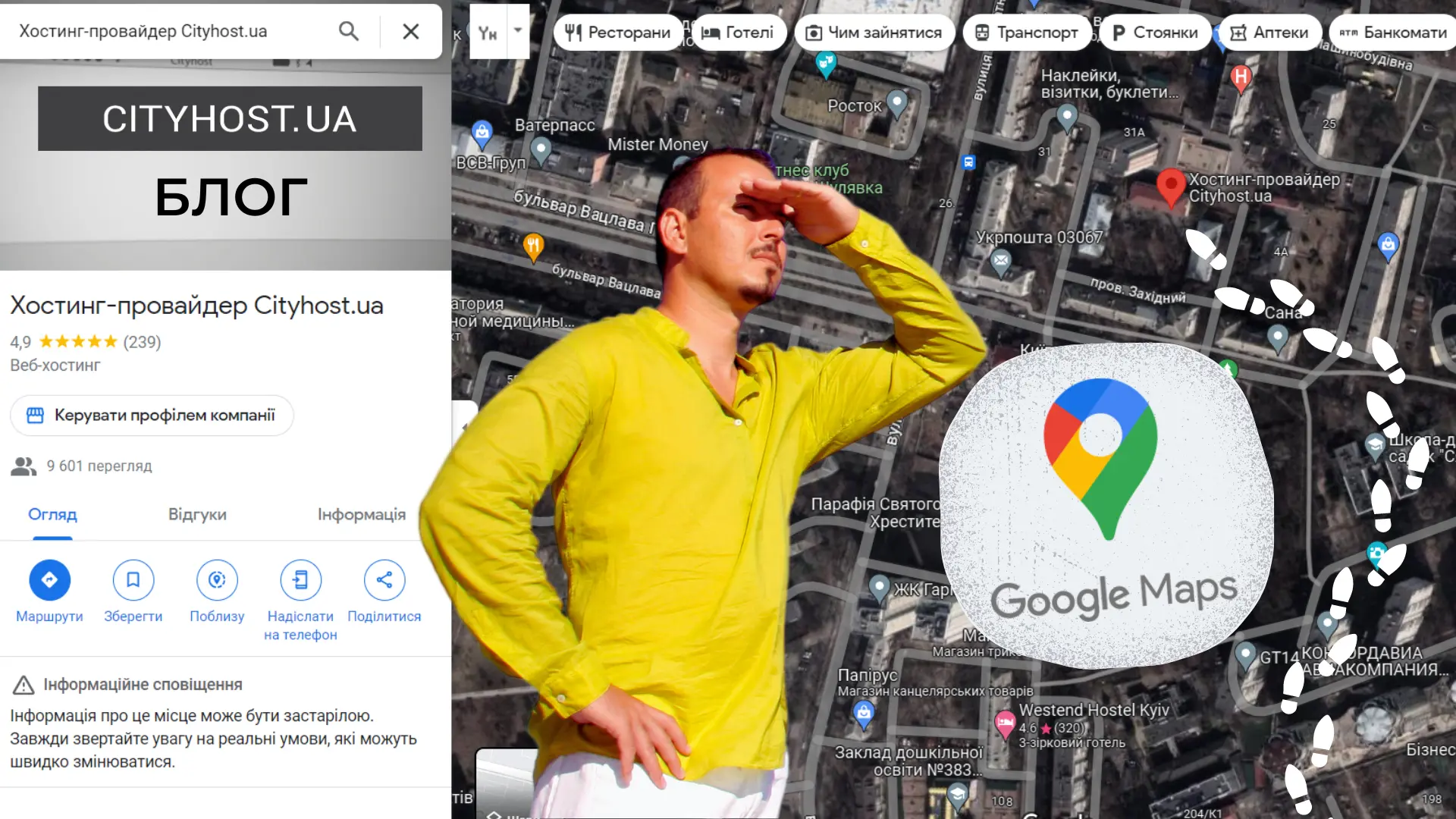 After the start of a full-scale Russian invasion of Ukraine, Google map of Ukraine was blocked from adding new companies and reviews. Recently, information appeared on AIN that the ability to add reviews, photos and ratings will soon open again. In addition, according to unofficial data, Google is preparing to reopen the function of adding companies to the map for Ukraine. This is good news for business. We decided to remind users how to add a business on Google Maps - this instruction will come in handy as soon as Google announces the resumption of the ability to publish a mark for a business on the map. Perhaps now, when you are reading this article, it is already available.
Why do you need to add a company to Google Maps? Which business is particularly recommended to do this? We answer these questions in detail below. All you need is a laptop or smartphone, a work Google account and information about the company you want to add to the map.
Millions of people in our country alone use Google Maps. They search for the right street, calculate the route, and even more often find companies and organizations, if they are on the map. This is very convenient when you are waiting for live visitors in your store or office: with a mark on the map, potential customers will never get lost.
So who should be listed on Google Maps:
Companies that do not yet have the resources to create their own website — do not need to register a domain , buy hosting , or pay a developer. With the help of a mark on the map, you bring your business to the international platform, which is visited by millions of people, absolutely free of charge.

Small businesses that only serve consumers in their area. For example, a woman wants to get her hair done, she enters the word "Hairdresser" in the search, and the map shows all the establishments around. And your hairdresser is not there... It's a pity.

Offices or warehouses that await visitors. Sometimes it is so difficult to find the right address without a clear mark on the map!

Large firms, enterprises and organizations. They increase their ranking if they have a profile in Google services.

Having a mark on the map allows you to reduce the cost of advertising and SEO promotion of the company's website.

If your company is searched through Google search by entering its name, its profile will appear on the first page.
If at least one point is about you, then read the article further. After all, we have prepared very detailed instructions on how to add a company to the Google map in Ukraine in 2023.
Read also: How to start a video surveillance system on the server
The only reason you can't add your business to Google Maps is if you don't have a physical address (if you have one). But even in this case, it is worth creating a company profile in Google, because then when searching by name, the user will be able to see this profile on the right on the first page.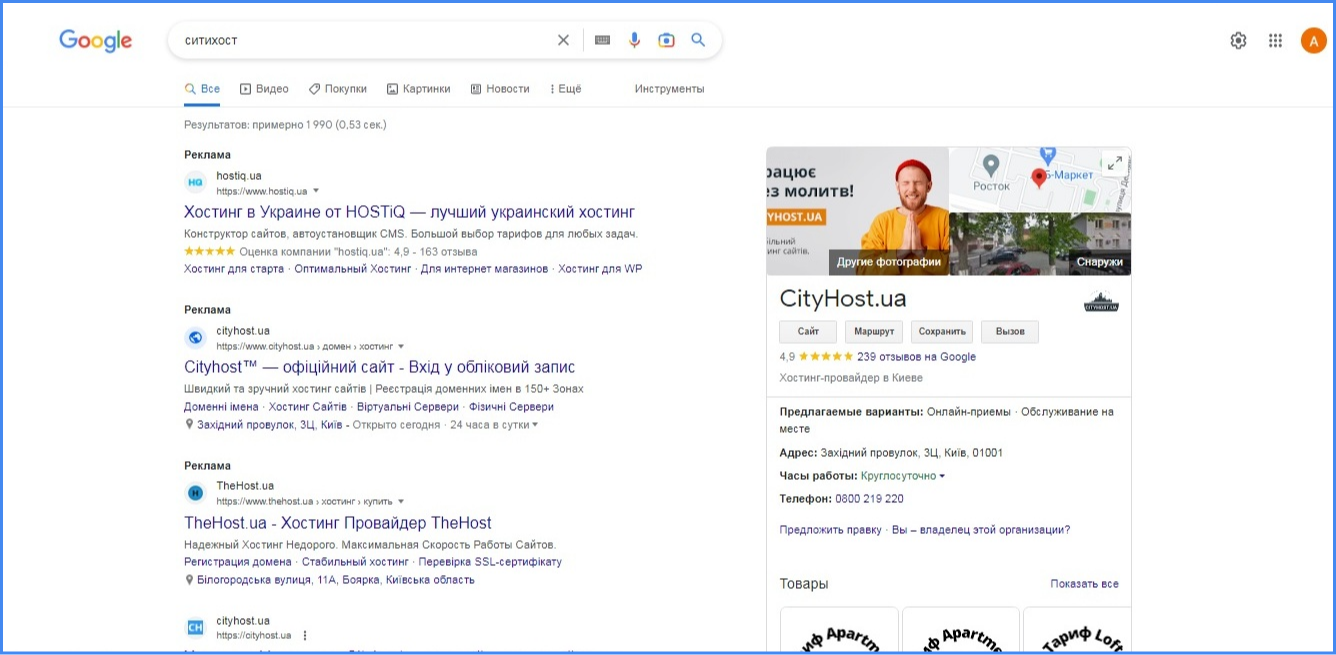 In all other cases, the presence of a company on the Google map is the best free advertisement.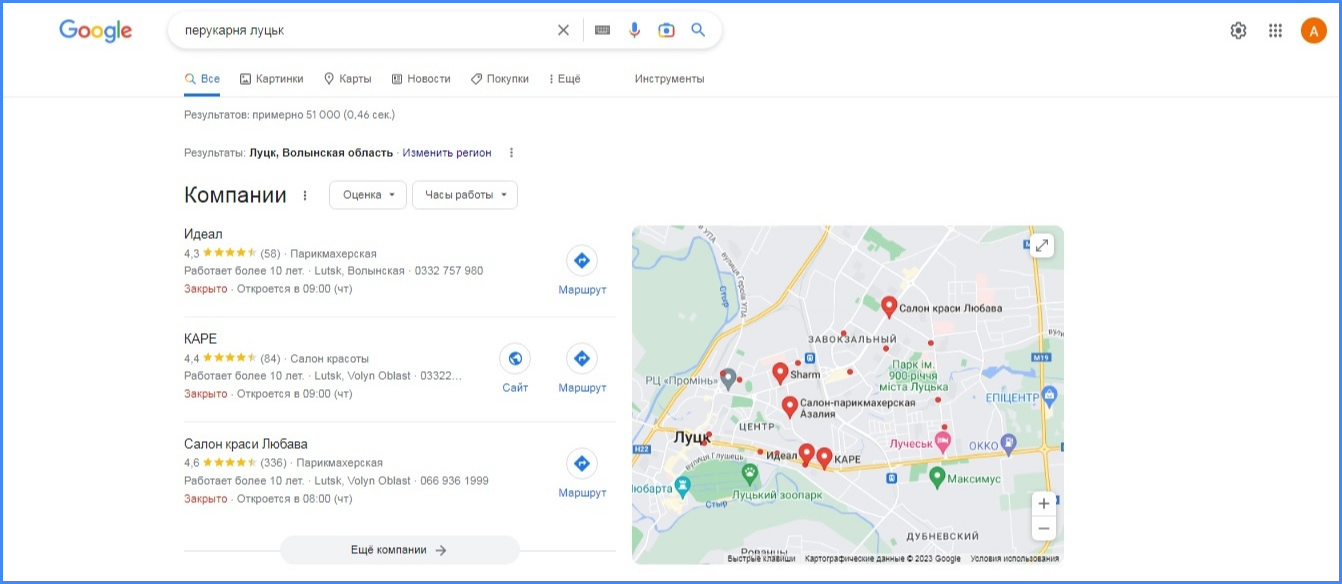 Previously, in order to register a company, it was necessary to first create an account in My business Google. But now this application does not work (as written on the official website):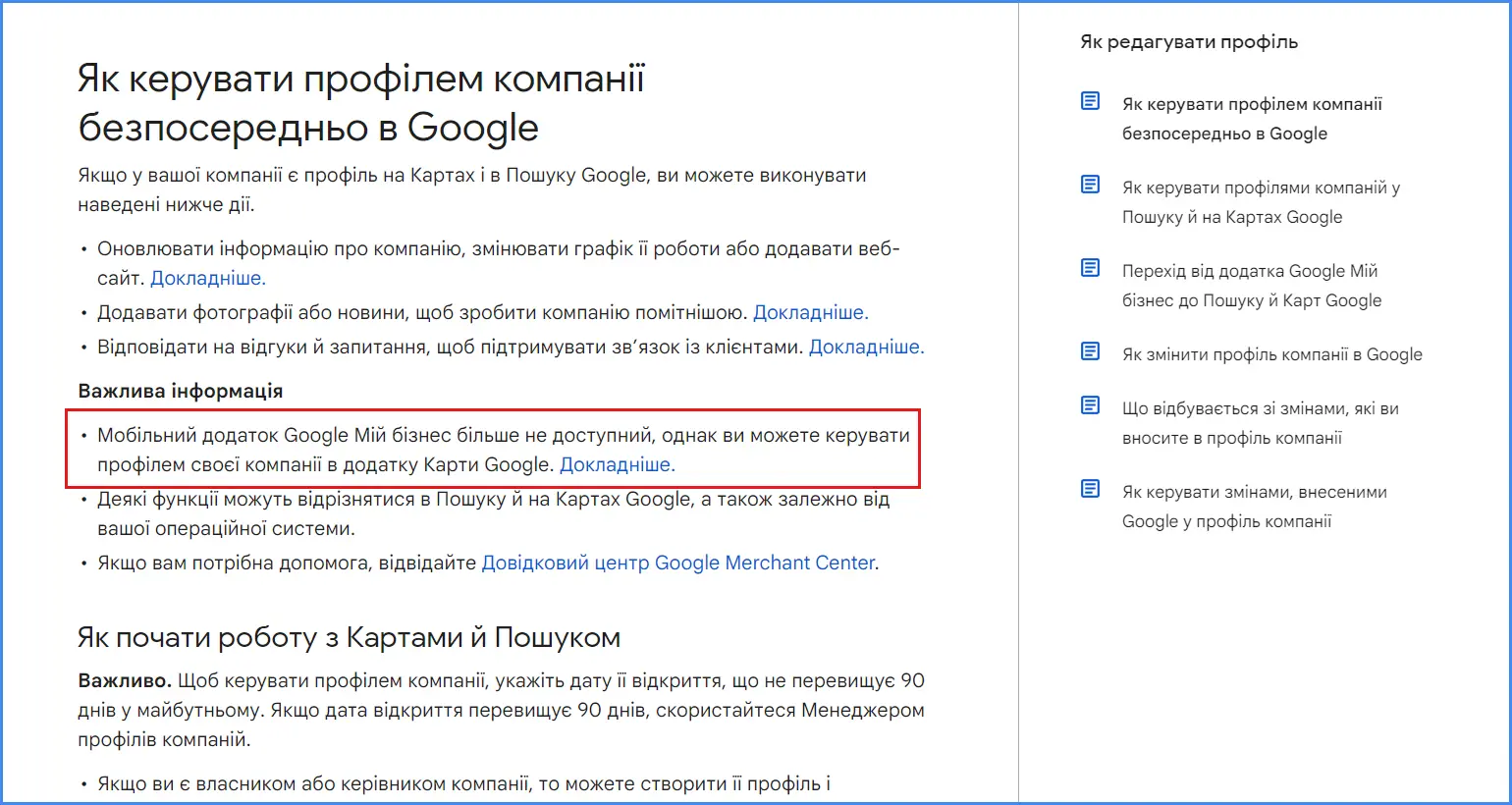 But it is not needed, because now it is enough to register a company profile so that information about it appears in all Google services, in particular on maps.
Read also: How to create a business page on Facebook
You can register a profile in several ways. We will show the two simplest ones. We will give examples when working with a laptop, but the principle is the same on a smartphone:
open Google map;

right-click on the map;

in the window, select the "Add company information" item.
Or you can select the menu on the left on the map, and also click on the item "Add company information":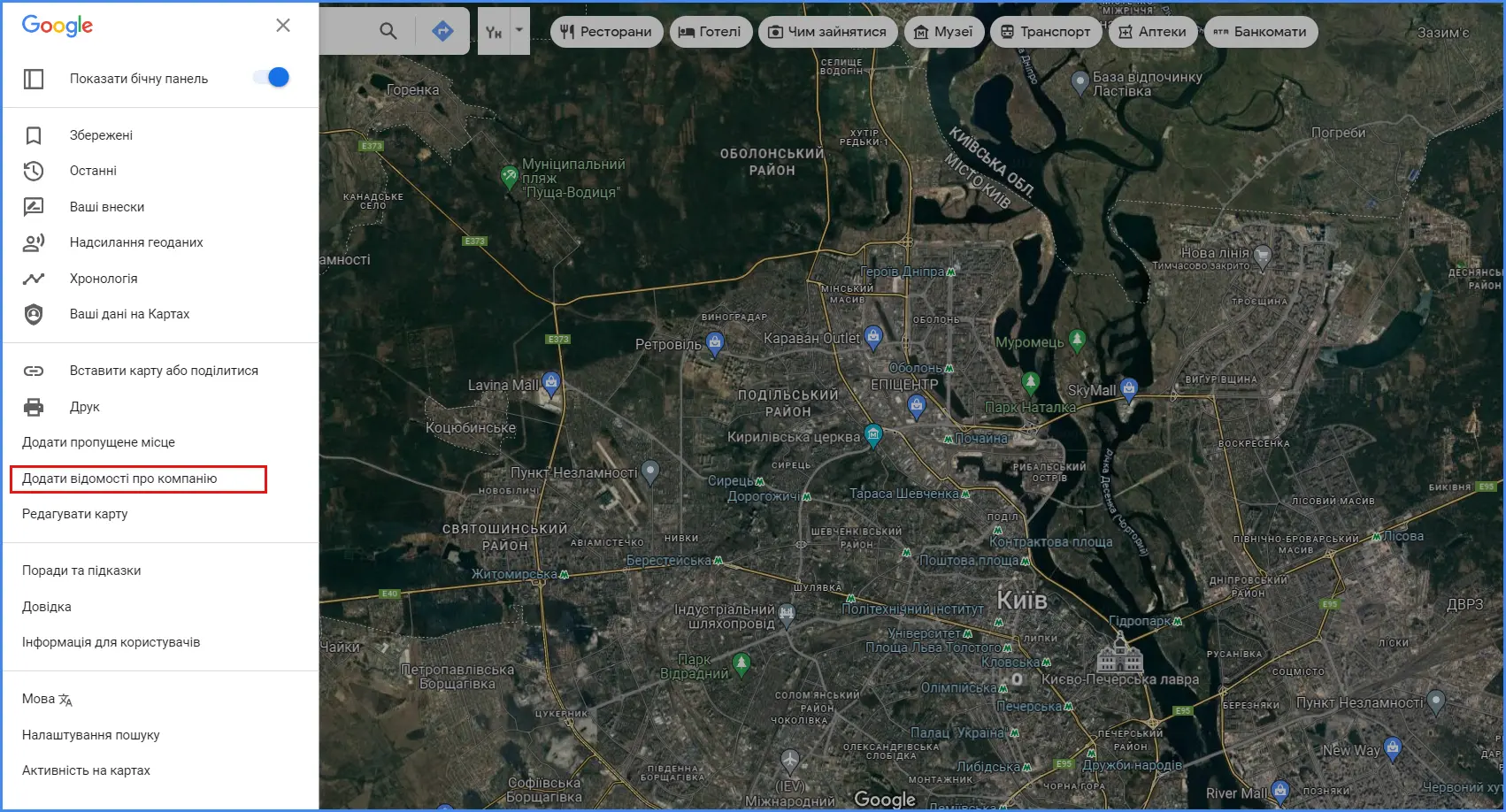 Whatever you choose, the result will be the same: a window will open, from which the path to your goal - creating a company profile on the map - will begin.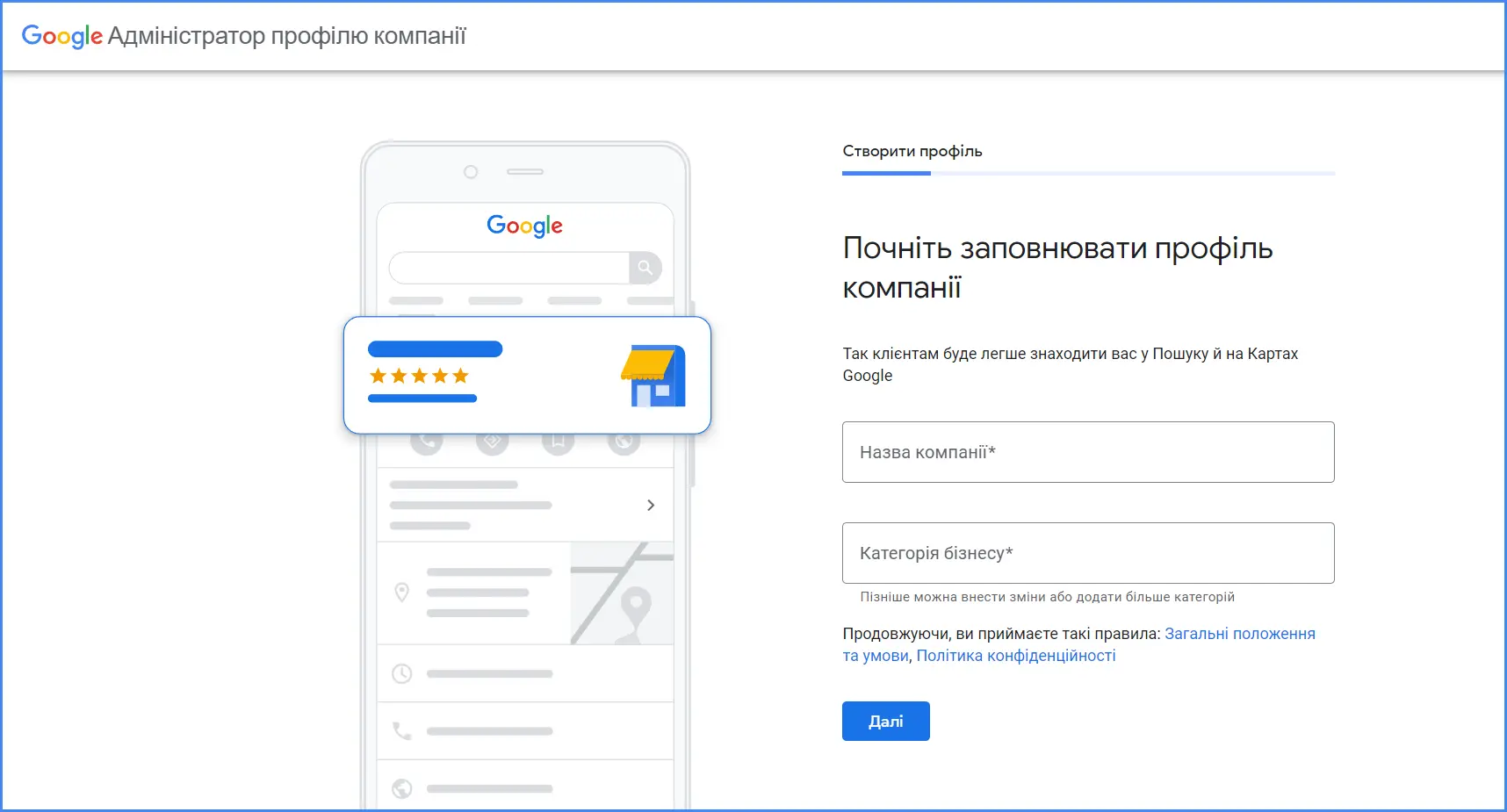 Just follow the instructions that will be written in each new window, and everything will work out. What exactly you will be asked to specify:
Company name. If you have a website, write its name next to it: it will be better for searching. For the same purpose, specify the field of activity right here (Krasunya Hairdresser, Mayetok Cafe, etc.).

Activity. Here they will be asked to indicate how customers can interact with the company: buy goods on the website, come to the office or order services for home delivery.

The address of the website or online store, if any. If there is none, it's okay: even small local shops are placed on Google maps, and everyone can find them near their home.

Field of activity. Choose carefully, because this will affect who Google will show the company to, and who will be interested in it. The same organization can be both an online store and a representative office or salon. If you can't decide, don't worry: you can add additional categories later in the settings.

Area served by the company: the whole country, city or village. Or maybe you deliver goods abroad? Then be sure to specify it by selecting the desired countries or cities.

The company's contact phone number. It must be working, because it will most likely receive a confirmation code during further registration.

An address with an index for placing a mark on the map. The index can be found on the website of Ukrposhta.
After that, you will be asked to choose a verification method - show Google that you are not a robot and that this company really exists. It can be an SMS message, an e-mail, or more complex methods chosen by Google itself. What he will offer - no one knows in advance. Sometimes the code can even be sent by paper letter! You will have to wait a long time, but it will be worth it.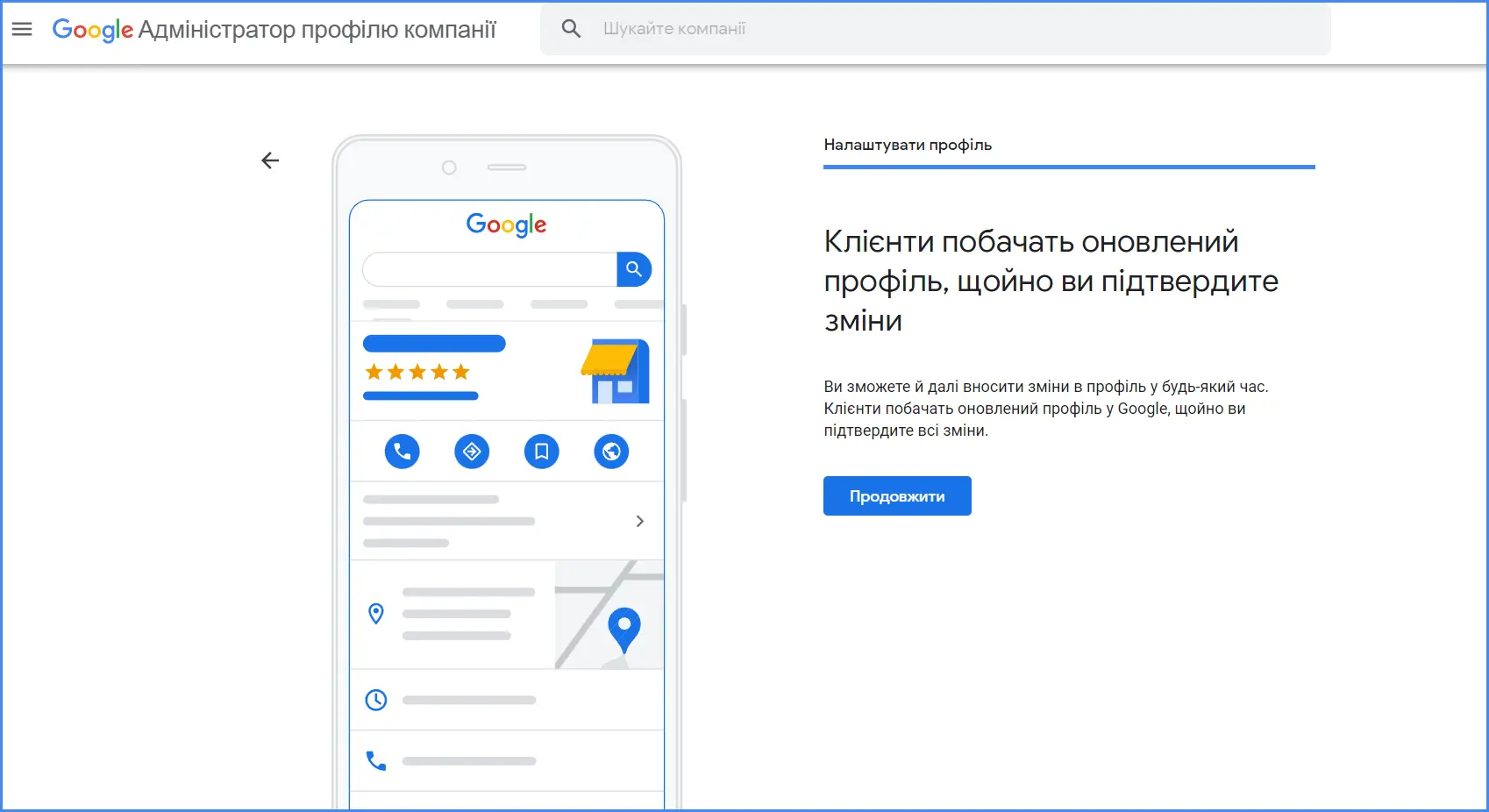 But that's not all. Next, you'll need to enter the company's business hours, add a few words or paragraphs about it, enable or disable 2-3 settings — and you're almost done. It remains only to receive the last confirmation.
Feel free to click "Next" to see a previous company profile. It will not be seen by anyone except the profile administrator until the final confirmation. But you will be able to notice what mistakes were made and what can be added in the future.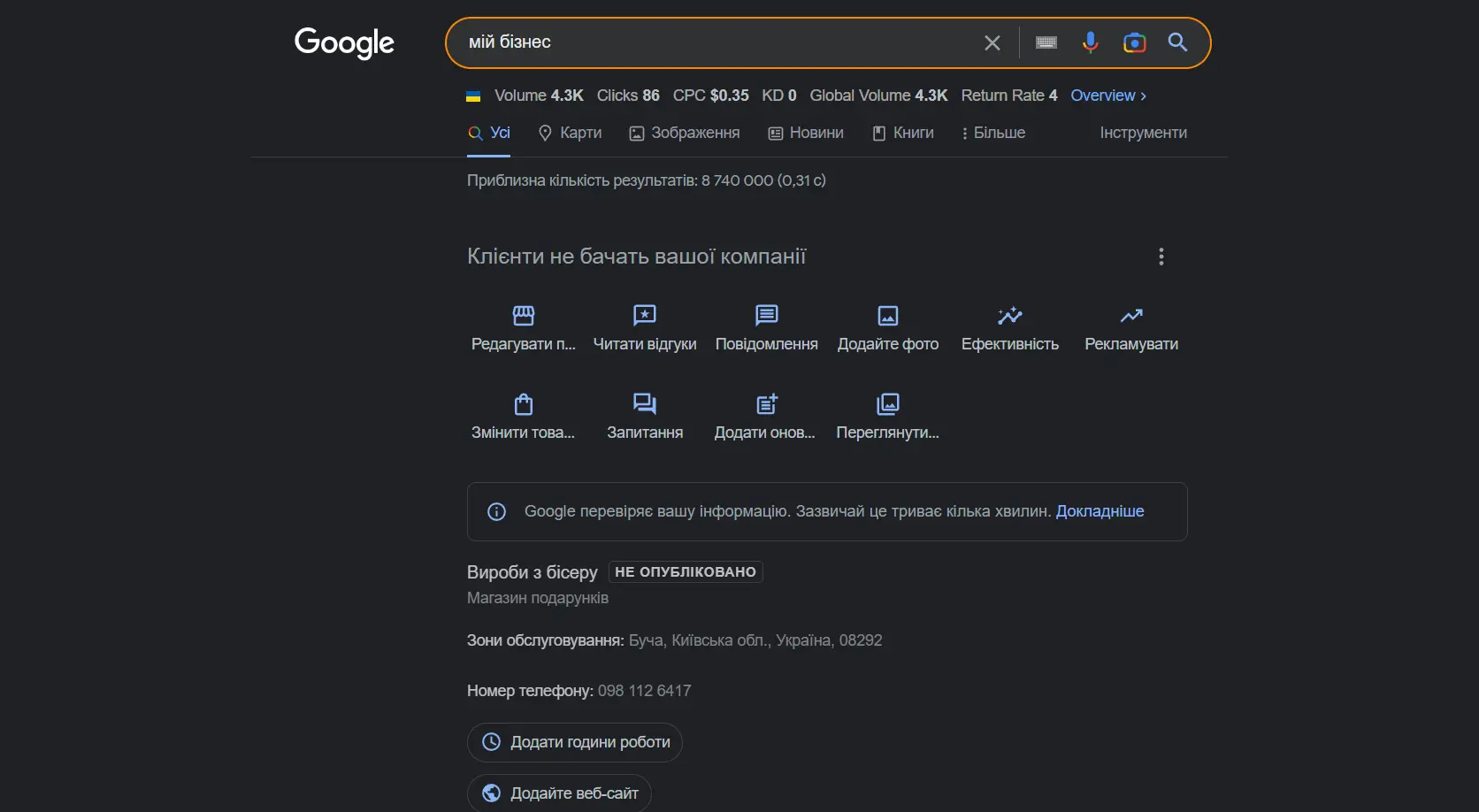 If you click on "Details", you can see the status of the application. It took us 10 minutes to complete the registration.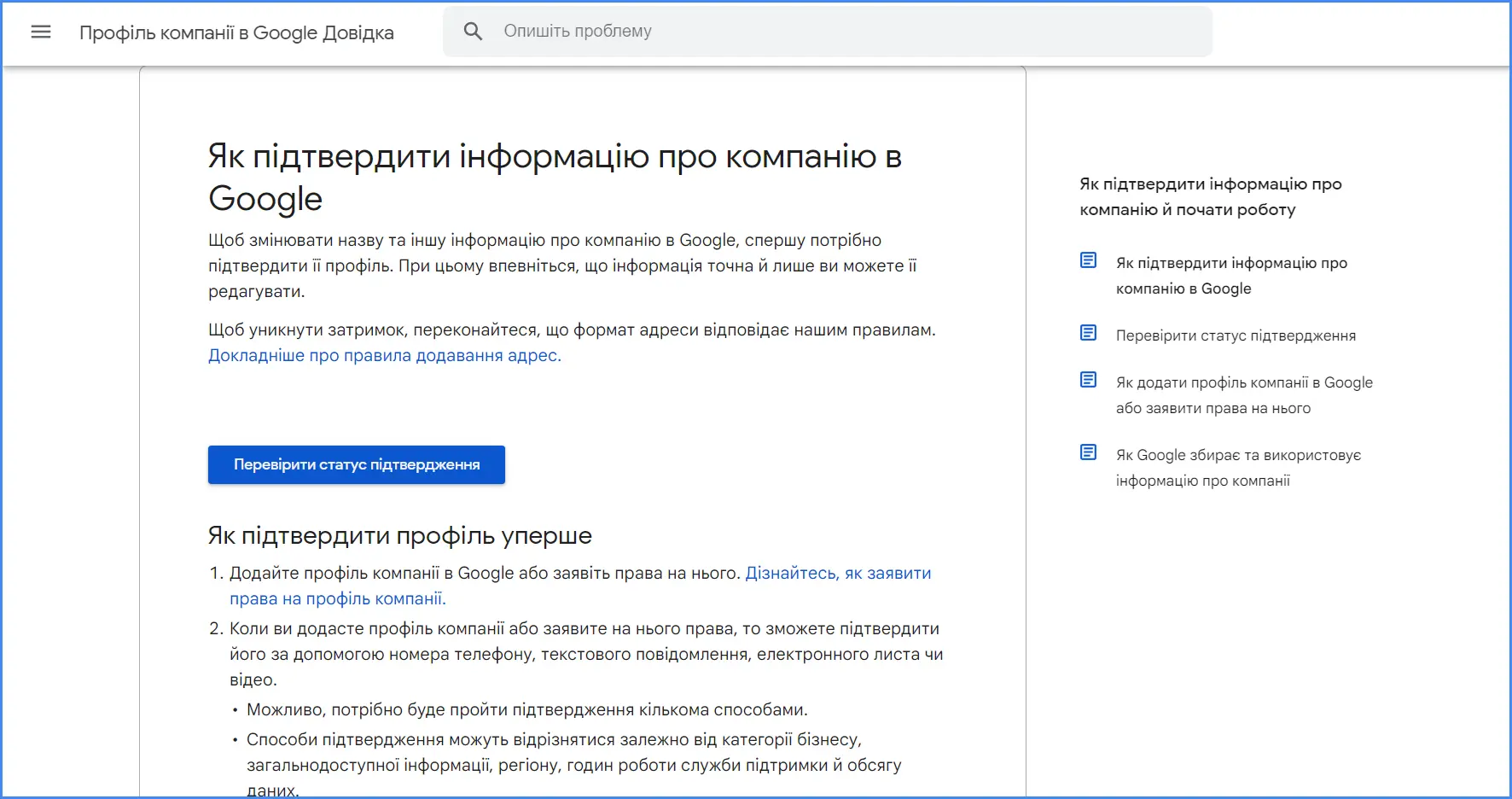 When you click on the status check button, Google will ask you to confirm the e-mail address of the account from which the company was registered. And only after 5-7 minutes the company will be registered. But Internet users will be able to see it only after a few days or even weeks - that's how long it takes to publish a company profile. Wait.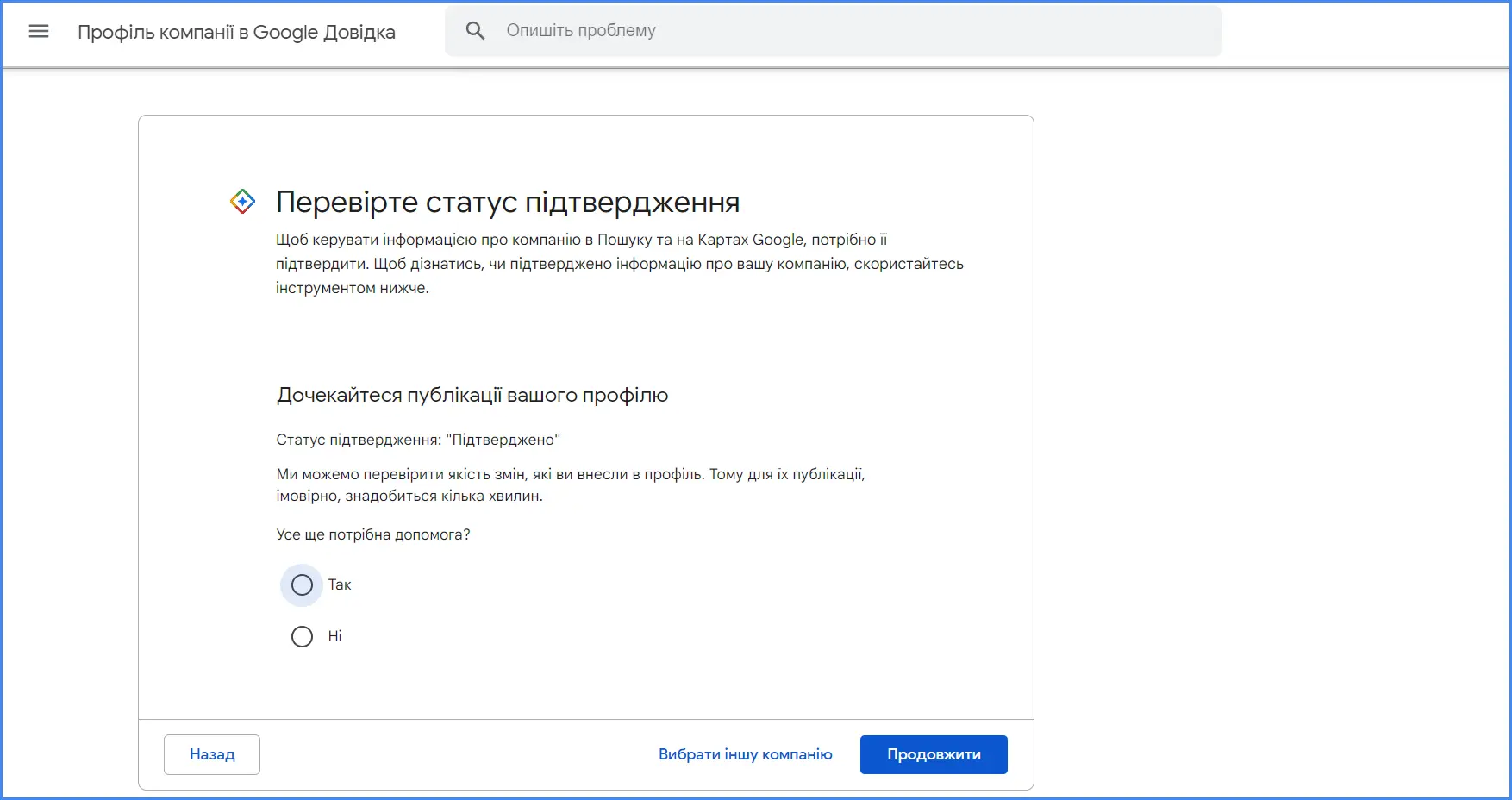 Read also: Checklist - how to open an online store for 1000 products
Well, the company profile has been created. Do you still need to put a mark on the map so that the whole world knows about your organization? As Google writes, it is not necessary. After all, during registration, you have already specified the address that will be pulled up in Google Maps. But you also have to wait for some time.
We hope our guide was helpful and you'll be able to add your business to Google Maps in no time. Because this is a really great way to announce your business to the whole world without money. Especially since now, in 2023, this type of free advertising will again be available in Ukraine.
Grow your business with the help of maps, ask users to give a rating, leave a review or a photo of your establishment. The more information potential customers can find, the more likely they are to contact you.