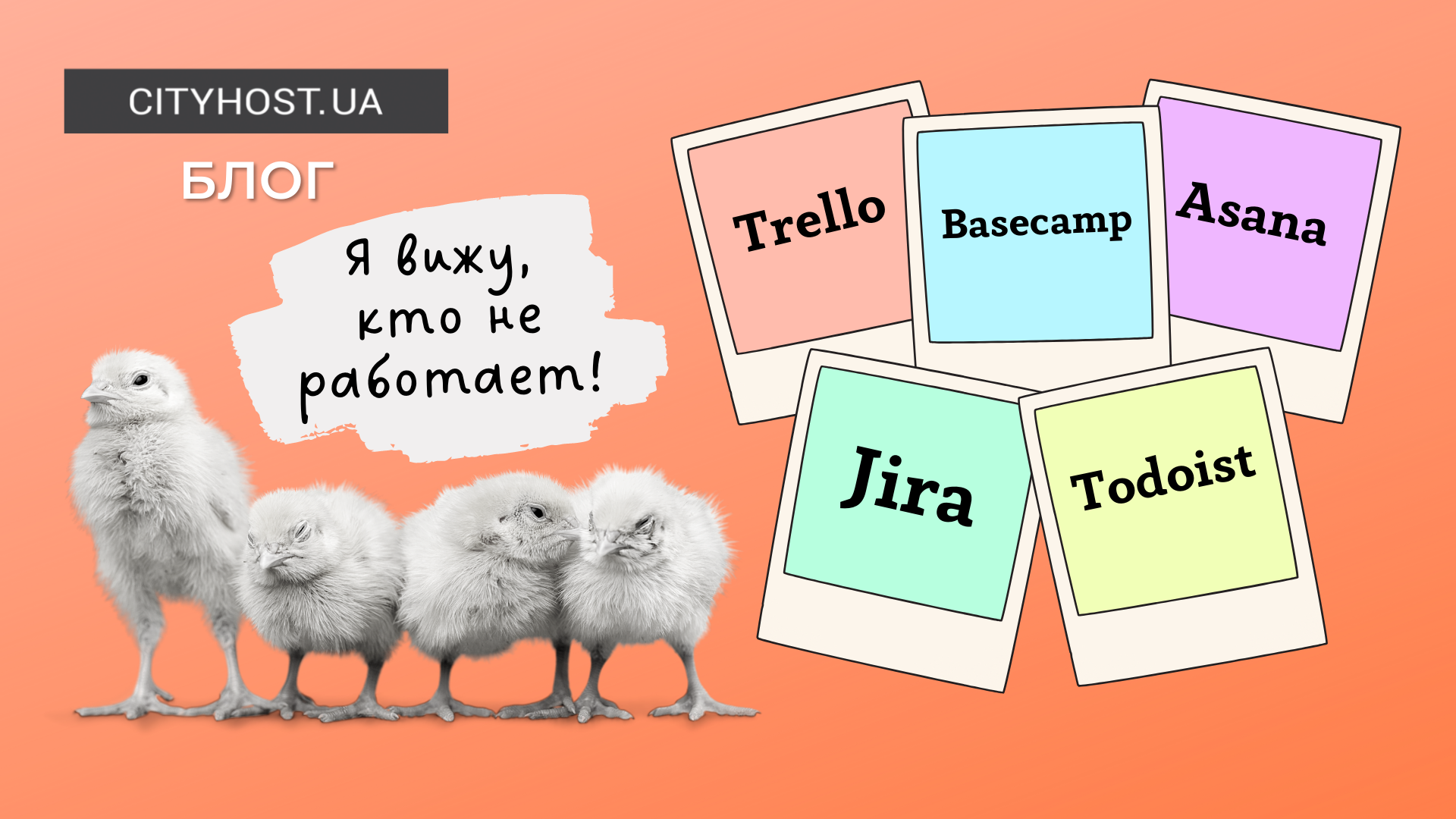 The era of remote work has come and brought with it a lot of innovations. Company management faced a problem: how to correctly assign tasks to all members of a large team and monitor the work of subordinates who work from home? And although task managers appeared long before the pandemic, it is now that they have become a real breakthrough in planning. It turned out that the organizers are convenient for office work, and for creative teams, and for personal use.
A task manager is a service that allows you to organize the work of a team or structure your working time. The main tool in every such organizer is a work board with task cards. You can set deadlines, performers, write comments, attach materials and much more.
The main advantage of task managers is that all processes are gathered together in front of your eyes. Such planners allow you to monitor the pulse of the company, control the execution of tasks, and discuss them in chat mode.
There are many organizers in the network, each with its own advantages and features. We will consider the five most popular and recognized services by users.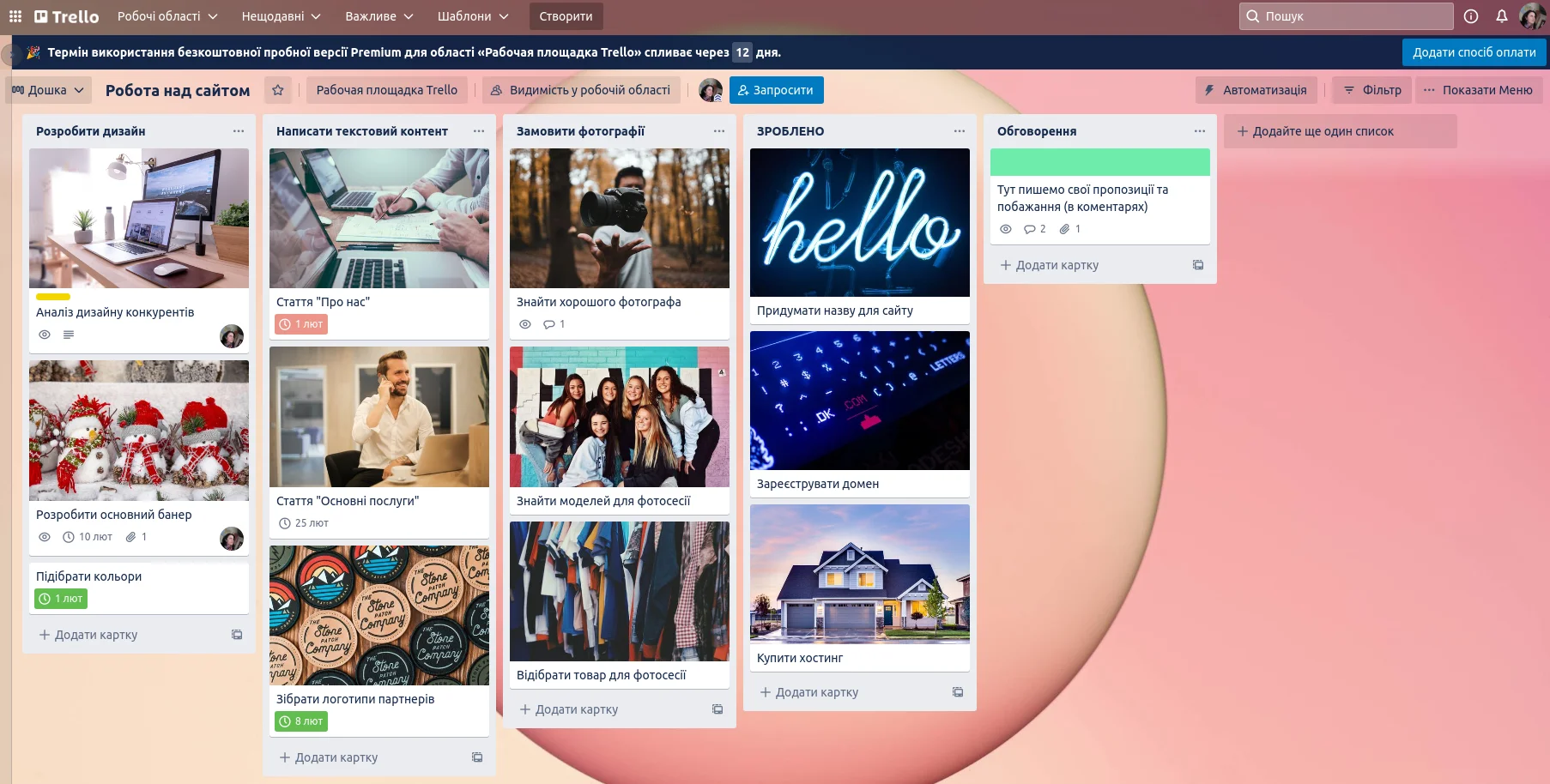 Trello is a cloud-based workflow management service. He can be considered one of the first organizers, who became widely known in the countries of the former CIS. If you've been freelancing or working remotely, chances are you've used Trello.
An important advantage of the service is that it is one of the few that has the Ukrainian language in the account settings.
In Trello, there is such a thing as a "Workspace". In it you can work as a team, create boards for several projects, use template boards. However, the latter are only in English, so without knowing the language it will not be possible to use them comfortably.
You can have several such spaces if you work with different teams, and each one has as many dashboards as you like.
There are also different levels of board publicity:
private (only for yourself);

open to all participants of the selected "Workspace";

available to anyone on the Internet.
Lists are created on the board in the form of columns, and each of them has task cards. The name and description of the task is specified in the card, materials from Google Drive, Dropbox and several other storages are attached. In addition, the performer is indicated, the location is displayed on the map, there is commenting on the card. It is convenient that you can set a deadline, and if the task is overdue, it will be indicated on the card. If you mark the work as completed, a green die will appear on it. Cards whose assignment period will soon expire are marked in yellow, and expired cards in red. The system also sends notifications so that performers don't forget about deadlines.
Task cards can easily be moved from one list to another. This allows not only to divide tasks into categories, but also to work according to the "kanban" method. For example, an employee undertakes the task "Choose a suitable hosting for the project" and moves the card with the task from the "To be done" list to the "At work" list. When the task is completed, the card is sent to the "Job Completed" list, and a link to the provider's site is left in the comments, and a payment receipt is attached as a file. Easy!
The cards have many more useful options that allow you to make the work of the team as transparent and structured as possible. Trello also has a main page that chronologically posts all board activity—card moves, comments, due dates, and so on.
A separate advantage of Trello, which is not typical for organizers in general, is the customization of the card design. There are different covers, colored backgrounds, a photo in a hat.
A free plan is suitable for simply organizing the work of a small team (many people use it). There are enough tools, up to 10 boards are available for each workspace, an unlimited number of cards and their changes. All paid tariffs are calculated on the number of employees. $5 on the Standart tariff means that for 30 employees you will pay $150 per month. Advanced packages are designed for larger companies and have a wider set of tools.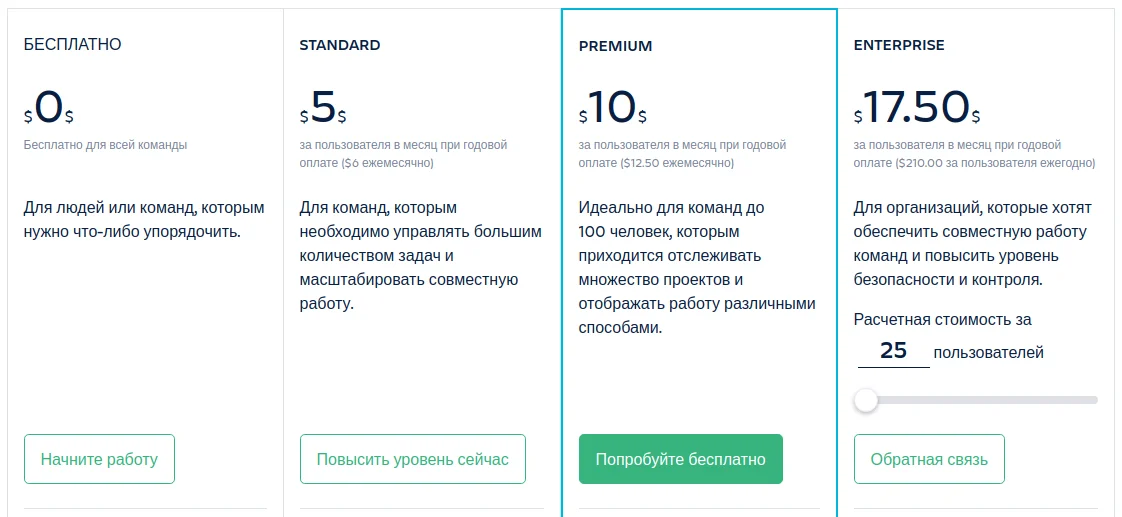 In 2017, Trello was bought by the Australian software developer Atlassian, which we will meet later in this article.
In this chapter, we have devoted a lot of attention to the description of card boards. Such a tool is available on all platforms, the principle of working with it is practically the same. Therefore, we will not describe the functionality of dashboards in such detail.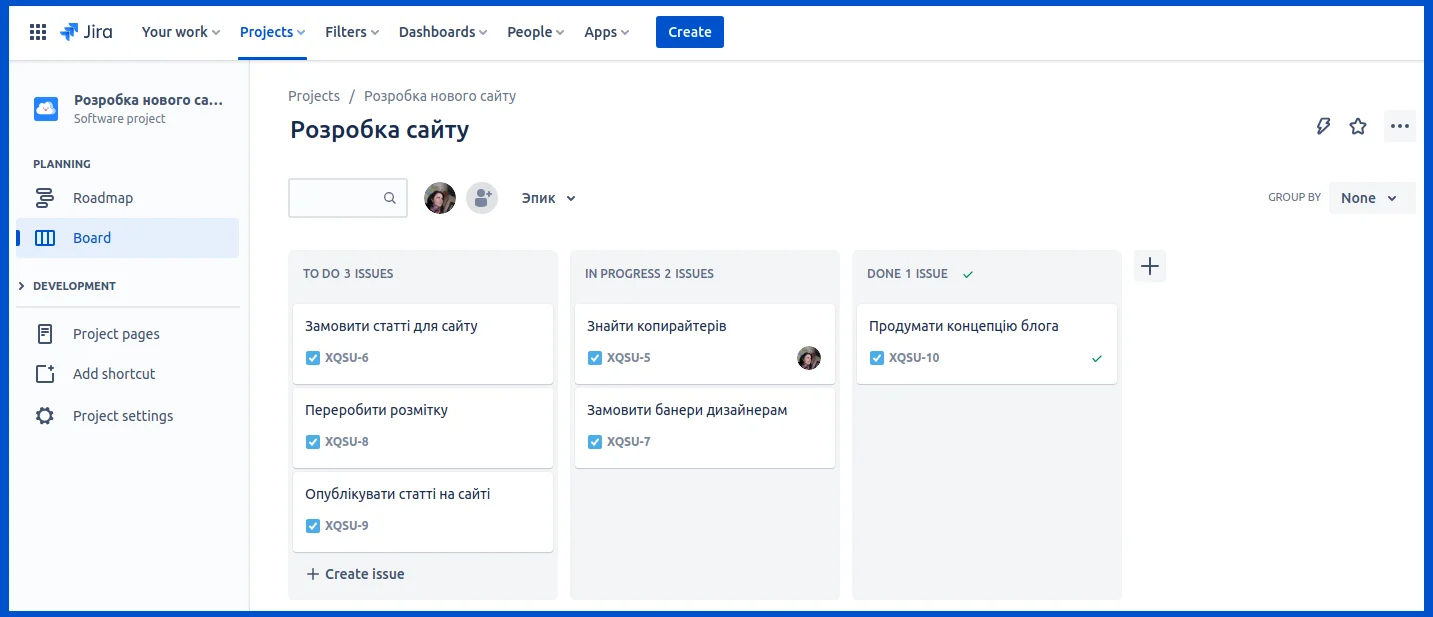 Jira is also a cloud service, one of the most common organizers in companies that develop and test software.
Therefore, if you are studying to become a programmer or mastering another IT profession, familiarize yourself with Jira. There is a high probability that you will work with him.
Read also: Learn to program on your own or go to developer courses — what to choose?
When creating a new project on the service, the manager immediately chooses the principle by which the process will be organized:
Kanban;

Scrum-strategy, in which the work is divided into time segments - sprints (generally 2-3 weeks);

Bug Tracking created especially for testers.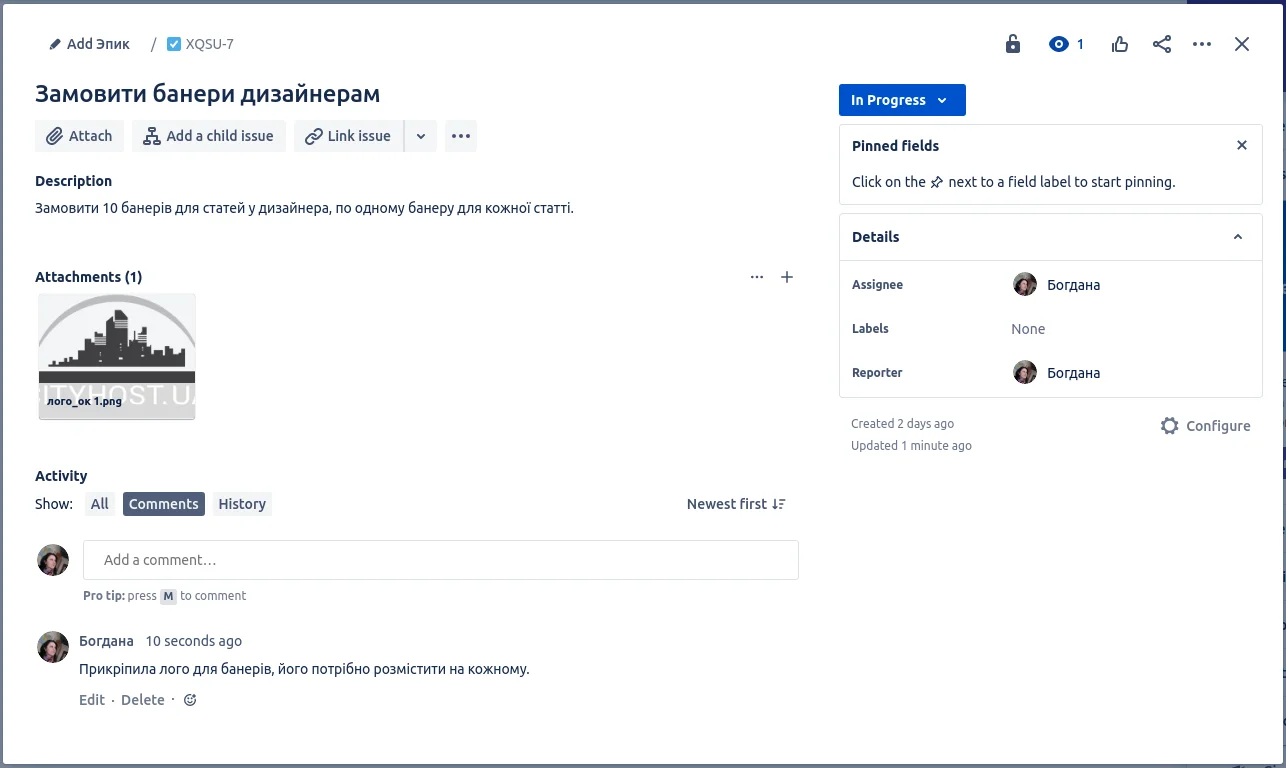 In Jira, cards are laid out in a similar way to Trello, but with less focus on due dates. This metric is presented as a separate tool called "Roadmap". Here, the terms are visualized in the form of a Gantt chart - multi-colored segments located on a vertical time axis. They can be lengthened, shortened and moved around the calendar by simple drag and drop.

In this service, dashboards are arranged using so-called "gadgets". These are certain modules that display statistics in the form of charts — the state of the sprint, the time to the first response on a task, the time it took to complete tasks, and so on.
Jira and Trello are related because both services exist under the wing of Atlassian. In order not to keep two identical tools, the company still tries to develop them differently. The main difference is that Jira is designed as a task manager for developers of large companies, while Trello is for general use in small projects. It is this concept that causes more and more differences between organizers.
Jira's prices are higher, although there is also a free plan where you can work with a team of up to three people (they are called agents).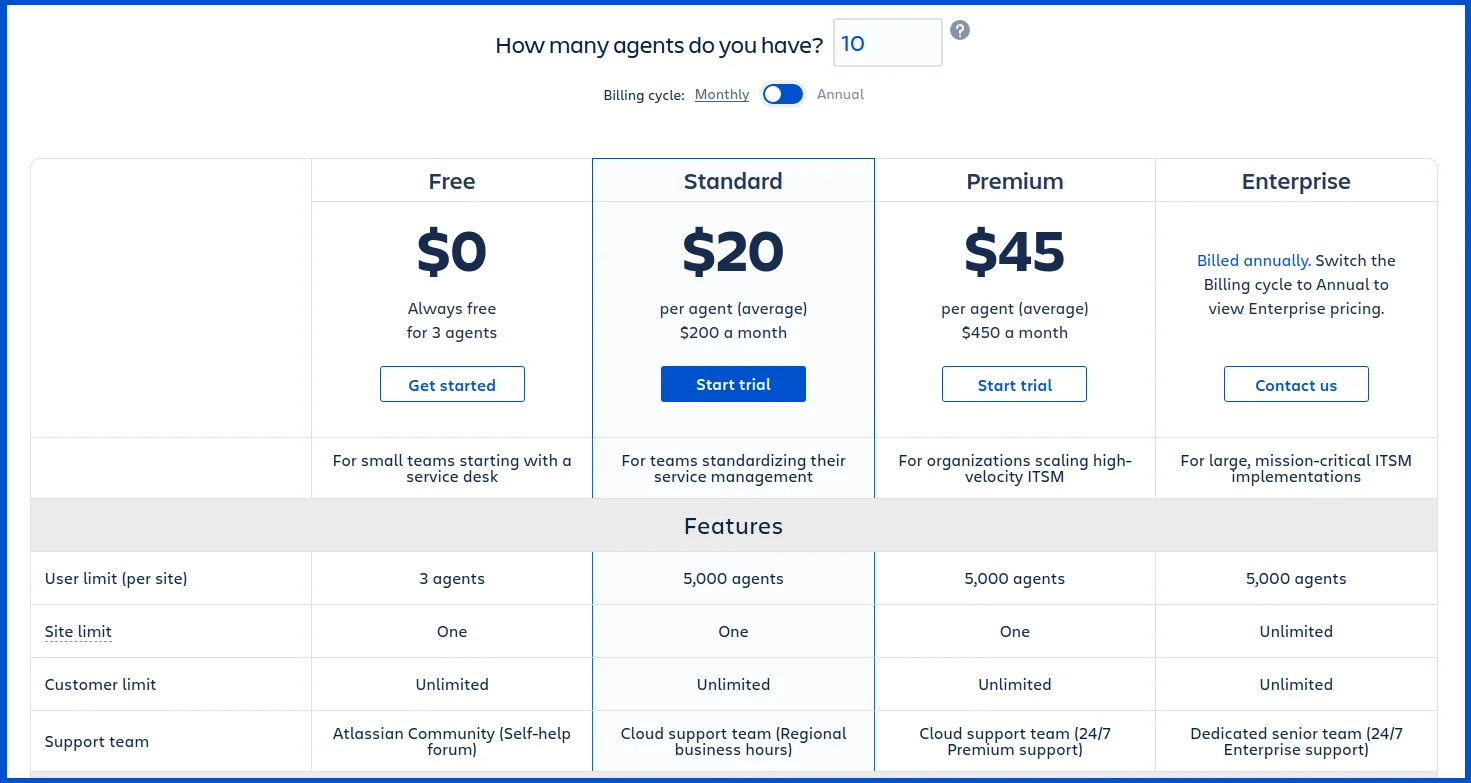 Other tariffs are also formed according to the number of people who will work with the service. For example, if you enter 10 agents in the field, the system will advise the tariff and calculate that you will need to pay $200 per month. The higher the tariff, the more possibilities he has.
Jira has a peculiarity - each client is assigned a domain with the atlassian.net extension, and in the system such an account is considered a site. Only one site is available on all tariffs, and the number of sites is unlimited only in the advanced Enterprise package.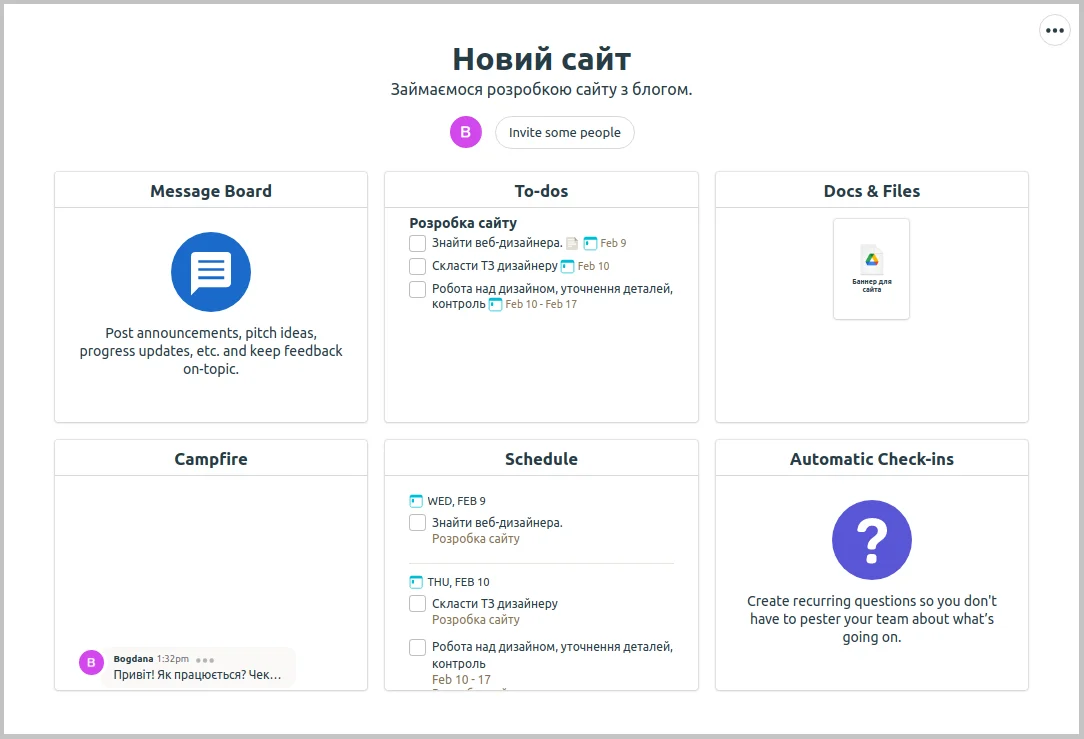 Basecamp is the brainchild of American developers that has existed since 2004. The product is positioned as a task manager for a company with a small team and offers a warm, intimate atmosphere of communication.
And its very name, which translates as "Base Camp", mentally sends the user to the fire around which colleagues have gathered to discuss their achievements over a cup of tea.
One of the significant disadvantages so far is the lack of a Ukrainian-language or at least a Russian-language version. Let's hope that the developers will be able to solve this issue in the near future.
In the client account, you can access the main tools through the top panel:
Home is the company's main page with all projects.

Lineup is a new tool where the process is visualized in the form of a Gantt chart.

Pings is a chat area.

Hey! — box with questions.

Activity — all actions in projects (adding tasks, comments, attaching files, and others).

My Stuff is a kind of "personal locker" that displays all the activities related to you personally.

Find - search by keywords in all sections of the project.
The service in its "bare" form is very concise, but integrates with many widgets, plugins, and services. There are many paid and free applications on the official website.
Interestingly, you can attach files from various cloud storages and editors to the cards — Adobe Creative Cloud, Dropbox, Figma, Google Drive, and a number of other services.
Basecamp has two plans — paid and free.

The free plan is suitable if you use Basecamp as a personal task manager or for a small team, such as a family or a startup of several people.
Paid is the only package for business that does not depend on the number of people in the company. The service has a fairly long trial period - two months. There is a choice: take an annual subscription or pay once a month. The prices may seem high, but they are cost-effective for large teams. For example, Jira for a company of 10 people will cost the same $100 per month.

Todoist is a convenient task manager for a team, but due to its simplicity, it is often used for personal planning. It is delivered in English, Russian is available in the settings (there is no Ukrainian yet).
The planner has many interesting and convenient tools:
Recurring tasks - if you need to perform some daily activities, such as checking your mail.

Priorities as flags: Priority 1 (red) is the most important, followed by orange, blue and no color.

Each new task placed on the board is sent as a notification to the mail to all members of the group.

Commenting on tasks is not only using text - you can attach files, leave voice messages.
An interesting feature is the cultivation of karma. You set tasks, complete them on time and increase your karma. Every day for completing tasks, the user receives points, gaining a certain number of points - he goes to a new level. If there are many overdue deadlines, then karma falls. The development process is shown in the form of a graph.
Reminders - unfortunately, only available on paid plans. But this does not prevent the service from helpfully sending a letter in the morning indicating the number of tasks planned for today, the level of karma and useful advice.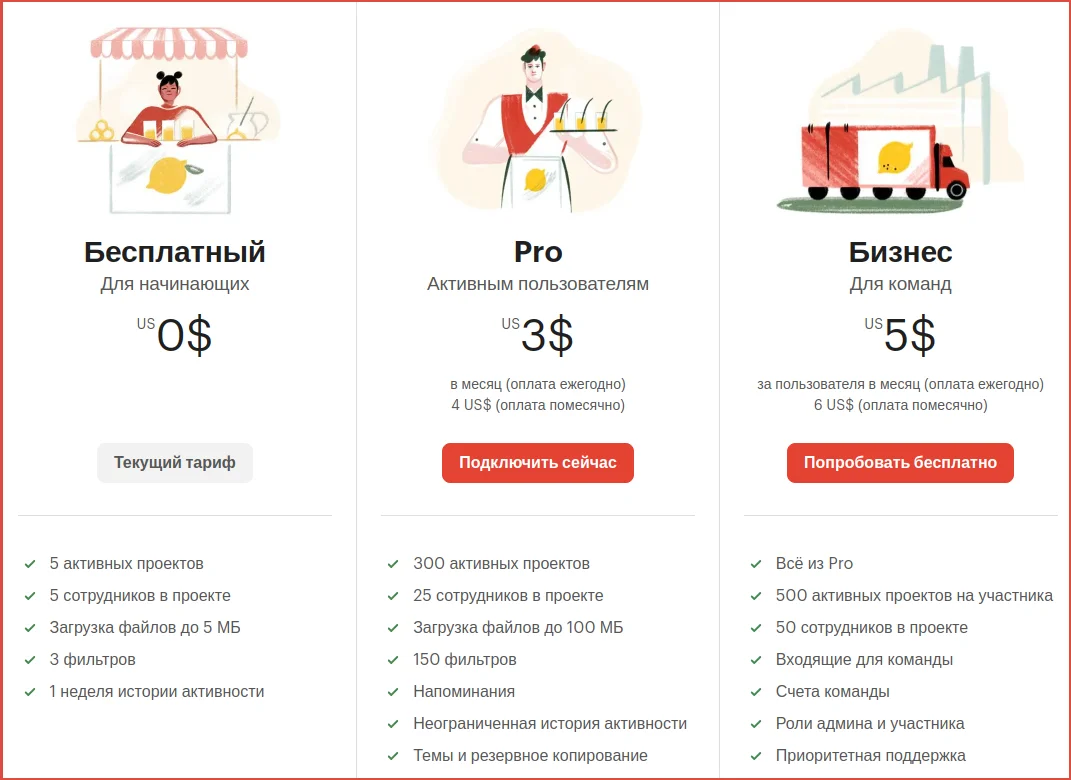 Please note that the Pro tariff offers a total payment of $3 per month, and the Business package already costs $5 per team member.
Tariffs are quite democratic, a free package with a head is enough if you use a task manager for family, personal purposes or small business, for example, for FOP.
By the way, we recently wrote about services for sole proprietorships that will help to fiscalize all settlement transactions in the tax office cheaper and faster. Read about it in the article " PRO: what is it and who needs it, an overview of software PRO services ".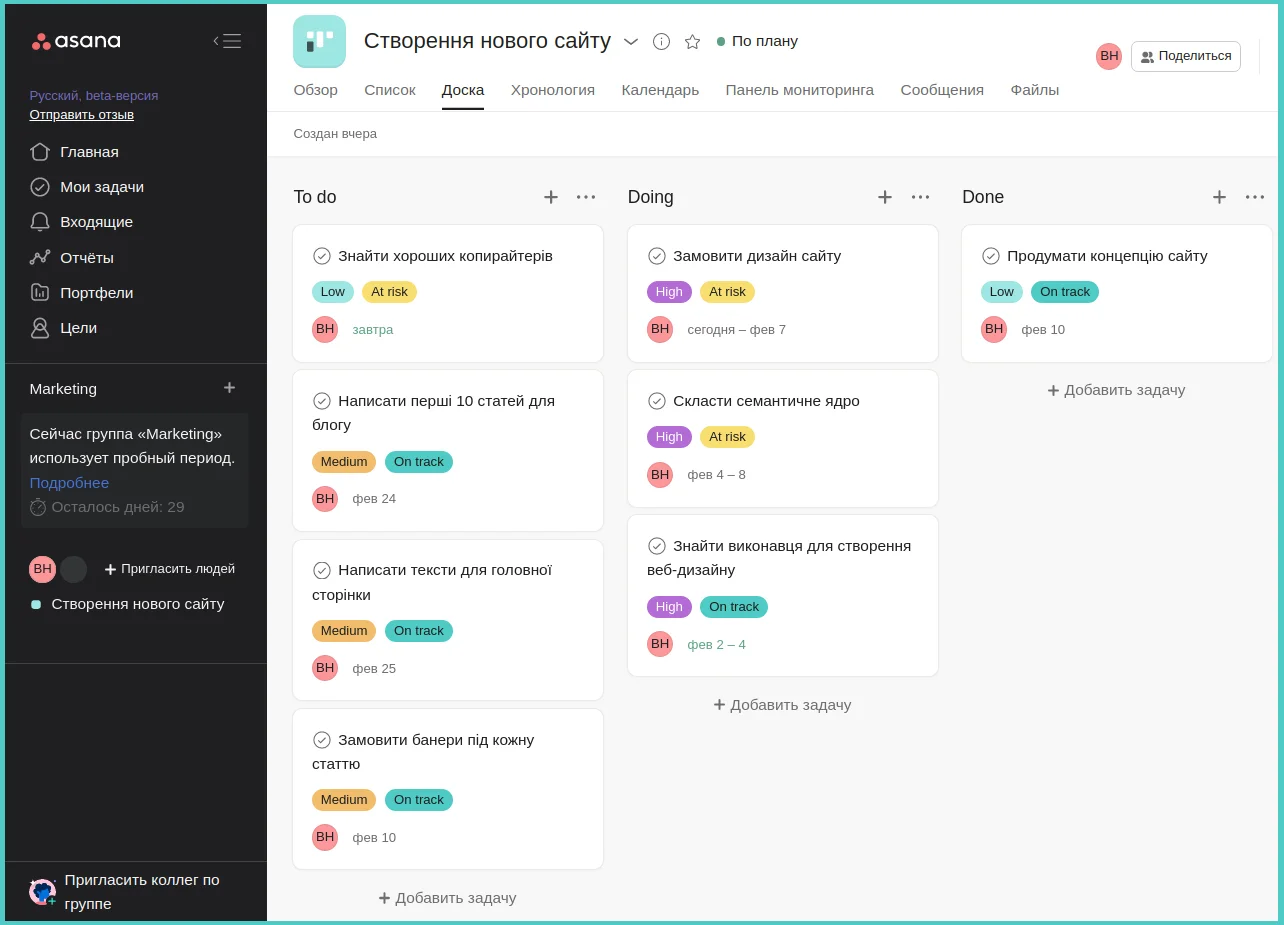 Asana is a cloud service that has existed since 2008 and was developed by the co-founders of Facebook. It is partially Russified (there is no Ukrainian yet), but some buttons are still displayed in English.
When creating an account on the service, the user indicates the main purpose for which he needs the tool:
Management of team projects and processes;

Management of personal tasks;

Tracking the workload of a team working on several projects at once.
A very conveniently formed toolkit in the top menu of the service:
The review is something like a meeting room in which the project manager introduces everyone to the main task, assigns roles, and marks milestones.

List - all tasks are displayed as a list.

The board is the familiar kanban with task cards.

Timeline - the same tasks, but already shown in the form of a Gantt chart (located vertically on the chronological axis).

The calendar is similar to the Google calendar, where all tasks are divided by day.

The monitoring panel shows in the form of diagrams how many tasks are in progress, how many have been completed, and how many are overdue. Convenient for visualizing team work.

Messages — allows you to create chats for different groups of participants, mark task cards and individual people in messages.

Files - Displays all materials attached to any projects and cards.
This is only part of the toolkit, many useful features are in the sidebar.
For cards, there is an opportunity to set priorities and execution status. These indicators are displayed in English, but are quite understandable.
Asana has a free plan with limited functionality. If you want to use all the "goodies" of the service, you will need to choose a paid package. Here, too, pricing depends on the number of employees in the team, as in other services. For example, the price of 10.99 dollars per month in the Premium tariff is indicated for one "place", that is, for one person.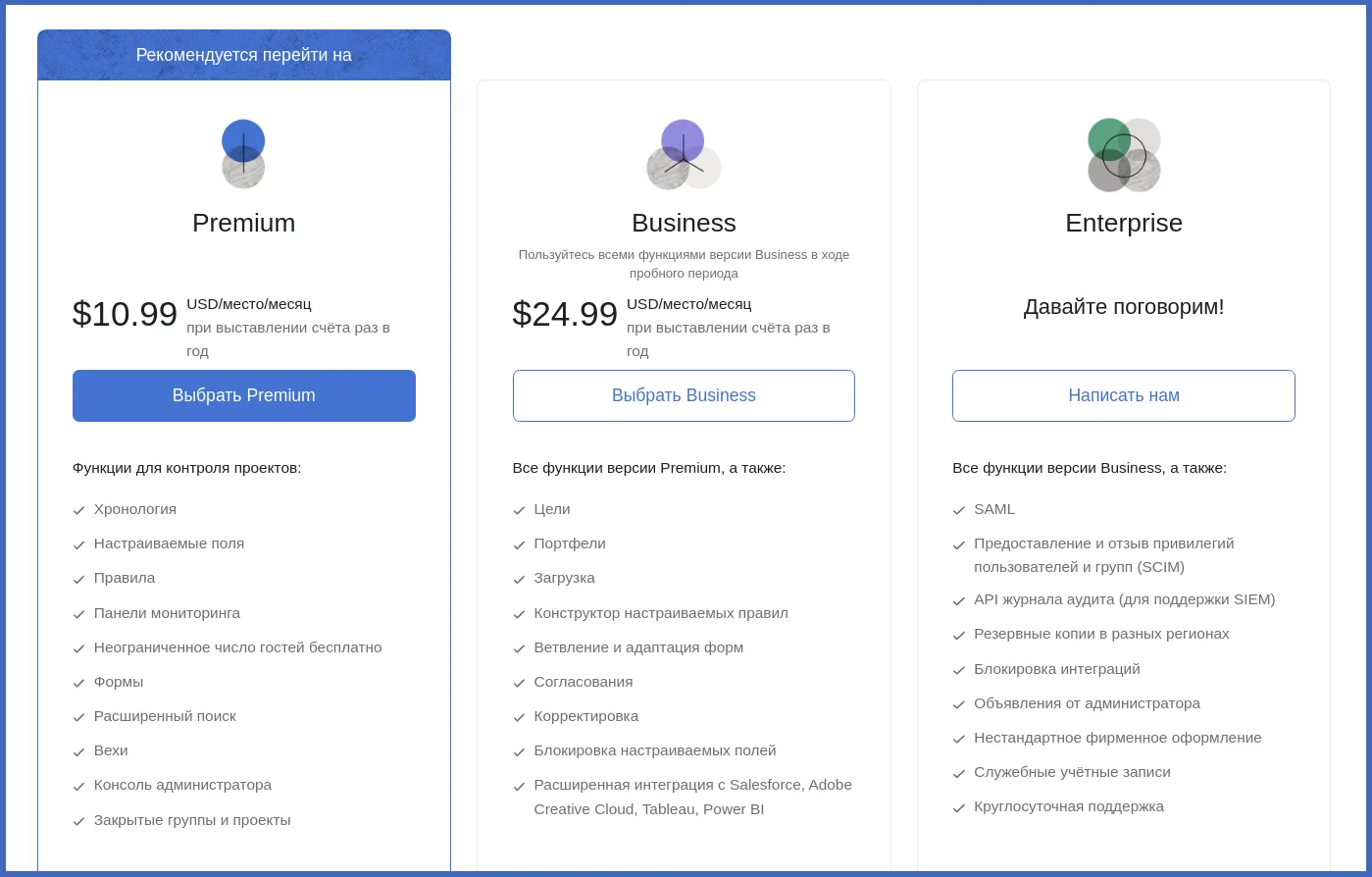 There are dozens of good services for planning team work and personal time management. Someone will argue with our TOP-5 and say that they know other organizers that are no worse than these. Indeed, there are as many people as there are opinions.
We have specially selected different planners for review, each with its own highlight. Having decided on the main purpose of using the service, you can choose the best task manager that is suitable for your tasks.