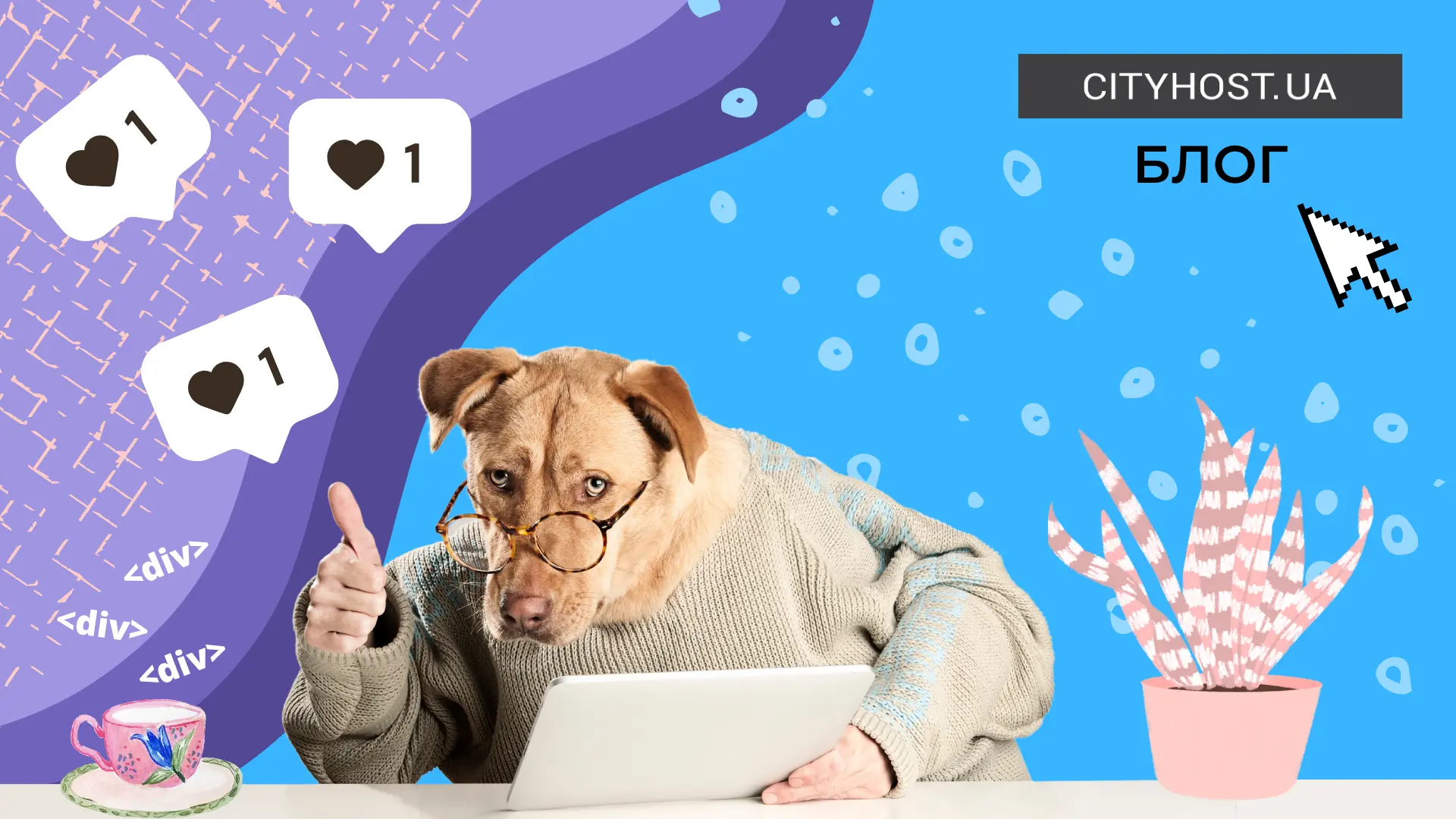 Blogs are sections for publishing useful and relevant information created by individuals or companies. Their key feature is that new blog entries are constantly being added, so readers have access to the latest news, expert opinions and analytics.
A blog can be on any topic, so blogging, of course, did not bypass the IT sphere. News from the world of information technologies, the most relevant collaborations, vacancies, expertise and analysis of various areas of IT are what industry specialists most often pay attention to.
Each company writes about what is closest to its field of activity - for example, we as a hosting provider mostly tell how VPS servers and dedicated servers work, how to choose a domain or hosting and how to successfully promote sites. So it makes sense that when looking for expert information in the industry, the best place to turn is the blogs of the companies that supply the relevant product.
Nearby there are entire media resources devoted to various topics of the IT world. While blogs are more of a local platform for the dissemination of ideas and experiences of a particular company, special sites cover more topics and work purposefully for the widest possible audience.
When forming a pool of sources from which you can draw useful information, it is best to use both types of platforms.
So we decided to make an overview of the most popular sites and blogs in Ukraine in this area, so that you can choose your favorites and follow new articles on them.
AIN.UA is a popular Ukrainian online magazine about IT business, startups, technology and entrepreneurship. Interesting news and author's stories have been published here since 1999. The latest news about investments, vacancies and salaries in the IT market and beyond, as well as blogs of famous businesses and projects — that's all on AIN.
In particular, among the company blogs you will find articles by Molfar, Tecchia, DTEK, SoftServe, Fozzy, Huawei and others. The most popular topics are news of companies and technologies, changes due to the war in Ukraine, the situation on the labor market, opportunities in IT, expertise, etc.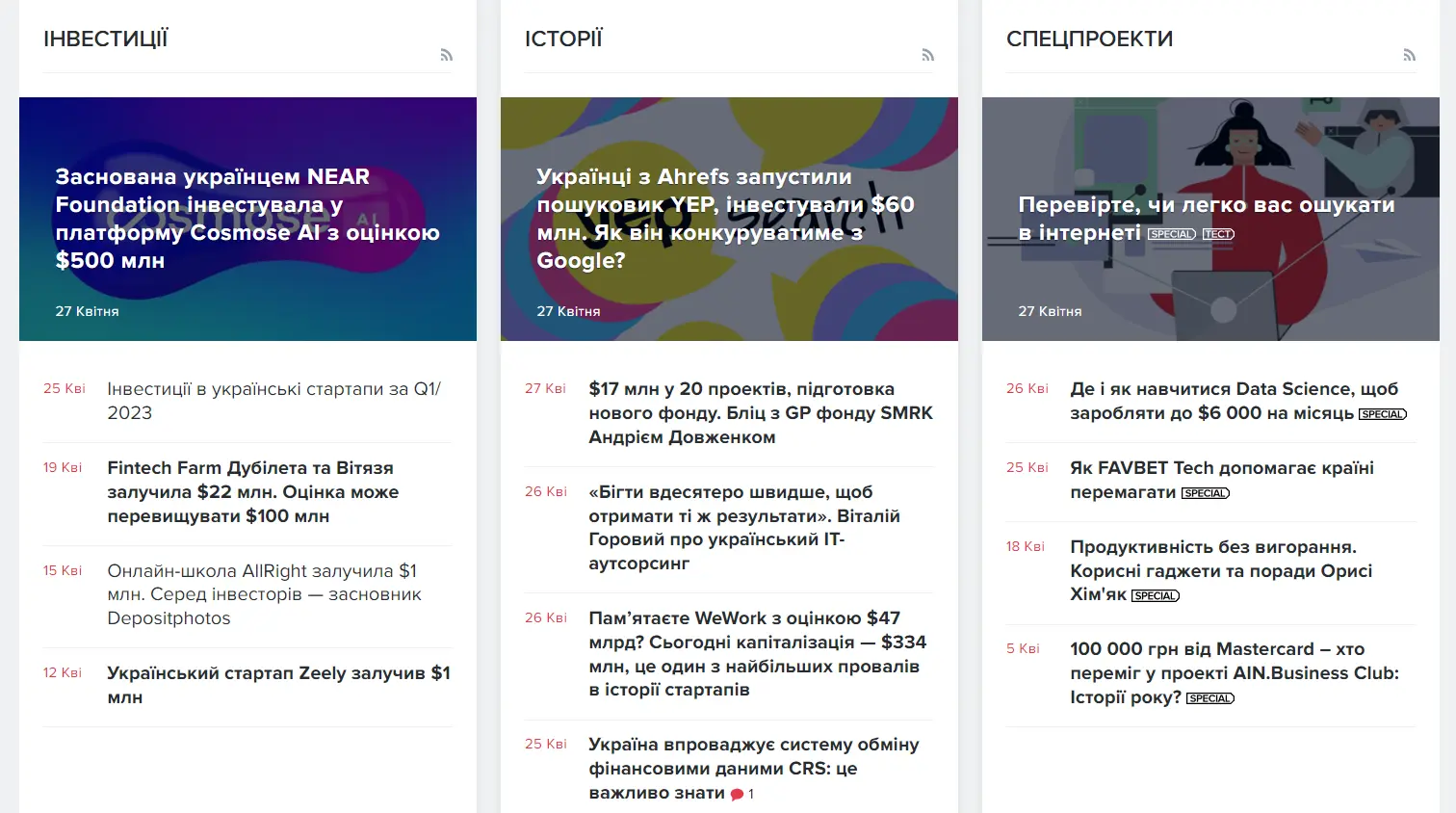 The Recruitika service deserves special attention, where you can anonymously find a job or a recruiter can find a candidate for a vacancy. Here you can view the database of companies, read reviews about IT employers, see photos and mentions in the media, etc. The interesting thing is that recruiters can get very good cash bonuses for hiring candidates through this service. That's a good incentive for quality work, isn't it?
Read also: From "thank you" to $2 million - how much you can earn on bug-bounty
One of the oldest and largest platforms for Ukrainian developers — DOU.UA, which has existed since 2005, has more than 600,000 registered users and 300-350,000 daily site views.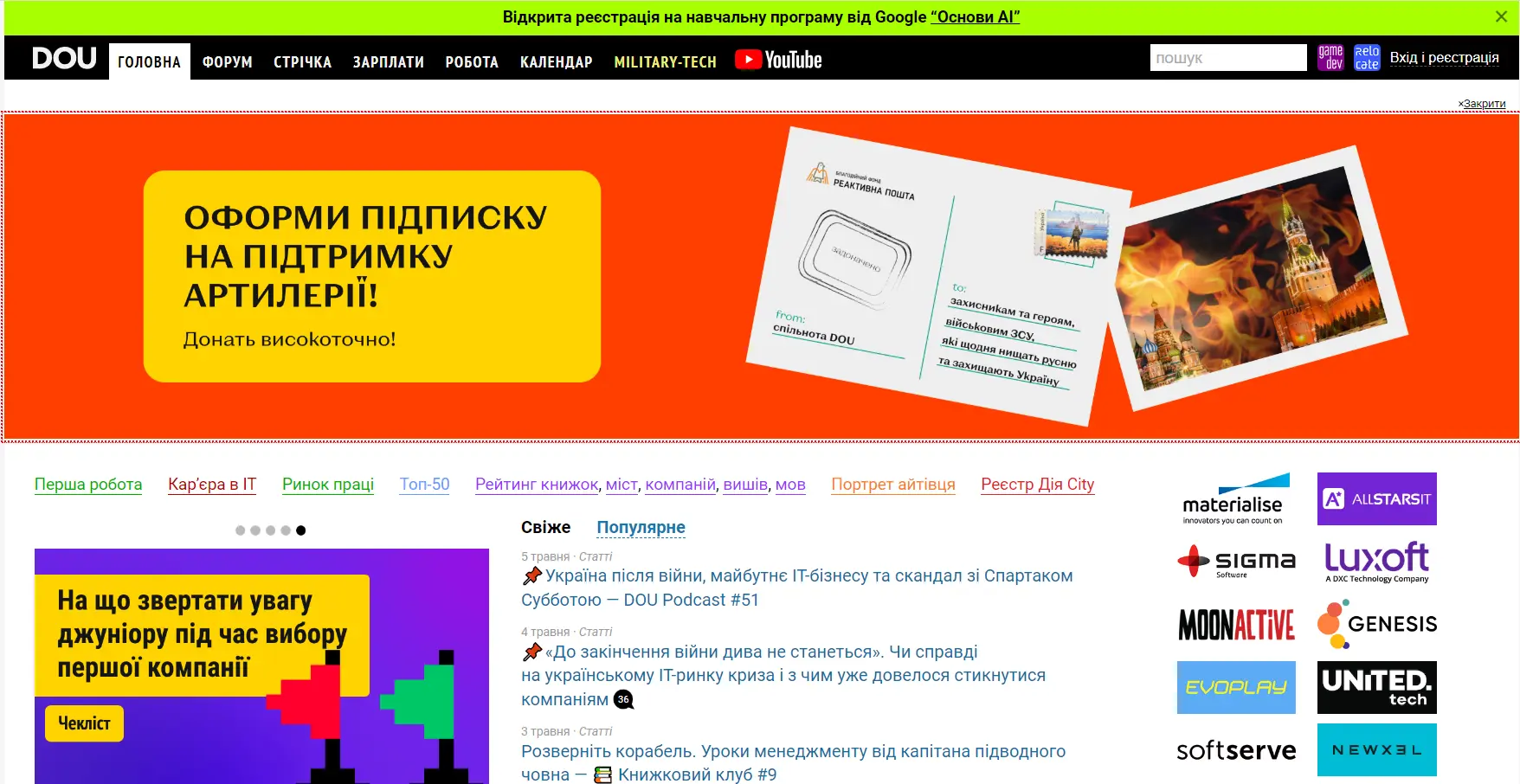 It is a platform with many sections that helps Haitians to communicate with each other in the Forum section, search for jobs in the Vacancies section, read analytics, articles and interviews in the feed. The site also has TOP companies, reviews of employers, a calendar of events, salary research and a lot of other interesting information. Recently, a block called "Military-tech" appeared on the site, dedicated to IT organizations that create a product for military needs. Various projects are presented here, including powerful companies and very young startups that do not even offer a salary, but only experience and participation in an interesting development aimed at supporting the army. Any specialist can join these initiatives if they wish.
MC.today is an online publication about innovative business, development and lifestyle. We liked the editorial values described in detail: journalistic ethics, structuredness and thorough proofreading of texts, constant development and maximum respect for the reader and partners. It buys, and most importantly, the listed values really read between the lines of every article on the site.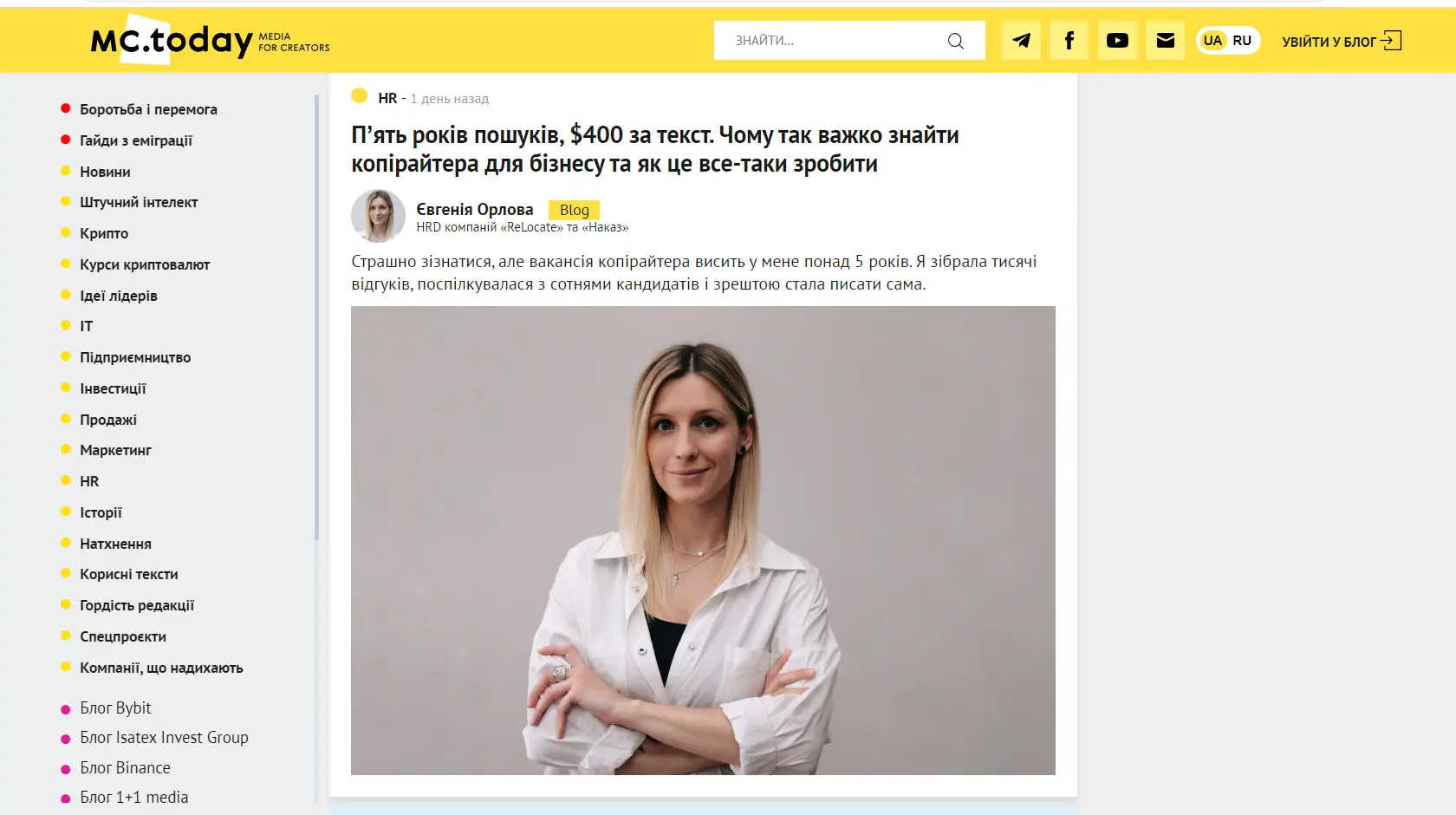 The MC.today blog is divided into headings: IT, artificial intelligence, entrepreneurship, marketing, HR and others. Among the posts in the IT section, the most common are personal stories of professionals, market analysis, expert opinions, current research and investigations, various curiosities, tips and ideas. The texts are written easily and attractively, there is a style and a clear logical structure.
A young, stylish and completely Ukrainian-language IT blog, cheering for the patriotic atmosphere, the development of Ukrainian IT technologies and freedom of thought. Of course, the media resource has an editorial office, but those who wish to express themselves in SPEK's columns do not need to send a letter with a request to publish a column. Everything happens quickly and easily - through the "Publish" button after registering on the site.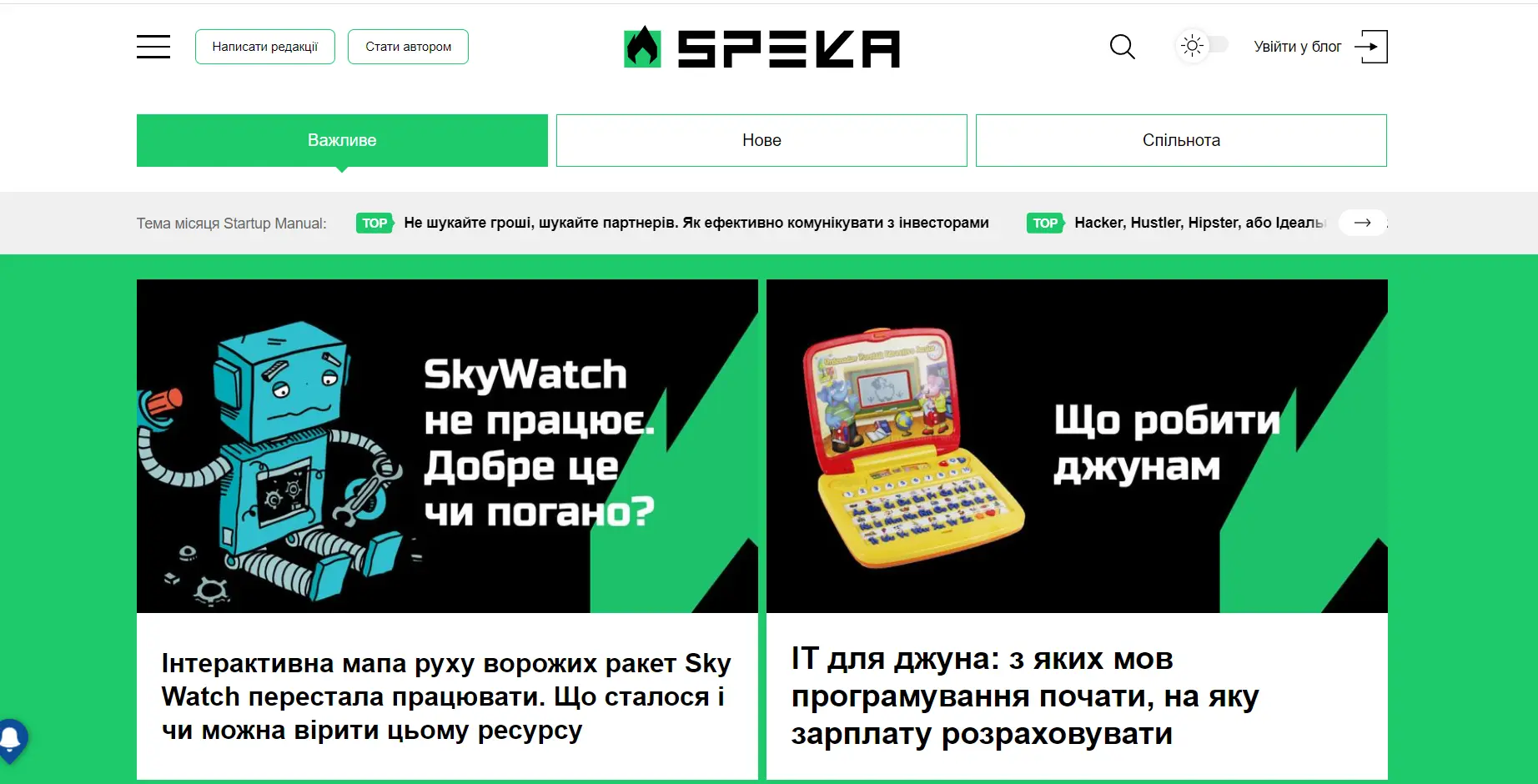 In the menu, it is convenient to choose the section that interests you: news, business, crypto, artificial intelligence, life hacks, etc. There is also a "topic of the month" and "burning" - the hottest and most talked about topics. The most popular tags are IT news in Ukraine and the world, business, weapons, science and space. The general impression of the site is innovativeness, super-relevance and free exchange of ideas.
By the way, this media resource also has our article dedicated to language research on the Ukrainian Internet: When will Ukrainians stop Googling in Russian? How to refuse the language of the enemy online .
Happy Monday is a job search platform that many Ukrainians are familiar with. But the project went far beyond the usual bulletin board, becoming an information platform where you can find not only vacancies, but also a list of Ukrainian companies and advice on employment, efficiency, and skill development.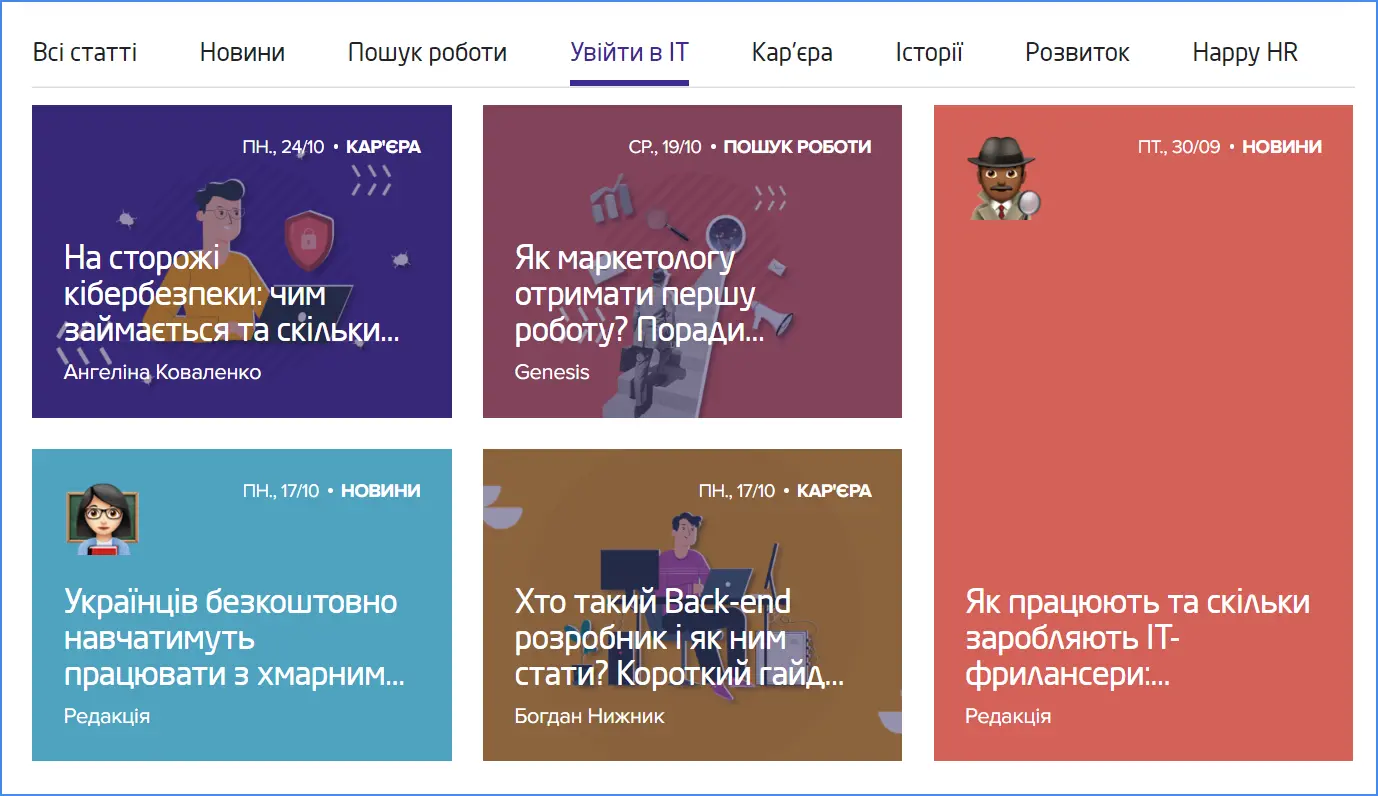 The platform has a log with several sections, one of which is called "Log in to IT". It contains advice mostly for those who are just making a choice or are starting their career in a specialty. Descriptions of professions, training courses, overviews of the situation in certain sub-sectors, salaries, AI job generator and so on. But not only this section will be useful for the people of Haiti, but also all the sections in the "Journal" in general, because they have a lot of useful advice on marketing, tools, learning English, etc.
The site also offers several special projects focusing on the needs of certain vulnerable categories of the population. Separate attention should be paid to the following:
Salary research (detailed analysis of salaries in various sectors of the economy);

IT WAKE UP! (a cool expert assessment of various areas of work in IT for those who are just going to enter this field);

There is a job for a veteran! (project on employment of combat veterans);

Women For The Future (opportunities for women — education, employment, retraining);

Your career victory (assistance in employment of young people, including IDPs).
Overall, this is a useful resource that provides broad topics that can help develop soft skills and keep your finger on the pulse of the IT job market.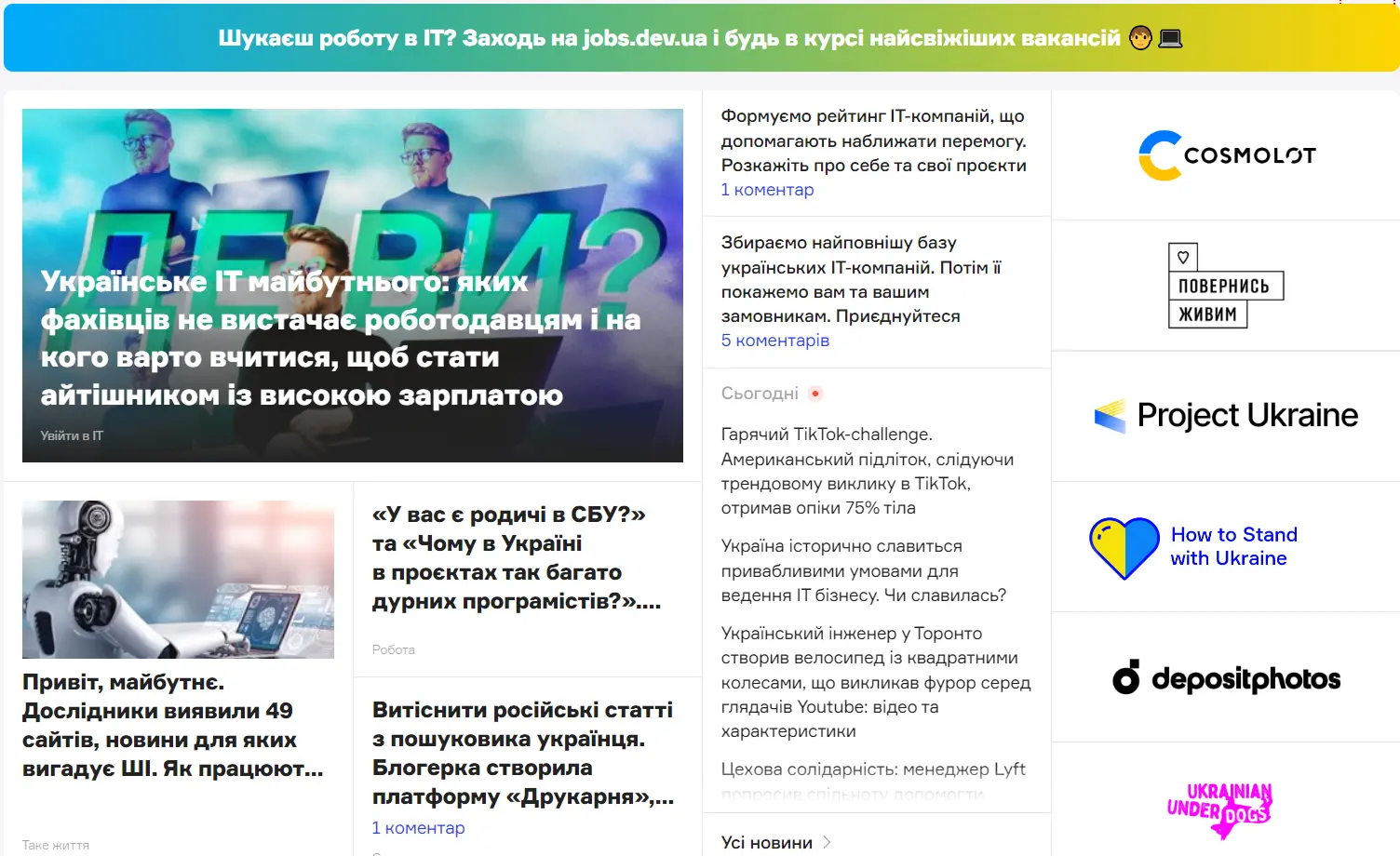 A young and fun site about IT opportunities in an accessible language. There are both long articles and short notes. A lot of attention is paid to vacancies, market analysis, skill development. There is a lot of useful advice for junior professionals on how to write a CV and pass an interview, where to study online and what direction to choose for yourself and the like. The personal stories of professionals are sincere and direct, and at the same time thorough. In the "Hot" section you will find all the top topics for discussion - artificial intelligence, news and scandals, the war in Ukraine, investments, etc.
The IT Association of Ukraine is the largest IT community of our country, uniting more than 80,000 specialists. Its main task is the sustainable development of the information technology industry in Ukraine and the protection of the legal, economic, social, educational, and marketing interests of its participants.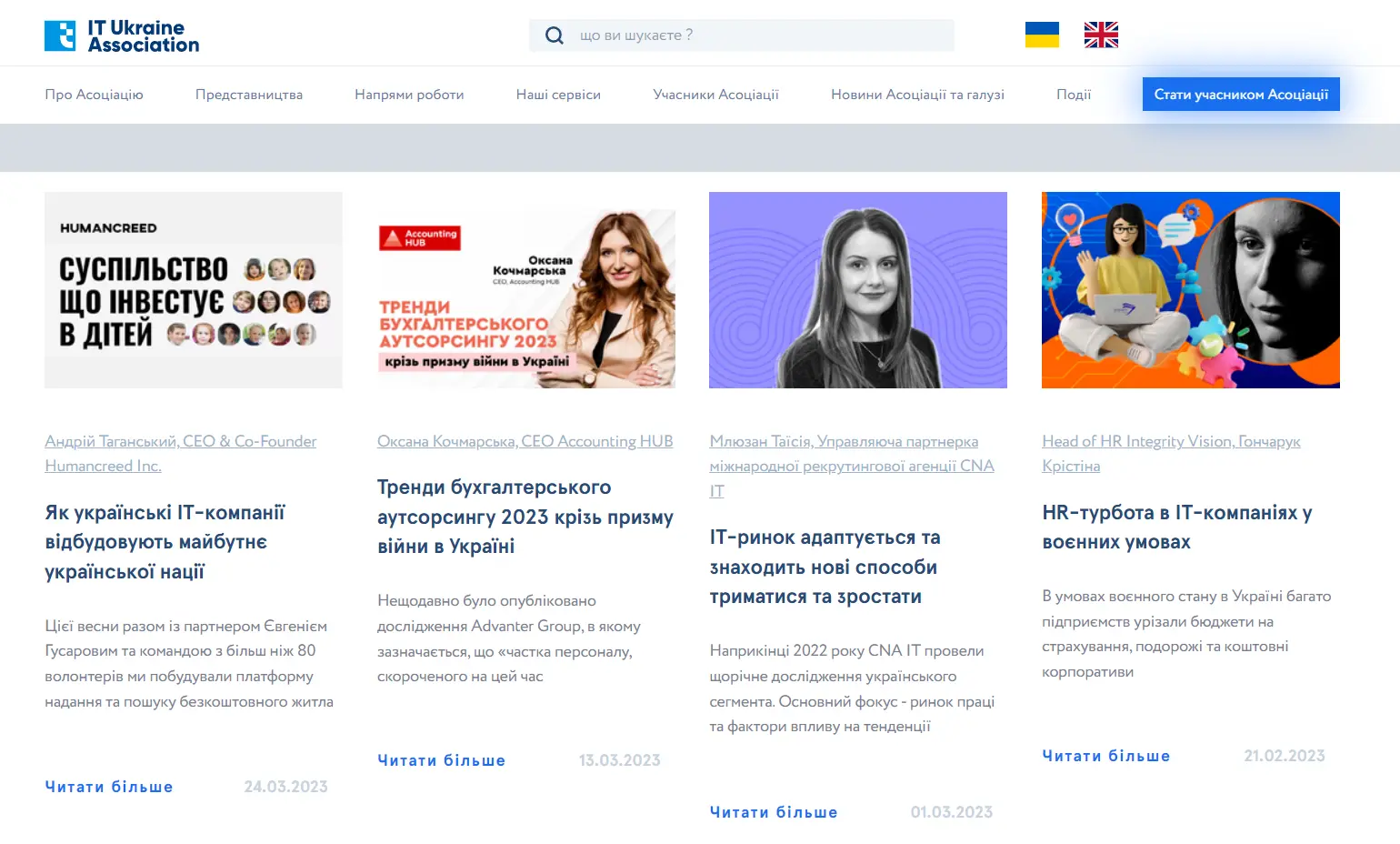 On the Association's blogs you can find relevant and useful information about the state of the industry during the war, opportunities for development and change, legislation and taxation, NFT technologies, HR issues and much more.
Read also: How to self-organize at remote work
Hillel Computer School has been providing educational services in programming, testing, marketing, management and design for 10 years. The school's blog contains a huge array of versatile useful information on topics such as Front-End, Back-End, GameDev, SoftSkills, testing, IT for children, business and volunteering news, recruiting and employment, and others. There is also a calendar of IT-related events with their detailed description, as well as training courses. Courses and events can also be sorted by topic, making it much easier to find what might interest you.
A special feature of these blogs is a large amount of video content, in particular, Hillel news, cutting speeches and speeches of prominent IT people, video tips, etc.
The Wezom project is about providing professional services for the development and promotion of web products and mobile applications. The company's blog is rich, exciting, modern and very diverse. Here are expertise, and reports by industry, and in-depth analytics, and useful advice, and analysis of cases, and company news.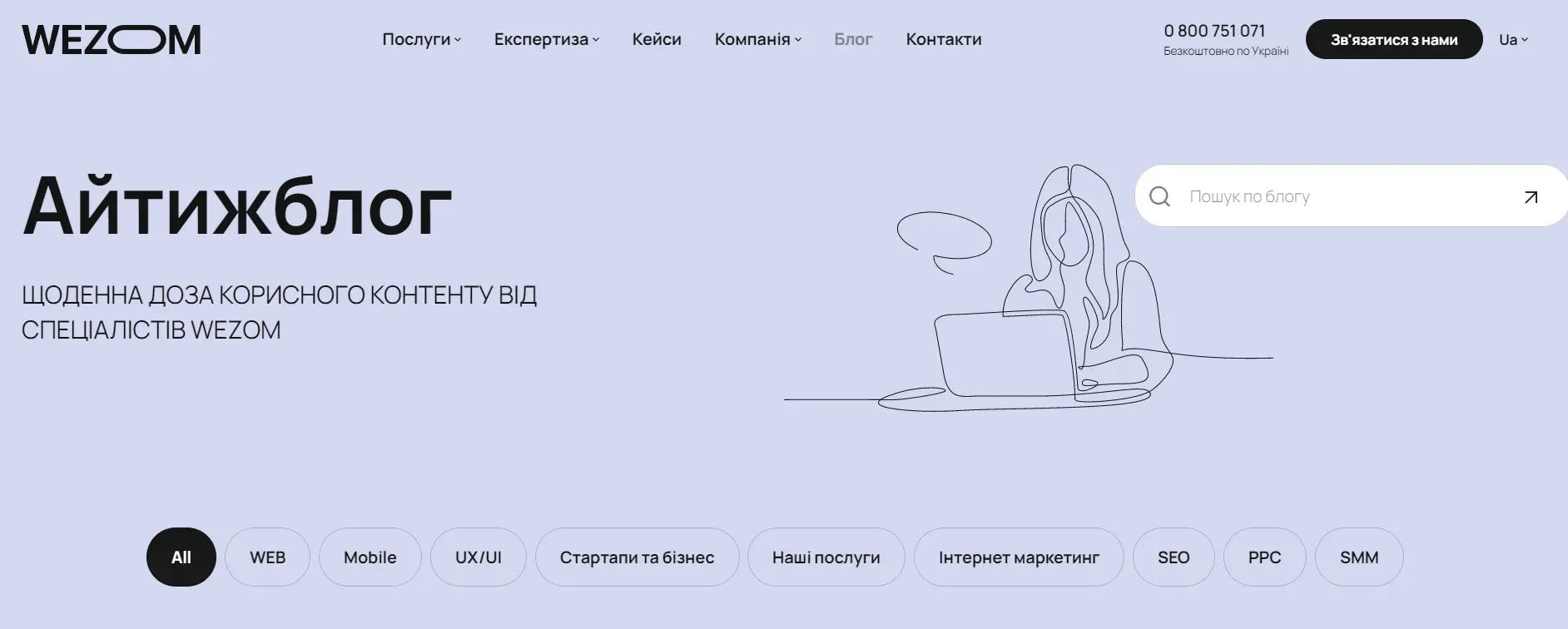 Popular blog topics include SMM, PPC, marketing, design, startups, copywriting, SEO, mobile technology. The texts are expert, clear, detailed, logical and modern. Pleasant and non-standard visual design. The blog promises a daily dose of useful content from the experts at Wezom, so tune in for an exciting read!
Beetroot Academy is a Swedish-Ukrainian IT school that has been helping people master IT professions and develop in this direction for 5 years.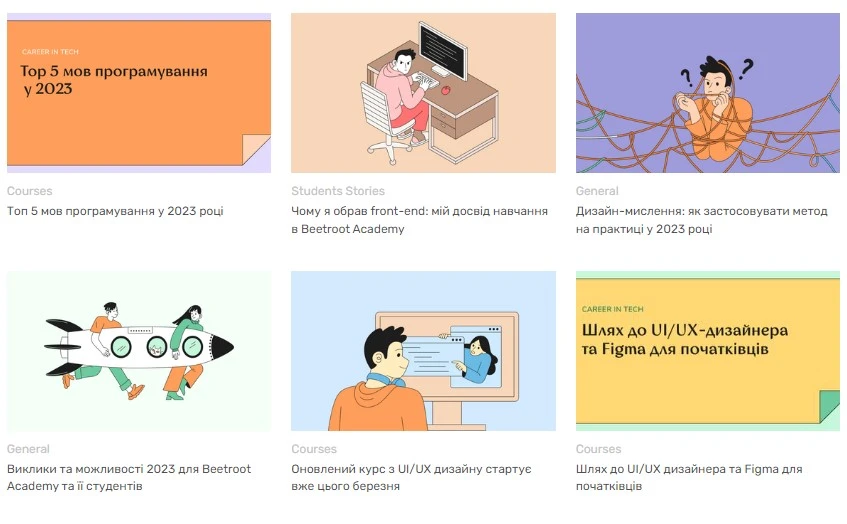 The project is betting on significant and very specific social changes, in particular, it is concerned with employment of women in IT, intensive development of youth, assistance to IDPs, decentralization of IT hubs.
The Beetroot Academy blog consists of several topics: interviews, academy student stories, study tips, and general topics (courses and scholarships, internships and opportunities, helpful tips).
Read also: How to register an FOP for IT freelancers and which group to choose
This is the site of an ambitious young recruiting agency that is in love with its work.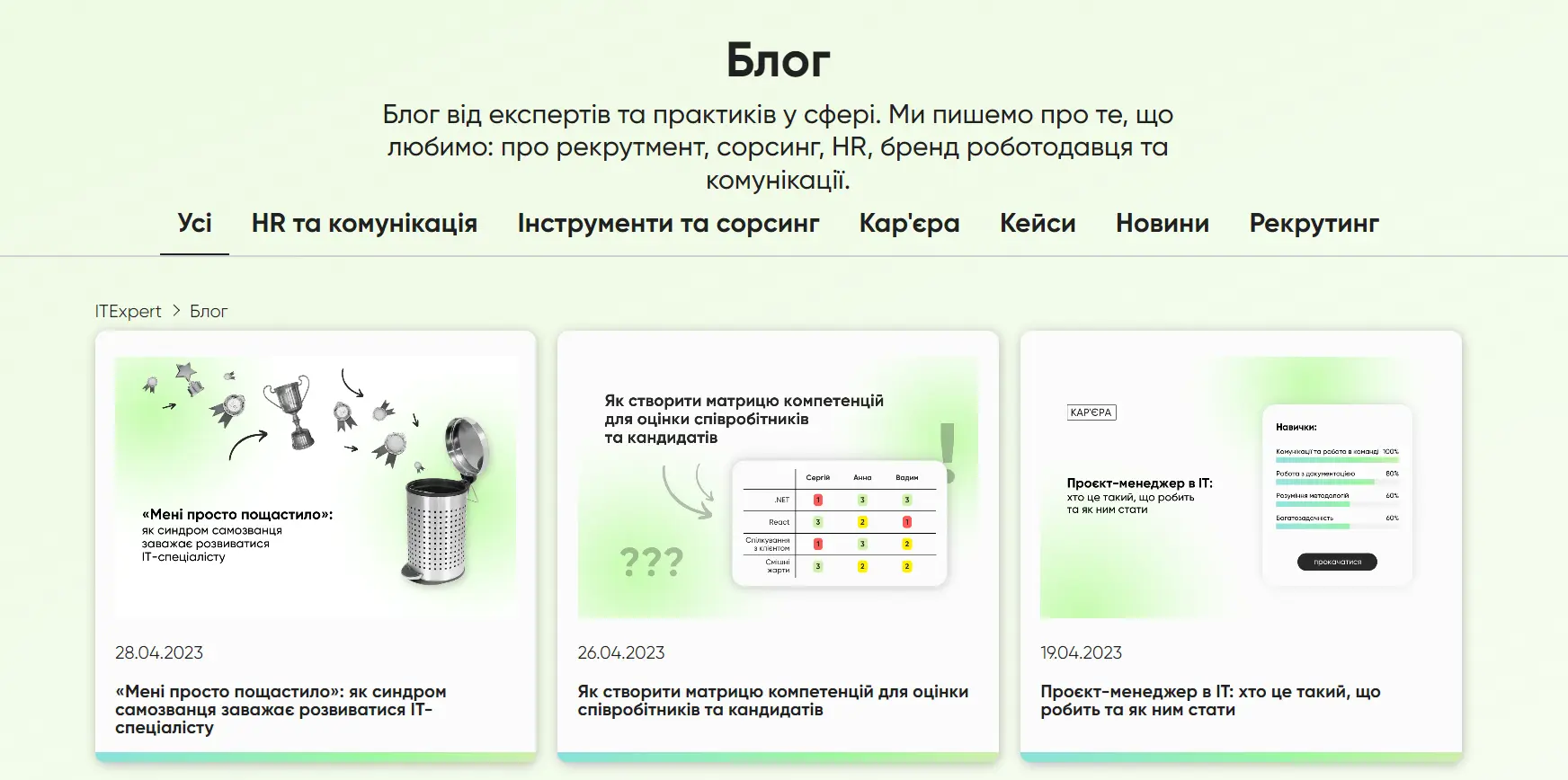 The topics of blog posts are broken down by topic:
HR and communication (here are expertise, analytics, and useful information for both job seekers and recruiters);

Tools and Sourcing (an overview of practical modern tools for recruiters);

Career (instructions for finding a job in IT and recruiting);

Cases (analysis of specific interesting situations, analysis of own experience, examples and reviews);

News (there is not much news; most are written about changes in the industry in connection with the war).
This is primarily a blog about technology and IT recruiting tools, but you can also pick up other useful information, including employment.
We hope that the article will help you find interesting IT blogs and sites, and maybe inspire you to start your own. Nevertheless, the information technology market is growing despite the war, pandemic and crisis. There are a lot of directions in the industry, and they are extremely different in nature - from purely technical to creative. Expert blogs of companies or individual specialists are called for to navigate in such a variety in order to encourage you to move in a concentrated manner towards your dream. IT articles are a special exciting world of technologies, innovations, and tools. So have a nice trip!