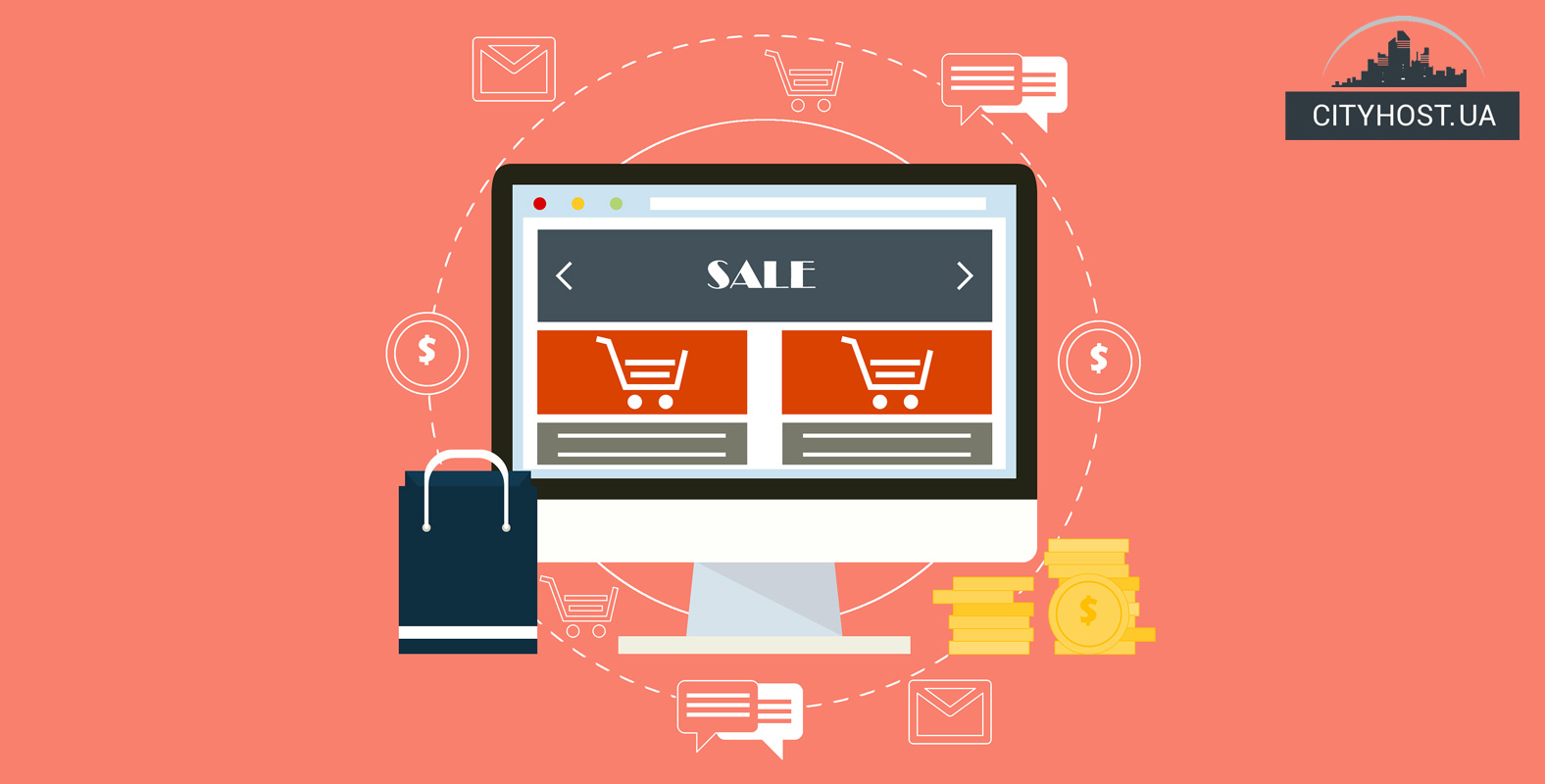 There are several hundred engines for websites. But there is no universal option for everyone. Each of them has its own characteristics and is intended for specific types of sites.
As part of this publication, we will consider which CMS to choose for an online store. There are also many of them. Therefore, below we will consider only the best platforms for online stores.
Overview of the engine for the OpenCart online store
OpenCart is a solid CMS for a store. It has a simple and understandable admin panel even for an inexperienced user. By default, everything is in English, but there is a Russifier. Moreover, the translation is very high-quality.
Main advantages:
ease of management;

suitable for beginners;

interface in Russian;

convenient visual editor;

flexible adjustment of the appearance of pages (adding banners, rubrics, reviews);

no need to involve third-party specialists (any corrections can be made yourself).
Powerful hosting for OpenCart is not required, as all pages of the site load quite quickly.
Main disadvantages:
difficulties with updating the system;

some important modules are paid;

developer documentation in English.
You can use OpenCart both for a small and for a large online store.
Overview of the engine for the PrestaShop online store
PrestaShop is a reliable and functional engine. Suitable for creating small online stores.
The basic version of the CMS is free. Its functionality is enough to create a simple and convenient site for both customers and administrators. And if that's not enough, you can buy a couple of paid modules.
Key advantages:
good functionality;

instant loading of pages;

integration with a large number of products;

excellent tools for SEO;

there is a Russian version.
Main disadvantages:
it is more difficult to master compared to other CMS of the online store;

expensive additional modules;

untranslated documentation.
To work with CMS, you will have to spend time to understand it. But it pays off with its multifunctionality.
Learn also : How to create a site using a free site builder .
Overview of the engine for the Bitrix online store
Cool, functional, expensive. CMS Bitrix can be described exactly like this. The engine is designed for those who want to create the most functional, convenient online store. And ready to pay for it.
Main advantages:
convenient control panel;

a large number of additional modules;

simple visual editor;

good SEO optimization;

integration with 1C;

24/7 technical support;

free features to add information about delivery methods;

complete documentation for developers.
Main disadvantages:
expensive license;

difficulty in development (you need to hire specialists to work with the site);

high requirements for the server (powerful hosting for Bitrix is required, and the engine does not work with any provider);

slow loading of pages (due to a large number of installed modules).
Thus, Bitrix is an excellent CMS for a large online store. If you want to create the largest platform for the sale of various product groups, are ready to hire a team of programmers and allocate a decent budget for all this, then choose Bitrix - you will not be mistaken. Otherwise, it is better to settle on a simpler and cheaper solution.
Overview of the engine for the Shop-Script online store
Another CMS for an online store, which is included in the top five engines.
Main advantages:
simple installation;

instant download of the demo catalog;

clear control panel;

stickers for other users who also work with the editor;

the interface and documentation are completely in Russian;

free technical support (only for those who bought a license).
Main disadvantages:
lack of a visual editor;

serious restrictions on the appearance of pages (only ready-made templates can be selected);

paid modules.
To create a normal online store on Shop-Script, you need to invest in it. Without it, the site will be ineffective.
Overview of the Magento online store engine
Magento is a shareware CMS. Any online store can be created on its basis.
Main advantages:
versatility;

the possibility of adding any number of products;

many modules;

a set of tools for SEO optimization.
Main disadvantages:
part of the documentation is not translated into Russian;

difficulty in mastering for beginners;

lack of technical support;

high requirements for hosting (a virtual server is required for good performance);

expensive modules.
Magento is a convenient and functional, but expensive solution. It is free by default, but it is paid to upgrade here. Just like most of the modules and plugins needed for the site. Plus, you will have to hire specialists, as it is difficult to understand this CMS on your own.
Overview of the engine for the online store Okay
Okay is a universal CMS with wide functionality. It is suitable for creating both a small and a large online store.
Available in two versions: paid and free. The free version has limited functionality, but is suitable for quickly starting a business and launching an online store in a short time. Its capabilities are enough to launch a trial project, evaluate the market and analyze the reaction of potential buyers to your goods.
The paid version has powerful functionality and provides maximum opportunities for creating a cool online store. Moreover, there are 2 price tariffs of different costs to choose from.
The main advantages of the engine:
sharpened for e-commerce (that is, for creating online stores);

open source code;

adaptive templates (correctly displayed on any screen);

multilingual and multi-currency support;

an excellent set of tools for SEO optimization;

simple and convenient admin panel;

a wide set of marketing tools to increase conversion;

convenient content management;

built-in technical support (many communication channels: Skype, e-mail, social networks, callback, online chat on the website).
Main disadvantages:
a small number of free templates and add-ons;

the difficulty of editing templates for beginners (you need to know at least the basics of HTML);

a relatively young platform (it may be more difficult to find knowledgeable programmers for site improvements).
Thus, CMS Okay offers about the same as other engines for online stores. But in addition to standard functionality, there are also unique options. Among them is an extensive marketing toolkit and the ability to conduct analytics to increase sales.
Results
As you can see, the concept of "best CMS online store" does not exist. Any option has its pros and cons, which must be taken into account. Therefore, which CMS to choose for an online store, everyone decides for himself.
Start from the existing budget and the site you plan to create. If you need a small online store, take a look at OpenCart or PrestaShop. If the budget allows, you can choose Magento or Shop-Script. And if you want to create the best online store in a specific niche, then it makes sense to stop at Bitrix. And, of course, do not forget that for its stable operation, you need to choose the most reliable website hosting .
Was the publication informative? Then share it on social networks and join our Telegram channel. We remind you that you can order cheap hosting from the hosting company CityHost. For technical questions, contact the online chat or call ?? 0 800 219 220.