Ukrainian YouTube is developing at a crazy pace, but mostly in the top you can find channels of news platforms, political bloggers and music bands. Yes, this content is currently the most interesting for our video hosting users.
And what are the interesting Ukrainian bloggers who develop channels about the IT industry?
We studied the issues in the rating of the Manifest platform, which specializes exclusively in Ukrainian YouTube channels of various directions. It was here that we found many interesting sites that we had not heard of until now.
This article collects the TOP 10 YouTube channels dedicated to IT technologies, development, interviews with industry specialists, life hacks, educational materials and other useful information.
The main criteria for choosing blogs that made it to the TOP were as follows:
Ukrainian content language (those who switched to their native language after February 24, 2022 were also taken into account).

Fresh videos and regular updates, you can see that the channel is alive.

Useful information, high-quality and interesting presentation.
Places in our small ranking are arranged by the number of subscribers to the channel - from the largest to the smallest.
This channel is mostly dedicated to website design and will help anyone who has decided to take the path of web development. Charismatic and positive presenter Zhenya Andrikanich tells how to become an e-tishnik at any age and where to start, gives the basic theory, shows a video with the full layout of the site, analyzes the work of subscribers.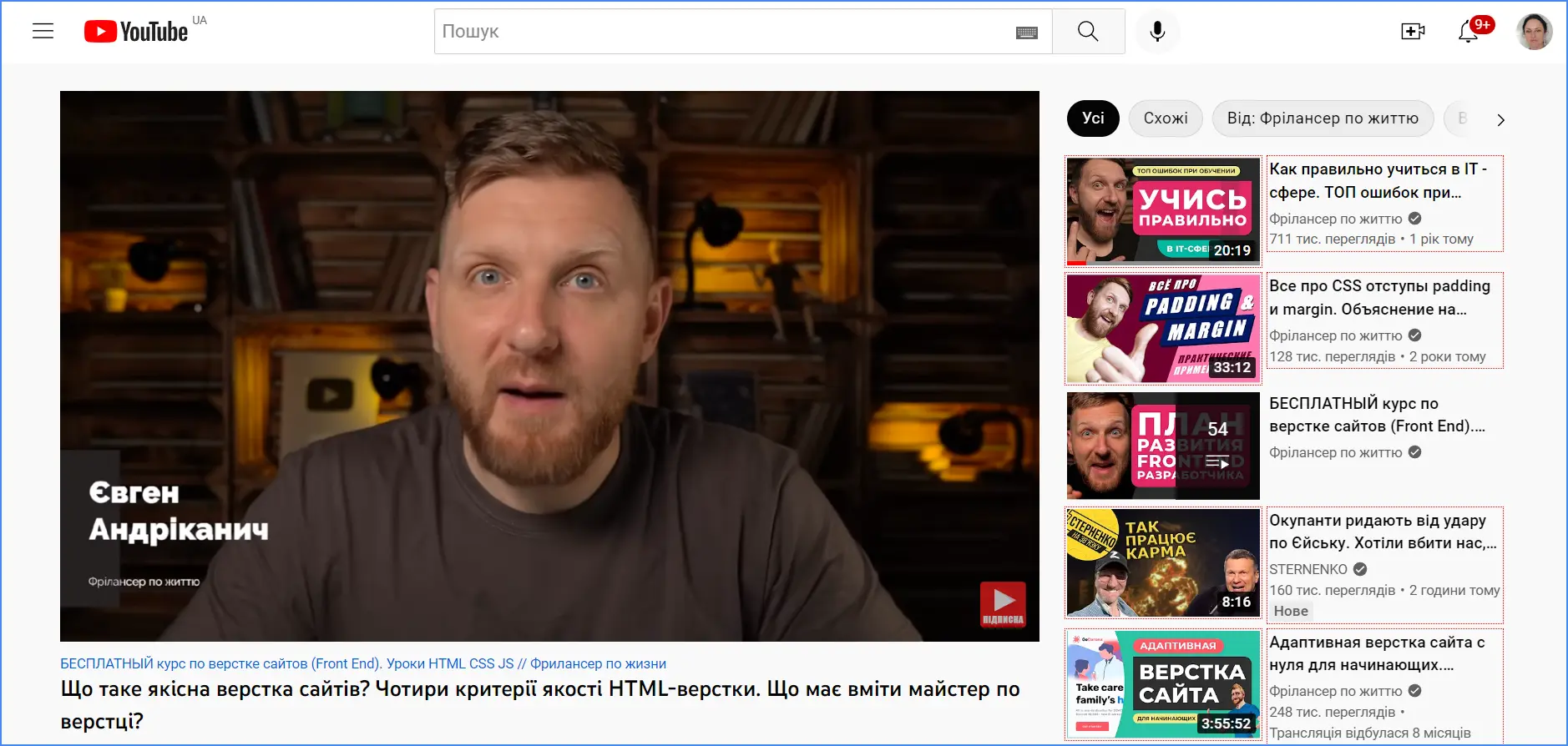 Freelancer for life has existed since 2019, and from the beginning it was conducted in Russian. But after February 24, 2022, only Ukrainian is heard on the blog.
The channel has 206 videos, almost 300 thousand subscribers and more than 27 million views.
It is also worth mentioning another project of this author called IT-passions — a separate channel dedicated to interviews with various IT specialists. Currently, it has 31 video conversations with developers, testers and other industry specialists.
Cityhost also has its YouTube channel , where you can find many valuable instructions on how to buy a domain , how to buy hosting , how to work with Web SSH, how to create databases and other information.
Dima Maleev's channel can be qualified as information and entertainment, it will be good even for those who are not going to work in IT, but are interested in technology. This is more of a personal blog than dedicated to a specific topic. But since Dmytro Maleev is a programmer, most of the material is related to professional activities, and this material is really useful.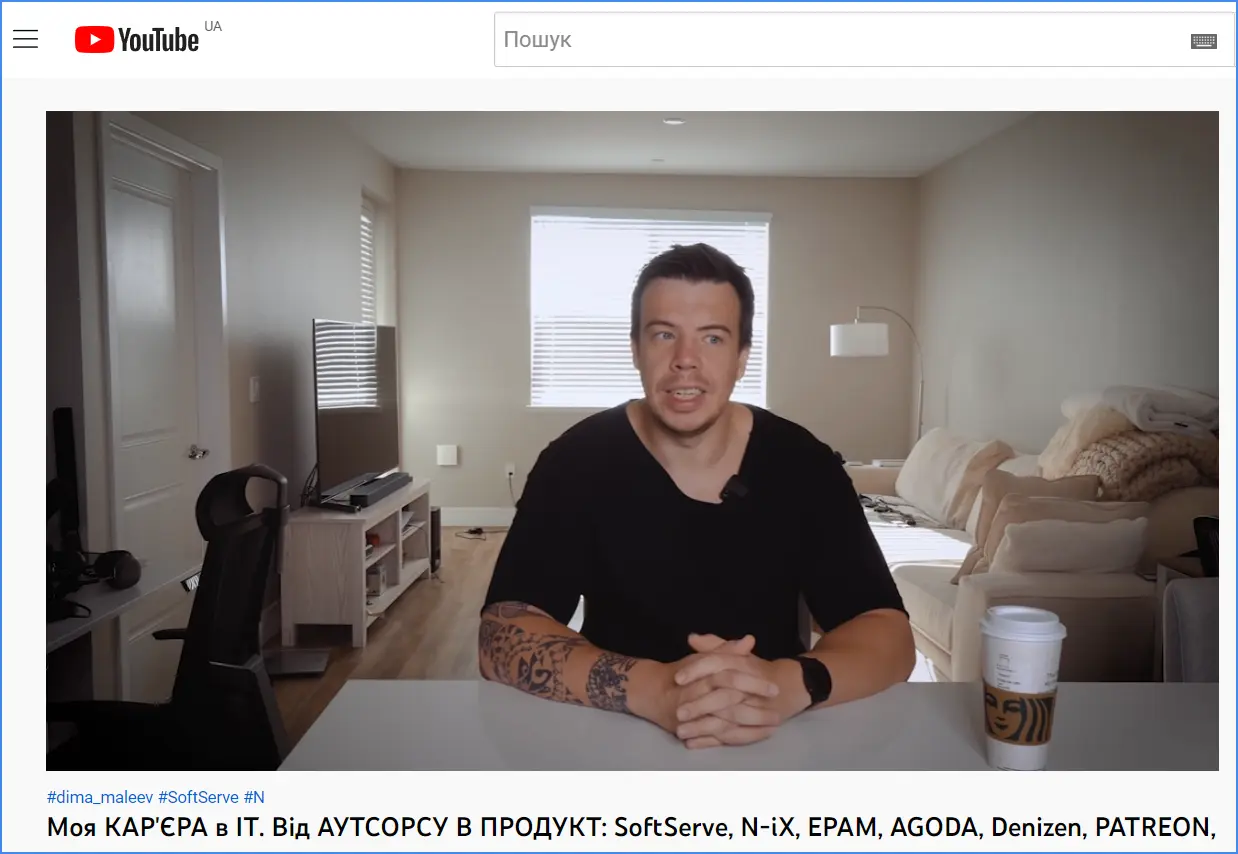 The channel co-exists a mix of reflections on the latest events in the world in general and the industry in particular, podcasts with the author, conversations in the kitchen, a travel blog in the USA, where he currently lives. And, of course, a lot of theoretical and practical programming content. The videos are served with fire and pepper, many interesting screensavers, and in general the channel is made quite bright and professional.
The channel now has 441 videos, 118 thousand followers, more than 15 million views.
It is difficult to find a person from the IT industry in Ukraine who has not heard of DOU.ua — a platform that has a forum, a news section, job search, and reviews of companies as employers. The community itself has existed since 2005, and the DOU channel appeared recently, in 2020. Now it already has more than 50 thousand subscribers, almost 4 million views and 225 videos.
On the channel, you can find interviews with specialists, podcasts from various IT disciplines, videos about career development, news about companies and personalities, about war, self-development, motivation and much, much more.
The channel has existed since 2017 and has 40,000 subscribers, the academy's videos (of which there are currently 219) have been viewed more than 2 million times.
In the virtual academy, there are many videos on topics that you will not often find on similar platforms - for beginners. How to use Word and Excel, all kinds of Word features, basic lessons in HTML, SQL databases, Java. The explanations are very simple and clear, so this channel can be recommended to children or people who know absolutely nothing about computers and programs.
And after the start of the full-scale invasion, the channel has a section called "Everything Hacking", which tells how to create a VPN, how to launch a DDoS attack, and so on. The material was created, of course, not to demolish the sites of the occupier, but only for educational purposes (joke).
Read also: " TOP-12 most famous Ukrainian cyberattacks on Russian websites "
On the Code UA channel, you will find several development and programming courses - HTML and CSS, Java, Python, C#, as well as learn how to use Git + GitLab and receive recommendations on how to approach choosing a profession. The basis is streams from various specialists who not only tell the theory, but also show a lot of visual material in the presentations. This is a purely educational platform where there is no room for jokes - only useful materials.
The channel is young, has existed since March 2022. It already has 53 videos, almost 14 thousand subscribers, more than 340 thousand views.
The channel has existed since 2015 and is designed primarily for students and youth education. It does not exist by itself, but is one of the sites of the platform of the same name, which has courses for copywriters, SMM-niks, marketers, illustrators, etc.
At the Projector Institute, you can find talks by specialists on the practical aspects of IT work, advice, lectures from curators, student stories, presentations by course graduates, etc. Among the topics of the channel, there is an interesting section "Who is he and what does he do...", which describes various IT professions to understand which path to choose.
Previously, the content of the channel was partially in Russian, but now all lecturers speak only Ukrainian. The channel has 12 thousand subscribers, 424 thousand views and 416 published videos.
Let's learn together offers videos about FrontEnd, basic markup languages and JS, a lot of attention is also devoted to Photoshop. The materials are aimed at postmen, there is even a video about the basics of ScratchJunior for children 5-8 years old. In general, the channel has enough videos for children, for example, about Lego. Most likely, this is connected with the fact that the author of the blog himself is a father.
In the summer of 2022, the "Summer School" section appeared on the channel, in which 20 educational streams on programming for children were held.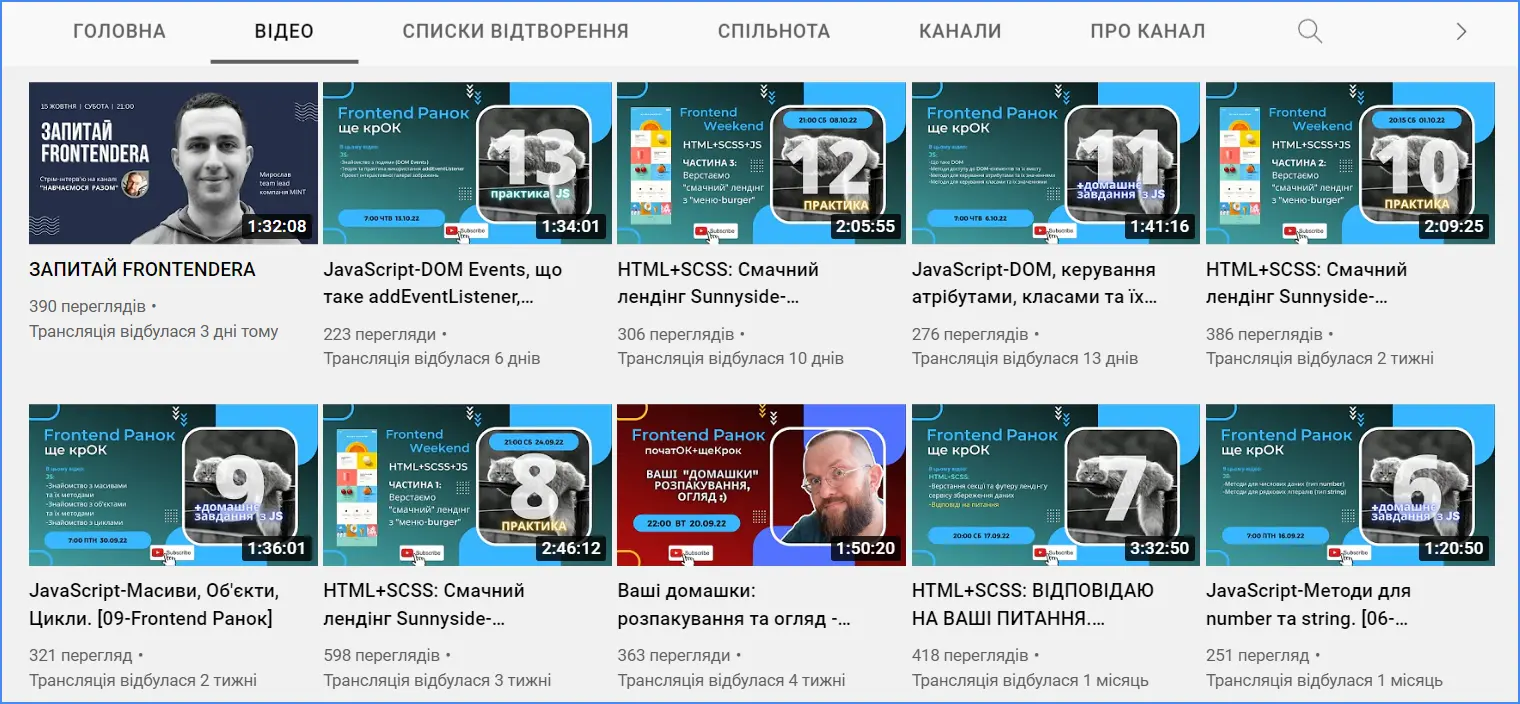 The video blog has existed since 2016 and has been conducted in Ukrainian since the very beginning, has more than 820 thousand views, more than 10 thousand subscriptions, 648 videos.
The Popeliuha channel was founded in 2019 for courses for software testers. Now it has 100 videos, almost 10 thousand users and more than 170 thousand views.
There is a lot of applied information here, which is presented as a useful visual in the form of presentations and screen shots of the lecturer, whose voice is heard behind the scenes. The material is presented in a very easy and accessible way, which is also emphasized by the viewers in the comments. There are also tips on how to answer job interview questions, how to create a resume, business correspondence rules, and more. In general, this is a good platform for beginner testers, which collects the most relevant topics.
This channel is a continuation of the Ukrainian school for Java developers who already have experience. The niche is quite narrow and specific, but it also has its audience. There are 186 videos posted on the Bobocode channel, there are already more than 360 thousand views and 5.7 thousand subscribers. The channel has existed since 2017, and all content on it from the very beginning was in Ukrainian.
One of the interesting features of the school is training programs and summer camps, which are also actively presented in the video blog. The speaker of the channel, Taras Boychuk, not only talks about the theoretical and practical aspects of Java development, but also gives advice on how to concentrate and work during the war and a lot of other useful information in terms of self-development.
Read also: " How to draw in Midjourney: a neural network generates images based on text requests "
In 2020, the personal blog of the programmer Yury Decyk appeared on YouTube. Although it was technically created in 2011, the author started hosting it only recently, as he says in the channel description.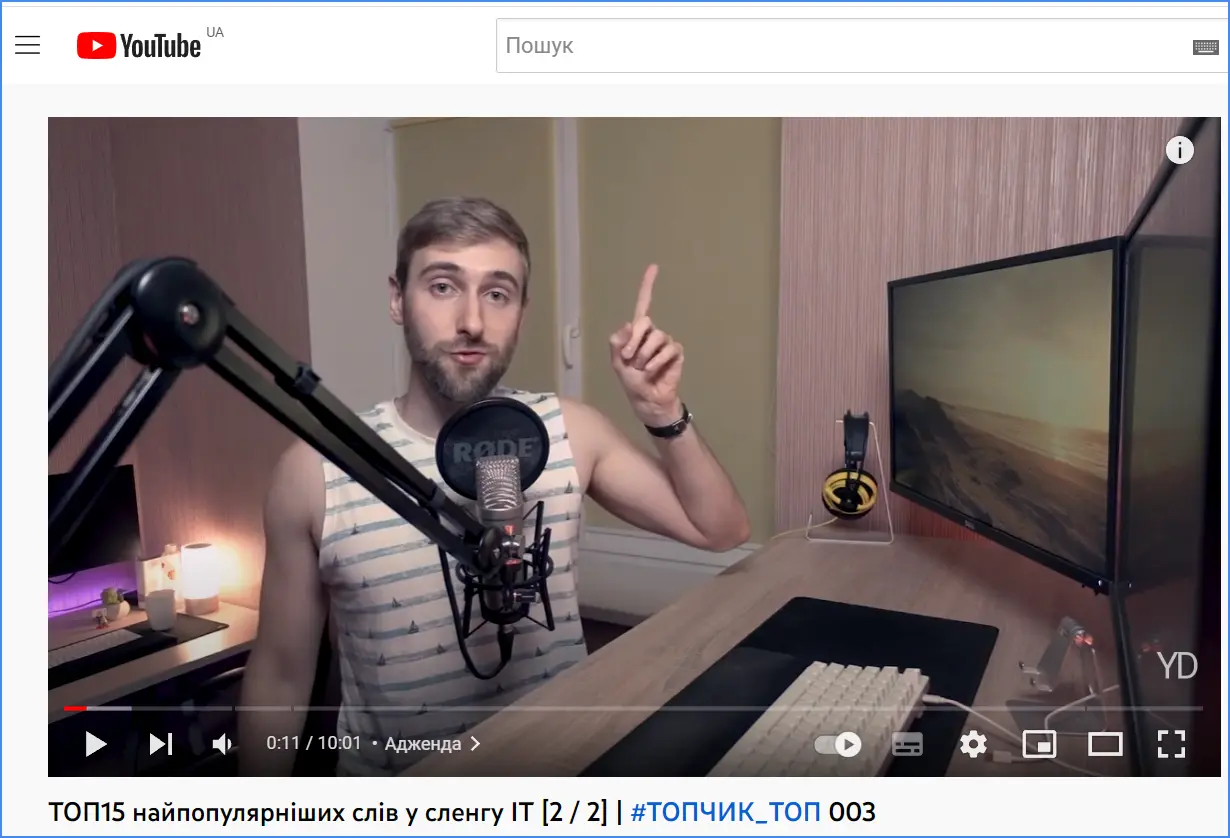 Yuriy Detsyk is a positive Ukrainian blogger who not only provides useful information, but also discusses IT memes in Ukrainian, teaches subscribers professional slang and even sings songs. But the main thing is still development lessons and tips for beginners on how to get started in the industry.
The channel has 108 videos, 4.3 thousand subscribers and more than 100 thousand views.
***
The Ukrainian community of IT-video bloggers is rich in projects, different in their essence - serious and fun, personal and created by teams, young and experienced. Our viewer duty towards them is to watch YouTube in Ukrainian and subscribe to the channels of our compatriots, thereby developing them, to refuse Russian platforms. Because our bloggers have something to offer the viewer, and this material is really high-quality and worthy of attention.