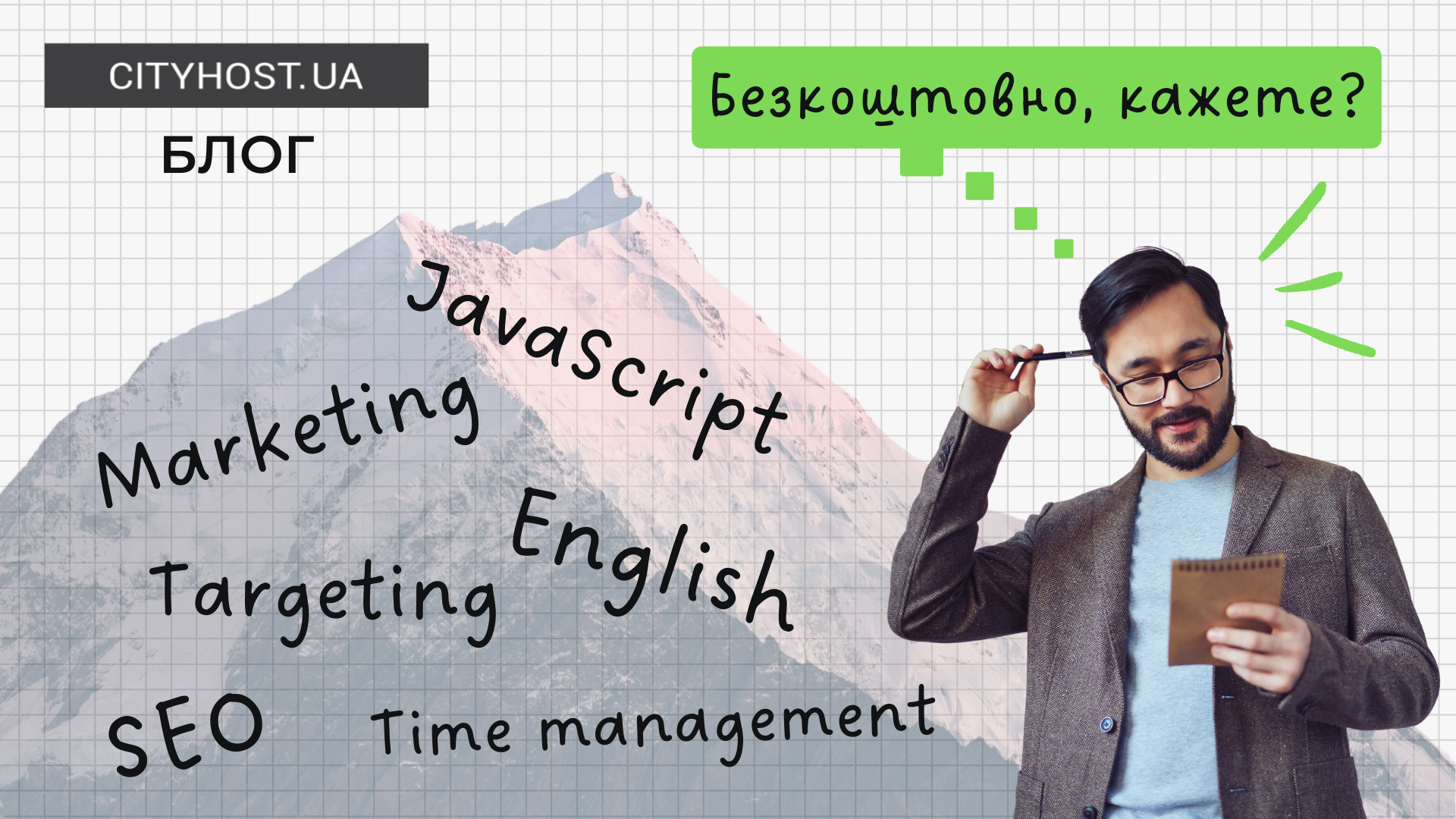 With the beginning of the war, the situation on the labor market changed radically. Some of our citizens have lost their jobs, some business sectors have become much less profitable than before. Therefore, people began to look for opportunities to learn a new specialty. The option of remote work turned out to be especially attractive due to the fact that you can work from anywhere in Ukraine and even receive a high income abroad.
Read also: "Overview of foreign freelance exchanges: Upwork, Freelancer, Fiverr" .
Many Ukrainian and foreign educational platforms have made their programs free for Ukrainians to help those affected by the war in their professional development. We have prepared for you a list of services, thanks to which you can learn a lot of useful things. We will mostly talk about our native IT industry. But it is worth noting that there are also free courses for Ukrainians in many different areas, including first aid programs relevant during the war, communication with children in difficult circumstances, information hygiene and others.
***
Free Genius.Space courses are now available to all Ukrainians. The educational platform opened free access to programs that were previously paid. The company emphasizes that the option is open only to citizens of Ukraine, and all applications will be checked.
Thanks to training, it will be possible to get a new profession that is in demand on the market, including:
Complex internet marketing

SMM specialist

Project manager

Incubator of online schools

HR manager

SEO specialist

A practical course on creating chat bots
In total, the platform offers 24 educational programs with an average duration of three months. Although the courses are free, if desired, the student can thank the platform with a donation.
Prometheus has in its arsenal the largest number of courses in Ukraine — more than 250. These are programs for learning a new profession, short courses for improving qualifications, and useful lectures for improving certain soft skills, and learning languages. Some courses are offered free of charge. It is easy to find them - in the catalog you need to select the "Free" filter in the "Price" section.
Among the offers are the basics of programming, UI development, tourism, English, Ukrainian language courses for adults, management in education and much more.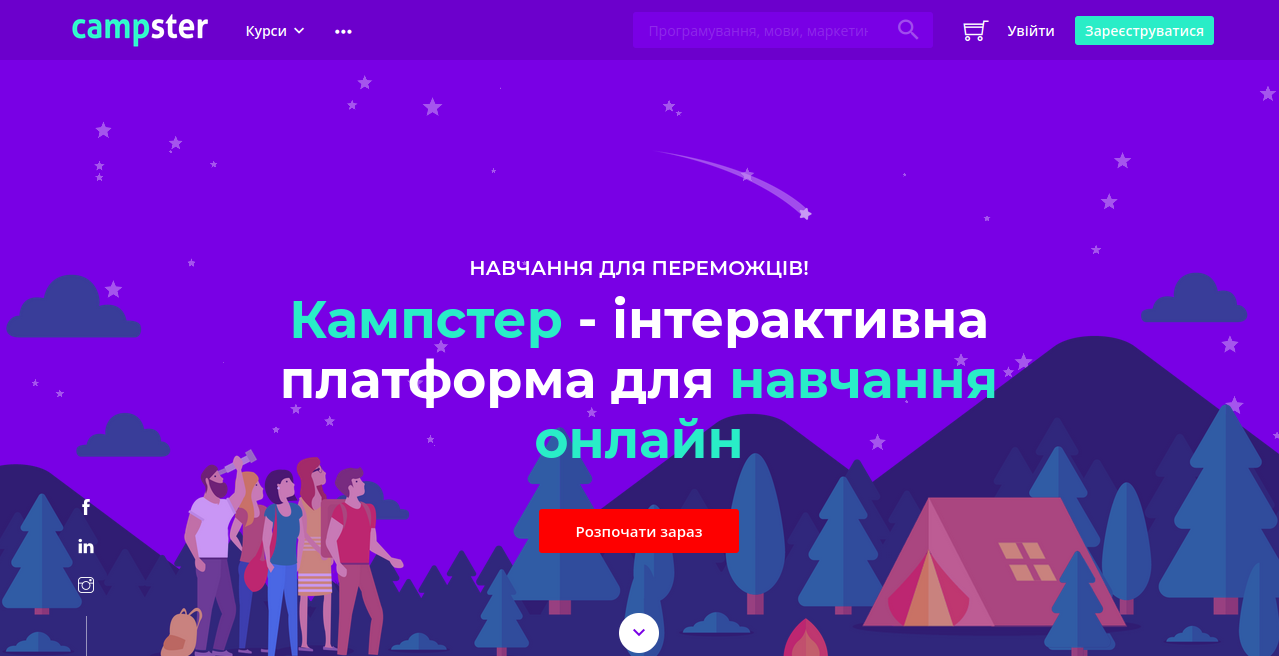 Campster offers free online courses in a wide range of IT disciplines. Namely:
Programming;

Copywriting;

Internet marketing;

Adobe Photoshop;

Time management;

Courses in common European languages;

The basics of freelancing and more.
In total, there are 23 courses on the service, and all of them are free. Students of the platform are formed into groups of students, receive points and rewards to have even more motivation to study.
Coursera is a global library of interdisciplinary courses created by Stanford University faculty. In the summer of 2022, the platform opened free access to more than 6,500 courses for Ukrainian students. Among the educational programs there are various directions, in particular those related to the IT industry — development, marketing, analytics. However, even if you are not a student, Coursera offers more than 2,500 courses for free to anyone. Those who have completed training free of charge will receive knowledge without a certificate. If you need a certificate, you will have to pay a fee of $49. The only downside is the lack of materials in the Ukrainian language. Most of the courses are presented in English, among the languages we understand, there is also Russian.
Google presents 19 free online courses for Ukrainians in its Digital Workshop . Most programs are small, from 1 to 10 modules, but there is a global course "Basics of Digital Marketing" that includes 26 modules.
Here you can get knowledge in such areas as the basics of programming, public speaking, online security, advertising content, and more. You will find specific recommendations on how to take your company to the international level, how to launch digital advertising and protect yourself from hackers, how to launch an advertising campaign aimed at smartphone users, and more.
Creative practice offers open access to its courses for a week. The service is focused on creating educational materials dedicated to creative industries at the intersection with digital industries. Moreover, the site has not only courses, but also free marathons, lectures, articles, master classes, conferences.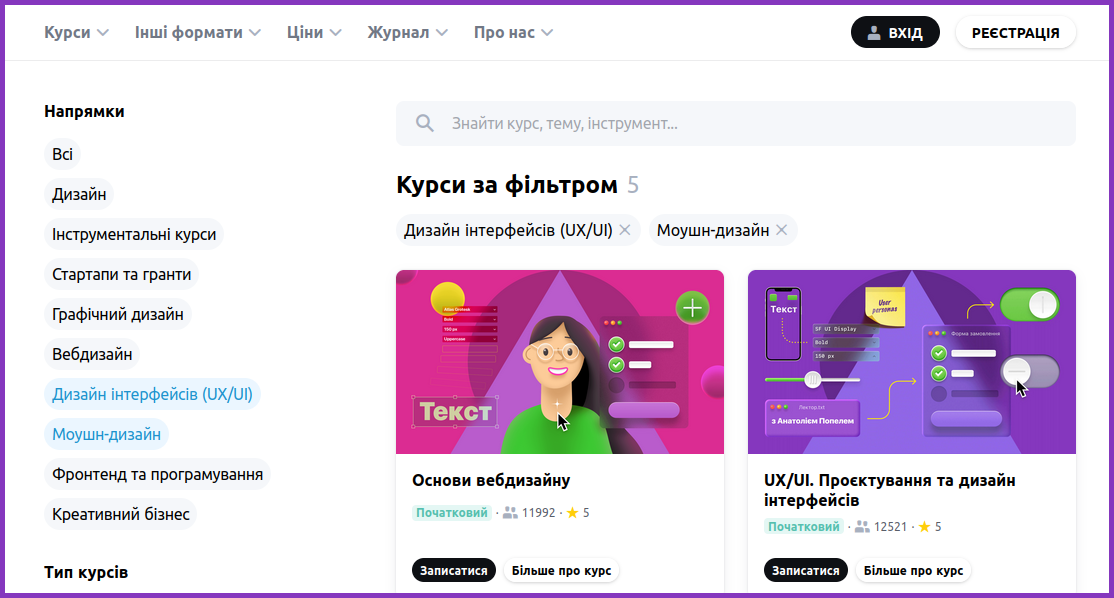 Here you can learn to use various designer tools, such as Photoshop, Figma, Illustrator, Indesign. There are courses in motion design, frontend, UI/UX design, work with grants for creative startups, etc.
The SendPulse mailing service has its own Academy, where you can learn the intricacies of marketing on various platforms - TikTok, YouTube, WhatsApp. There are many materials on working with the services of SendPulse itself: how to create chatbots on the platform, how to use the CRM system , making templates for mailings , there is also a full course on working with the platform. Basic courses in marketing and contextual advertising are also available.
Itvdn.com teaches its students a variety of programming languages — Java, PHP, Python, Node.js, and more. Their courses remain paid, but on March 6, the platform opened free access to all its programs — and there are more than 230 of them. At the time of writing, more than 40,000 applicants have already received access. The promotion works as follows - you can study any of the courses for 30 days for free. During this time, you can download all materials, take tests and receive a certificate, communicate with other students on the forum.
In addition, the company offers free training to combatants . This initiative no longer has time limits, you can study as much as you want, but consistently: take a course, take tests, then start another. To participate, you need to have documents that confirm the status of the UBD.
Read also: The best online IT courses for children
Projector Institute is giving away its video courses in the humanities. There are useful programs for design, literature, anime, comics. The history of cinema and television, game industry, car design is presented. Among the practical courses, it is worth noting "How color works" and "How composition works" - they will be useful for designers. To get the course free of charge, you need to go through the purchase procedure for 0 hryvnias and log in.
The Collaborator platform hosts free webinars that will help Ukrainians find their place in the IT industry. Here you can register for new webinars and view past ones. You can learn how to earn money on Upwork , how to properly register a profile on Linkedin, or how to get a job as an SEO specialist in Poland.
You can also take a free course on link building from Ihor Rudnyk, head of Collaborator.
The language learning service Mondly offers courses for Ukrainians on learning foreign languages completely free of charge. The catalog is quite wide - English, French, German, Portuguese, Hindi, Japanese, Czech, Arabic, Hebrew and many others.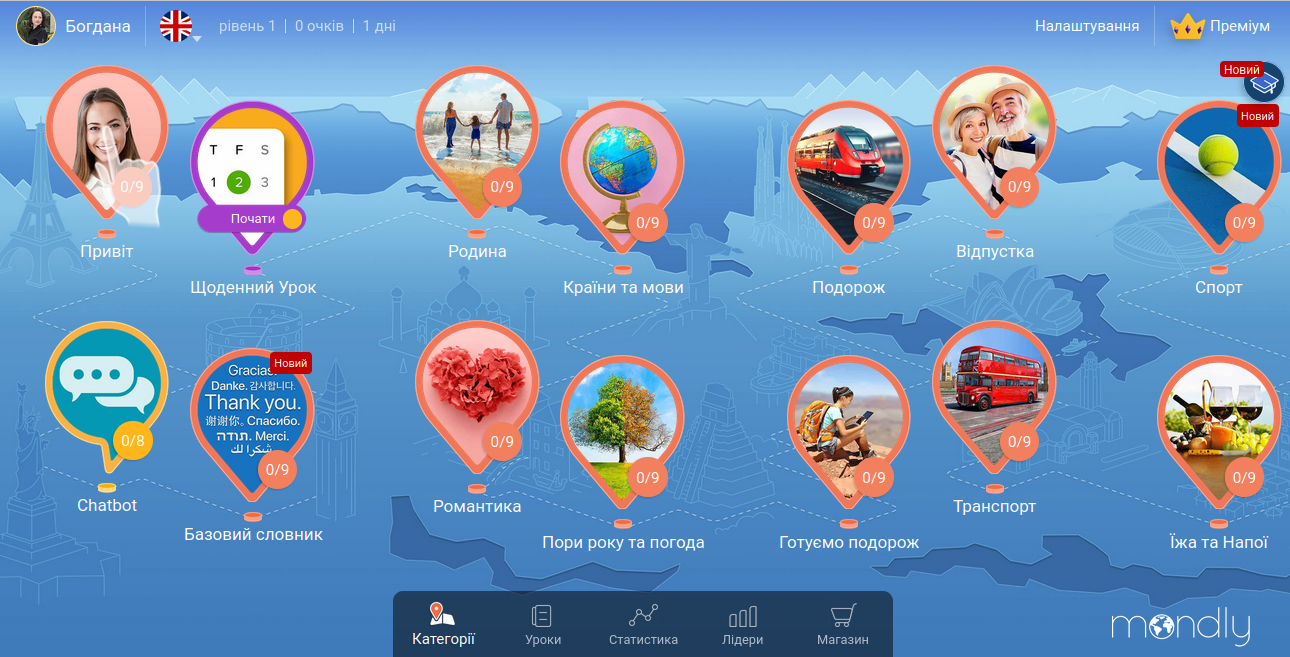 UAbusiness.global is a volunteer project aimed at providing informational assistance to our business. On the landing page you will find video recordings of lectures on business organization in different countries, scenarios of its transformation in wartime conditions, transport logistics and much more. We also recommend that you pay attention to the social networks of the platform - there you can register to watch the lecture live and participate in coaching groups.
The RedCamp online training school gave Ukrainians the opportunity to learn a project management course for free. This is an intensive two-month course, during which students were able to work for an hour and a half every day, learning about the theoretical basis, methodology and tools. At the end of each week - verification tests. Students who wanted to thank the school for their education could send money to the ZSU account. The course has already ended, but all lectures are published in free access .
Andriy Osypov School of Web Analytics organized the course "Data Analysis in Google Analytics" . The course is now complete, but you can watch all 37 lectures for free.
The E5 consulting company offers the IT Manager's Toolkit program, which will teach novice IT managers the intricacies of team management. It is also suitable for those who have been working as a manager for a long time and want to improve their skills. From the lectures, you will learn about employee motivation methods, the life cycle of a team, delegation and task setting, and much more.
Another educational program from the same platform is Business Analysis Essentials . The course is designed for beginners and those who are just planning to become a business analyst. It consists of seven lectures, from which you will learn about the duties and tasks of a business analyst, the process of building a career and communication with customers.
The PortaOne training center offers a Linux & Network administration course that opens up broad perspectives in IT — for example, you can become a system engineer or server administrator. The training is designed for 5 months and promises to be active. Therefore, before enrolling in the course, the organizers will conduct interviews with candidates to find out the level of motivation of future students, as well as testing to understand the level of knowledge. The school has already closed spring and fall enrollment (the latter starts on November 14), but will recruit students again in April 2023. You can leave an application right now - the managers of the training center will contact everyone who filled out the registration form during these five months. In addition, you can follow the news of the school in the Telegram channel.

Beetroot Academy has developed a course "IT professions" for beginners. Acquaintance" . Thanks to it, you can get basic knowledge about five IT professions and decide which one to choose. These are the following specialties:
UI/UX design

Project management

Frontend development

Python development

Testing
The program consists of video materials, articles and practical tasks with implementation examples. You can study at any convenient time.
And the last offer of free training for today is for those who feel an artistic flair in themselves. The short course "Basics of Web Design" consists of only three lessons of 40 minutes each and provides the basic knowledge, thanks to which you can immediately start working on the simplest tasks. Its developer, Nadiya Akymova, moved twice: in 2014 from Donetsk, and now from Buchi. The express course was created on the basis of a two-month program that the designer taught before the start of a full-scale war.
***
Free education for Ukrainians is an initiative that is extremely necessary now. The world is reformatting, people are forced to start a new life, having lost not only their jobs, but also their homes. In the current crisis, our compatriots cannot pay for educational services, so such help is like a sip of water in the desert for them. Some courses will work permanently, some of them are one-time promotions. We have no doubt that soon more and more educational programs will appear, which you will be able to find using the search engine.
If you want to add your educational initiative to this list or know of a Ukrainian or foreign service that provides access to free courses, write to bogdana@cityhost.ua.