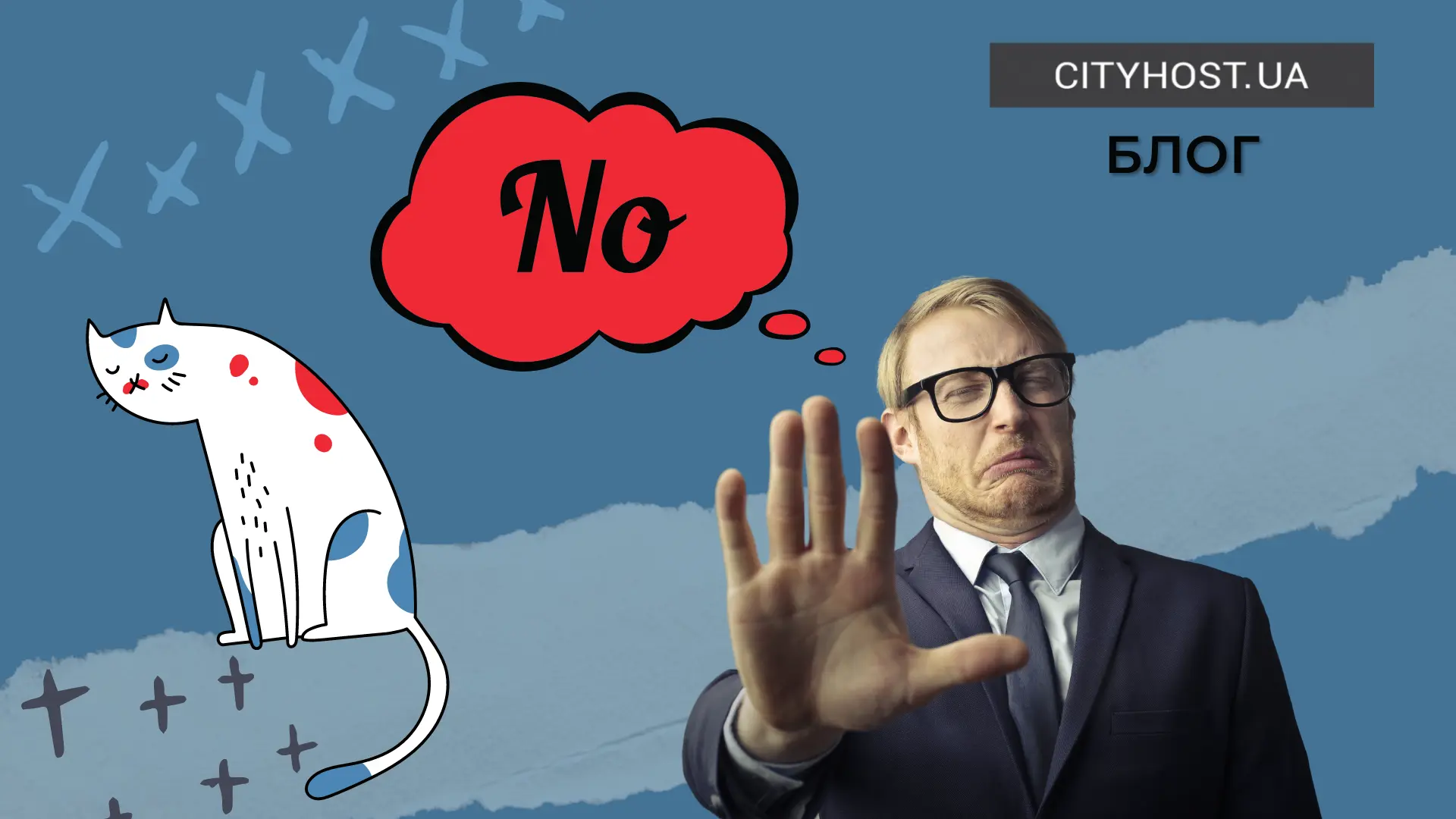 At the time when our eastern neighbor showed us what a "friend" and "brother" he is, many companies deliberately refused to cooperate with clients of the aggressor country. And, although this means significant losses for them, Ukrainian IT experts have decided that they do not need bloody money.
We have prepared for you a list of various Ukrainian services that are being reconfigured to a new mode of operation without Russian financial infusions, so they need your support.
We have already written about how the state supports Ukrainian business so that it can maintain its position and continue to work. But our digital entrepreneurs also need the personal participation of each of us.
This list will be interesting for Ukrainian customers who want to abandon not only Russian services, but also those who continue to cooperate with the occupiers, despite the war.
All these platforms blocked the accounts of Russian customers or refused to cooperate with them. In addition, they help Ukraine to get closer to victory with the help of volunteering.
Freelancehunt is an exchange for freelancers. He is respected not only among performers and customers from Ukraine, but also abroad. Specialists from all over the world work on the service, offering services in development and programming, design, server administration, audio and video recording, editing, copywriting, translations, consulting, design and much more. The platform ensures that both parties are protected - this is helped by the secure contract feature, transparent application system, selection of the artist on a competitive basis, evaluation and feedback from both freelancers and customers.
Collaborator is an advertising exchange where site and Telegram channel owners can offer their services to advertisers. All platforms that enter the exchange are carefully checked, so the client is guaranteed to receive an advertising channel with a real audience and active visitor traffic. Through the exchange, you can post articles and press releases on various sites, as well as publications in Telegram channels. Customers can familiarize themselves with the performer's reputation through the reviews of other customers. The exchange guarantees that advertising content will be published in popular sections of the site, and that links from it will not be removed for at least three months.
Ringostat is a marketing service that specializes primarily in IP telephony and call tracking, but also has other advertising and analytics tools. Is an official technology partner of Google Analytic. The service offers the following services:
Call Tracking (tracking of the advertising source of the call);

Callback widgets that connect a client with a manager in half a minute;

End-to-end analytics of advertising channels;

An interface that unites all messengers in one channel;

Virtual PBX and other tools.
Zillya! — Ukrainian antivirus, founded in 2009. Two years later, the company entered the international market and helped more than three million users protect their computers and browsers from malicious interference. Zillya products! created on our own developments using world experience in cyber protection.
Developers offer a line of antivirus programs that can be used for personal computers, for corporate work, for tablets and smartphones. There are paid and free offers.
Looqme is an interesting service that helps track a company's reputation in the media space. Monitors mentions of the company in the media, on review sites and in social networks. Among the tools is a bot that sends notifications when the company's name is mentioned in an online publication on any web resource. On the service, you can order a study of the company's reputation (R-index), which will show the level of presence in the media and the impact on target audiences. The platform will be useful for marketers, PR managers and executives.
During the war, Looqme turned its Telegram channel into a source of news about events in Ukraine.
Binotel is a service that provides virtual PBXs. This allows you to correctly distribute all incoming calls to one phone number between several managers, record conversations with customers, track and process missed calls, integrate the PBX with CRM, which you already have installed. It also has its own CRM system and provides call tracking services. Binotel has been operating on the market since 2010, and 20,000 companies have already used its services.
Serpstat is a multifunctional service for SEO specialists, which offers a whole set of services for the promotion of the site in search engines and its analysis.
Search and analysis of keywords, formation of a semantic core, analysis of the semantics of competitors;

Daily checking of positions in search engines;

Analytics of contextual advertising;

External link analysis tool;

Text analysis for spam, lack of keywords, optimization quality;

Full site audit and more.
In total, 30 tools work on the platform. Serpstat also provides reports and works as a multi-user office for the entire team, allowing you to plan and track tasks for each employee.
Letyshops is a cashback service that cooperates with more than 3,500 stores, delivery and booking services of Ukraine and abroad. There is also an affiliate program for customers, according to which 50 hryvnias are charged for each invited friend. For regular customers, there are loyalty program statuses that increase the cashback rate. For online store owners, this is a good channel for finding new customers, because almost 26 million users have used this service in 7 years of operation. In addition to the desktop version, the platform also has a mobile version that allows you to make purchases without getting up from the couch.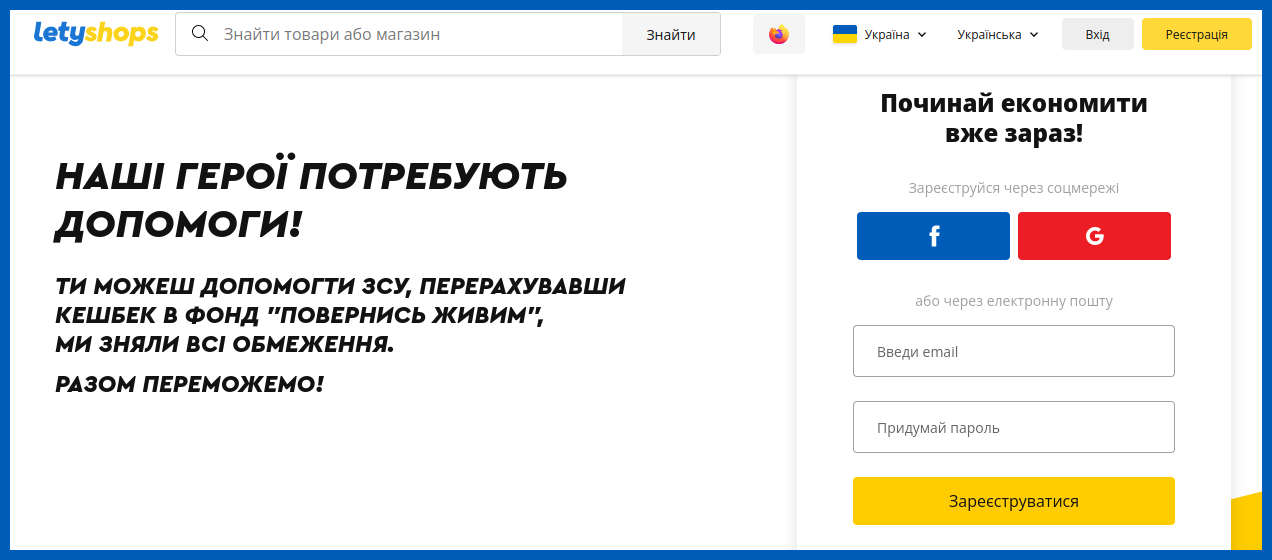 Djinni is a Ukrainian anonymous job search service for specialists in the field of IT technologies, which has been operating since 2012. A feature is precisely anonymity: a candidate can place an ad, indicating his skills and experience, but not revealing his name and contact details. This is convenient if the specialist has already reached the peak of opportunities in his company and is considering other options, but does not want his management to accidentally come across a job search ad.
Candidates do not pay for advertising, payment is charged to employers in the amount of 30% of the salary rate, if the company has hired an employee. If a specialist is not found, no one pays anything.
eSputnik is a multi-component tool for communication with clients. The platform offers many channels for marketing work — sms mailings , email mailings, push notifications, mailings in Viber, Telegram, WhatsApp, etc. The service not only provides use of all these channels, but also offers support from specialists who will help build a strategy. The concept of the service is omniversality — when all tools complement each other.
There are also accompanying options — the designer of correspondence scenarios with the client, analysis of user interaction with messages, letter editor, database segmentation.
Weblium is a Ukrainian service that will help you create a site on the constructor, without involving programmers and without having development skills. The client can independently launch his online store, landing page, portfolio and any other site for business or private use, choosing one of three hundred modern responsive templates. If there is no time or opportunity, the platform offers the services of studio specialists who will do everything for you. Marketing and SEO tools are also available on the service, and there is a built-in CRM. The platform works all over the world, has a Ukrainian, English and Russian version, but stopped cooperation with clients from Russia with the beginning of a full-scale offensive.
Perfectum is a Ukrainian IT company that supplies CRM and ERP for small and medium-sized businesses. The founders emphasize that their product is their own development, and that they have never cooperated with Russian clients.
You can buy the solution "out of the box" or use the cloud version. Perfectum has integration with dozens of different services, including IP telephony, marketplaces, delivery services, payment systems, social networks, messengers, etc.
The platform offers not only the purchase of the system, but also installation, configuration and integration with the necessary services. And 24/7 customer support is available to resolve all issues.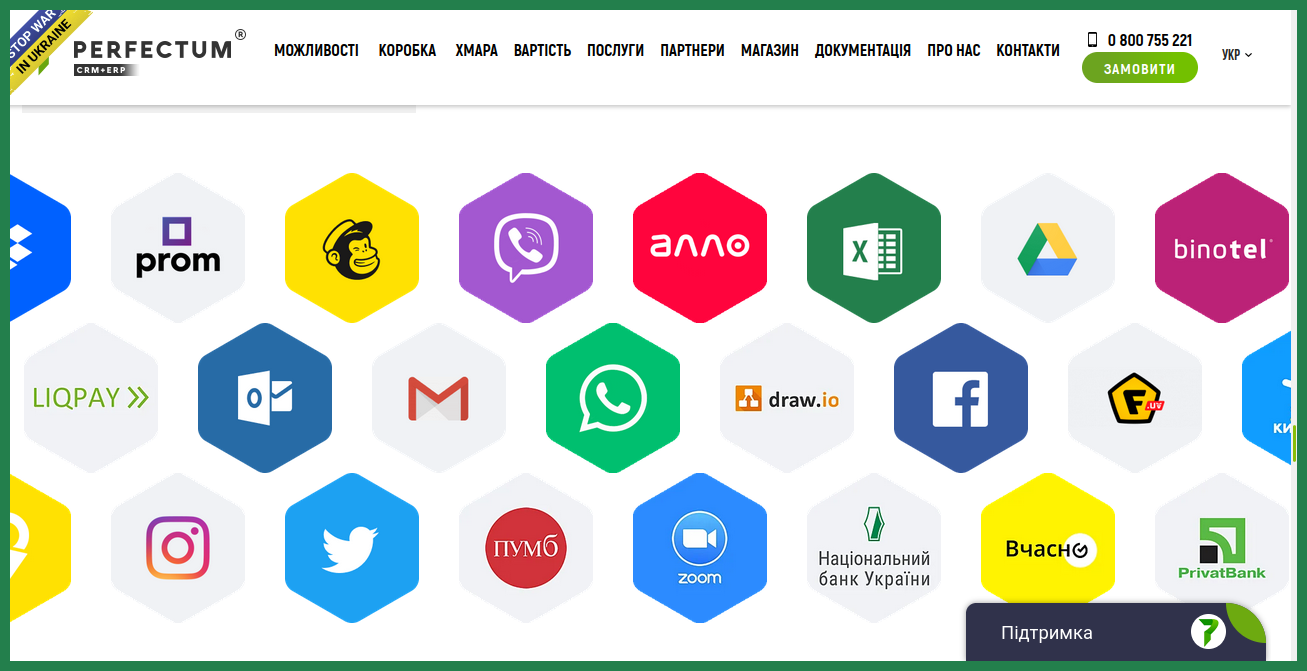 Terrasoft is an IT company from Ukraine that has created a whole line of products for automating business processes under the common name Creatio: CRM, BPM and several hundred different applications. The products have a structure that allows you to configure the working platform to your taste, choosing the applications that you need. For example, if a standard CRM system has a ready-made set of working tools, you can choose them yourself on Terrasoft. There are separate applications for warehouse management, automation of the HR department, kanban, a business card scanner, a tool for developing a sales funnel, a chatbot builder, an application for notifying customers about the end of the subscription period, and much, much more. All products are developed according to the principle of no-code and low-code technologies, that is, the client can design his own system without having programming skills.
Read also: "Learn to program on your own or go to developer courses - what to choose?"
KeyCRM is a highly specialized CRM system aimed at Internet trade. With its help, you can process orders, keep track of goods, and automate the registration of parcels. In CRM, you can add all existing sources of sales — marketplaces, websites, pages in social networks. They will be consolidated in one window, which simplifies work.
The feature of the platform is that it can be integrated and start working independently, without the involvement of technical support. The company emphasizes that this service is very simple and takes only 15 minutes to set up.
InCust is a multi-functional tool that positions itself as a buyer lifecycle management platform. This means that the service has the following features:
CRM;

Channels of communication with customers (emails, chat bots, push messages);

Rewards strategy (cashback, coupons, loyalty programs);

Software for registration of sales;

Automatic construction of the customer base;

Customer segmentation.
Simply put, one such platform can replace a whole package of different services, and the entrepreneur will not have to carry out each stage of work in another program.
Poster POS is a cloud service for restaurant business automation. Suitable for cafes, restaurants, bars and other food establishments. Integrates with PRRO. Allows you to fully control the operation of the enterprise - purchases, product costs, menu creation, instant transfer of orders to the kitchen, personnel management, reporting, marketing.
Since Russian institutions also used this service, after the start of the war, they received an unpleasant surprise — appeals to stop the war began to appear on the receipts and work screens of the staff, after which 10 thousand customers were disconnected from the platform. Now, when entering the site from a Russian IP address, visitors see true information about their country's aggression against Ukrainians.
Megogo is a service for viewing video content, which has been operating since 2011 and is a provider of entertainment and educational video products for many countries around the world. It has feature films, TV series, cartoons, documentaries, sports programs, talk shows, video lessons, broadcast TV channels.
The online cinema works officially, paying rights holders money for the purchase of video materials. And for avid moviegoers, the platform offers special set-top boxes that can be connected to the TV and watch TV channels and individual movies.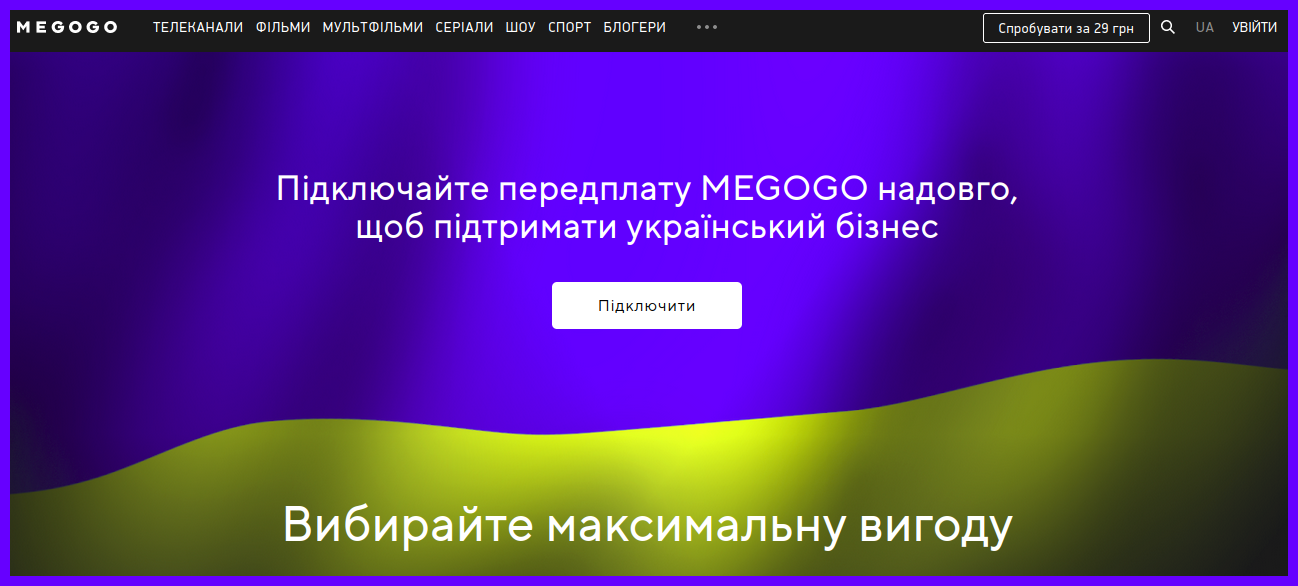 Readdle is a development company that creates applications to optimize workflows for both enterprises and personal use. If you have tools like PDF Expert, Scanner Pro, Documents Calendars, Fluix or Spark on your gadget, you know what Readdle is. Tens of millions of users around the world download these applications to their iPhones and smartphones.
Applications are available in the App Store and Google Play, but not for everyone - they have been removed from Russian and Belarusian software stores.
Netpeak Group is a marketing agency established in 2006. During all this time, she grew a whole complex of businesses, each of which entered the group under its own name. Yes, Netpeak Group includes Serpstat, Ringostat, RadASO, Octopus Events, Academy Ocean and others.
Their areas of interest include digital marketing, mobile app development, online learning, and marketing conferences. There are also social directions - the crowdfunding project "My City" and the Gladpet site for finding new owners for homeless animals.
UkrSklad is a warehouse accounting program that allows you to write out and print a large list of documents (contracts, acts, invoices, mandates, orders, etc.). The software supports such equipment as barcode scanners, cash registers , trade scales, and POS terminals. The demo version of the program works for up to 45 days. If you like it, then you can buy it.
Since the beginning of the war, the company directed 80% of the earned funds to the needs of the army, but since April 4, it was forced to reduce contributions to 40% due to the need to cover its own expenses.
***
Finally, we would like to note that only some volunteer and patriotic initiatives are mentioned in the article. In fact, each of these companies actively contributes to the victory over the enemy, deducting part of the earnings, collecting funds, informing Ukrainians on the pages of their blogs and social networks, posting encouraging banners on their websites and sending Russians to follow their warship.
Reading their resources, one can only rejoice at how many talented, creative and fighting IT people we have, who are creating a modern successful Ukraine with joint efforts.
If you want to add your company to this list or know of a Ukrainian service that is worth talking about in this topic, write to bogdana@cityhost.ua.