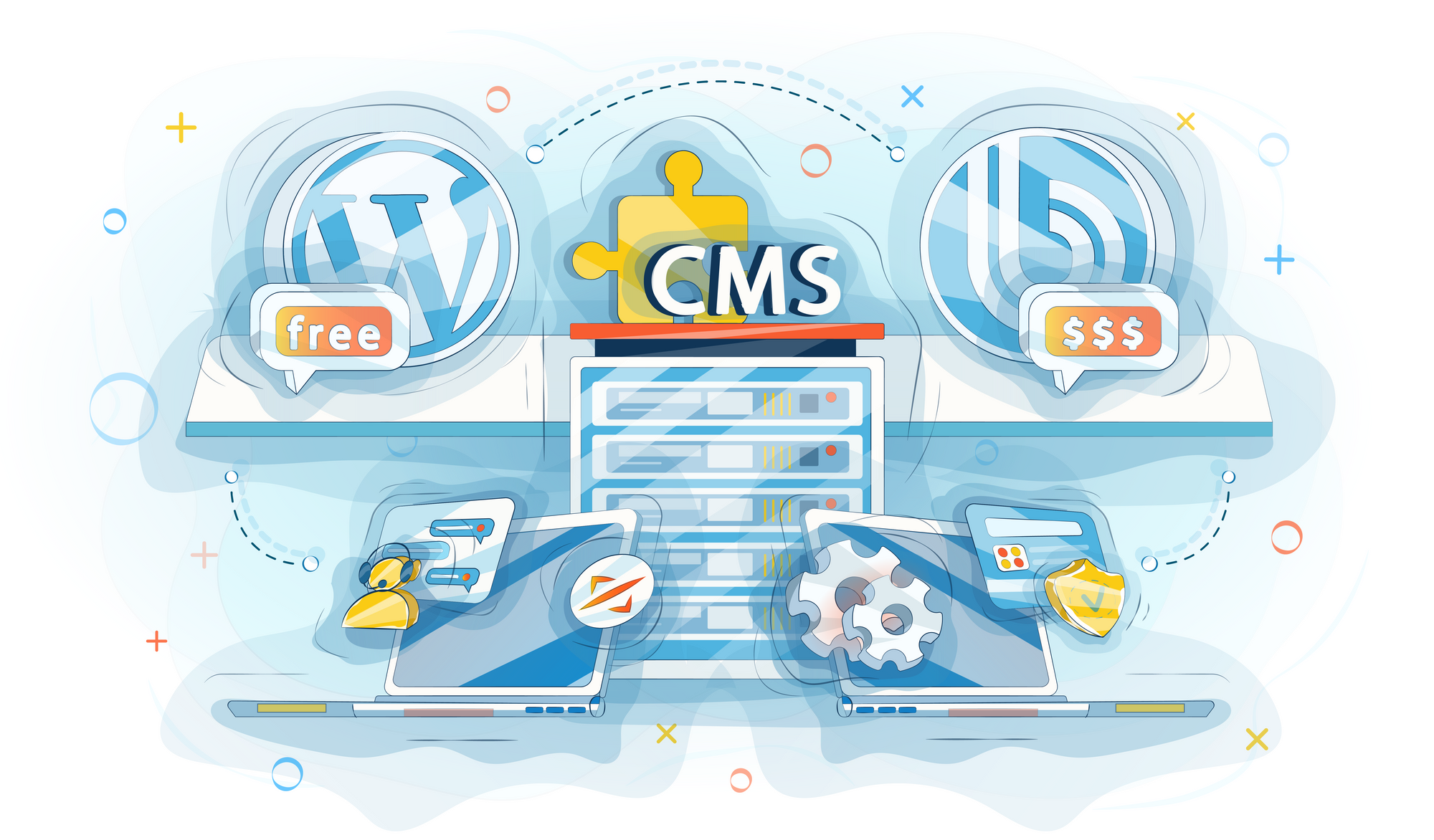 WordPress is a content control system with public source code. The system uses the php language.
Benefits of WordPress
Free is the main feature of WordPress, which contributed to its wide popularity. Absolutely anyone who runs their own page or blog can purchase it without any financial investment.
Ease of use. There are many free engines, but there are only a few that are simple and clear. WordPress is easy to install, easy to configure and intuitive to use. If you order hosting for WordPress, installation is done in one click. And adding material using the visual editor is not more difficult, the Word interface. The administrator panel is mastered in the shortest possible time.
A large database of plugins . Modules are needed to expand and add functions to the site. To download them, you need to go to the base's website. Most of the add-ons, templates and modifiers are also available for free.
Simplicity of the structure . If you need to change the display, style or structure of the site, you can easily fix the code in the theme files. Compared to CMS Joomla, the template structure of WordPress, the file hierarchy is simpler and more understandable for beginners.
Read also : How to connect Google Analytics to WordPress .
Virus protection . Constant updates from the developers minimize the possibility of infections, and the emerging shortcomings of the engine are quickly corrected by them. For example, according to the results of research in 2013-2014, according to the degree of CMS security, among 30,000 sites in the ".ru" zone, WordPress was in 7th place. It is important to take measures to protect the website yourself and monitor its weak points, this will greatly reduce the chance of infection.
User help . Due to its insane popularity on forums and specialized sites, you can quickly find answers to problems with the WordPress engine.
Disadvantages of WordPress
A big load . When installing a lot of modifications on the WordPress engine, the server will be heavily loaded, which will cause "freezes" and errors. To reduce the load, it is worth reducing the number of plugins to a minimum, in addition, it is better to place the blog on high-quality hosting. You can also optimize the database and use the page caching plugin.
Duplication . WordPress automatically makes a copy of pages, which is negative for blog promotion. In addition, it copies pictures with different sizes. Duplication of pictures and pages is corrected by installing special plugins.
Unreliability of search engines . The popularity of the engine has a negative meaning. Since a large number of GS and satellites are formed on its basis together with SDL, search engines do not trust new WordPress websites and other free CMS.
Read also : WordPress, what it is and what to eat it with .
Limited functionality . The functions built into this engine become insufficient over time, add-ons solve this problem, but they put a heavy load on the server. Then you should pay attention to the source code of the engine and adjust it to your taste, which requires certain skills or a call from a specialist. Therefore, you should first understand the goals, look, structure and specific functions of a potential website.
Bad reputation . Most beginners in creating a website learn from their clients, making a lot of mistakes in development. Clients very often do not like the result, which is filled with "bugs" and slows down with each click. Therefore, their reviews are negative. Since the engine is free, it is unprofitable for agencies to cooperate with it, because they get rid of the sales commission from the designers of other CMS.
Conclusion . The WordPress engine is suitable for beginner bloggers, its simplicity and comprehensibility cover all other disadvantages for a beginner.