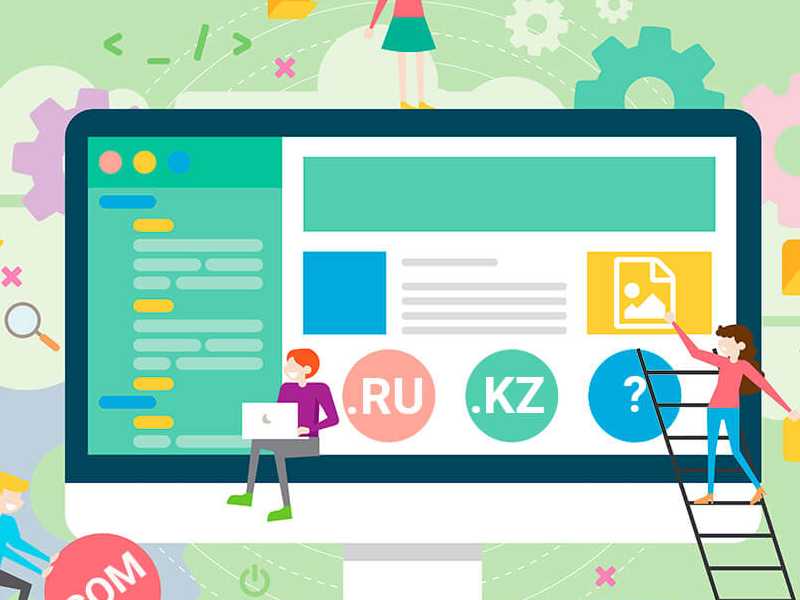 Before buying a domain , you need to decide on a domain zone. This is important, because many nuances depend on it. First of all, it is clear from the domain zone which region the site is aimed at (Ukraine, Belarus, Kazakhstan). Secondly, it is easy to determine the type of organization (state, commercial, military).
According to the requirements of the search engines, you need to choose the appropriate domain zone, and not just any one that you like best. Therefore, in this publication, we will consider in detail how to do this, and at the same time we will understand what the domain zone affects.
What is a domain zone?
What is a domain zone? This is the right part of the full domain name. As a rule, it consists of 1-2 levels. For example, in the address cityhost.ua, "ua" is the domain zone. It shows that the site is focused on Ukraine and Ukrainian users. Search engines understand this very well and give the site high positions in this region. In other countries (Belarus, Germany or the USA) they do not show it.
Where is the domain zone selected? It is specified during domain registration . When you choose the URL address of the future site, you determine the domain zone at the same time.
It often happens that the required address is taken. But if you choose another domain zone (for example, com.ua instead of .ua), the name will be free. But you need to understand how to choose a domain zone, because there are only a couple of suitable options for each type of site.
Read
also
:
What

is

an

ssl

certificate
.
Classification of domain zones
Domain zones are conditionally divided into 2 large subcategories:
territorial;

general purpose.
As a rule, domain registration is a free procedure. No one controls her and does not ask for documents. Therefore, site owners are free to choose any domain zone. But it is advisable to follow the unspoken rule and register the domain correctly.
Territorial domain zones
Such domain zones indicate the region in which the site operates. There are many options (their number is equal to the number of countries in the world):
ua – Ukraine;

ru – Russia;

by – Belarus, etc.
For commercial sites (online stores, corporate portals) it is very important to indicate the region in which they operate. So users will understand where they went, and whether they will be able to order goods with delivery to their city.
General domain zones
Such domain zones include:
com ;

net;

information;

org.
Initially, it was planned that each option would use a certain type of organization:
com – commercial companies;

net - companies responsible for the operation of the Internet (providers);

info – information sites (blogs);

org - other organizations.
But with the appearance of a huge number of sites, this requirement was no longer observed, and common domain zones became "blurred". For example, if the .info domain zone is taken when registering a blog, then its owner chooses another option - .com, .net or .org. Today it is not so important.
We can say that common domain zones choose sites that are aimed at users from several countries at once. For example, blogs are created for all Russian-speaking people from the CIS. Or if the company provides services without regional binding (online courses), it can also take a .com or .org domain, not .ua or .ru.
Domain zones of limited use
Such domain zones have the following classification:
gov – state organizations;

aero – companies and individuals related to aviation;

mil – US military companies;

edu – educational organizations;

int – international firms;

museum – companies and private individuals engaged in museum activities;

travel – companies related to the field of tourism.
Strict control is already observed here, and anyone who happens to choose a .aero or .edu domain zone will not be able to. Only those organizations that fit the conditions.
Territorial zones can be created on the basis of these domain zones. For example, edu.ua or edu.by (for educational institutions from Ukraine and Belarus, respectively).
New common domain zones
Until 2001, there were only three common domain zones: com, net, org. Today there will be more than 2 thousand of them. All because now for a certain fee you can register any domain zones that sound beautiful. Example:
.blog;

.cafe;

.london;

.life.
And the choice for users who buy hosting, a new domain and an SSL certificate from the provider will already be much larger.
Results
Now you know what a domain zone is and what it affects. As you can see, there are many options, but you need to choose wisely.
Which domain zone is better? The one that is perfect for the site. Companies should choose regional options. And for the owners of information sites, blogs and other sites, any domain zone is suitable. Including one of the new ones - if you need a good URL.