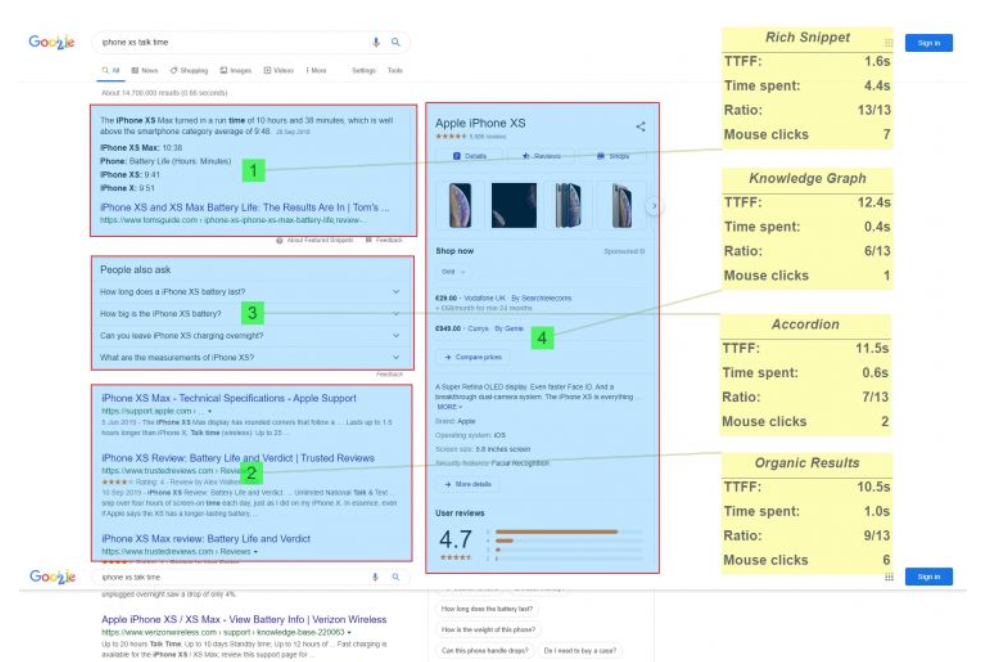 Specialists from the Coast Digital agency decided to analyze how the design of the Google search page affects user behavior.
Several methods were used for this study.
User eye movements were tracked.

Facial expression was analyzed.

The electrical activity of the skin was monitored.
For this experiment, the researchers invited 20 people. Respondents had to perform certain tasks, which included searching for a number of queries. All inquiries were related to different stages of the purchase journey. This study was conducted on desktop computers.
Read also : Support for new Google fragments will begin by the end of this week .
During the research, the team of specialists reached the following conclusions:
The nature of the search directly affects interaction patterns , even if similar SERP patterns are displayed. Based on this, Google engineers most often use different layout options for SERPs.
Snippet plays a big role in information requests . According to the study, 66 percent of users prefer to go to the site as soon as they read a short text in the information block. But another 33 percent of users do not go to a particular site after receiving a quick response to a query.
Local results provide all the necessary information for users . Traditional search results and the usual display of advertisements are the most popular among users. Despite the fact that various blocks of information are added to the search results page, users prefer the usual template.
Experts report that during the research it was found that users are attracted to selected snippets . They can hold their attention for a long time. But this applies only to information requests. But in some cases, selected snippets caused outrage among users. This is explained by the fact that the block contained inaccurate and incomplete information.
Coast Digital experts say that SEO is now highly connected to context. Users, after entering a commercial or information request, will receive completely different information in the search results. Researchers promise that they will soon conduct similar experiments, but already with a large number of participants. Mobile search devices will also be involved.
Was the publication informative? Then share it on social networks. We remind you that you can buy Ukrainian hosting from the hosting company CityHost. For technical questions, contact the online chat or call ?? 0 800 219 220.