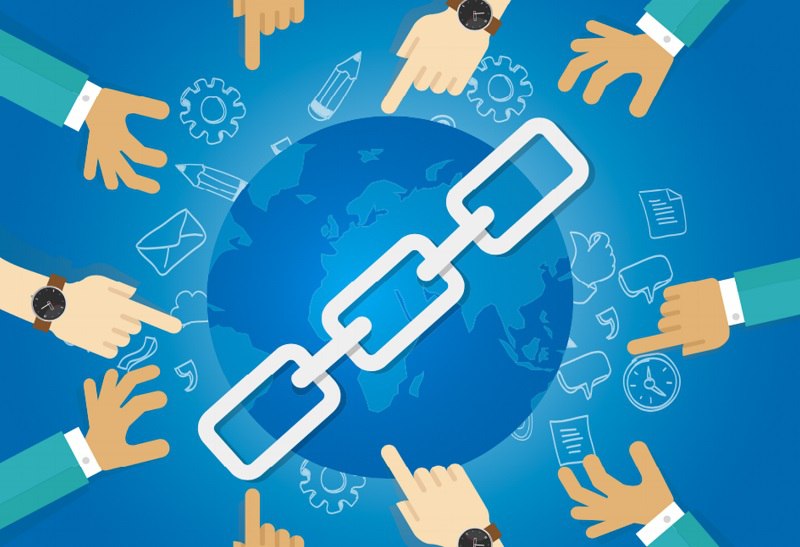 When working on the external optimization of the site, you can use paid and free links. Most people post only paid ones, buying them on exchanges or directly negotiating with the owners of reputable publications.
Few people think about the fact that you can post a link to a site for free. And for good reason. If the backlink is of high quality, search engines will like it. Such links are considered as natural as possible, and therefore have a good effect on the position of the site.
Where to post links for free? There are many sites that offer this service, so we will consider the most popular ones.
Study of competitors' sites
The easiest and most effective way to find sites for placing free backlinks is to look at competitors. It is enough just to analyze the link profile of the site using Ahrefs, Linkpad or other specialized services.
Alternatively, you can enter the competitor's website URL in Google search, enclosing it in quotation marks. So the search engine will display all links leading to this web resource.
One thing is certain, it is necessary to check the quality of the sites found, to see their authority. You should not simply duplicate the link profile of a competitor, because this way you can also copy his mistakes.
From the received list of donors, select those where you can place free links to promote the site. Then make a content plan, planning how many backlinks you will place per day/week/month.
Sites where you can post links for free
Now let's look at the main sites that offer free backlink placement. There are enough options, so everyone will find suitable options for themselves.
Catalogs of companies
Catalogs are suitable for companies working in a particular field. For example, in construction, automotive, medical. After all, you need to place the link in the appropriate section. Agree, a construction online store will look inappropriate in the list of wedding-themed sites.
Catalogs should be searched in Google and Yandex. It is advisable to select the best ones by making a list for the content plan. And in order not to arouse suspicion among search engines, it is advisable to place one link per week. Remember that the web resource will quickly fall under the filters for an automatic run through the catalogs or a mass appearance of backlinks in a short period of time.
Important : If you have a large project, we recommend ordering a reliable VPS server and ensuring the stable operation of the progressing project.
Site directories
If the first option is designed for companies that work both offline and online, then these catalogs are intended only for companies with their own web resource (it must be specified).
Placing a link to the site is not difficult: it is enough to register by filling in the standard fields. Sometimes a backlink appears after a moderator check, which can take a couple of minutes or several months. In really good catalogs, moderation lasts a long time.
An important nuance: quite often, in order to place a link, they are asked to put a backlink on their own site. It is better to refuse such an offer - you should not distribute weight to everyone in a row. There are many catalogs on the network - and it will not be difficult to find another one.
Forums
Free promotion links can also be posted on forums. But you need to look for sites that are similar in subject matter to your site.
To insert a backlink, it is recommended to register 2 accounts. The first time you ask a question, ask to recommend a good company. And from the second, you respond to this message, as if accidentally leaving a link to your site.
For search engines, links on forums are considered as natural as possible. After all, if your site is recommended by other people, this indicates its usefulness.
The only thing that needs to be taken care of is that the forum administration skips messages without considering them as spam or advertising. And so that users do not suspect anything - write really useful messages, and not just put a link for the sake of a link. And then, in addition to a natural backlink, you will receive "live" conversions of interested people, which will only increase its effectiveness.
But do not abuse this method. The message mass should build up smoothly and gradually, so make a schedule for writing messages on the forums and stick to it. One thing is certain, questions and answers should be published with a difference of several days.
Social networks
Social networks are a great source of getting free backlinks. All you need is to write informative posts in your own groups or leave useful comments with a link to the site, encouraging users to repost.
Comments to articles
Informational sites that publish useful articles are a real source for getting free backlinks. On such platforms, various ways of commenting are connected, and you can write comments by leaving your link.
The domain name of the site can be specified even in a non-clickable form. First, it will cause less suspicion among users. Secondly, when writing a useful comment, there will still be "live" transitions.
Speakers
There are many sites where people leave reviews about products or services. For example, iRecommend. You can also leave a useful review with a link to the web resource.
Site aggregators
To place a link, you need to complete a standard registration. Additionally, site aggregators can bring interested users. And this will also have a positive effect on the promotion of the web resource.
Sites of friends
If your friends or acquaintances have a website, ask them to post a backlink to your site. If they are not engaged in selling links, then the effect of placement will be maximum. Especially if the site has good traffic.
Products for review
Companies that sell products may periodically give away their products for free in exchange for a quality review. For example, popular bloggers on Youtube. At the very least, it will be good advertising. And if the review turns out to be of high quality, it will be recommended and shared with friends. And then free links will appear in huge numbers.
Exchange links
In this way, you can place backlinks on authoritative sites for free, but in return you will have to put a link on your site. In order not to give weight, you can publish it with the "nofollow" attribute. But discuss this with the owner of the other site in advance so that there is no misunderstanding later.
Quality content
You can get natural links simply by publishing quality articles. If the content turns out to be really cool and useful, users themselves will recommend it. Of course, it is difficult to get such links, but they are considered the most natural and most valuable.
Guest posts
You can also get links by writing guest posts. You agree with the owner of the site, discuss the requirements - and go for the job.
If you publish guest posts on authoritative platforms, the effect of placing backlinks can be quite significant. But before that, be sure to check the donor's hosting, page loading speed, traffic and other parameters to make sure that linking does not bring you exactly the opposite result.
Results
As you can see, there are more than enough sites where you can post links for free. Choose the options that are most suitable, make a content plan and start working on the link profile. Just do it smoothly and gradually, using the optimal ratio of anchor and non-anchor links.