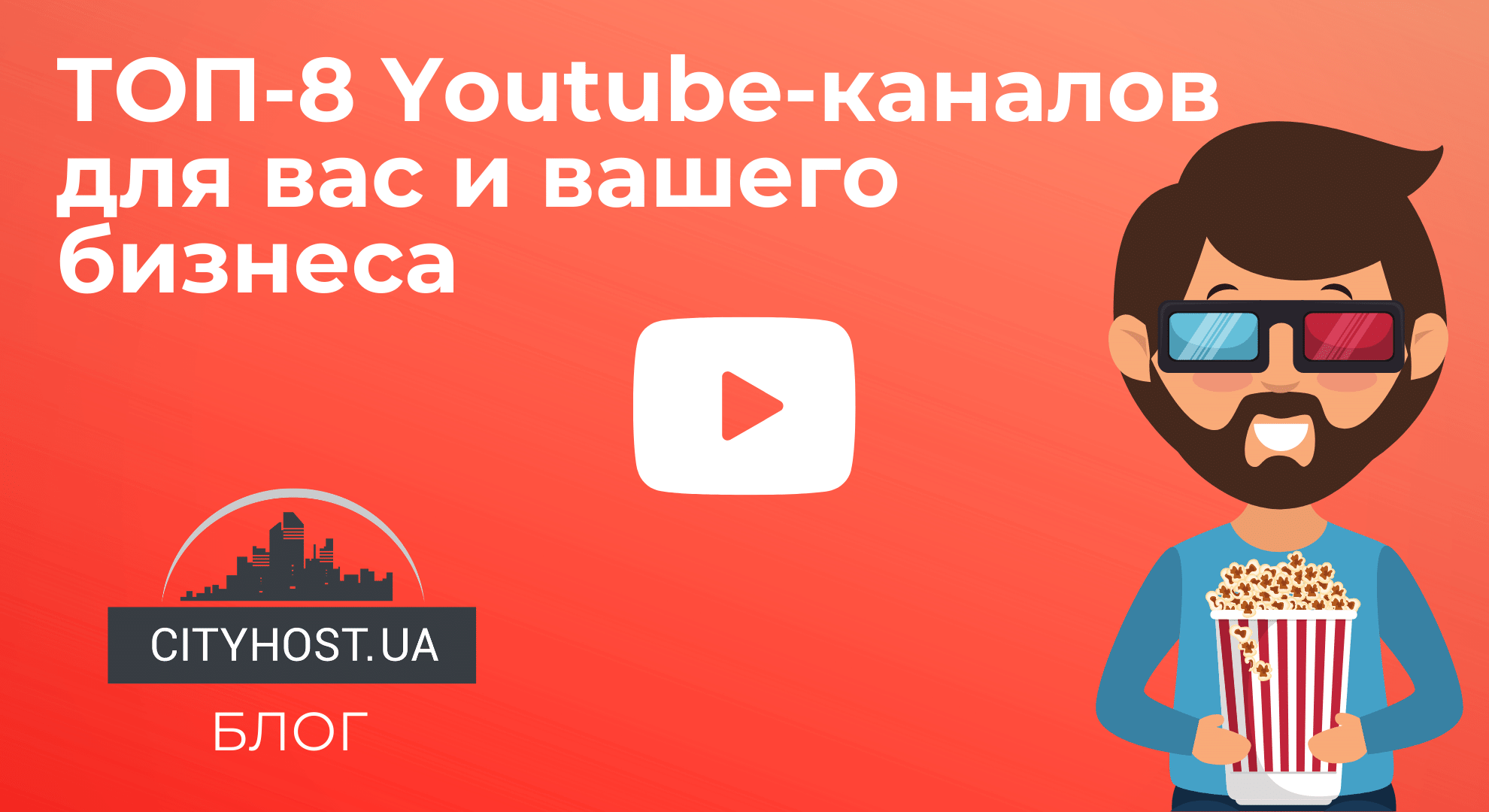 Where can an entrepreneur look for up-to-date information on tools for business development and employee management, opening franchises and business cases? Where to find vivid and frank stories with all failures and victories? On the YouTube channels of the entrepreneurs themselves. Here they share their own experience and invite public people to talk about their business. With colleagues from Cityhost, we made a selection of valuable sources for your business and personal development.
Date of registration: August 30, 2017.
Number of subscribers: 255 thousand.
Number of views: 23,534,467
This is the channel of Andriy Fedoriv, founder of the FEDORIV marketing agency, entrepreneur and speaker. He creates, launches and develops brands and businesses, interviews legendary entrepreneurs and creators, talks about the inner workings of creative projects and successful companies. Vlog has become an integral part of Fedoriv's life - a backpack with a camera and a microphone is always ready to shoot, even on business trips.
Each issue of FEDORIV VLOG is a concentrated dose of useful information about business, marketing, art and creative thinking. Here you will find interviews with business owners in "Papa Brand", how businesses survive the 2020 crisis on "Anti-crisis call", reviews of "Bookworm" books and, of course, the educational course "Brand Father", which is based on Fedoriv's personal experience . This is a course for those who are starting their own business from scratch or trying to revive a brand that is not doing well. Andriy Fedoriv gives step-by-step instructions for business owners: where to get an idea and how to move from chaos to a system. Andrey has been working on the creation of this course for the past 10 years and continues to supplement it with new personal observations and conclusions.
Recommended viewing:
Date of registration: January 8, 2018.
Number of subscribers: 678 thousand.
Number of views: 62,807,569
The project was launched by Yevhen Chernyak, the owner and CEO of the international alcohol holding Global Spirits. In 2003, he built a distillery in Zaporizhzhia, where the production of TM "Khortytsia" vodka and others began. In addition, in 2019 Chernyak published his own book "Big Money: principles of the first. Frankly about business and the life of successful entrepreneurs", and later - its second part. These are books about entrepreneurs - people who make the world a better place by developing their business, creating jobs and paying taxes. In the book, the author reveals the main principles that help solve business problems of any level. Readers can learn the history of the creation of "Nova Poshta", the first digital bank in Ukraine "Monobank", the online supermarket "Rozetka", the investment fund "Almaz Capital Partners" and many other strong brands.
On his channel Yevhen Chernyak conducts honest interviews "without water, politics and censorship" with businessmen and public figures. There is a lot of practical information and facts here: guests talk as openly and transparently as possible about running a business, their personal life, what led them to such results, what you need and what you don't need to do to earn big money. And in March 2020, Chernyak launched a free online marathon dedicated to the corona crisis. In it, 20 famous entrepreneurs, including Oleg Horokhovskyi, Vasyl Khmelnytskyi, Andriy Fedoriv and Vladyslav Chechotkin, answer subscribers' questions during daily one-hour sessions live.
Recommended viewing:
Date of registration: November 3. 2009
Number of subscribers: 101 thousand.
Number of views: 887,778
The channel belongs to Roman Kyrylovych, the executive director of the French consulting company. He popularizes entrepreneurship, including franchising.
Although FranchTV has existed for a long time, its rebirth took place in 2017. Before that, the channel was a "vinaigrette": formally it was dedicated to franchising (hence the name FranchTV), but there were also reviews of movies and Tesla cars, videos of trips to Europe. The viewer mostly did not understand what the channel was about, because there was no clear format.
Currently, there are two types of videos on the channel: stories and interviews. In the stories, 4-5 speakers reveal a certain topic, for example, about making money from crafting. Interviews are made with interesting personalities. Also on the channel, Kyrylovych talks about his business, franchises, how to create a business vlog and promote a YouTube channel.
Recommended viewing:
Date of registration: March 12, 2014.
Number of subscribers: 80.2 thousand.
Number of views: 6,147,136
Oles Timofeev is a serial entrepreneur, the founder of the GeniusMarketing company and the brainchild of the Online Business Laboratory, the largest internet marketing summit in Eastern Europe.
The channel publishes content in three main sections:
1) "The Big Game" - interviews with famous people;
2) "#СпросиуОлеся" - answers to the most interesting questions of subscribers about business, self-development and personal growth;
3) separate videos with advice on entrepreneurship and achieving success.
Recommended viewing:
Date of registration: January 3, 2013.
Number of subscribers: 38.4 thousand.
Number of views: 2,547,733
The WebPromoExperts Internet Marketing Academy is a large educational project for training and upgrading the skills of specialists in the field of Internet marketing.
WebPromoExperts opens up new opportunities for training in such areas as:
- SEO (search optimization, site promotion);
- Google Ads contextual advertising;
- SMM (targeted advertising, Instagram, Youtube, etc.);
- web analytics;
- email marketing;
- content marketing and other digital areas.
Also, the founders organize the largest online conferences on Internet marketing in Eastern Europe, conduct free online and offline seminars.
The mission of the channel is to become the best platform for sharing experience between digital specialists, a source of knowledge and to give a real opportunity to change your life and find a new profession.
Recommended viewing:
Date of registration: September 1, 2014.
Number of subscribers: 176 thousand.
Number of views: 13,594,378
The content on the channel is created by Andrii Ostapchuk, the co-founder of the Young Business Club, the largest club for young entrepreneurs in Europe with over 800 members in Ukraine, Great Britain and the USA.
When Ostapchuk moved to Kyiv a few years ago, he worked at McDonald's and in the last 10 years has changed a total of 17 professions. In addition, the YouTuber runs every day and even entered the Ukrainian record book as the first person to run daily for 1000 days (already much more).
On the channel, Andriy Ostapchuk interviews famous Ukrainian businessmen, politicians, cultural and Internet figures.
The channel's mission is to show what efforts are behind the results of global businessmen, show business stars and companies.
Recommended viewing:
Date of registration: May 23, 2018
Number of subscribers: 30.7 thousand.
Number of views: 4,488,441
Oleksandr Kolb founded Promodo 15 years ago, which has become a leader in business development in Central and Eastern Europe. His guests are successful IT entrepreneurs who have achieved recognition in business through their hard work, diligence and faith. On the channel, they all openly talk about numbers, tools and, most importantly, about the successes and mistakes of business development.
And the interviewer tries to show how the speakers live, what principles guide them and where they get their energy from. All in order for these conversations to help viewers realize their potential as an entrepreneur.
Recommended viewing:
Date of registration: August 29, 2020.
Number of subscribers: 13.8 thousand.
Number of views: 725,557
Andriy Burenok is the creator of the TripMyDream travel service, which in 2016 won $500,000 in investment at the Seedstars Summit international startup competition and was recognized as the best travel startup in the world, which was quite an extraordinary event for the Ukrainian Internet business.
On the channel, Burenok presents interviews with entrepreneurs, talks about his own mistakes and how not to repeat them, and also shares his experience on how to assemble the perfect team and create a YouTube channel from scratch.
Recommended viewing:
Many years of experience of YouTubers-entrepreneurs allows them to attract an audience of millions who trust them, as well as to invite the most interesting guests and conduct dynamic interviews with them. All of them motivate to improve business, inspire to start your own business and help to better understand the market situation. This is quality content: intelligent conversations, pressing topics and business creation stories worth hearing about.
Read also: