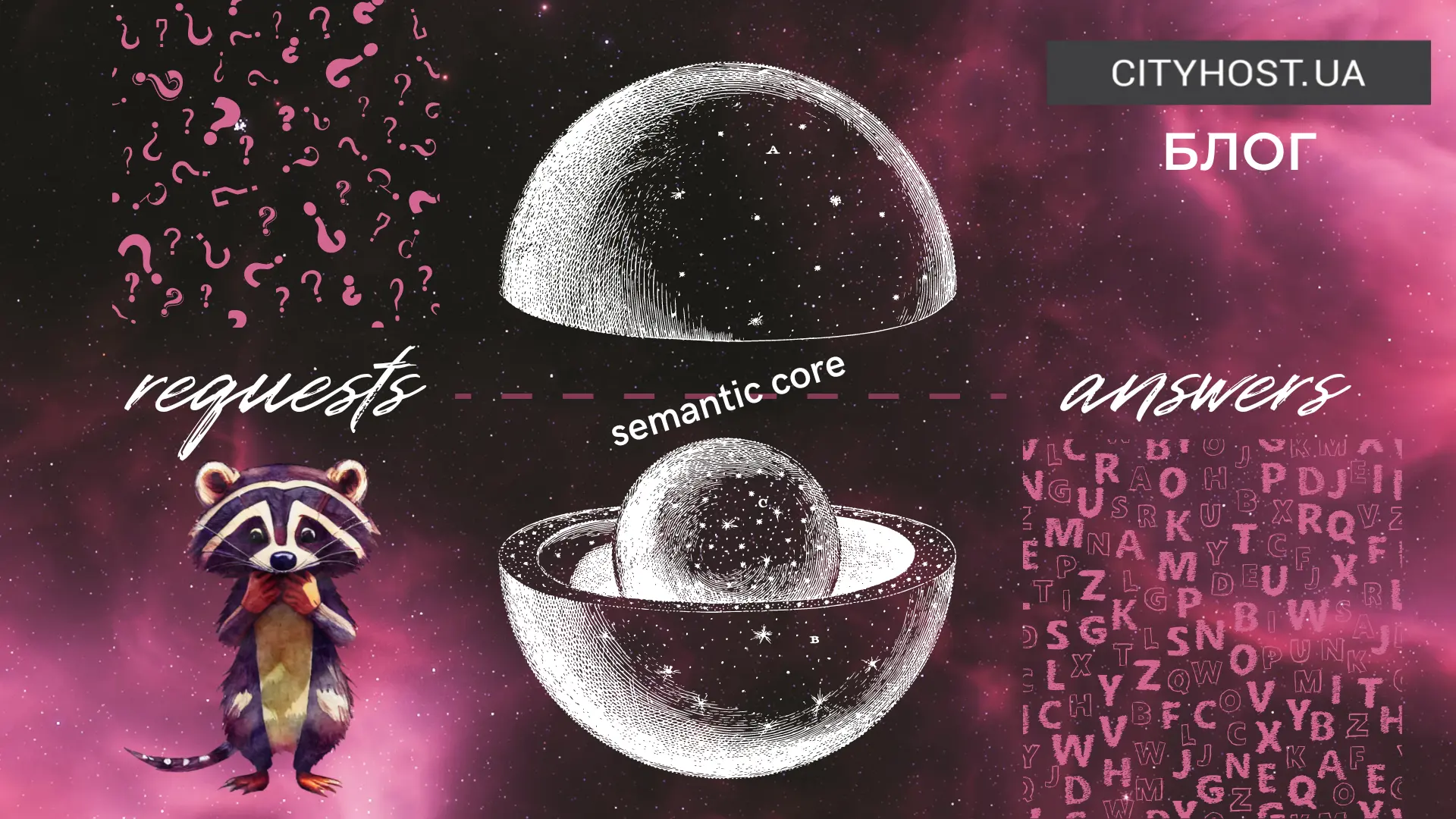 The development of the site from the point of view of SEO begins with the collection of semantics. Before the developer writes the code, the copywriters create the texts and the site is displayed on the domain and hosting , the SEO specialist carries out subtle and painstaking work, invisible to the eyes of users.
Creating a semantic core is an indispensable process for the successful promotion and optimization of each site. Despite the apparent ease of selecting keywords and the availability of a wide range of tools that can greatly facilitate this procedure, the complexity and volume of this work is difficult to exaggerate. In addition, many underestimate the possible positive effect that can be achieved due to the correct construction of semantics, believing that only high-frequency queries bring the greatest conversion of the site. In this article, we will consider what a semantic core is and how to build a semantic core.
A semantic core is an ordered set of words and phrases that users will use to search for your site and find it from search engines. These words and phrases should be used throughout the site to attract traffic from search engines.
The search engine uses a large database to find relationships between pieces of content on pages. And the better the semantic core is collected and used on the site, the higher it will be ranked. Google uses and constantly updates the algorithms it uses to analyze sites:
In 2013, the Hummingbird update was released, which analyzes the page not by individual keywords, which were included in the main analysis of the search engine, but by all the content and its internal relationships presented on the page.

In 2015, RankBrain appeared — a machine learning algorithm that allows for deeper analysis and selection of pages that are most relevant to the user's query. It analyzes all the keywords used on the site.
All these innovations allow the Google search engine to analyze and select the most relevant pages not only for basic queries, but also to select pages covering related topics. That is why a high-quality semantic core plays one of the biggest roles in effective SEO promotion of the site.
Read also: How to optimize a website article
The entire process of creating a semantic core includes:
a collection of keywords that deeply describe the content of the site, taking into account its subject matter and the purpose of the site;

clustering of keywords by content;

optimization of each page of the site by keywords that are grouped into groups.
When doing keyword research for any site, you need to categorize search queries into commercial and non-commercial.
Commercial queries cover all the keywords that people use to search for a purchase. They usually include words like "buy," "purchase," "price," "cost," and so on.
Non-commercial queries are often used to find non-commercial information. They are great for informative articles, which are very often used as the basis of content marketing strategies. Most non-commercial inquiries should be concentrated in the site's blog.
Another important criterion is the number of search queries. If a certain keyword phrase has a large number of searches, then it is searched for most often. These keywords, most likely, accurately define the field (topic) and are often used by competitors. Thus, getting them to the first positions of the Google search results page is the most difficult.
Keywords that have a low search volume are used less often than others. These are usually long keywords that consist of several terms. Their main advantage is less competition in search results. In addition, they tend to be very specific and attract a target audience that knows exactly what they want.
Also, when creating the semantic core of the site, you should avoid subjective words, for example, "beautiful", "fashionable", "cheap", "best". They do not have much value and do not correlate with keywords on the topic, so they are almost not needed in the semantic core.
This can be done manually or automatically. There are specialized keyword search services for this. In this article, we will consider how to collect a semantic core using analytics tools, Google hints and competitor sites in Google output.
On the Internet, there are many services for creating a semantic core of a site. Some of them are paid, others give you the opportunity to test the software for free for a few days, and still others are completely free. We prefer to use a variety of tools to build the site's semantic core to get the best result.
The use of different semantic core collection tools can increase the value and accuracy of your keyword list. We recommend using at least 3 tools from this list: Keyword Tool, Google Keyword Planner, Ahrefs, Serpstat, Semrush, SE Ranking. Each of them uses semi-automatic methods to create semantic kernels.
After the user performs a Google search, the system displays a list of related queries at the bottom of the output. It is a powerful tool for finding alternative keywords and queries.
Additionally, you can use the "People also ask" function inside the search results. Here, Google tries to identify related questions that a user might ask.
Many SEOs and marketers use Google Tips to learn more about the topics and terms that people are using to search on Google.
In this case, keywords during research are selected and collected by analyzing the services and products of your site, as well as competitors for key phrases. The greatest attention is paid to keyword statistics: including search volume, seasonality, and others.
The main goal is to create a semantic core identical to that of competitors.
Read also: How to create a business page on Facebook
In the process of collecting the semantics of keywords, there are often so many that the process of filtering them out takes more time and effort than the search itself. In order to immediately separate unnecessary information from useful information, it is necessary to remove the keys for which queries reach insignificantly small values. Next, you should pay attention to duplicate key phrases, that is, those that are repeated several times in the compiled list. They should also be removed.
Keyword clustering is the division of key queries into groups that will be used to optimize site pages.
Clustering is started after the semantic core has been cleaned from irrelevant and garbage queries. The main purpose of clustering is to make the site user-friendly and to provide a relevant response to the user's request by showing the desired page of the site.
There are several methods of clustering the site's semantic core:
According to the intent of the requests

By semantic proximity

According to the issue of TOP-10
The choice of method of clustering the semantic core of the site depends on your preferences.
You can use Google Keyword Planner to create a semantic core and find fresh keyword ideas and topics for blog posts. If you are not familiar with this tool, it can be a bit difficult to understand how to use it. Before you can use Google Keyword Planner, you will need a Google Account. It will take a few minutes to create an account if you don't already have one.
Go to the main Google Ads page and select "Get started now" after signing up for an account.

Select your Google Account to sign in. After signing in, Google Ads will prompt you to create a campaign.

After that, click Tools & Settings in the top right corner to access Google Keyword Planner. In the Planning section, select Keyword Planner from the drop-down menu.

As you can see, to the industry word "hosting" we can add such phrases as "free hosting", "site hosting", "Ukrainian hosting", "virtual hosting", "buy hosting" and other related keywords.
If this is the site of a hosting provider, then, most likely, in its core there will also be key phrases " virtual server ", "dedicated server", " rent a server ", "buy a domain", surrounded by clouds of related requests. Industry key phrases will form the basis of the main sections, and additional ones will fit into the texts of service descriptions and blog articles.
Although Google Keyword Planner is for advertising, it is very valuable for SEO promotion.
First of all, it is completely free. This is a great keyword research tool. You can search for specific search terms or search for keywords by entering a site address.
Bid cost and level of competition are very useful in determining how profitable keywords are. This helps in choosing keywords that bring money and can help increase sales.
There are several common mistakes that are made when first collecting a semantic core:
Search for keywords in one source. When semantics are taken from one source, you lose a lot of queries that could help promote your site.

Rejecting synonyms. A semantic core that is not enriched with synonyms is incomplete. When collecting semantics, it is important to include synonyms in the core. This can increase relevance. For example, repairing phones is the same as servicing phones, etc.

Incorrectly clustered queries. In case of incorrect clustering, the relevance of the site's pages decreases sharply, which harms the effectiveness of promotion.
Creating a semantic core is monotonous and painstaking work that requires not only attention, but also accuracy, or even pedantry.