How to install a free SSL certificate for a site?
How to Install Free SSL
1. Go to the hosting control panel of the desired site ? click the Manage button ? Go to the SSL tab
2. opposite the Free SSL item, click the Order button
3. In the window that opens, you can select additional pseudonyms (aliases) for which you also need to issue an SSL certificate. By default, SSL is issued only for the main domain and its www alias. If you do not need to choose additional aliases, just click the Order button.

4. If the DNS record of the domain is configured correctly, the SSL certificate will be issued soon, and you will see a message about a successful connection.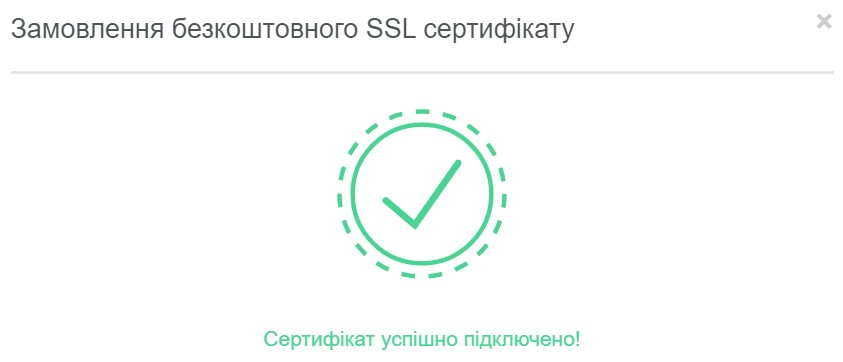 5. At this point, the SSL certificate has already been issued, but visitors to the site will still visit the version of the site without an SSL certificate, to force all users to the secure version of the site, enable Redirect to HTTPS by clicking the switch. This switch works for 99% of cases, but for some CMSs, you need to enable HTTPS forwarding in the site admin.

Pay attention!
If you get an error that the domain or alias is not pointing to the server and you have only recently registered or pointed the domain to hosting, try again later, as the global DNS may not have updated yet.
To successfully issue an SSL certificate, the site must work and return HTTP status 200. If the site returns other statuses, such as 301, 302, 404 or Could not resolve host, SSL will not be issued.
The domain and subdomain (alias) www must be correctly directed to the hosting server via an A-record. In the case of using AAAA records, they must lead to the same hosting server, if the servers in the records differ, you will receive an error that the domain is not directed to the hosting server.