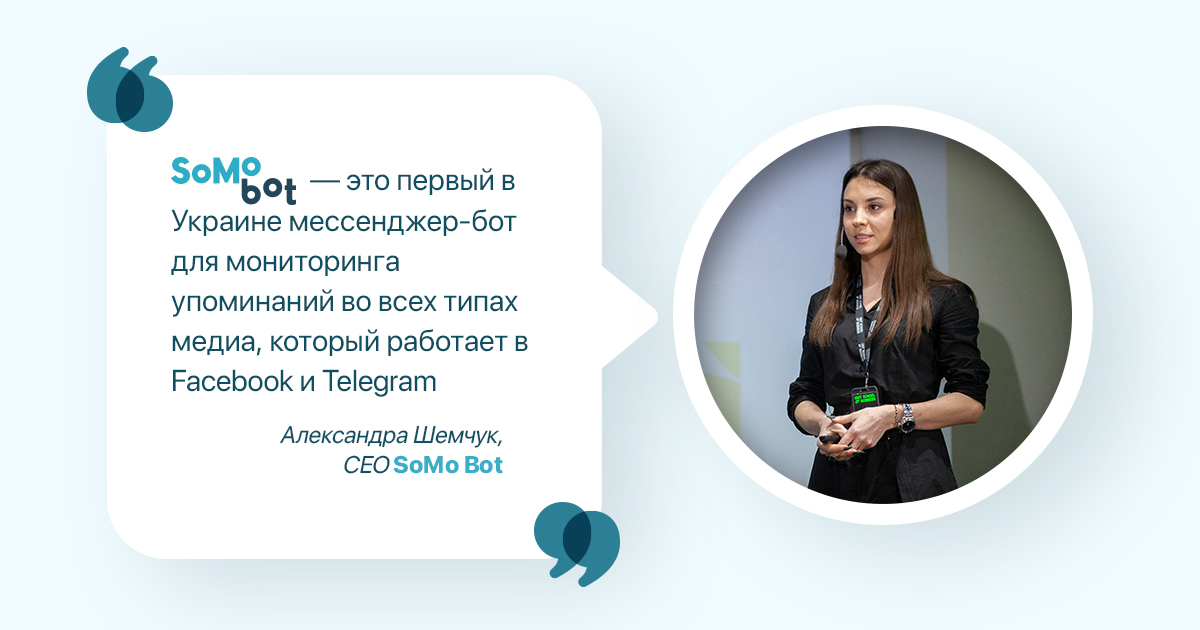 Even the largest brands with a long history are not immune to information attacks and reputational crises. We live in those times when the speed of information transmission has decreased to just a few seconds - that's how much time is enough to publish a news item on the Internet. Information flows are so rapid that a person physically cannot always be aware of everything. But when you are a public person, and the news about you depends on your career future or the reputation of your brand, or you simply have to keep your finger on the pulse of market or competition news, you should monitor the media with an "armed eye".
So what kind of weapon is this? In Ukraine, our partners - the young startup SoMo - created similar "armament". They launched a service that helps monitor reputation, track competitors and avoid information attacks, called SoMo bot.
SoMo analyzes and collects information from all types of media in Ukraine, including radio, television, press, social networks, forums and blogs. Clients receive information on a given keyword almost immediately after its publication in the mass media, with a maximum delay of a few minutes.
An indisputable feature of the SoMo bot is that the client receives a notification and a link to their favorite messenger immediately. Now the bot is available for such messengers as Telegram and Facebook Messenger. Also, the uniqueness of the service is the ability to sort information by emotional color: positive, negative or neutral. But thousands of analysts are not behind it. The entire process of media monitoring is fully automated. The unique SoMo system is a super-intelligent neural network that is capable of working 24/7. The bot was developed by analysts who have been leading the monitoring services market for over four years, and with the technical support of experts from the world's leading universities. Among SoMo's clients, we can find PR specialists, company owners, deputies, journalists, top managers and marketers.
Cityhost.ua users have a special offer - free access to the premium version of SoMo bot for a month .
To take advantage of the offer, enter the promo code " actcityhost ". Or follow the link: https://t.me/Socmonitorbot .
Attention: you can activate the promotional code until 31.03.2021 .