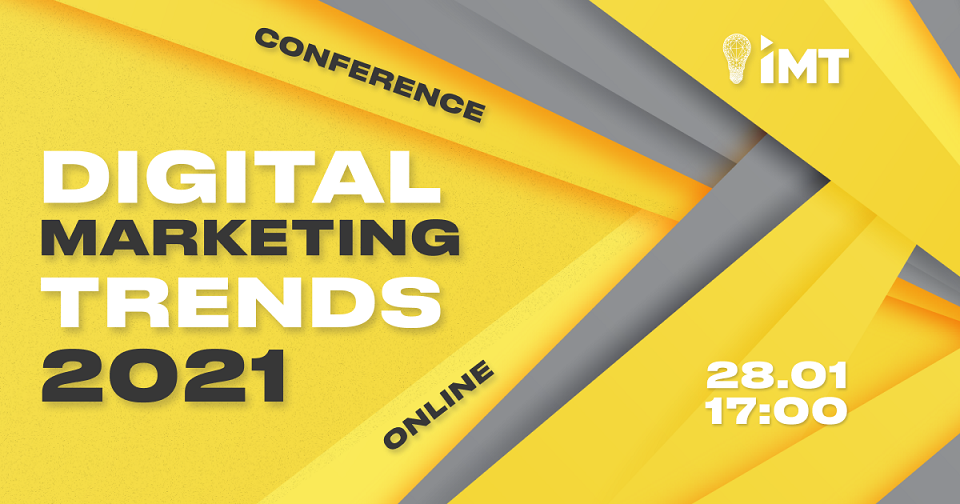 Cityhost will act as a partner of the III annual online conference Digital Marketing Trends 2021. The conference will be held online on January 28 from 5:00 p.m. to 9:00 p.m.
Digital Marketing Trends 2021 is 200 minutes of powerful content for everyone involved in marketing and business owners. You will get the tools, use them and be ahead of your competitors!
Participation in the conference is absolutely free. To register, go to the link: https://imt.academy/conf/ ?
Digital Marketing Trends 2021 are :
11 speakers

12 different topics

8 thematic blocks
SMM, tiktok, ppc, personal brand, neurocopywriting, email marketing, messengers, chatbots, seo - improve your knowledge and skills in all areas!
They will tell about trends:
???? Anna Sorokina - SMM at Bezviz Festival
???? Tatyana Sukhomlyna - worked with sofia_stuzhuk, natali_michkovska, sashaabo
???? Serhii Dashko - CEO Dash Digital Agency
???? Anna Pelyp - CEO of ENOT, an expert on strategy for small and medium-sized businesses
???? Vlada Mykolyuk is the founder of the PR agency "PRproector
???? Oleksandr Kanzler - Digital agency - Diez.agency
???? Vladyslav Boyko - Partner account manager at WeDo web studio
???? Anna Shelefontyuk - Email-marketer Livepage
???? Oleksandr Ilyin - Livepage PPC specialist
???? Halyna Smishlyaeva - lawyer and mediator
???? Anastasia Mishchenko - marketer & SEO IMT Academy
Do not miss to be in trend in 2021 ???? https://imt.academy/conf/

Cityhost provides a 25% discount on hosting or virtual server orders to all conference participants. You can get a promo code during the conference.