Site builder
The site builder is the easiest and most effective way to get your own site. And also the cheapest. You don't need to know web programming languages or html markup to create a site. It is enough to simply drag pictures across the monitor screen, assembling a site like a constructor. Even a beginner can handle it.
But there is one problem: almost every second online site builder provides its services together with an ugly and inconvenient subdomain. And it scares many.
Everything is different at CityHost. You can order website hosting and register a unique domain name in any zone from us. Simple, convenient and no restrictions.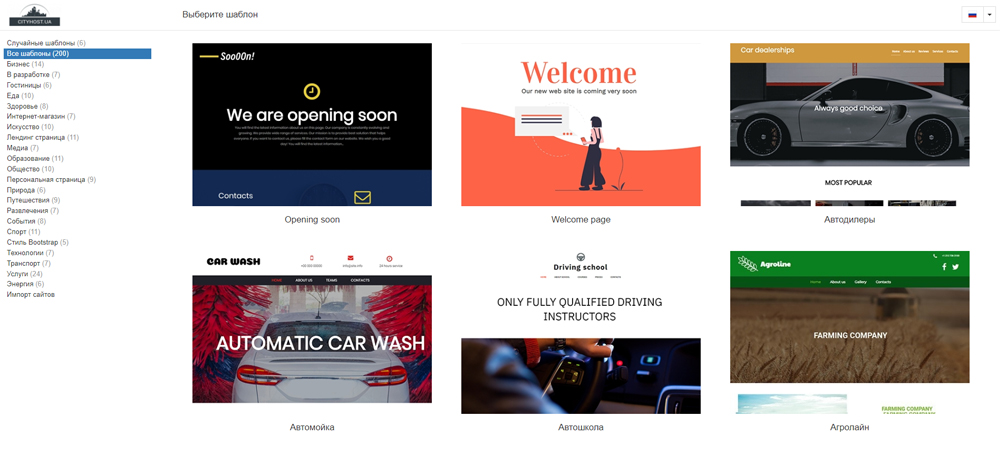 Free site builder
No additional payments. The online designer is already included in all hosting tariffs.
Adaptive templates
More than 50% of users access web resources from smartphones and tablets. Adaptive templates are a guarantee of correct display of your site on any mobile device. Regardless of screen size. Thanks to this, users will get a convenient interface, and search engines will be more loyal to your site.
Convenient setting for SEO optimization
It is not enough just to buy a domain name and create a website. It still needs to be properly configured for effective promotion. All the necessary functions are already provided in the constructor from CityHost t. Just a couple of clicks - and the site will be optimized for SEO, as it should be.
Integration with social networks
Today, there is nowhere without social networks. Therefore, the designer by default supports the possibility of placing buttons from Facebook, Twitter and other popular platforms.
200 ready-made templates
For your convenience, all templates are grouped by different topics: from landing pages to online stores. So finding the right one won't be difficult.
This is why CityHost is the best website builder. And that's why they should use it. So, if you have been looking for a website designer with a unique domain for a long time - choose the appropriate tariff and start creating your own project right now!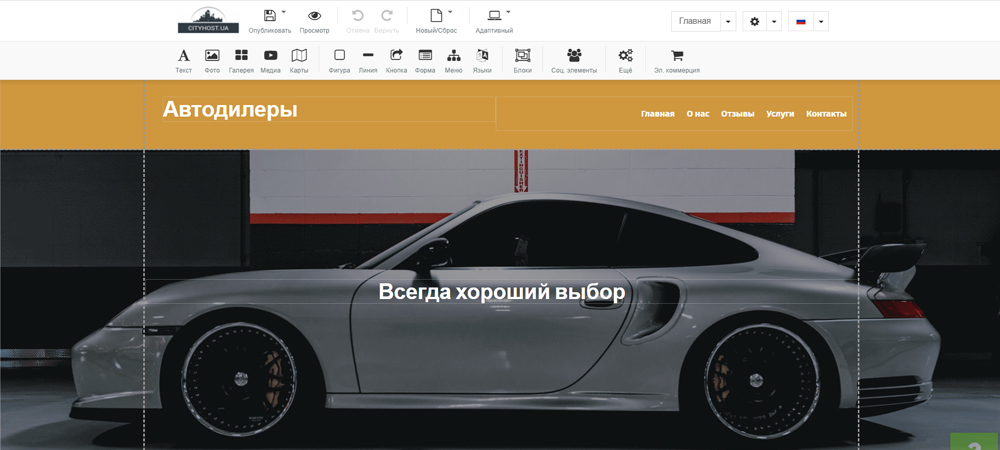 How to use the CityHost site builder?
The website builder is already included in the hosting price. No additional payments are required.
To use the CityHost site builder:
Choose any hosting package. And then just order it on the website.

Start the constructor. Go to the service control panel, select which web project you want to use it for, and in the control options, click the "Run" button.

Choose a site design that you like. After paying for hosting, you will have access to 200 templates to choose from. And in each, you can change the color scheme, menu styles, logo and other elements.

Fill the site with content. You don't need to know HTML. You don't need to be a web developer. The online site builder has the same simple and clear interface as the Microsoft Word text editor. So you can easily create any structure, add text or upload an image.

Publish your project. When the site will have a finished look - click the "Publish" button. Everything - now it is available from any corner of the world.