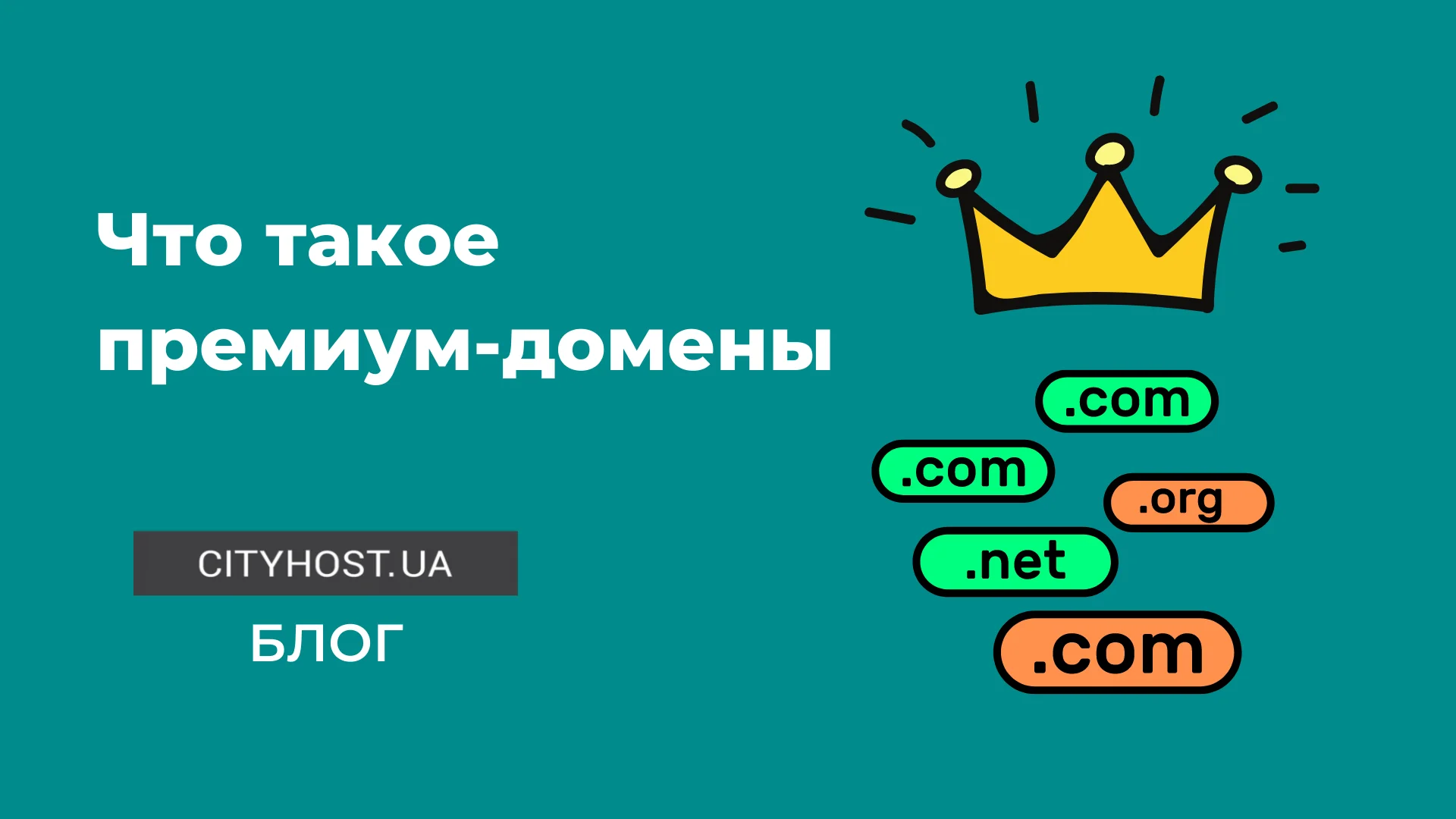 There are millions of sites on the Internet, and each of them has its own domain and hosting . In the summer of 2021, more than 367 million domains in more than 2,000 domain zones were registered in the world. Each of them has its own price, which depends on the price policy of the domain zone registrar and is based on a special pricing methodology. Beautiful short addresses that are easy to remember are rated higher.
The cost of domains ranges from 60-70 hryvnias per year (and some are even free) to several tens of millions of dollars on the secondary market.
Premium domains are short and sweet domain names. They are easy to convey orally and remember, they already work on the image of the owner. It can be any word with a clear association with certain areas of business (hotels.site) , entertainment (video.site) , can be related to shopping (sales.tech) or just a beautiful word that can be used for a company name or product lines (yellow.space) . A successful combination of a domain name with a zone name is considered particularly effective.
For example, the domain pets.online is premium, it costs more than $ 40,000, and life.shop is more than $ 16,000. The prices are indicated at the time of writing the article - they constantly fluctuate and may differ even the next day.
A two-word domain name with a hyphen already falls out of this category. Yes, a domain with the name good-life is sold at a regular price, but goodlife can already be premium.
Domains with words that can be related to a certain area of business or used for online trade are reserved as premium domains: sale, shopping, tourism, food, shoes and others.
Premium domains are often found in profitable business areas such as hotels, dentistry, design, real estate and car sales. Such addresses reside only in international domain zones and are not registered in national ones.
The premium domain does not technically affect the operation of the site. This is exclusively an image element, part of the company's advertising strategy.
Interestingly, sites are not always hosted on already occupied premium domains. They are often used to redirect users to the main site. The company buys several beautiful premium addresses and configures forwarding from them to the main resource. For example, pets.com sends visitors to petsmart.com.
A premium domain is more expensive than regular domains, that's the only thing that can be said for sure. There are no fixed prices, as well as an upper threshold.
The price of a premium domain is determined not by the registrar (as in the case of ordinary addresses), but by the owner of the domain zone. It is quite difficult to guess "by eye" which domain will be premium. In the process of pricing, various marketing studies are conducted, then the most profitable names are calculated using special algorithms. But exactly how this happens, the owners of domain zones prefer not to admit.
The high price of a premium domain is usually valid only at the time of purchase. In most cases, further renewal costs the same as a regular domain or slightly more.
On the Internet, you can find various information about what a premium domain is. This term is often used to refer to any expensive domain. But it is not quite so.
Prices for premium domains are set only by domain zone owners and only upon first registration.
When addresses are resold at higher prices, this is a completely different phenomenon. There are many different methods of earning from domains, both completely legal (investing in domains) and illegal (cybersquatting).
The price gouging of domain names can amount to tens of millions — even though it could have been an ordinary cheap address to begin with.
Remember that premium domains can only be purchased from an official registrar with an appropriate license.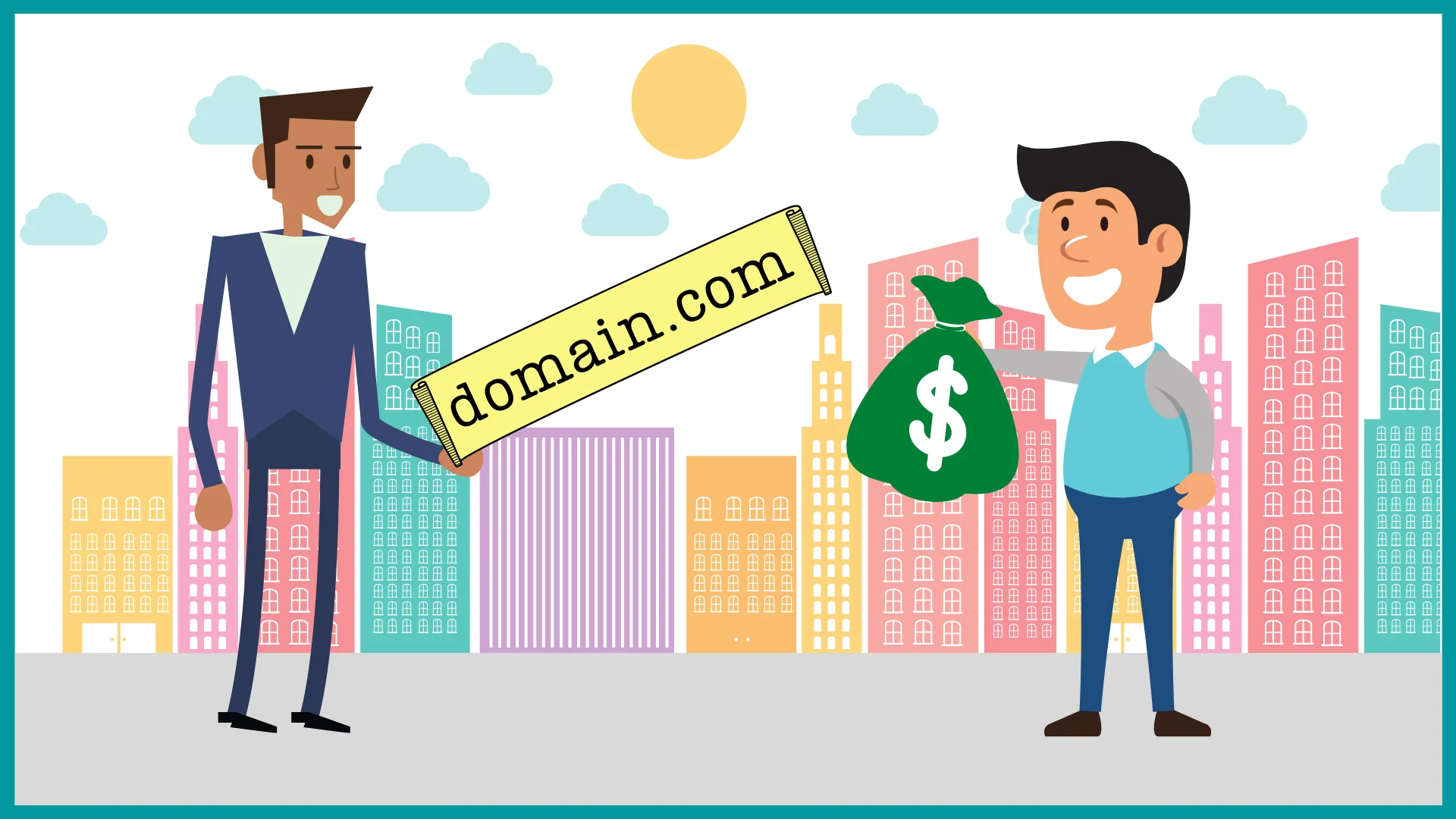 Oddly enough, there are cases when a premium domain, despite all its prestige, is better not to take.
In part, this applies to small and medium-sized businesses. They work in a small niche and feel good on their own scale.
The cost of an elite premium domain can be their profit for six months or a year. Such an investment may not be affordable for the entrepreneur and may not give the proper effect. You can take an inexpensive premium domain - there are options for 2-3 thousand hryvnias. But if the chosen name is worth several thousand dollars, it is better to spend this money on contextual advertising or work with other Internet marketing channels.
High-sounding, expensive domains are also of no use to highly specialized industrial businesses and enterprises serving only large dealers and customers. A large raw materials plant has several dozen customers, and they don't care what domain is listed on the supplier's website. These companies operate in a small niche where everyone knows each other. It is more important for them to have a good reputation, to deliver a quality product and to work competently with regular customers.
A premium domain is an image element, so it is suitable for large companies that need to make an impression and gain the trust of the client. These are online stores and marketplaces that sell retail goods or digital products (movies, music), social networks, large information platforms and entertainment portals.
The key word in this case is "big" (or with the prospect of scaling and entering the international market). Considering the cost of a premium domain, you need to have a fairly high profit to make this investment pay off.
The second important criterion is working with mass consumers. Various marketing tools are used to attract a large number of visitors to the site, and a cute simple domain name is one of them. It should work when a person saw it on a banner in the subway, heard it on TV, already bought the product and wanted to come back for a new one.
It should be a simple and clear address that immediately evokes positive associations and is remembered at one glance.
Each registrar has its own procedure for cooperation with customers who buy premium domains. At Cityhost, communication takes place individually, technical support staff discuss all the subtleties of domain registration directly with the client.
To register a premium domain, you need to open the "Domains" tab and enter the address you chose for your site in the verification line. It may be busy - then the system will offer other options. Prices for premium domains are not automatically calculated, so you need to call or write to technical support to find out the cost.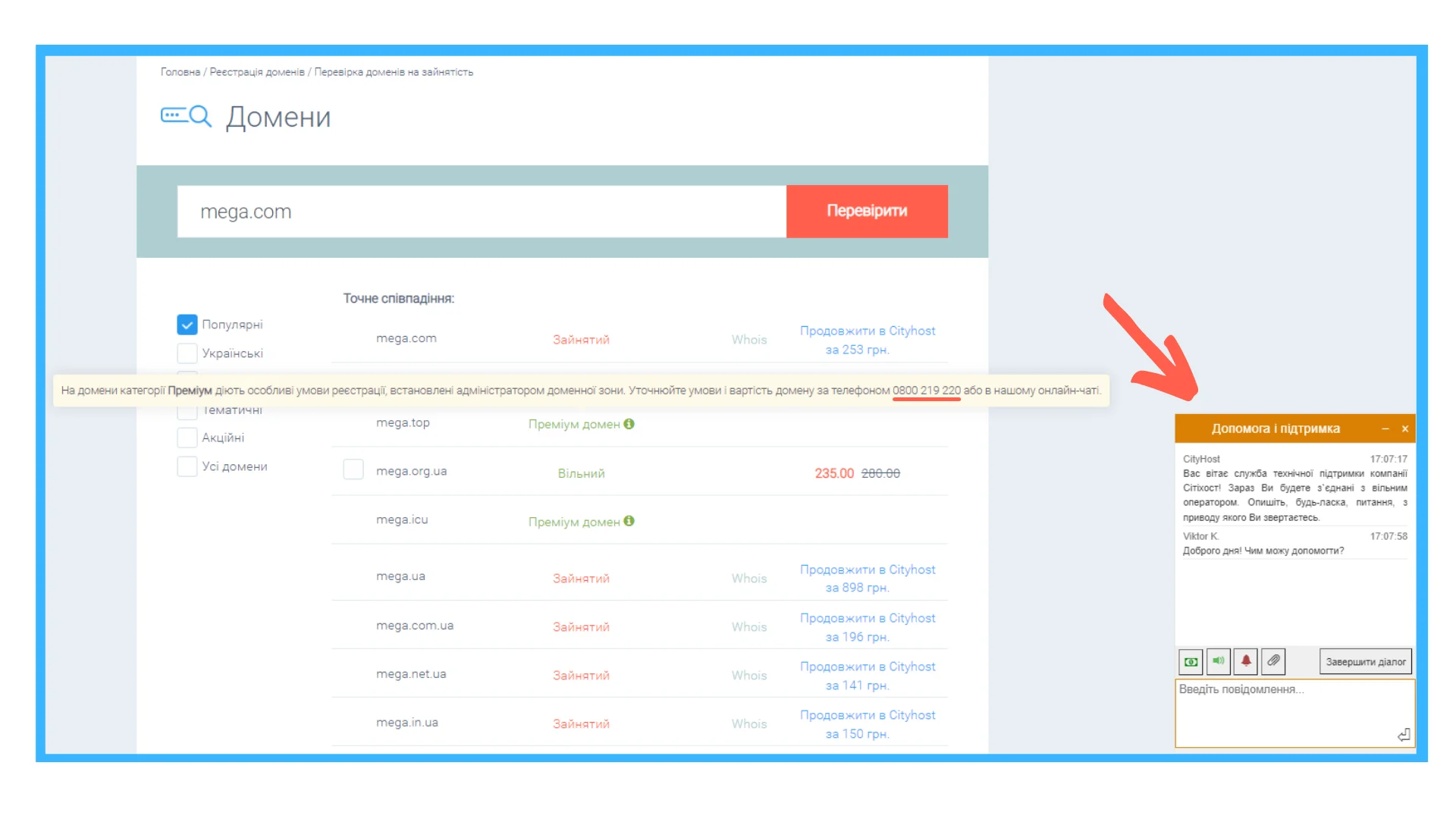 If you are satisfied with the price, you can proceed with the execution of the agreement. The further procedure for registering a premium domain is the same as for a regular one. You need to enter all the necessary information about yourself, make a payment and start using the address.
If you already have a site on a simple domain, but the business has grown and there is an opportunity to buy a premium address - no problem. There is an option to transfer the site from one domain to another or to set up a redirect, which we talked about above.
A premium domain is not only a "golden business card" that indicates successful business development, but also a subtle tool for influencing target audiences. It is part of the brand and works on the image of the company in combination with all other components of the PR strategy.