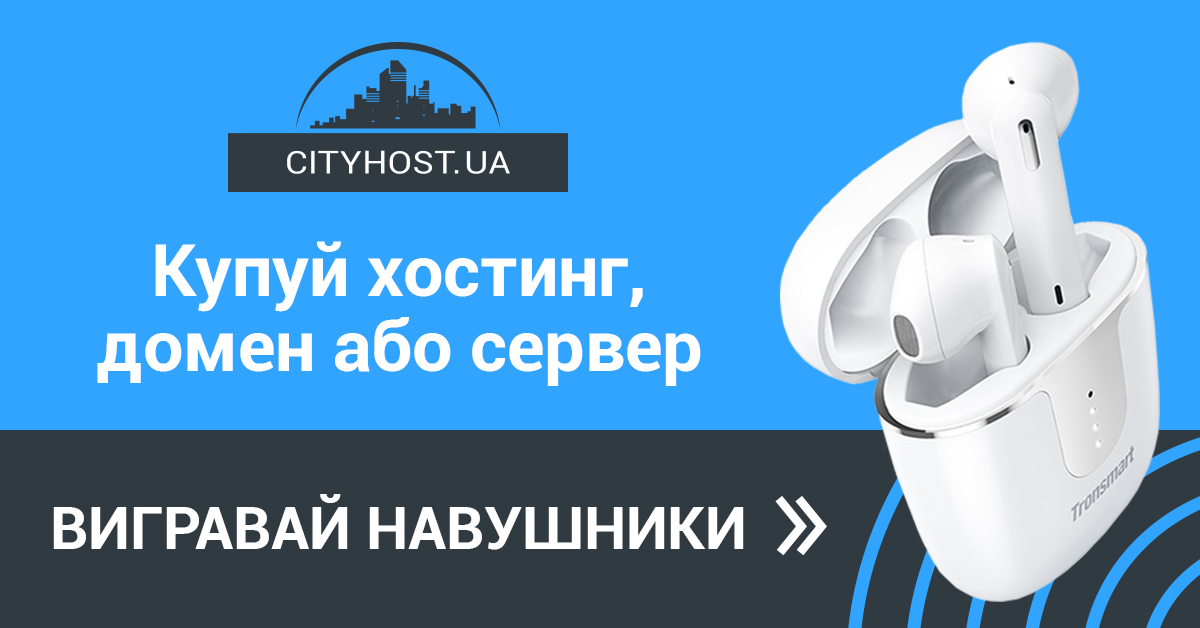 Cityhost will give away 4 pairs of Tronsmart Onyx Ace headphones to those who order the company's services in August 2020. Customers who ordered and paid for the following services and for the following period participate in the draw:
Domain - 1 year or more.

Hosting - 1 month or more.

Virtual server - 1 month or more.

Dedicated server - 1 month or more.
The more services you order and pay for, the greater your chances of receiving a gift. For example, if you bought a domain + hosting, you will participate in the drawing of two prizes - one in the domain category, the other in the hosting category. Each additional service ordered increases the chances of winning.
Draw mechanics: The draw is held for 4 services separately. We take the list of services (hosting logins, IPs of virtual or dedicated servers, and domains) that were ordered during the calendar month, and with the help of the random.org service, we determine the winners among their owners.
The draw will take place on September 2, 2020. The results will be published in our Telegram channel: https://t.me/cityhostua . Subscribe so you don't miss out!
By paying for new services, you automatically become a member of the promotion. No additional actions are required. Get started now:
Detailed conditions of the draw:
The action is being held on the territory of Ukraine, with the exception of temporarily occupied territories and settlements located on the contact line.

Participants of the promotion can become adult persons who, during the period of the promotion from 01.08.2020 to 31.08.2020, ordered and paid for one and/or several new services: domain registration - for at least 1 year, hosting, rental of a virtual or dedicated server - for at least 1 month.

Customers whose funds were deposited into the company's accounts between August 1, 2020 and August 31, 2020 take part in the draw.

An order is considered the payment of a new service. Customers who continue existing (previously ordered) services do not participate in the draw.

Prizes are delivered by the carrier "Nova Poshta".

In order to receive the prize, the winners must send the data for delivery: personal identification number, phone number, city and "Novaya Poshta" branch. The sending of this information must be done by sending an e-mail from the e-mail address specified during the registration of services in the Cityhost account.