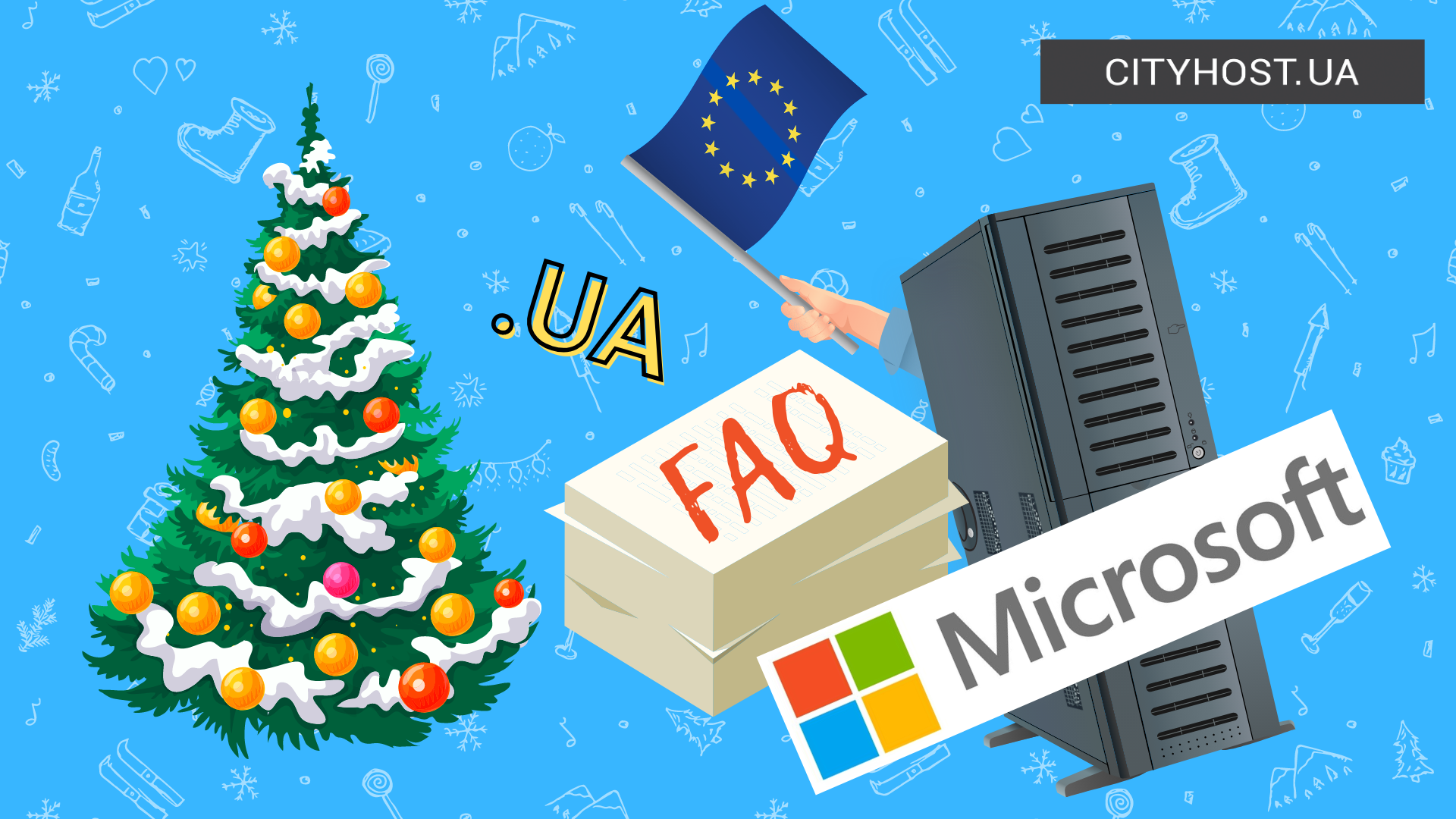 This year was not easy for all of us, but even in difficult conditions, Cityhost continued to develop - to carry out software and technical modernization, develop the western direction of work, implement improvements that will make working with our services even more convenient. Some implementations, such as revision of service prices, were dictated by the current situation in the country.
Since the release of the last service pack, we have implemented a number of improvements and changes, and we are sharing them with you again.
Considering the difficult energy situation in Ukraine, we transferred a significant part of client sites to servers located in foreign data centers. Yes, all hosting accounts have completed migration to Europe. All clients can work with their accounts as usual, nothing has changed in terms of hosting administration. But physically, the data will be located abroad, due to which the risks associated with attacks on the infrastructure are reduced.
Virtual and dedicated servers, which were ordered to be located in Ukraine, continue to be located in local data centers. Unfortunately, we are unable to carry out the transfer of these services without your intervention. To transfer, you need to order a new service with accommodation abroad and transfer data. For our part, we will be able to perform a recalculation of unused funds and transfer them to the account of new servers.
Recently, Cityhost has successfully extended the Microsoft Services Provider License Agreement (SPLA), which allows you to license servers and install official Microsoft products on them.
Windows licenses for dedicated servers
A mandatory condition for using virtual or dedicated servers from the Cityhost company is the installation of licensed software on them. Thanks to our SPLA partnership with Microsoft, we can provide these licenses with our leased servers, so customers don't have to purchase and install them themselves.
Read more about Windows licensing procedure .
Remote Desktop for Windows Servers
Customers renting Windows servers can now easily obtain RDP licenses with a single button. If previously licenses for remote connection of administrators were installed manually by technical staff on request, now you can do it yourself using the control panel.
To do this, go to the section: My VDS => VDS management => Basic information => Additional services => Order. Next, you need to select the RDP license service type and enter all the necessary data.

Read more about ordering additional licenses in the instructions.
Since the new year, administrators of domain zones are increasing the cost of operations with domains. The cost will be increased by an average of 40%.
Prices will increase for registration and renewal of names in the following zones:
.CHERKASSY.UA
.CHERKASY.UA
.CK.UA
.DN.UA
.DNEPROPETROVSK.UA
.DNIPROPETROVSK.UA
.DONETSK.UA
.DP.UA
.KH.UA
.KHARKIV.UA
.KHARKOV.UA
.LG.UA
.LUGANSK.UA
.NET.UA
.SM.UA
.SUMY.UA
.ZAPORIZHZHE.UA
.ZP.UA
Also, the cost of renting dedicated servers will be increased by an average of 15% and virtual servers by an average of 20%.
The increase in prices for servers is associated with an increase in the cost of services Ч an increase in the price of electricity, the use of additional equipment to ensure uninterrupted power supply, and other costs necessary to ensure high quality and stability of services.
We have improved the service management functionality and added new useful options.
Ability to configure SSH environment for hosting
Select php Ч the ability to automatically select the version of the php interpreter that will be used in cli mode by default when executing php commands and running scripts.
Install composer Ч the ability to automatically install the composer package manager on hosting.
Install nvm Ч possibility of automatic installation of node version manager.
SSH key Ч added the ability to work with ssh using access keys.
Killall process button Ч the ability to forcefully terminate all background hosting processes with the click of a single button. Convenient for cases when it is necessary to terminate background processes on hosting, for example, during their overflow.
Redis and Memcached service update: Added an option to automatically restart the service in case of a critical termination.
Optimized and speeded up the work of the file manager
In the file manager on the hosting, the archiving processes and disk space calculation were optimized to speed up operations. Now users will be able to unpack archives on hosting more quickly, find out the size of folders and the number of available files.
The process of deleting directories with a large number of files has also been optimized, resulting in the deletion being much faster than before.
PHP 7.2 is installed as the default version for all new sites on the hosting.
Updated page with bonuses and promotions . Take a look at the appropriate section in the control panel menu and find out about the nice offers that every Cityhost customer can get.
Updated and added new articles in the FAQ section of the site. If you have questions about using the services, the FAQ will help - it has many answers, explanations and instructions.